Caffeine Plus Alcohol Leads to Casual Sex, Study Finds
Researchers study the link between sex and energy drinks.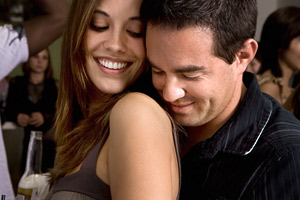 It's no secret that alcohol and casual sex have long been friends. The two seem to have a solid relationship, but researchers have found an added element that may contribute even more to casual hook-ups: caffeinated energy drinks.
A new study from the University at Buffalo Research Institute on Addictions (RIA) found a link between casual sex and alcohol mixed with energy drinks—what they call AmEDs. They studied 648 participants, ranging in age from 18 to 40, though according to the University, the participants were "mostly clustered at the lower end of the age spectrum."
Lead researcher Kathleen E. Miller found that, of the sexually active participants, 45.1 percent reported having a casual sexual partner, 24.8 were drunk during their last sexual encounter, and 43.6 said they didn't use a condom. The study also found that nearly one in three sexually active participants reported drinking an AmED during the month before the survey. Of that group, Miller reported:
"AmED users were more likely than nonusers to report intoxication and/or a casual partner at most recent sexual intercourse."
The study further explains that there's just something about the caffeine in those energy drinks that makes people a bit more sex-crazed than usual:
"AmED use was associated with an escalation of sexual risk that was not reducible to the effects of alcohol or personality selection effects alone."
So what is it about mixing Red Bull with vodka that seems to make drinkers engage in what Miller calls sexually "risky" behavior? She explains:
"Mixing energy drinks with alcohol can lead to unintentional overdrinking, because the caffeine makes it harder to assess your own level of intoxication. AmEDs have stronger priming effects than alcohol alone." She adds, "In other words, they increase the craving for another drink, so that you end up drinking more overall."
Miller's explanation supports another recent study, which warned of the dangers of AmEDs. The gist of it is: when you drink, at some point your body indicates that it's time to stop, go home and go to bed. Caffeine seems to prolong that indicator, encouraging users to keep boozing it up.
But the University reports that, when it comes to the sex issue, there's good news.
"Miller's study found that consumption of AmEDs was not a significant predictor of unprotected sex. Drinkers were no less likely than nondrinkers to have used a condom during their most recent sexual encounter."
So I suppose there's a silver lining to this dangerously kinky cloud.
Photo: joSon/Getty Images
More on love & sex from MSN Living:
24 Secrets of Successful Daters
How to Get Busy When You're Busy
Sweet, Fun and Cheap Date Ideas
love: friendships, dating, sex & marriage
The typical wedding: A white dress, tiered cake, floral centerpieces and a cute flower girl -- you know the drill. Every once in a while, though, a couple trades in tradition for a quirky, never-seen-that-before idea. Here are a few of the most out-there wedding photos that made us do a double take.

There's a lot to love about weddings this fall, like cocktails served in copper Moscow mule mugs, industrial-inspired lighting and pheasant feather details. See what's new!

Do you have to be engaged to sport a ring with bling?

124.6 million haven't gotten hitched.

Even though the national average wedding is $29,858, that's just an average. If you live in a smaller state like Idaho where the average wedding costs $16,159, you may find yourself saving a little more than half of the national spend! Check out some of the other least expensive cities to get married in below:

Summer is winding down, but the ubiquitous summer romance lives on.

For those times when nothing big and horrible happened--but nothing is feeling right either.

He's confident, distinguished and anywhere from 4 to 20 years older than you. Age is just a number, but there's something about older men that we love. Here are eight reasons why being in a relationship with an older man is tops.

While a younger man may have less life experience, that doesn't mean he's not emotionally mature. Here are the eight reasons why being in a relationship with a younger man is tops.

Have you ever wondered what the 'other woman' was thinking?

So fall is coming and you need some romantic inspiration now that long walks on the beach are out of the question. Well look no further! From apple picking to pumpkin carving, these are some great fall date ideas from girls just like you!

Getting bored of the same dinner and movie date night? Take an adorable cue from your favorite celebs and try something new! From dancing to boxing you can't go wrong with these awesome date ideas.