Caffeine Plus Alcohol Leads to Casual Sex, Study Finds
Researchers study the link between sex and energy drinks.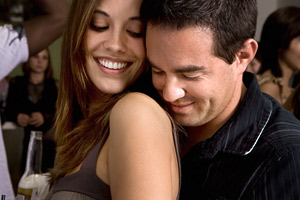 It's no secret that alcohol and casual sex have long been friends. The two seem to have a solid relationship, but researchers have found an added element that may contribute even more to casual hook-ups: caffeinated energy drinks.
A new study from the University at Buffalo Research Institute on Addictions (RIA) found a link between casual sex and alcohol mixed with energy drinks—what they call AmEDs. They studied 648 participants, ranging in age from 18 to 40, though according to the University, the participants were "mostly clustered at the lower end of the age spectrum."
Lead researcher Kathleen E. Miller found that, of the sexually active participants, 45.1 percent reported having a casual sexual partner, 24.8 were drunk during their last sexual encounter, and 43.6 said they didn't use a condom. The study also found that nearly one in three sexually active participants reported drinking an AmED during the month before the survey. Of that group, Miller reported:
"AmED users were more likely than nonusers to report intoxication and/or a casual partner at most recent sexual intercourse."
The study further explains that there's just something about the caffeine in those energy drinks that makes people a bit more sex-crazed than usual:
"AmED use was associated with an escalation of sexual risk that was not reducible to the effects of alcohol or personality selection effects alone."
So what is it about mixing Red Bull with vodka that seems to make drinkers engage in what Miller calls sexually "risky" behavior? She explains:
"Mixing energy drinks with alcohol can lead to unintentional overdrinking, because the caffeine makes it harder to assess your own level of intoxication. AmEDs have stronger priming effects than alcohol alone." She adds, "In other words, they increase the craving for another drink, so that you end up drinking more overall."
Miller's explanation supports another recent study, which warned of the dangers of AmEDs. The gist of it is: when you drink, at some point your body indicates that it's time to stop, go home and go to bed. Caffeine seems to prolong that indicator, encouraging users to keep boozing it up.
But the University reports that, when it comes to the sex issue, there's good news.
"Miller's study found that consumption of AmEDs was not a significant predictor of unprotected sex. Drinkers were no less likely than nondrinkers to have used a condom during their most recent sexual encounter."
So I suppose there's a silver lining to this dangerously kinky cloud.
Photo: joSon/Getty Images
More on love & sex from MSN Living:
24 Secrets of Successful Daters
How to Get Busy When You're Busy
Sweet, Fun and Cheap Date Ideas
love: friendships, dating, sex & marriage
This just in: Guys over 5'10" are twice as likely to stray.

Or how to tell if you've reached THAT point in your bond.

Dating doesn't have to be a daunting task, promise. Here's how to make it fun for you and him.

This just in: A new study shows girls are warriors in the womb.

You can make a pros and cons list...but ultimately you know what works best for you.

Maggie Reyes is a life coach, writer, and the founder of ModernMarried.com. She helps newlyweds re-think what married life can be. Here, she's revealing tricks every newlywed couple needs to know.

Government-supported Vietnamese classes teach women Korean language, customs.

Whether you're into creative artists or uber-preppy bankers, there's something to be said for trying something new.

Sometimes two characters on a TV show or movie can portray being a happy couple effortlessly, or can have lots of fun playing former spouses — especially if they're married to each other in real life! Keep scrolling for six celebrity costars you probably didn't know tied the knot, even after the bloodiest and craziest story lines.

Some couples want nothing more than a laid-back, by-the-book proposal. Then there are the other couples, where the proposal not only needs to be personalized, it also has to be unique and entirely different than the typical restaurant, bended-knee idea. Sound like you? Then get inspired by some of the most creative proposal ideas we've ever seen. If you find something you like, steal it and then modify it to make your proposal something totally unforgettable.

From Nantucket all the way to Cayo Espanto, we've rounded up some of the prettiest beaches to travel to for your honeymoon.

Researchers studied the age-old stereotype that women really are more talkative than men.