Caffeine Plus Alcohol Leads to Casual Sex, Study Finds
Researchers study the link between sex and energy drinks.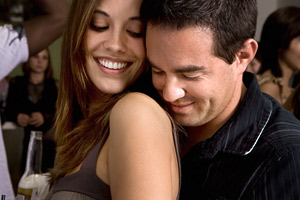 It's no secret that alcohol and casual sex have long been friends. The two seem to have a solid relationship, but researchers have found an added element that may contribute even more to casual hook-ups: caffeinated energy drinks.
A new study from the University at Buffalo Research Institute on Addictions (RIA) found a link between casual sex and alcohol mixed with energy drinks—what they call AmEDs. They studied 648 participants, ranging in age from 18 to 40, though according to the University, the participants were "mostly clustered at the lower end of the age spectrum."
Lead researcher Kathleen E. Miller found that, of the sexually active participants, 45.1 percent reported having a casual sexual partner, 24.8 were drunk during their last sexual encounter, and 43.6 said they didn't use a condom. The study also found that nearly one in three sexually active participants reported drinking an AmED during the month before the survey. Of that group, Miller reported:
"AmED users were more likely than nonusers to report intoxication and/or a casual partner at most recent sexual intercourse."
The study further explains that there's just something about the caffeine in those energy drinks that makes people a bit more sex-crazed than usual:
"AmED use was associated with an escalation of sexual risk that was not reducible to the effects of alcohol or personality selection effects alone."
So what is it about mixing Red Bull with vodka that seems to make drinkers engage in what Miller calls sexually "risky" behavior? She explains:
"Mixing energy drinks with alcohol can lead to unintentional overdrinking, because the caffeine makes it harder to assess your own level of intoxication. AmEDs have stronger priming effects than alcohol alone." She adds, "In other words, they increase the craving for another drink, so that you end up drinking more overall."
Miller's explanation supports another recent study, which warned of the dangers of AmEDs. The gist of it is: when you drink, at some point your body indicates that it's time to stop, go home and go to bed. Caffeine seems to prolong that indicator, encouraging users to keep boozing it up.
But the University reports that, when it comes to the sex issue, there's good news.
"Miller's study found that consumption of AmEDs was not a significant predictor of unprotected sex. Drinkers were no less likely than nondrinkers to have used a condom during their most recent sexual encounter."
So I suppose there's a silver lining to this dangerously kinky cloud.
Photo: joSon/Getty Images
More on love & sex from MSN Living:
24 Secrets of Successful Daters
How to Get Busy When You're Busy
Sweet, Fun and Cheap Date Ideas
love: friendships, dating, sex & marriage
A wedding is an exceptionally special day. Sometimes, an opportune photo flub makes the occasion even more memorable. Here are 25 awesome wedding photo bombs.

Somewhere between the first few butterfly-inducing dates and the committed-for-life stage, there's the period of wondering if you're both on the same page about how serious you feel about a future together. If you're not quite at the point of "that talk" but you're looking for a few clues you're heading in that direction, here are some signs he's in it for the long haul as your relationship progresses.

What's that sound? It's white noise blocking out the well-meaning person proclaiming groundbreaking news about where you can meet someone, asking why you're still single, or bugging you about when you're getting married already. Don't be that person. Here are 15 annoying things all single people don't want to hear.

With just a few days left before the big day, you already have a mile-long checklist of to-dos—now meet the don'ts! From impromptu skin treatments to all-night movie marathons, here are 11 things to avoid at all costs.

A new study shows that watching and discussing romantic films can drastically reduce your chance of divorce. These flicks more than fit the bill.

These seemingly innocent phrases still have the power to wound… big time.

Making "I do" last forever is one of the biggest challenges you'll ever face—and it's normal to worry about how you'll do it. But, if your connection involves any of these things, rest assured that you're in it for the long run.

Ultimately, as hard as it may seem at the beginning, a marital affair can be a turning point.

Five months after the Boston Marathon bombing, The Knot reached out to Rebekah Gregory and Pete DiMartino and offered to throw them a dream wedding. They said yes, and on April 4, 2014, the two married at the Biltmore Estate in Asheville, North Carolina. Rebekah and Pete exchanged vows on the tennis lawn amidst the cherry tree blossoms and then celebrated with all of their friends and family at a beautiful reception tent right in front of the estate. All of the details were perfectly executed by a team of talented and generous wedding industry pros, including celebrity wedding planner Marcy Blum. Here, a few highlights from Rebekah and Pete's wedding day.

Your wedding is your special day, but you want to keep your guests happy, too. Here are 20 typical wedding guest complaints and what you can do about them.

Study finds that early birds get the long-term relationships.

Receptions would take place near where raw sewage is processed.