Is make-up sex unhealthy?
One expert likens it to cocaine.
Some say it's the best sex ever, but according to one expert, make-up sex is downright unhealthy.
"Intense romantic relationships often include powerful arguments, followed by powerful make-up sex," writes Seth Meyers, Psy.D, in an article for Psychology Today.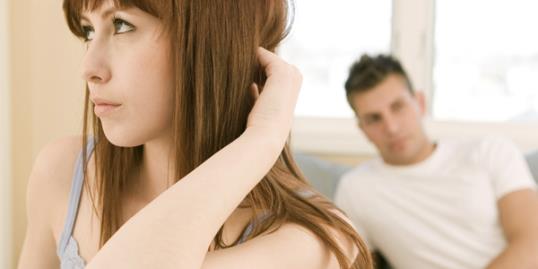 More on MSN Living: Kissing dos and don'ts
Meyers argues that make-up sex is simply a distraction from the negative issues in a relationship and goes on to write, "it's not that different from an addict who needs a hit of cocaine."
Not surprisingly, Meyers' coke comparison stirred up a bit of controversy.
More on MSN Living: 50 wedding cost-cutting tips from real brides
In a post on the blog Babble, one writer responded:
"Really now. I may not know what it feels like to be 'an addict who needs a hit of cocaine' but is anyone ever really that desperate to switch gears while fighting?"
But let's hear Meyers out. He says that regular sex in a healthy relationship is all about feeling intimacy and trust. But that's not what motivates make-up sex.
"The truth is that most make-up sex results from having felt and expressed extreme negative emotions during a heated argument, without any true resolution afterward. During make-up sex, couples often express extreme positive emotions and they reach a momentary state of bliss. They declare grand statements of love and feel, in that moment, that they are sure they belong together. The problem: this isn't real intimacy."
Meyers says there's no room for confusion, anger or sadness during a sexual encounter—a reasonable suggestion. He adds that, if you find yourself in the middle of make-up sex, "gently pull back and explain to your partner that you want to stop and try again later."
Bing: Sex with condom feels just as good, according to study
Some still see it differently, however. In a Health magazine article, writer Jennifer Berman argued that make-up sex is actually a healthy way to spice up your love life:
"It be madly passionate, but it can also sustain intimacy during tough times. Besides, it's natural to feel turned on after an argument."
I suppose, ultimately, it just depends on the situation. But what do you think—is make-up sex unhealthy for a relationship?
More from The Heart Beat: 
Study: Couples too tired for sex
How rekindled romance is ruining relationships
New trend: Divorce parties
Love content like this? Friend us on Facebook, follow us on Twitter and find us on Pinterest
Photo: Novastock/Getty Images
love: friendships, dating, sex & marriage
This just in: Guys over 5'10" are twice as likely to stray.

Or how to tell if you've reached THAT point in your bond.

Dating doesn't have to be a daunting task, promise. Here's how to make it fun for you and him.

This just in: A new study shows girls are warriors in the womb.

You can make a pros and cons list...but ultimately you know what works best for you.

Maggie Reyes is a life coach, writer, and the founder of ModernMarried.com. She helps newlyweds re-think what married life can be. Here, she's revealing tricks every newlywed couple needs to know.

Government-supported Vietnamese classes teach women Korean language, customs.

Whether you're into creative artists or uber-preppy bankers, there's something to be said for trying something new.

Sometimes two characters on a TV show or movie can portray being a happy couple effortlessly, or can have lots of fun playing former spouses — especially if they're married to each other in real life! Keep scrolling for six celebrity costars you probably didn't know tied the knot, even after the bloodiest and craziest story lines.

Some couples want nothing more than a laid-back, by-the-book proposal. Then there are the other couples, where the proposal not only needs to be personalized, it also has to be unique and entirely different than the typical restaurant, bended-knee idea. Sound like you? Then get inspired by some of the most creative proposal ideas we've ever seen. If you find something you like, steal it and then modify it to make your proposal something totally unforgettable.

From Nantucket all the way to Cayo Espanto, we've rounded up some of the prettiest beaches to travel to for your honeymoon.

Researchers studied the age-old stereotype that women really are more talkative than men.