Is make-up sex unhealthy?
One expert likens it to cocaine.
Some say it's the best sex ever, but according to one expert, make-up sex is downright unhealthy.
"Intense romantic relationships often include powerful arguments, followed by powerful make-up sex," writes Seth Meyers, Psy.D, in an article for Psychology Today.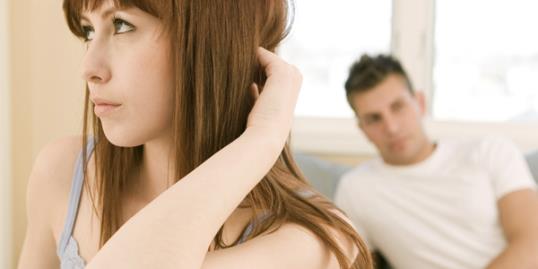 More on MSN Living: Kissing dos and don'ts
Meyers argues that make-up sex is simply a distraction from the negative issues in a relationship and goes on to write, "it's not that different from an addict who needs a hit of cocaine."
Not surprisingly, Meyers' coke comparison stirred up a bit of controversy.
More on MSN Living: 50 wedding cost-cutting tips from real brides
In a post on the blog Babble, one writer responded:
"Really now. I may not know what it feels like to be 'an addict who needs a hit of cocaine' but is anyone ever really that desperate to switch gears while fighting?"
But let's hear Meyers out. He says that regular sex in a healthy relationship is all about feeling intimacy and trust. But that's not what motivates make-up sex.
"The truth is that most make-up sex results from having felt and expressed extreme negative emotions during a heated argument, without any true resolution afterward. During make-up sex, couples often express extreme positive emotions and they reach a momentary state of bliss. They declare grand statements of love and feel, in that moment, that they are sure they belong together. The problem: this isn't real intimacy."
Meyers says there's no room for confusion, anger or sadness during a sexual encounter—a reasonable suggestion. He adds that, if you find yourself in the middle of make-up sex, "gently pull back and explain to your partner that you want to stop and try again later."
Bing: Sex with condom feels just as good, according to study
Some still see it differently, however. In a Health magazine article, writer Jennifer Berman argued that make-up sex is actually a healthy way to spice up your love life:
"It be madly passionate, but it can also sustain intimacy during tough times. Besides, it's natural to feel turned on after an argument."
I suppose, ultimately, it just depends on the situation. But what do you think—is make-up sex unhealthy for a relationship?
More from The Heart Beat: 
Study: Couples too tired for sex
How rekindled romance is ruining relationships
New trend: Divorce parties
Love content like this? Friend us on Facebook, follow us on Twitter and find us on Pinterest
Photo: Novastock/Getty Images
love: friendships, dating, sex & marriage
Two guests arrested in New Jersey.

Celebrities certainly know how to travel in style, so if you're struggling to select a honeymoon destination, look no further than these star-approved hotspots. To make it even easier, we're providing you with hotel recommendations, packing essentials, and tips on what to do and see! So channel your inner celeb at one of these U.S. destinations for an unforgettable vacation!

Tall Twitter users named Wayne, we're on to you!

Should little girls be dreaming of a different kind of "I do"?

Need a reason to pack your bags and get the hell out of here?

After your return from your honeymoon, your marriage officially starts and with that come some changes. It's not to say that the honeymoon phase is over, but you'll have to get some things situated in order to have your marriage start off on the right foot. We tapped the expert advice of wedding planner and reality TV star David Tutera and love and career coach Charreah Jackson to dish on six things you must do to have a successful first month of marriage — from wedding-related logistics to wrap up to relationship rules to set.

Owner of Weddings in Vieques, a destination-wedding planning company off the coast of Puerto Rico, Sandy Malone has helped countless couples plan their big day since 2007. Here, the veteran planner is sharing some expert advice for free: She's sharing the top eight things you have to do right after you get engaged.

Is the idea of a big bridal bash just not your thing? Or perhaps you and your fiancé are just the super spontaneous type, so why not make your next beach vacation your nuptials as well? If you're thinking of eloping but have questions on the mind, we're here to help. We tapped elopement and wedding planner Lindsey Nickel, founder of Events, Etc., for her top dos and don'ts for getting hitched on the sly.

Easy everyday ways to keep the love alive.

Expert tips on moving past those oh-so-familiar arguments.

Sometimes you have to do things you don't want to do, like hang out with his lame friends. You're not always in the mood to nurse a beer silently while he and his boys argue about who's going to die next on "Game of Thrones" — but tomorrow he's sitting through a seven-girl brunch. So.

Why holding on to your partner's mistakes will end up hurting you.