Is make-up sex unhealthy?
One expert likens it to cocaine.
Some say it's the best sex ever, but according to one expert, make-up sex is downright unhealthy.
"Intense romantic relationships often include powerful arguments, followed by powerful make-up sex," writes Seth Meyers, Psy.D, in an article for Psychology Today.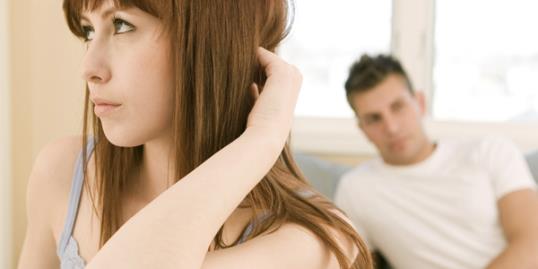 More on MSN Living: Kissing dos and don'ts
Meyers argues that make-up sex is simply a distraction from the negative issues in a relationship and goes on to write, "it's not that different from an addict who needs a hit of cocaine."
Not surprisingly, Meyers' coke comparison stirred up a bit of controversy.
More on MSN Living: 50 wedding cost-cutting tips from real brides
In a post on the blog Babble, one writer responded:
"Really now. I may not know what it feels like to be 'an addict who needs a hit of cocaine' but is anyone ever really that desperate to switch gears while fighting?"
But let's hear Meyers out. He says that regular sex in a healthy relationship is all about feeling intimacy and trust. But that's not what motivates make-up sex.
"The truth is that most make-up sex results from having felt and expressed extreme negative emotions during a heated argument, without any true resolution afterward. During make-up sex, couples often express extreme positive emotions and they reach a momentary state of bliss. They declare grand statements of love and feel, in that moment, that they are sure they belong together. The problem: this isn't real intimacy."
Meyers says there's no room for confusion, anger or sadness during a sexual encounter—a reasonable suggestion. He adds that, if you find yourself in the middle of make-up sex, "gently pull back and explain to your partner that you want to stop and try again later."
Bing: Sex with condom feels just as good, according to study
Some still see it differently, however. In a Health magazine article, writer Jennifer Berman argued that make-up sex is actually a healthy way to spice up your love life:
"It be madly passionate, but it can also sustain intimacy during tough times. Besides, it's natural to feel turned on after an argument."
I suppose, ultimately, it just depends on the situation. But what do you think—is make-up sex unhealthy for a relationship?
More from The Heart Beat: 
Study: Couples too tired for sex
How rekindled romance is ruining relationships
New trend: Divorce parties
Love content like this? Friend us on Facebook, follow us on Twitter and find us on Pinterest
Photo: Novastock/Getty Images
love: friendships, dating, sex & marriage
This winter, it's all about mixing unexpected seasonal elements with elegant neutral details and a hint of sparkle and sequins. Take a look.

Here's why dudes without hair make the best boyfriends.

What do you wish you appreciated more when you were flying solo?

"If you're so busy tweeting and Instagraming, you're not paying attention," New York wedding planner Marcy Blum said. "It's almost a cosmic faux pas. People want your energy with them and focused on what they're doing."

The wedding favor, that little thank-you-for-coming gift, has risen to new heights with the bride and groom giving guests a wide range of favors that are meaningful to them.

Generations ago, planning a wedding was 100 percent the bride's job, but in today's age of gender equity, it's a mere 99 percent.

For all the self-help books and advice columns out there (um, keeping reading my advice anyway, please!), there's one tool we all already have in our arsenal for picking a partner that will keep us happy: our gut instincts.

According to a new study from the University of Texas and the University of California, Los Angeles, both men and women have regrets when it comes to sex, but the genders vary greatly when it comes to what they regret specifically.

Spending time alone with your guy is easy, but going public with your plus-one is another thing entirely. Whether it's your crazy relatives at Thanksgiving dinner or awkward convos with your boss at the holiday party, possible pitfalls are everywhere. Keep reading for tips on how to make his grand entrance into your social life a good thing.

Match.com survey reveals the day you're least likely to get spruced up for a date.

Drinking and relationships seem to go hand in hand in a lot of ways. But only in moderation!

Many men will tell you that they have no clue what their wives are thinking.