True love stories: Childhood friends keep promise to wed
We dare you not to get goosebumps.
The Heart Beat is excited to introduce our new weekly feature, "True love stories." Each week, a couple with a truly amazing love story will be profiled. If you know a couple with a story worth sharing, please email us at msnlivingmail@micros​​​​​oft.com for a chance to be featured.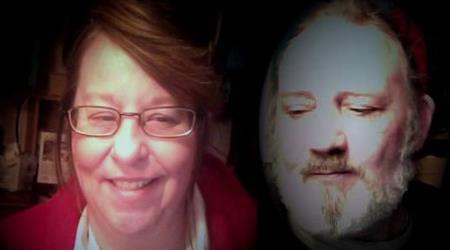 In third grade, Nadine and Alan vowed to marry each other, sealing the promise with a kiss.
"Our young romance consisted of a kiss under the slide and a proclamation that when we grew up we would marry," Nadine wrote in an email to MSN's The Heart Beat. Her childhood sweetheart gave her a handmade Valentine that she kept for many years. "I gave him homemade heart cookies that year, which impressed him more than the kiss. This was 1967."
More on MSN Living: Just got engaged? 11 things to do NOW!
The two were childhood friends, with Nadine calling Alan her "kindergarten buddy." But like a lot of grade school friends, the two soon went their separate ways. They lived their own lives, married, divorced, and had children.
 More on MSN Living: Engagement etiquette tips everyone should know 
But fate refused to keep them separated. In a serendipitous coincidence worthy of a rom-com, Nadine and Alan were reunited online—only they had no idea.
After her divorce, Nadine's children convinced her look for romance online.
"I posted a profile, and a few weeks later received an email and a photo from a man who lived only a few miles away from where I was living," Nadine told us. "The man looked very familiar, and we spoke on the phone several times and chatted online."
Both Nadine and her online suitor used aliases, so, at first, they were strangers. It wasn't until he sent her a photo that Nadine realized she knew him from somewhere.
"I began by looking through all of my old school class photos, and finally realized who the man was."
Indeed, it was her third-grade kiss, Alan Smeltzer. "I was pretty excited," Nadine said.
Bing: Valentine's Day dos and don'ts
Forty-three years after the kiss and the box of cookies, the two tied the knot, keeping their childhood promise. She jokes that the secret to their happy marriage is that she's still feeding him. Nadine, a retired schoolteacher and disabled Army Veteran, can't help but dote on the love of her life:
"My husband is a very easygoing guy. He's a laidback type fellow. He looks and acts like the proverbial hippie. Has long hair and he grows his own vegetables."
Nadine has two daughters "who think the world of their step dad." She also has three grandchildren. "They say we look like Mr. and Mrs. Claus," she laughs.
Nadine and Alan's key to a happy marriage is wise in its simplicity:
"We always communicate with each other."
Here's wishing Nadine and Alan the best. Thank you for sharing your fateful love story with The Heart Beat!
More from The Heart Beat:
True love stories: Couple remarries 30 years after divorce
7 lost wedding ring stories with happy endings
Study: Confidence before marriage leads to a happy union
Love content like this? Friend us on Facebook, follow us on Twitter and find us on Pinterest
love: friendships, dating, sex & marriage
The outlandish things we do for love have no limits; just ask these guys. Who's hugged the longest? Kissed the longest? Been on the most expensive date? Take a look below as we count down the world's most loving record-breakers.

If you just got engaged, congrats! This is seriously exciting news that deserves lots of congratulatory hugs, "oohing" and "ahhing" over the ring and plenty of bubbly. To make sure you get the right response from friends, family and coworkers, avoid announcing your engagement like this…

Ladies, give yourself the best gift of all this season: The NYC Taxi Driver 2014 Calendar. By Michelle Toglia

Pheromones may be the key to finding your perfect match.

Her partner? Wine? Downtime? Find out where it all ranks.

This time of year, we dust off our holiday traditions of special songs, stories, events and food to make our season bright. Here's a look into the traditional, unique and quirky holiday traditions of some famous couples.

Look, I looooove engagement season for obvious reasons, but even I can admit I'm like, "Really, AGAIN?" when yet ANOTHER engagement ring pops up in my news feed. Seriously, there were two this weekend. (Congrats, Gemma and Danny!)

We asked real men and women (and a few first-base experts, too) to give us the cardinal rules of kissing, tell us what makes someone a good kisser and more. So whether you're leaning in for kiss No. 1 or 1,000, read on.by Devin Tomb

Not quite sure which diamond shape suits your personality? We're here to help.

Dating can lead to all kinds of tricky situations. To help you navigate even the most awkward moments, we've compiled our 50 best dating tips—some new, some old—given to us by experts, moms, women like you, and even Justin Timberlake.

Customers as Madison's new Snuggle House can snuggle with professional cuddlers for $60 an hour.

Can you believe it was only about 15 years ago that engagement ring shopping meant a time-consuming slog from jewelry boutique to jewelry boutique? Thank goodness for the internet; nowadays, it's easy to do all that legwork online.