True love stories: Childhood friends keep promise to wed
We dare you not to get goosebumps.
The Heart Beat is excited to introduce our new weekly feature, "True love stories." Each week, a couple with a truly amazing love story will be profiled. If you know a couple with a story worth sharing, please email us at msnlivingmail@micros​​​​​oft.com for a chance to be featured.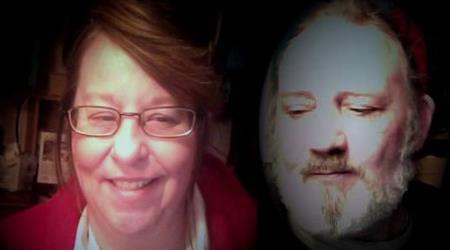 In third grade, Nadine and Alan vowed to marry each other, sealing the promise with a kiss.
"Our young romance consisted of a kiss under the slide and a proclamation that when we grew up we would marry," Nadine wrote in an email to MSN's The Heart Beat. Her childhood sweetheart gave her a handmade Valentine that she kept for many years. "I gave him homemade heart cookies that year, which impressed him more than the kiss. This was 1967."
More on MSN Living: Just got engaged? 11 things to do NOW!
The two were childhood friends, with Nadine calling Alan her "kindergarten buddy." But like a lot of grade school friends, the two soon went their separate ways. They lived their own lives, married, divorced, and had children.
 More on MSN Living: Engagement etiquette tips everyone should know 
But fate refused to keep them separated. In a serendipitous coincidence worthy of a rom-com, Nadine and Alan were reunited online—only they had no idea.
After her divorce, Nadine's children convinced her look for romance online.
"I posted a profile, and a few weeks later received an email and a photo from a man who lived only a few miles away from where I was living," Nadine told us. "The man looked very familiar, and we spoke on the phone several times and chatted online."
Both Nadine and her online suitor used aliases, so, at first, they were strangers. It wasn't until he sent her a photo that Nadine realized she knew him from somewhere.
"I began by looking through all of my old school class photos, and finally realized who the man was."
Indeed, it was her third-grade kiss, Alan Smeltzer. "I was pretty excited," Nadine said.
Bing: Valentine's Day dos and don'ts
Forty-three years after the kiss and the box of cookies, the two tied the knot, keeping their childhood promise. She jokes that the secret to their happy marriage is that she's still feeding him. Nadine, a retired schoolteacher and disabled Army Veteran, can't help but dote on the love of her life:
"My husband is a very easygoing guy. He's a laidback type fellow. He looks and acts like the proverbial hippie. Has long hair and he grows his own vegetables."
Nadine has two daughters "who think the world of their step dad." She also has three grandchildren. "They say we look like Mr. and Mrs. Claus," she laughs.
Nadine and Alan's key to a happy marriage is wise in its simplicity:
"We always communicate with each other."
Here's wishing Nadine and Alan the best. Thank you for sharing your fateful love story with The Heart Beat!
More from The Heart Beat:
True love stories: Couple remarries 30 years after divorce
7 lost wedding ring stories with happy endings
Study: Confidence before marriage leads to a happy union
Love content like this? Friend us on Facebook, follow us on Twitter and find us on Pinterest
love: friendships, dating, sex & marriage
How to flag her little fibs. By Laura Tedesco

A new study on attraction may help explain why fashions change.

As a general rule, any island that offers great weather year-round is going to attract the most visitors in the winter (high season) when we're all trying to escape the snow. Once summer rolls around, many islands see a sharp drop-off in tourism since many people have beach weather right in their own backyards.

And how you can attack the issues together.

A wedding is an exceptionally special day. Sometimes, an opportune photo flub makes the occasion even more memorable. Here are 25 awesome wedding photo bombs.

Somewhere between the first few butterfly-inducing dates and the committed-for-life stage, there's the period of wondering if you're both on the same page about how serious you feel about a future together. If you're not quite at the point of "that talk" but you're looking for a few clues you're heading in that direction, here are some signs he's in it for the long haul as your relationship progresses.

What's that sound? It's white noise blocking out the well-meaning person proclaiming groundbreaking news about where you can meet someone, asking why you're still single, or bugging you about when you're getting married already. Don't be that person. Here are 15 annoying things all single people don't want to hear.

With just a few days left before the big day, you already have a mile-long checklist of to-dos—now meet the don'ts! From impromptu skin treatments to all-night movie marathons, here are 11 things to avoid at all costs.

A new study shows that watching and discussing romantic films can drastically reduce your chance of divorce. These flicks more than fit the bill.

These seemingly innocent phrases still have the power to wound… big time.

Making "I do" last forever is one of the biggest challenges you'll ever face—and it's normal to worry about how you'll do it. But, if your connection involves any of these things, rest assured that you're in it for the long run.

Ultimately, as hard as it may seem at the beginning, a marital affair can be a turning point.