Rising number of divorces blamed on wives' drinking
Attorney says many breakups are caused by women's alcohol abuse.
Last year, we found out that married women are drinking more after marriage. Now, one expert says wives' boozing behavior is to blame for a rising number of divorces.
Family-law attorney Amanda McAlister told the Daily Mail that she sees 40 to 50 divorce cases each year in which excessive drinking is a contributing factor. In the majority of those cases, it's the woman who has the problem, she says.
More on MSN Living: Going to a wedding? 10 new wedding etiquette rules
"Husbands will often initially cite a different reason for divorce, such as that their wife doesn't work or help around the house," she said. "It only later comes to light that the reason she's not doing so is because she's often drunk or nursing a hangover."
She estimates that these types of divorces have increased about 70 percent in the past five years — a sobering statistic.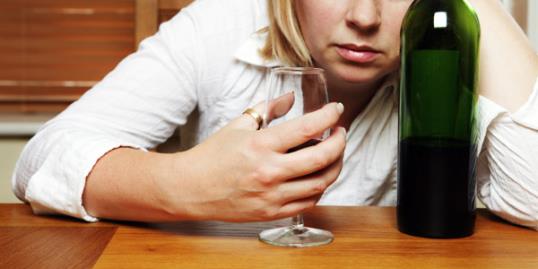 McAlister says sometimes these women drink at home as a way to cope with stress or depression. But many times, the drinking is more social and accompanied by a large network of friends and colleagues.
"Many of the men who come to me say their wives often don't come home until 4 a.m."
More on MSN Living: The ultimate dating do's and don'ts

Sadly, McAlister's claim may not be farfetched. A study from earlier this year found that heavy drinking and incompatible drinking increase the chance of divorce.
Researchers from the Norwegian Institute of Public Health studied data from nearly 20,000 married couples. They found that couples who consume the same amount of alcohol were less likely to divorce than couples who had mismatched drinking behavior. The kicker? The divorce risk was especially high if the woman was the one drinking heavily.
Fartein Ask Torvi, author of the study, offered a couple of explanations.
"A wife's heavy drinking probably also interferes more with general family life -- that is, the caring role of the mother, upbringing of children, etc. Perhaps the husband is more apt to the leave the spouse than is the wife when major problems occur."
love: friendships, dating, sex & marriage
How to flag her little fibs. By Laura Tedesco

A new study on attraction may help explain why fashions change.

As a general rule, any island that offers great weather year-round is going to attract the most visitors in the winter (high season) when we're all trying to escape the snow. Once summer rolls around, many islands see a sharp drop-off in tourism since many people have beach weather right in their own backyards.

And how you can attack the issues together.

A wedding is an exceptionally special day. Sometimes, an opportune photo flub makes the occasion even more memorable. Here are 25 awesome wedding photo bombs.

Somewhere between the first few butterfly-inducing dates and the committed-for-life stage, there's the period of wondering if you're both on the same page about how serious you feel about a future together. If you're not quite at the point of "that talk" but you're looking for a few clues you're heading in that direction, here are some signs he's in it for the long haul as your relationship progresses.

What's that sound? It's white noise blocking out the well-meaning person proclaiming groundbreaking news about where you can meet someone, asking why you're still single, or bugging you about when you're getting married already. Don't be that person. Here are 15 annoying things all single people don't want to hear.

With just a few days left before the big day, you already have a mile-long checklist of to-dos—now meet the don'ts! From impromptu skin treatments to all-night movie marathons, here are 11 things to avoid at all costs.

A new study shows that watching and discussing romantic films can drastically reduce your chance of divorce. These flicks more than fit the bill.

These seemingly innocent phrases still have the power to wound… big time.

Making "I do" last forever is one of the biggest challenges you'll ever face—and it's normal to worry about how you'll do it. But, if your connection involves any of these things, rest assured that you're in it for the long run.

Ultimately, as hard as it may seem at the beginning, a marital affair can be a turning point.