Rising number of divorces blamed on wives' drinking
Attorney says many breakups are caused by women's alcohol abuse.
Last year, we found out that married women are drinking more after marriage. Now, one expert says wives' boozing behavior is to blame for a rising number of divorces.
Family-law attorney Amanda McAlister told the Daily Mail that she sees 40 to 50 divorce cases each year in which excessive drinking is a contributing factor. In the majority of those cases, it's the woman who has the problem, she says.
More on MSN Living: Going to a wedding? 10 new wedding etiquette rules
"Husbands will often initially cite a different reason for divorce, such as that their wife doesn't work or help around the house," she said. "It only later comes to light that the reason she's not doing so is because she's often drunk or nursing a hangover."
She estimates that these types of divorces have increased about 70 percent in the past five years — a sobering statistic.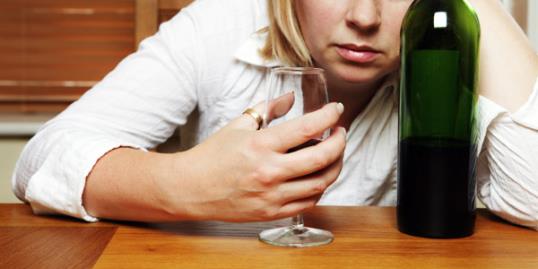 McAlister says sometimes these women drink at home as a way to cope with stress or depression. But many times, the drinking is more social and accompanied by a large network of friends and colleagues.
"Many of the men who come to me say their wives often don't come home until 4 a.m."
More on MSN Living: The ultimate dating do's and don'ts

Sadly, McAlister's claim may not be farfetched. A study from earlier this year found that heavy drinking and incompatible drinking increase the chance of divorce.
Researchers from the Norwegian Institute of Public Health studied data from nearly 20,000 married couples. They found that couples who consume the same amount of alcohol were less likely to divorce than couples who had mismatched drinking behavior. The kicker? The divorce risk was especially high if the woman was the one drinking heavily.
Fartein Ask Torvi, author of the study, offered a couple of explanations.
"A wife's heavy drinking probably also interferes more with general family life -- that is, the caring role of the mother, upbringing of children, etc. Perhaps the husband is more apt to the leave the spouse than is the wife when major problems occur."
love: friendships, dating, sex & marriage
It's wedding season! Let's take a look back at when these stunning celebs put on gorgeous gowns and held beautiful bouquets in support of their friends' and family members' big days.

A new study says we're more open to consensual non-monogamy now than ever before — but does it work?

5 steps to being happy together in the long run.

There has been an exponential increase in the number of people who are questioning their marriage.

We're willing to bet that if you're not already grappling with these wedding-related snags, you will be soon.

Pull out the tissues for these personalized wedding vows.

Forgotten what love is all about? Read this note, and remember.

And a few that aren't so shocking.

If you find yourself doing any of these things, consider changing your behavior or counseling.

From pineapple sculptures made out of sunflowers to bold graphic printed tablecloths, ten trendsetters in the wedding industry shared 100 days' worth of inspiring new wedding details. See The Knot editors' top picks for the coolest and most awe-worthy ideas from the wedding experts.

Those Facebook friends who seem to have perfect lives with flawless mates whom they adore at all times? Even they face tough times like these.

How to flag her little fibs. By Laura Tedesco