Rising number of divorces blamed on wives' drinking
Attorney says many breakups are caused by women's alcohol abuse.
Last year, we found out that married women are drinking more after marriage. Now, one expert says wives' boozing behavior is to blame for a rising number of divorces.
Family-law attorney Amanda McAlister told the Daily Mail that she sees 40 to 50 divorce cases each year in which excessive drinking is a contributing factor. In the majority of those cases, it's the woman who has the problem, she says.
More on MSN Living: Going to a wedding? 10 new wedding etiquette rules
"Husbands will often initially cite a different reason for divorce, such as that their wife doesn't work or help around the house," she said. "It only later comes to light that the reason she's not doing so is because she's often drunk or nursing a hangover."
She estimates that these types of divorces have increased about 70 percent in the past five years — a sobering statistic.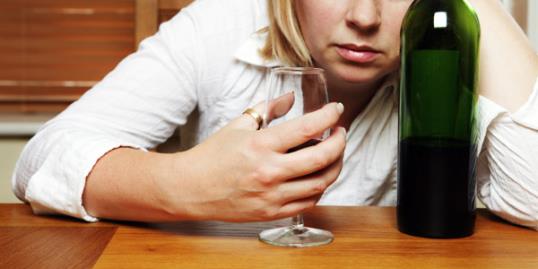 McAlister says sometimes these women drink at home as a way to cope with stress or depression. But many times, the drinking is more social and accompanied by a large network of friends and colleagues.
"Many of the men who come to me say their wives often don't come home until 4 a.m."
More on MSN Living: The ultimate dating do's and don'ts

Sadly, McAlister's claim may not be farfetched. A study from earlier this year found that heavy drinking and incompatible drinking increase the chance of divorce.
Researchers from the Norwegian Institute of Public Health studied data from nearly 20,000 married couples. They found that couples who consume the same amount of alcohol were less likely to divorce than couples who had mismatched drinking behavior. The kicker? The divorce risk was especially high if the woman was the one drinking heavily.
Fartein Ask Torvi, author of the study, offered a couple of explanations.
"A wife's heavy drinking probably also interferes more with general family life -- that is, the caring role of the mother, upbringing of children, etc. Perhaps the husband is more apt to the leave the spouse than is the wife when major problems occur."
love: friendships, dating, sex & marriage
You'd think brides and grooms who celebrate their nuptials with 50 guests have an equal shot at wedded bliss as those who invite 500, but apparently not.

Because some things are just better with a buddy (whom you happen to be dating).

They're smart, funny, and adorable, but are you a good match?

Fight the urge to sign her up for OkCupid and read this instead.

We know you have good intentions, but...please...stop.

You can't say we didn't warn you. Every month is Movember when you're dating a guy with a beard. And while the scruffy look can be hot, there are some very real, err, challenges that come with the territory. Don't believe us? Well…

Follow these steps to slash your wedding budget—not your fun—in half.

It won't all be cake and flowers, but it can be the best year of your life together so far.

Expert tips on moving past those oh-so-familiar arguments.

Grow as a couple by sharing adventures.

For many married couples, falling in love and saying "I do" was the easy part. Living happily ever after is the part that takes a whole lot of work.