Rising number of divorces blamed on wives' drinking
Attorney says many breakups are caused by women's alcohol abuse.
Last year, we found out that married women are drinking more after marriage. Now, one expert says wives' boozing behavior is to blame for a rising number of divorces.
Family-law attorney Amanda McAlister told the Daily Mail that she sees 40 to 50 divorce cases each year in which excessive drinking is a contributing factor. In the majority of those cases, it's the woman who has the problem, she says.
More on MSN Living: Going to a wedding? 10 new wedding etiquette rules
"Husbands will often initially cite a different reason for divorce, such as that their wife doesn't work or help around the house," she said. "It only later comes to light that the reason she's not doing so is because she's often drunk or nursing a hangover."
She estimates that these types of divorces have increased about 70 percent in the past five years — a sobering statistic.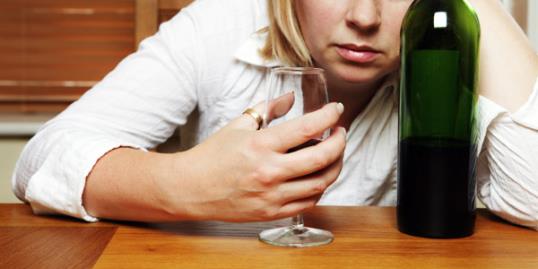 McAlister says sometimes these women drink at home as a way to cope with stress or depression. But many times, the drinking is more social and accompanied by a large network of friends and colleagues.
"Many of the men who come to me say their wives often don't come home until 4 a.m."
More on MSN Living: The ultimate dating do's and don'ts

Sadly, McAlister's claim may not be farfetched. A study from earlier this year found that heavy drinking and incompatible drinking increase the chance of divorce.
Researchers from the Norwegian Institute of Public Health studied data from nearly 20,000 married couples. They found that couples who consume the same amount of alcohol were less likely to divorce than couples who had mismatched drinking behavior. The kicker? The divorce risk was especially high if the woman was the one drinking heavily.
Fartein Ask Torvi, author of the study, offered a couple of explanations.
"A wife's heavy drinking probably also interferes more with general family life -- that is, the caring role of the mother, upbringing of children, etc. Perhaps the husband is more apt to the leave the spouse than is the wife when major problems occur."
love: friendships, dating, sex & marriage
Here's why dudes without hair make the best boyfriends.

What do you wish you appreciated more when you were flying solo?

"If you're so busy tweeting and Instagraming, you're not paying attention," New York wedding planner Marcy Blum said. "It's almost a cosmic faux pas. People want your energy with them and focused on what they're doing."

The wedding favor, that little thank-you-for-coming gift, has risen to new heights with the bride and groom giving guests a wide range of favors that are meaningful to them.

Generations ago, planning a wedding was 100 percent the bride's job, but in today's age of gender equity, it's a mere 99 percent.

For all the self-help books and advice columns out there (um, keeping reading my advice anyway, please!), there's one tool we all already have in our arsenal for picking a partner that will keep us happy: our gut instincts.

According to a new study from the University of Texas and the University of California, Los Angeles, both men and women have regrets when it comes to sex, but the genders vary greatly when it comes to what they regret specifically.

Spending time alone with your guy is easy, but going public with your plus-one is another thing entirely. Whether it's your crazy relatives at Thanksgiving dinner or awkward convos with your boss at the holiday party, possible pitfalls are everywhere. Keep reading for tips on how to make his grand entrance into your social life a good thing.

Match.com survey reveals the day you're least likely to get spruced up for a date.

Drinking and relationships seem to go hand in hand in a lot of ways. But only in moderation!

Many men will tell you that they have no clue what their wives are thinking.

Spending the holidays with your guy's family for the first time is a huge relationship milestone. But between your nerves, the usual family tension, and your weird Uncle Sal's inappropriate stories, it's also a prime opportunity for total disaster. Read on for 10 of our readers' most embarrassing meet-the-parents moments.