Rising number of divorces blamed on wives' drinking
Attorney says many breakups are caused by women's alcohol abuse.
Last year, we found out that married women are drinking more after marriage. Now, one expert says wives' boozing behavior is to blame for a rising number of divorces.
Family-law attorney Amanda McAlister told the Daily Mail that she sees 40 to 50 divorce cases each year in which excessive drinking is a contributing factor. In the majority of those cases, it's the woman who has the problem, she says.
More on MSN Living: Going to a wedding? 10 new wedding etiquette rules
"Husbands will often initially cite a different reason for divorce, such as that their wife doesn't work or help around the house," she said. "It only later comes to light that the reason she's not doing so is because she's often drunk or nursing a hangover."
She estimates that these types of divorces have increased about 70 percent in the past five years — a sobering statistic.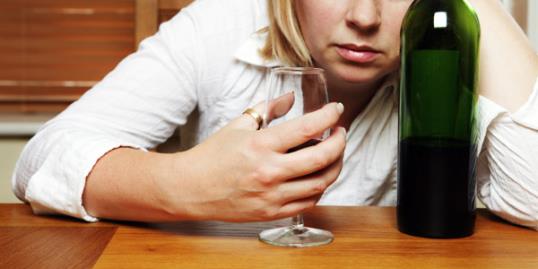 McAlister says sometimes these women drink at home as a way to cope with stress or depression. But many times, the drinking is more social and accompanied by a large network of friends and colleagues.
"Many of the men who come to me say their wives often don't come home until 4 a.m."
More on MSN Living: The ultimate dating do's and don'ts

Sadly, McAlister's claim may not be farfetched. A study from earlier this year found that heavy drinking and incompatible drinking increase the chance of divorce.
Researchers from the Norwegian Institute of Public Health studied data from nearly 20,000 married couples. They found that couples who consume the same amount of alcohol were less likely to divorce than couples who had mismatched drinking behavior. The kicker? The divorce risk was especially high if the woman was the one drinking heavily.
Fartein Ask Torvi, author of the study, offered a couple of explanations.
"A wife's heavy drinking probably also interferes more with general family life -- that is, the caring role of the mother, upbringing of children, etc. Perhaps the husband is more apt to the leave the spouse than is the wife when major problems occur."
love: friendships, dating, sex & marriage
The typical wedding: A white dress, tiered cake, floral centerpieces and a cute flower girl -- you know the drill. Every once in a while, though, a couple trades in tradition for a quirky, never-seen-that-before idea. Here are a few of the most out-there wedding photos that made us do a double take.

There's a lot to love about weddings this fall, like cocktails served in copper Moscow mule mugs, industrial-inspired lighting and pheasant feather details. See what's new!

Do you have to be engaged to sport a ring with bling?

124.6 million haven't gotten hitched.

Even though the national average wedding is $29,858, that's just an average. If you live in a smaller state like Idaho where the average wedding costs $16,159, you may find yourself saving a little more than half of the national spend! Check out some of the other least expensive cities to get married in below:

Summer is winding down, but the ubiquitous summer romance lives on.

For those times when nothing big and horrible happened--but nothing is feeling right either.

He's confident, distinguished and anywhere from 4 to 20 years older than you. Age is just a number, but there's something about older men that we love. Here are eight reasons why being in a relationship with an older man is tops.

While a younger man may have less life experience, that doesn't mean he's not emotionally mature. Here are the eight reasons why being in a relationship with a younger man is tops.

Have you ever wondered what the 'other woman' was thinking?

So fall is coming and you need some romantic inspiration now that long walks on the beach are out of the question. Well look no further! From apple picking to pumpkin carving, these are some great fall date ideas from girls just like you!

Getting bored of the same dinner and movie date night? Take an adorable cue from your favorite celebs and try something new! From dancing to boxing you can't go wrong with these awesome date ideas.