Should you date your guy BFF? The pros & cons
Your Prince Charming may be closer than you think -- maybe.
Prince Charming may be closer than you think. If movies like "He's Just Not That Into You" and "Just Friends" have taught us anything, it's that after years of looking for Mr. Right, some girls end up with their best guy friend. In a way, it makes sense: He listens to your pointless rants and remembers your birthday, and you obviously enjoy hanging out with him. But like any other type of relationship, this kind of romance has its drawbacks. Before you decide whether or not you should give him a chance, see what our relationship gurus and other college women have to say about dating your best guy friend.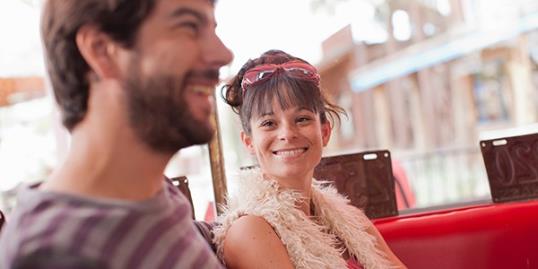 The pros
No awkward 'getting to know you' conversations
What's your favorite movie? How many siblings do you have? Where did you grow up? Sometimes, dating feels like a cruel game of "20 Questions." When you date a guy who's already your friend, you can skip the small talk. "We already knew each other extremely well when we started dating, so we didn't have that awkward 'getting to know each other' period," says Julie*, a senior at Northeastern University who dated her male best friend. Since you already know your guy's interests, the two of you can jump into more serious conversations early on.
Dating your best friend may lead to a long-term relationship
Who doesn't want to end up with a guy who has Chris Hemsworth's face and Ryan Gosling's body? But, as every college woman knows, looks aren't everything. Since a set of killer abs will be replaced with a beer belly before you know it, it's important to be in a relationship with a guy whom you enjoy spending time with.  According to Susanne Alexander, a relationship coach and the author of "Creating Excellent Relationships: The Power of Character Choices," a best guy friend fits the bill.
"The reality is that a sustainable relationship or marriage requires the best qualities of friendship as part of the foundation," Alexander says.
We're not encouraging you to pick out your wedding dress and force your guy to say "I do" from the get-go, but if all goes well, the two of you may be together for many years to come.
Your friends already love him
As much as you may like a guy, he won't make the cut without your friends' seal of approval. Unless your potential beau has serious beef with your besties, there's a good chance that your buddies already know and like him.
"[My friends] were friends with him, so it wasn't awkward when we all hung out," says Gemma* a senior from Boston University who dated her best guy friend. "Plus, I knew they all approved of him already and I got to avoid the 'meet my boyfriend' introduction."
At the same time, you won't have to worry about if your boyfriend's friends like you. Awesome? We think so.
You'll feel free to be yourself
While a girl rarely says no to a romantic dinner or movie outing with a new guy, these dates can carry a lot of pressure with them. What's the dress code for that super-trendy French place? Who pays? What should you order (a burger is too messy, but guys sometimes pity the girl who orders the salad)? When you're dating your best guy friend, you can finally relax and just enjoy hanging out with him.
"There's no need to put on a façade; you can just be yourself," says Patrick Wanis, a human behavior expert and the author of "Get the Man You Want." Since you're already so comfortable with your beau, there's no need to laugh at jokes that aren't funny or go to his favorite, expensive Indian restaurant when the thought of curry makes you a little queasy.
"We do random stuff that I would do with my other friends, like staying in all weekend and watching movies," says Emma Squire, a senior at Vanderbilt University. To avoid being complete couch potatoes, treat yourselves to a date night each week.
The cons
You may be dating him for the wrong reasons
Even if you claim to love "the chase," there's something very appealing about a convenient, stress-free courtship. If your friend has feelings for you and you clearly enjoy hanging out with him, why not give it a chance? But be warned: Convenience is rarely a good reason to date someone.
"You may be entering it out of comfort and familiarity, not necessarily because you want something romantic," warns Wanis.  "I have one client who's dating a girl because he likes the way she loves him. He's just interested in receiving what she has to offer because she's a good friend [to him]." Before you and your guy friend go out on a date, think about why you're willing to give this a shot. If convenience and comfort are your only reasons, it may be smart to move onto the next guy.
*Names have been changed.
For the rest of the cons and more love advice, check out HerCampus.com!
More from The Heart Beat:
Couple has wedding for under $2
Lightning strikes in couple's wedding photo
Number of interracial couples grow, but many aren't marrying
Subscribe to The Heart Beat | Friend us on Facebook, follow us on Twitter and find us on Pinterest.
Photo: db2stock/Getty Images
love: friendships, dating, sex & marriage
All year long we obsess over hundreds of beautiful photos of every wedding detail, from the cutest flower girl dresses ever to wedding favor ideas that no one has ever seen before. But we couldn't keep these brilliant details to ourselves — here, 10 of the year's most unique wedding ideas!

Sexier sex! Very public proposals! Nearlyweds! It was a pretty busy year for love and relationships. As 2013 comes to a close, we look back at the best trends that made headlines.

The most wonderful time of the year can quickly become the most irritating time of the year if you're waiting for an engagement ring.

The holidays are a time of joy, cheer, and fighting with your boyfriend because he forgot to bring the gift you bought for his mom after you reminded him five times. These practical tips will help you avoid the bickering so you can get back to the important stuff—like eating more cookies.

Wedding cake, wedding reception? Psh! This couple is forgoing both—and going for a run instead.

Part of the reason Christmas felt so magical when you were a kid was because of all the special things you did only at that time of year, like sing Christmas carols or help decorate your mom's famous sugar cookies. (OK, fine. Also because of presents.)

Talk about a marriage proposal to remember.

I was just discussing last night how annoying posed professional portraits have become.

The key to wedded bliss isn't over-the-top romance, but these surprisingly simple practices you can do to stay - or fall back - in love with your partner. Read on for expert tips on how to have a happy marriage.

Do not get him a dopp kit, a money clip, a tie (seriously?), cufflinks or a bunch of candy that you will eat after he opens. Get him this stuff instead. He'll be surprised—but more importantly, he'll be happy. These gifts are good.

It might be time to let go of our general assumption that long-distance relationships are pure torture.

Researchers in a recent study conclude that men are better at focusing on one task, while women are more attuned to multi-task.