Colleges host 'sex week'
Is 'Dirty Talk' on your syllabus this semester?
Spring is in the air, and for quite a few colleges, so is "Sex Week."
Sex Week is a full week of classes and events dedicated to sex and relationship topics; Yale, Harvard and a handful of other universities have made it an annual tradition. Yesterday, for example, Brown University wrapped up their weeklong sex-ed agenda with a "Lace and Leather Burlesque Workshop."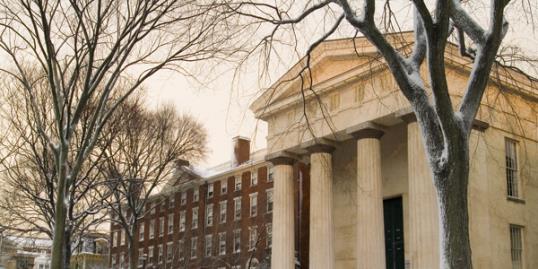 Eric Rubenstein and Jacqueline Farber, two Yale College graduates, organized the first ever Sex Week in 2002. Yale describes the week as "an interdisciplinary sex education program designed to pique students' interest through creative, interactive, and exciting programming." 
More on MSN Living: GQ's foolproof guide to online dating
Harvard hosted its first Sex Week just last year. Organizers noticed there were a variety of campus events available on sex, love and gender, and they wanted to find a way to connect them.
Harvard's Samantha Meier is co-president of Sex Week, and, according to her, the University's faculty and administration have been supportive:
"Even our office of career services has signed on for an event," Meier said.
According to LiveScience, many colleges use titillating titles like, "Sex and Chocolate in the Dark" and "Dirty Talk" simply to get students in the door. The goal is then to open a dialogue about sex and relationship topics in a comfortable setting. And while the classes take place on campus, the environment is much more intimate than you'd probably expect from a university:
"Celebrate Sex Week with an open discussion about all things sex in a safe, comfortable environment," reads Brown's Sex Week event list. "Bring blankets, pillows, friends, and questions for a night of cozy conversation in a dark, anonymyzing space."
More on MSN Living: Men reveal 7 biggest first date complaints
Perhaps not surprisingly, Sex Week hasn't been immune to controversy, especially at Yale, where porn stars have occasionally been asked to speak.  Pat Robertson's "The 700 Club," a talk show that airs on the Christian Broadcasting Network, recently denounced the college tradition. Guest Nathan Harden, author of "Sex and God at Yale," said:
"There's really a war being waged on the mind by the faculty and administration…Why would anybody send a little girl to Yale to think that she might get subjected to sadomasochism?"
Porn star "Maggie Mayhem" was invited to Yale last year to contribute to a discussion on ethics and pornography. She sought to help answer the question, "Is it ethical to film sex?"
And while a course like "Dirty Talk" might sound explicit, it's supposedly less about bedroom behavior and more about cultivating closeness with one's partner. As one student told the University of Southern California's "Neon Tommy" publication:
"It was just like, being consensual and comfortable in expressing yourself with your partner."
What do you think? Is "Sex Week" too over the top for college?
More from The Heart Beat:
Should the porn age be increased?
Bride and groom adopt new last name
Many couples rarely address each other by their actual first names
Love content like this? Friend us on Facebook, follow us on Twitter and find us on Pinterest.
Photo: College sex week / Brown University (© Kenneth C. Zirkel/Getty Images)
love: friendships, dating, sex & marriage
How to flag her little fibs. By Laura Tedesco

A new study on attraction may help explain why fashions change.

As a general rule, any island that offers great weather year-round is going to attract the most visitors in the winter (high season) when we're all trying to escape the snow. Once summer rolls around, many islands see a sharp drop-off in tourism since many people have beach weather right in their own backyards.

And how you can attack the issues together.

A wedding is an exceptionally special day. Sometimes, an opportune photo flub makes the occasion even more memorable. Here are 25 awesome wedding photo bombs.

Somewhere between the first few butterfly-inducing dates and the committed-for-life stage, there's the period of wondering if you're both on the same page about how serious you feel about a future together. If you're not quite at the point of "that talk" but you're looking for a few clues you're heading in that direction, here are some signs he's in it for the long haul as your relationship progresses.

What's that sound? It's white noise blocking out the well-meaning person proclaiming groundbreaking news about where you can meet someone, asking why you're still single, or bugging you about when you're getting married already. Don't be that person. Here are 15 annoying things all single people don't want to hear.

With just a few days left before the big day, you already have a mile-long checklist of to-dos—now meet the don'ts! From impromptu skin treatments to all-night movie marathons, here are 11 things to avoid at all costs.

A new study shows that watching and discussing romantic films can drastically reduce your chance of divorce. These flicks more than fit the bill.

These seemingly innocent phrases still have the power to wound… big time.

Making "I do" last forever is one of the biggest challenges you'll ever face—and it's normal to worry about how you'll do it. But, if your connection involves any of these things, rest assured that you're in it for the long run.

Ultimately, as hard as it may seem at the beginning, a marital affair can be a turning point.