Study: Wives surpass husbands when it comes to education
The end of the MRS degree?
It may once have been traditional for the husband to be the better-educated breadwinner, but that gender role has been challenged seriously. "Marrying up" is steadily becoming a thing of the past, a new study reveals.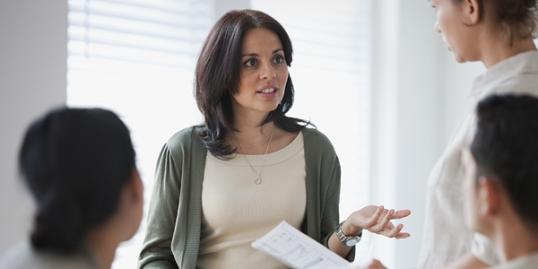 In an article published last month, researchers found that the number of couples in which the woman has a higher level of education than her male counterpart is growing steadily. Researchers Albert Esteve, Joan Garcia-Roman and Inaki Permanyer led the study, titled "The Gender-Gap Reversal in Education and its Effect on Union Formation: The End of Hypergamy?". They collected data from 138 censuses in 56 countries from 1968 to 2009.
Related: How to determine if he's marriage material
"Newly released census microdata reveal the nearly worldwide and substantial decline in educational hypergamy (women marrying men with higher educational attainment)…" the study's abstract reveals. It continues:
"Our results show that educational hypergamy is an enduring form of gender inequality in union formation across the countries examined but that it has been decreasing over the last few decades and in some countries has reversed in recent years."
Related: How to get the ring you want
Basically, fewer women are marrying men who surpass them in terms of education -- and, presumably, how much they earn. In some countries, in fact, it's men who are marrying up.
The researchers found a steep increase in education levels among women in recent years. And that increase also shows that more women than ever are better educated than their husbands. Albert Esteve said of their findings:
"Given this historical inertia, one could consider that the increase in education amongst women would make forming unions more difficult and raise the number of single women. However, what we see is that the composition of couples adapts quite well to these structural changes and that if these changes take place, sooner or later they will have an effect on the marriage market."
Esteve explains that if the trends in education continue, "marrying up" will become completely antiquated. He continued:
"It will be interesting to observe whether this change develops into more equality between men and women in other aspects of their life."
Photo: Jose Luis Pelaez Inc/Getty Images
Bing: Learn more about the salary gap among men and women.
More Sex & Love on MSN Living:
50 Dating Dos and Don'ts
Sweet, Fun and Cheap Date Ideas
The Dos and Don'ts of Dating More Than One Guy at a Time
24 Secrets of Successful Daters
love: friendships, dating, sex & marriage
Our married blogger gets real about checking out other guys when you're taken.

While we do love crazy, funny and over-the-top engagements, sometimes there's just nothing like a proposal with a heartfelt story behind it (warning: you might need some tissues). We've rounded up some of the most romantic wedding proposals from couples across the country, so keep scrolling for seven of our favorites:

As much as you'd like to think your guests will love every single aspect of your wedding, the truth is you really can't please everyone. However, you can try to avoid ticking them off. Here's how.

You'd think brides and grooms who celebrate their nuptials with 50 guests have an equal shot at wedded bliss as those who invite 500, but apparently not.

Because some things are just better with a buddy (whom you happen to be dating).

They're smart, funny, and adorable, but are you a good match?