Weird wedding trend: Naked nuptials
Wedding gown too expensive? Try a birthday suit.
We can't help but notice that more and more couples are taking on an unconventional new wedding trend: tying the knot in the nude.
Yesterday we came across the story of Nick and Wendy Lowe. The couple married last week at New Zealand's Wellington Naturist Club, exchanging their vows completely unclothed. Over 120 guests attended the wedding, and only half of them were wearing clothes.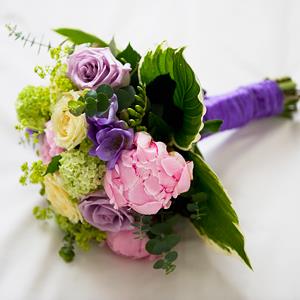 More on MSN Living: 14 surprising facts about getting engaged
At the reception, both nude and clothed photographs were taken.
Last year, National Geographic's Taboo documented nine couples who were married in a mass nude wedding in Jamaica.
The resort, National Geographic reported, celebrated "sun, sand and nudity. Not your typical wedding venue."
More on MSN Living: 10 cliche holiday marriage proposals
The couples exchanged vows on Jamaica's Negril beach, wearing nothing but veils and bow ties. One bride described the experience:
"So many things run through your mind, you know. 'Oh my god, I should've started working out."
In a piece titled, "Nude Weddings: 5 Places To Tie The Knot In The Nude," the Huffington Post reported that many nude beaches in the United States are members of the American Association for Nude Recreation (AANR).
Bing: Hot-air balloon wedding crash caught on tape
"The AANR says many of its clubs have played host to a number of weddings," Huffington Post reports. "The organization even has members who are ordained ministers to officiate weddings."
Nudist resort Terra Cotta Inn noticed an increase in clothing optional weddings, too. They explained the trend in a blog post:
"The growth of nude weddings is part of a larger trend in nude recreation, which is fast reaching record numbers."
China may be easing into the trend, too.  The Xin'an Evening News reported that many young newlyweds are donning their birthday suits for their wedding photos.
"Some photo studios are just going too far. They allow young women to have their photos taken in bikinis or with nothing on at all," said one woman interviewed. "I hope the authorities will do something."
What do you think of the nude nuptials trend? Is it liberating, or just plain lewd?
Photo: Lee Avison/Getty Images
More from The Heart Beat:
Childhood romance rekindled 40 years later
Is online dating causing divorce rates to rise?
Couple marries amid monsoon
Readers: We're building a slideshow of our favorite readers' rings and want to include yours. Share your photo by emailing it to us at msnlivingmail@micros​oft.com. Please include your name, city and state as well as any info you'd like to share about your ring and your proposal.
love: friendships, dating, sex & marriage
Two steps forward, one giant fight afterward?

If you've been hiding any of this stuff, it's time to fess up.

The outlandish things we do for love have no limits; just ask these guys. Who's hugged the longest? Kissed the longest? Been on the most expensive date? Take a look below as we count down the world's most loving record-breakers.

If you just got engaged, congrats! This is seriously exciting news that deserves lots of congratulatory hugs, "oohing" and "ahhing" over the ring and plenty of bubbly. To make sure you get the right response from friends, family and coworkers, avoid announcing your engagement like this…

Ladies, give yourself the best gift of all this season: The NYC Taxi Driver 2014 Calendar. By Michelle Toglia

Pheromones may be the key to finding your perfect match.

Her partner? Wine? Downtime? Find out where it all ranks.

This time of year, we dust off our holiday traditions of special songs, stories, events and food to make our season bright. Here's a look into the traditional, unique and quirky holiday traditions of some famous couples.

Look, I looooove engagement season for obvious reasons, but even I can admit I'm like, "Really, AGAIN?" when yet ANOTHER engagement ring pops up in my news feed. Seriously, there were two this weekend. (Congrats, Gemma and Danny!)

We asked real men and women (and a few first-base experts, too) to give us the cardinal rules of kissing, tell us what makes someone a good kisser and more. So whether you're leaning in for kiss No. 1 or 1,000, read on.by Devin Tomb

Not quite sure which diamond shape suits your personality? We're here to help.

Dating can lead to all kinds of tricky situations. To help you navigate even the most awkward moments, we've compiled our 50 best dating tips—some new, some old—given to us by experts, moms, women like you, and even Justin Timberlake.