Weird wedding trend: Naked nuptials
Wedding gown too expensive? Try a birthday suit.
We can't help but notice that more and more couples are taking on an unconventional new wedding trend: tying the knot in the nude.
Yesterday we came across the story of Nick and Wendy Lowe. The couple married last week at New Zealand's Wellington Naturist Club, exchanging their vows completely unclothed. Over 120 guests attended the wedding, and only half of them were wearing clothes.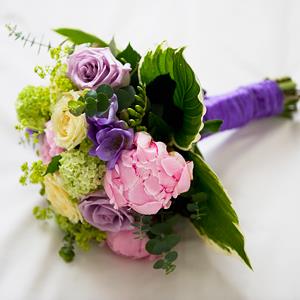 More on MSN Living: 14 surprising facts about getting engaged
At the reception, both nude and clothed photographs were taken.
Last year, National Geographic's Taboo documented nine couples who were married in a mass nude wedding in Jamaica.
The resort, National Geographic reported, celebrated "sun, sand and nudity. Not your typical wedding venue."
More on MSN Living: 10 cliche holiday marriage proposals
The couples exchanged vows on Jamaica's Negril beach, wearing nothing but veils and bow ties. One bride described the experience:
"So many things run through your mind, you know. 'Oh my god, I should've started working out."
In a piece titled, "Nude Weddings: 5 Places To Tie The Knot In The Nude," the Huffington Post reported that many nude beaches in the United States are members of the American Association for Nude Recreation (AANR).
Bing: Hot-air balloon wedding crash caught on tape
"The AANR says many of its clubs have played host to a number of weddings," Huffington Post reports. "The organization even has members who are ordained ministers to officiate weddings."
Nudist resort Terra Cotta Inn noticed an increase in clothing optional weddings, too. They explained the trend in a blog post:
"The growth of nude weddings is part of a larger trend in nude recreation, which is fast reaching record numbers."
China may be easing into the trend, too.  The Xin'an Evening News reported that many young newlyweds are donning their birthday suits for their wedding photos.
"Some photo studios are just going too far. They allow young women to have their photos taken in bikinis or with nothing on at all," said one woman interviewed. "I hope the authorities will do something."
What do you think of the nude nuptials trend? Is it liberating, or just plain lewd?
Photo: Lee Avison/Getty Images
More from The Heart Beat:
Childhood romance rekindled 40 years later
Is online dating causing divorce rates to rise?
Couple marries amid monsoon
Readers: We're building a slideshow of our favorite readers' rings and want to include yours. Share your photo by emailing it to us at msnlivingmail@micros​oft.com. Please include your name, city and state as well as any info you'd like to share about your ring and your proposal.
love: friendships, dating, sex & marriage
Lesson learned: don't be afraid to shake things up!

Plus, what to do if you're experiencing a dry spell.

To go Dutch or not to go Dutch? Turns out, it's really not that simple.

While the national average wedding cost may be $29,858, if you live in a larger city, like Manhattan where the average wedding costs $86,916, you may find yourself spending close to triple of that number! Take a look at some of the other most expensive places in America to get married.

Happy spring! Luckily, the weather here in New York is fairly warm and beautifully sunny, so I'm totally feeling that start of the season buzz. You know, when you want to walk outside for hours and then reorganize your entire closet by getting rid of all your stupid snow boots and sweaters immediately?

The American Civil Liberties Union's primary work is litigation, but this month it's moonlighting as a wedding planner as part of its role in the campaign to legalize same-sex marriage nationwide.