Poll: Men say brunettes make better wives
Is hair color really a factor when it comes to settling down?
In another survey pitting blonde against brunette, it's been revealed that men prefer darker hair when it comes to settling down.
The not-so-scientific survey of 1,000 men found that 54 percent would prefer a brunette wife, while 16 percent would choose a blonde gal. A promising 30 percent don't have a preference either way.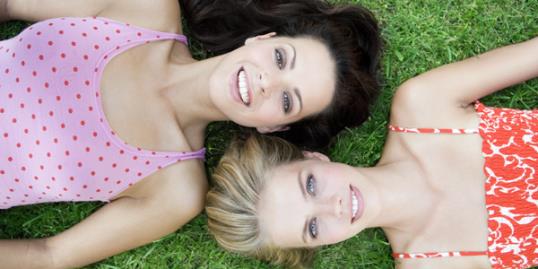 More on MSN Living: 10 rocky moments every relationship faces
Not surprisingly, a beauty retailer (Superdrug) was behind this survey, and the men polled went so far as to say brunettes were "deeper" and "more sensible" than blondes. And the generalizations didn't end there.
Women with darker hair apparently take better care of their appearance, make better cooks and are better at keeping the house clean—who knew? Men also believed brunettes were more likely to be experimental with their sex lives, and if that's not enough, brunettes are also more money-savvy.
We can't help but wonder if all these appealing qualities are lost when one decides to dye her hair?
More on MSN Living: High school proms: Then and now
Men's hair color preference went beyond marital partners, too. Forty-eight percent of the men said they'd choose a brunette girlfriend, while only 25 percent wanted blonde. Twenty-seven percent said neither.
As shallow as this poll may seem, it actually supports more scientific studies on hair color preference and sexual attraction. Researchers from Florida State University, for example, found that men prefer women with long brown hair to anything else. Dr. Kelley Kline, who led the study, said:
"At least in our study, gentlemen do not prefer blondes. They prefer brunettes. It's kind of an interesting finding, considering that in our society we concentrate on the blonde. It's so pervasive."
If all of this hair color talk is leaving a superficial taste in your mouth, here's a hopeful story.
In 2011, Marie Claire contributor Erin Hosier conducted a hair color experiment in which she dyed her red locks blonde and then switched to brown. A friend advised her:
"A lot of men are just intimidated by flashy. They want understated and down-to-earth."
Frustrated with the dating scene, Hosier wanted to see if changing her look would attract a partner. Long story short, it did:
"It doesn't take long before I have ample evidence that men are in fact down with the brown. Guys openly flirt on the elevator and in line at Chipotle."
Hosier explains that she's soon set up with a friend's friend, and they hit it off immediately. She asks him what he thinks of her chocolate brown hair. His response?
"It's nice. I don't know that it makes a difference, though. I think I would have been into you no matter what."
Love content like this? Friend us on Facebook, follow us on Twitter and find us on Pinterest.   
Photo: Men say brunettes make better wives / Thomas Schweizer/Getty Images
love: friendships, dating, sex & marriage
Forgotten what love is all about? Read this note, and remember.

And a few that aren't so shocking.

If you find yourself doing any of these things, consider changing your behavior or counseling.

From pineapple sculptures made out of sunflowers to bold graphic printed tablecloths, ten trendsetters in the wedding industry shared 100 days' worth of inspiring new wedding details. See The Knot editors' top picks for the coolest and most awe-worthy ideas from the wedding experts.

Those Facebook friends who seem to have perfect lives with flawless mates whom they adore at all times? Even they face tough times like these.

How to flag her little fibs. By Laura Tedesco

A new study on attraction may help explain why fashions change.

As a general rule, any island that offers great weather year-round is going to attract the most visitors in the winter (high season) when we're all trying to escape the snow. Once summer rolls around, many islands see a sharp drop-off in tourism since many people have beach weather right in their own backyards.

And how you can attack the issues together.

A wedding is an exceptionally special day. Sometimes, an opportune photo flub makes the occasion even more memorable. Here are 25 awesome wedding photo bombs.

Somewhere between the first few butterfly-inducing dates and the committed-for-life stage, there's the period of wondering if you're both on the same page about how serious you feel about a future together. If you're not quite at the point of "that talk" but you're looking for a few clues you're heading in that direction, here are some signs he's in it for the long haul as your relationship progresses.

What's that sound? It's white noise blocking out the well-meaning person proclaiming groundbreaking news about where you can meet someone, asking why you're still single, or bugging you about when you're getting married already. Don't be that person. Here are 15 annoying things all single people don't want to hear.