Poll: Men say brunettes make better wives
Is hair color really a factor when it comes to settling down?
In another survey pitting blonde against brunette, it's been revealed that men prefer darker hair when it comes to settling down.
The not-so-scientific survey of 1,000 men found that 54 percent would prefer a brunette wife, while 16 percent would choose a blonde gal. A promising 30 percent don't have a preference either way.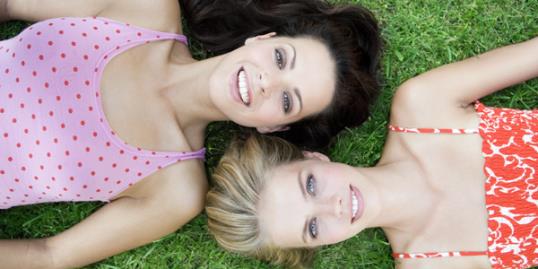 More on MSN Living: 10 rocky moments every relationship faces
Not surprisingly, a beauty retailer (Superdrug) was behind this survey, and the men polled went so far as to say brunettes were "deeper" and "more sensible" than blondes. And the generalizations didn't end there.
Women with darker hair apparently take better care of their appearance, make better cooks and are better at keeping the house clean—who knew? Men also believed brunettes were more likely to be experimental with their sex lives, and if that's not enough, brunettes are also more money-savvy.
We can't help but wonder if all these appealing qualities are lost when one decides to dye her hair?
More on MSN Living: High school proms: Then and now
Men's hair color preference went beyond marital partners, too. Forty-eight percent of the men said they'd choose a brunette girlfriend, while only 25 percent wanted blonde. Twenty-seven percent said neither.
As shallow as this poll may seem, it actually supports more scientific studies on hair color preference and sexual attraction. Researchers from Florida State University, for example, found that men prefer women with long brown hair to anything else. Dr. Kelley Kline, who led the study, said:
"At least in our study, gentlemen do not prefer blondes. They prefer brunettes. It's kind of an interesting finding, considering that in our society we concentrate on the blonde. It's so pervasive."
If all of this hair color talk is leaving a superficial taste in your mouth, here's a hopeful story.
In 2011, Marie Claire contributor Erin Hosier conducted a hair color experiment in which she dyed her red locks blonde and then switched to brown. A friend advised her:
"A lot of men are just intimidated by flashy. They want understated and down-to-earth."
Frustrated with the dating scene, Hosier wanted to see if changing her look would attract a partner. Long story short, it did:
"It doesn't take long before I have ample evidence that men are in fact down with the brown. Guys openly flirt on the elevator and in line at Chipotle."
Hosier explains that she's soon set up with a friend's friend, and they hit it off immediately. She asks him what he thinks of her chocolate brown hair. His response?
"It's nice. I don't know that it makes a difference, though. I think I would have been into you no matter what."
Love content like this? Friend us on Facebook, follow us on Twitter and find us on Pinterest.   
Photo: Men say brunettes make better wives / Thomas Schweizer/Getty Images
love: friendships, dating, sex & marriage
The outlandish things we do for love have no limits; just ask these guys. Who's hugged the longest? Kissed the longest? Been on the most expensive date? Take a look below as we count down the world's most loving record-breakers.

If you just got engaged, congrats! This is seriously exciting news that deserves lots of congratulatory hugs, "oohing" and "ahhing" over the ring and plenty of bubbly. To make sure you get the right response from friends, family and coworkers, avoid announcing your engagement like this…

Ladies, give yourself the best gift of all this season: The NYC Taxi Driver 2014 Calendar. By Michelle Toglia

Pheromones may be the key to finding your perfect match.

Her partner? Wine? Downtime? Find out where it all ranks.

This time of year, we dust off our holiday traditions of special songs, stories, events and food to make our season bright. Here's a look into the traditional, unique and quirky holiday traditions of some famous couples.

Look, I looooove engagement season for obvious reasons, but even I can admit I'm like, "Really, AGAIN?" when yet ANOTHER engagement ring pops up in my news feed. Seriously, there were two this weekend. (Congrats, Gemma and Danny!)

We asked real men and women (and a few first-base experts, too) to give us the cardinal rules of kissing, tell us what makes someone a good kisser and more. So whether you're leaning in for kiss No. 1 or 1,000, read on.by Devin Tomb

Not quite sure which diamond shape suits your personality? We're here to help.

Dating can lead to all kinds of tricky situations. To help you navigate even the most awkward moments, we've compiled our 50 best dating tips—some new, some old—given to us by experts, moms, women like you, and even Justin Timberlake.

Customers as Madison's new Snuggle House can snuggle with professional cuddlers for $60 an hour.

Can you believe it was only about 15 years ago that engagement ring shopping meant a time-consuming slog from jewelry boutique to jewelry boutique? Thank goodness for the internet; nowadays, it's easy to do all that legwork online.