Poll: Men say brunettes make better wives
Is hair color really a factor when it comes to settling down?
In another survey pitting blonde against brunette, it's been revealed that men prefer darker hair when it comes to settling down.
The not-so-scientific survey of 1,000 men found that 54 percent would prefer a brunette wife, while 16 percent would choose a blonde gal. A promising 30 percent don't have a preference either way.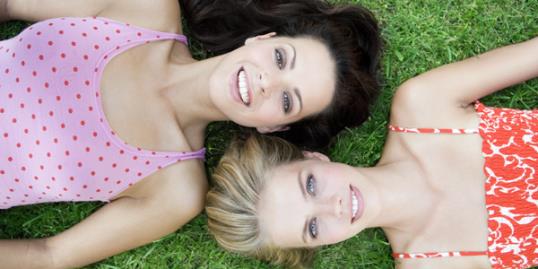 More on MSN Living: 10 rocky moments every relationship faces
Not surprisingly, a beauty retailer (Superdrug) was behind this survey, and the men polled went so far as to say brunettes were "deeper" and "more sensible" than blondes. And the generalizations didn't end there.
Women with darker hair apparently take better care of their appearance, make better cooks and are better at keeping the house clean—who knew? Men also believed brunettes were more likely to be experimental with their sex lives, and if that's not enough, brunettes are also more money-savvy.
We can't help but wonder if all these appealing qualities are lost when one decides to dye her hair?
More on MSN Living: High school proms: Then and now
Men's hair color preference went beyond marital partners, too. Forty-eight percent of the men said they'd choose a brunette girlfriend, while only 25 percent wanted blonde. Twenty-seven percent said neither.
As shallow as this poll may seem, it actually supports more scientific studies on hair color preference and sexual attraction. Researchers from Florida State University, for example, found that men prefer women with long brown hair to anything else. Dr. Kelley Kline, who led the study, said:
"At least in our study, gentlemen do not prefer blondes. They prefer brunettes. It's kind of an interesting finding, considering that in our society we concentrate on the blonde. It's so pervasive."
If all of this hair color talk is leaving a superficial taste in your mouth, here's a hopeful story.
In 2011, Marie Claire contributor Erin Hosier conducted a hair color experiment in which she dyed her red locks blonde and then switched to brown. A friend advised her:
"A lot of men are just intimidated by flashy. They want understated and down-to-earth."
Frustrated with the dating scene, Hosier wanted to see if changing her look would attract a partner. Long story short, it did:
"It doesn't take long before I have ample evidence that men are in fact down with the brown. Guys openly flirt on the elevator and in line at Chipotle."
Hosier explains that she's soon set up with a friend's friend, and they hit it off immediately. She asks him what he thinks of her chocolate brown hair. His response?
"It's nice. I don't know that it makes a difference, though. I think I would have been into you no matter what."
Love content like this? Friend us on Facebook, follow us on Twitter and find us on Pinterest.   
Photo: Men say brunettes make better wives / Thomas Schweizer/Getty Images
love: friendships, dating, sex & marriage
Brad Pitt and Angelina Jolie finally took the plunge, but marriage isn't always a good choice for everyone.

Learn how these surprising tactics can really improve your relationship.

Use these tips to up your chances of finding love.

Find out how paired-off ladies might feel lacking—and how you can make your relationship satisfying.

These signals are seriously subtle, but they can give you real insight into what's going through your husband's mind.

Check which changes are necessary to stay happy together.

We know some of this may sound obvious, but these simple statements can make both of you happier.

Making your relationship more secure, connected, and intimate doesn't have to feel overwhelming. Try these expert tips and reap the rewards now—and in the long run.

For those times when nothing big and horrible happened--but nothing is feeling right either.

What's more fun than animals in weddings? We've rounded up eight of the cutest.

Your puppy is all over your Instagram, Facebook and fridge, so there's no reason not to include him in your engagement pictures too. The best engagement photos give viewers a peek into your life. If you're a dog owner, take this opportunity to show off your pooch, like these 22 couples did! And we can't thank them enough.

Our married blogger gets real about checking out other guys when you're taken.