Meeting With Ex: Coffee OK, But Lunch Triggers Jealousy
Put down that menu and stick to a cappuccino.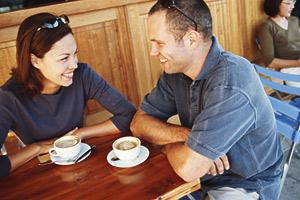 Have plans to meet up with an old flame? If you want to keep your current relationship intact, you may want to forego lunch and stick to coffee.
Scientists at Cornell University have found that meeting up with an ex will make your partner significantly more jealous if food is involved. While a coffee date does elicit some jealousy, apparently, it's not as threatening as sharing a meal.
"Our research suggests that sharing lunch involves more than the physical consumption of calories," concluded the study's co-authors, Kevin M. Kniffin and Brian Wansink, according to PsychCentral.
Food and intimacy might not sound like the sexiest of combinations—an image of George Costanza's naked pastrami eating comes to mind—but previous research has found that meals play a critical role in human courtship behavior. So Kniffin and Wansink wanted to find out just how food fit in with jealousy in romantic relationships.
According to their paper, "It's Not Just Lunch: Extra-Pair Commensality Can Trigger Sexual Jealousy," Kniffin and Wansink surveyed 153 undergraduate students, male and female, and presented them with six scenarios. The participants were then asked to rate their jealousy with each scenario, on a scale of one to five. The scenarios read like this:
"Recently, your (romantic partner) was contacted by his/her ex-(romantic partner) and she/he spent approximately one hour (1) corresponding via email, (2) talking on the phone, (3) meeting for late-morning coffee, (4) meeting for a late-morning meal (or Lunch), (5) meeting for late-afternoon coffee, and (6) meeting for a late-afternoon meal (or Dinner)."
The results? Phone conversations elicited more jealousy than emails. Coffee made people just as jealous as phone calls, but morning coffee wasn't as bad as late-afternoon coffee. However, sharing a meal topped the list.
"We consistently found that meals elicit more jealousy than face-to-face interactions that do not involve eating – such as having coffee," Kniffin said.
He added that the results were consistent for both men and women. Wansink concluded:
"It's key to remember that from your spouse's perspective, it's not 'just lunch.' While meals can strengthen social relationships, they can also destroy them."
Tell us on Facebook: What do you think? If your partner were meeting with an old flame, would you be jealous? Would a meal make it worse?
Photo: Ghislain & Marie David de Lossy/Getty Images
More on love & sex from MSN Living:
25 Secrets Men Keep From Women
25 Secrets Women Keep From Men
The DOs and DON'Ts of Dating More Than One Guy at a Time
love: friendships, dating, sex & marriage
Love it or hate it, the selfie wields much power.

Talk about some blurred lines.

Come on people, it's not that hard to mind your own business.

No sense in wasting your time on someone who will never commit.

There he is, the man of your dreams. He's sitting across from you at the coffee shop or standing at the opposite side of the bar. His eyes meet yours, a quick glance, and then it's back to his drink. Was he giving you a signal?

Remember that time on "30 Rock" when Liz Lemon and her eventual-husband Criss went shopping at Ikea, only to end up in a major fight? We know it couldn't be closer to the truth because we've all been there. In honor of the irritation that can be Ikea, here are the top fights you'll likely encounter.

Dating doesn't have to be a daunting task, promise. Here's how to make it fun for you and him.

One woman's honest journey to divorce will break your heart and inspire you at the same time.

Want to send your date running? Try one these moves.

Two guests arrested in New Jersey.

Celebrities certainly know how to travel in style, so if you're struggling to select a honeymoon destination, look no further than these star-approved hotspots. To make it even easier, we're providing you with hotel recommendations, packing essentials, and tips on what to do and see! So channel your inner celeb at one of these U.S. destinations for an unforgettable vacation!

Tall Twitter users named Wayne, we're on to you!