Meeting With Ex: Coffee OK, But Lunch Triggers Jealousy
Put down that menu and stick to a cappuccino.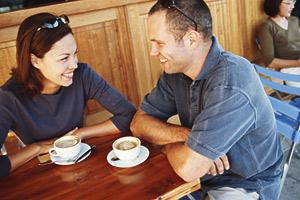 Have plans to meet up with an old flame? If you want to keep your current relationship intact, you may want to forego lunch and stick to coffee.
Scientists at Cornell University have found that meeting up with an ex will make your partner significantly more jealous if food is involved. While a coffee date does elicit some jealousy, apparently, it's not as threatening as sharing a meal.
"Our research suggests that sharing lunch involves more than the physical consumption of calories," concluded the study's co-authors, Kevin M. Kniffin and Brian Wansink, according to PsychCentral.
Food and intimacy might not sound like the sexiest of combinations—an image of George Costanza's naked pastrami eating comes to mind—but previous research has found that meals play a critical role in human courtship behavior. So Kniffin and Wansink wanted to find out just how food fit in with jealousy in romantic relationships.
According to their paper, "It's Not Just Lunch: Extra-Pair Commensality Can Trigger Sexual Jealousy," Kniffin and Wansink surveyed 153 undergraduate students, male and female, and presented them with six scenarios. The participants were then asked to rate their jealousy with each scenario, on a scale of one to five. The scenarios read like this:
"Recently, your (romantic partner) was contacted by his/her ex-(romantic partner) and she/he spent approximately one hour (1) corresponding via email, (2) talking on the phone, (3) meeting for late-morning coffee, (4) meeting for a late-morning meal (or Lunch), (5) meeting for late-afternoon coffee, and (6) meeting for a late-afternoon meal (or Dinner)."
The results? Phone conversations elicited more jealousy than emails. Coffee made people just as jealous as phone calls, but morning coffee wasn't as bad as late-afternoon coffee. However, sharing a meal topped the list.
"We consistently found that meals elicit more jealousy than face-to-face interactions that do not involve eating – such as having coffee," Kniffin said.
He added that the results were consistent for both men and women. Wansink concluded:
"It's key to remember that from your spouse's perspective, it's not 'just lunch.' While meals can strengthen social relationships, they can also destroy them."
Tell us on Facebook: What do you think? If your partner were meeting with an old flame, would you be jealous? Would a meal make it worse?
Photo: Ghislain & Marie David de Lossy/Getty Images
More on love & sex from MSN Living:
25 Secrets Men Keep From Women
25 Secrets Women Keep From Men
The DOs and DON'Ts of Dating More Than One Guy at a Time
love: friendships, dating, sex & marriage
This just in: A new study shows girls are warriors in the womb.

You can make a pros and cons list...but ultimately you know what works best for you.

Maggie Reyes is a life coach, writer, and the founder of ModernMarried.com. She helps newlyweds re-think what married life can be. Here, she's revealing tricks every newlywed couple needs to know.

Government-supported Vietnamese classes teach women Korean language, customs.

Whether you're into creative artists or uber-preppy bankers, there's something to be said for trying something new.

Sometimes two characters on a TV show or movie can portray being a happy couple effortlessly, or can have lots of fun playing former spouses — especially if they're married to each other in real life! Keep scrolling for six celebrity costars you probably didn't know tied the knot, even after the bloodiest and craziest story lines.

Some couples want nothing more than a laid-back, by-the-book proposal. Then there are the other couples, where the proposal not only needs to be personalized, it also has to be unique and entirely different than the typical restaurant, bended-knee idea. Sound like you? Then get inspired by some of the most creative proposal ideas we've ever seen. If you find something you like, steal it and then modify it to make your proposal something totally unforgettable.

From Nantucket all the way to Cayo Espanto, we've rounded up some of the prettiest beaches to travel to for your honeymoon.

Researchers studied the age-old stereotype that women really are more talkative than men.

'There is a science behind attraction,' SingldOut says.

One minute you're happy and in love, the next he's delivering the "It's not you, it's me" speech. Why? We have the scoop on the real reasons most couples split up.

Want to keep your wedding budget in check? Start by checking out this list of the 10 things that could end up costing you a lot more than you anticipated.