Meeting With Ex: Coffee OK, But Lunch Triggers Jealousy
Put down that menu and stick to a cappuccino.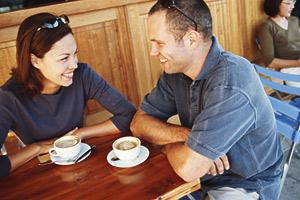 Have plans to meet up with an old flame? If you want to keep your current relationship intact, you may want to forego lunch and stick to coffee.
Scientists at Cornell University have found that meeting up with an ex will make your partner significantly more jealous if food is involved. While a coffee date does elicit some jealousy, apparently, it's not as threatening as sharing a meal.
"Our research suggests that sharing lunch involves more than the physical consumption of calories," concluded the study's co-authors, Kevin M. Kniffin and Brian Wansink, according to PsychCentral.
Food and intimacy might not sound like the sexiest of combinations—an image of George Costanza's naked pastrami eating comes to mind—but previous research has found that meals play a critical role in human courtship behavior. So Kniffin and Wansink wanted to find out just how food fit in with jealousy in romantic relationships.
According to their paper, "It's Not Just Lunch: Extra-Pair Commensality Can Trigger Sexual Jealousy," Kniffin and Wansink surveyed 153 undergraduate students, male and female, and presented them with six scenarios. The participants were then asked to rate their jealousy with each scenario, on a scale of one to five. The scenarios read like this:
"Recently, your (romantic partner) was contacted by his/her ex-(romantic partner) and she/he spent approximately one hour (1) corresponding via email, (2) talking on the phone, (3) meeting for late-morning coffee, (4) meeting for a late-morning meal (or Lunch), (5) meeting for late-afternoon coffee, and (6) meeting for a late-afternoon meal (or Dinner)."
The results? Phone conversations elicited more jealousy than emails. Coffee made people just as jealous as phone calls, but morning coffee wasn't as bad as late-afternoon coffee. However, sharing a meal topped the list.
"We consistently found that meals elicit more jealousy than face-to-face interactions that do not involve eating – such as having coffee," Kniffin said.
He added that the results were consistent for both men and women. Wansink concluded:
"It's key to remember that from your spouse's perspective, it's not 'just lunch.' While meals can strengthen social relationships, they can also destroy them."
Tell us on Facebook: What do you think? If your partner were meeting with an old flame, would you be jealous? Would a meal make it worse?
Photo: Ghislain & Marie David de Lossy/Getty Images
More on love & sex from MSN Living:
25 Secrets Men Keep From Women
25 Secrets Women Keep From Men
The DOs and DON'Ts of Dating More Than One Guy at a Time
love: friendships, dating, sex & marriage
It's not that you don't find every little thing about your partner endearing and adorable; it's just that it would have been really, really nice if that map could have been consulted three hours ago.

The typical wedding: A white dress, tiered cake, floral centerpieces and a cute flower girl -- you know the drill. Every once in a while, though, a couple trades in tradition for a quirky, never-seen-that-before idea. Here are a few of the most out-there wedding photos that made us do a double take.

There's a lot to love about weddings this fall, like cocktails served in copper Moscow mule mugs, industrial-inspired lighting and pheasant feather details. See what's new!

Do you have to be engaged to sport a ring with bling?

124.6 million haven't gotten hitched.

Even though the national average wedding is $29,858, that's just an average. If you live in a smaller state like Idaho where the average wedding costs $16,159, you may find yourself saving a little more than half of the national spend! Check out some of the other least expensive cities to get married in below:

Summer is winding down, but the ubiquitous summer romance lives on.

For those times when nothing big and horrible happened--but nothing is feeling right either.

He's confident, distinguished and anywhere from 4 to 20 years older than you. Age is just a number, but there's something about older men that we love. Here are eight reasons why being in a relationship with an older man is tops.

While a younger man may have less life experience, that doesn't mean he's not emotionally mature. Here are the eight reasons why being in a relationship with a younger man is tops.

Have you ever wondered what the 'other woman' was thinking?

So fall is coming and you need some romantic inspiration now that long walks on the beach are out of the question. Well look no further! From apple picking to pumpkin carving, these are some great fall date ideas from girls just like you!