The most trustworthy facial features of men & women
Got brown eyes and thin eyebrows? People trust you.
Trust is vital to a relationship, and it often takes time to garner trust. Both parties in the relationship must develop a sense of security and establish a commitment.
Having brown eyes helps, too.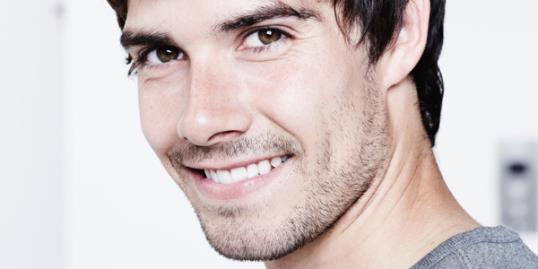 A recent study from Charles University in Prague found that brown-eyed men, in particular, are perceived as more trustworthy than their blue-eyed rivals. Overall, researchers found that it wasn't as much to do with brown eyes as it was the "baby-faced features that seem linked to having brown eyes," LiveScience reports.
But that's not where the superficial sense of security ends.
More on MSN Living: 14 surprising facts about getting engaged
Turns out there are a slew of features men and women perceive as more trustworthy, and what's more—maybe you can judge a book by its cover. Another study found that women can successfully pick out a cheater just by looking at him. They call it "straydar."
More on MSN Living: 10 cliche holiday marriage proposals
In 2008, Princeton completed an extensive study on which facial features people find most trustworthy. They studied their subject's reactions to a series of artificially generated faces. Ultimately, here are a few features they found define a "trustworthy face:"
High inner eyebrows
Pronounced cheekbones
Soft jaw line
Thinner eyebrows
Larger mouth with thinner lips
For women, cosmetics have quite the impact, too. Researchers showed subjects photos of various women for 250 milliseconds. They then asked the subjects to rate the women in terms of competence, likeability, attractiveness and trustworthiness.
"We found that when faces were shown very quickly, all ratings went up with cosmetics in all different looks," said Nancy Etcoff, lead author and associate researcher at Massachusetts General Hospital. "The women were judged as more competent, likable, attractive and trustworthy."
Yet another interesting study found that men have a unique way of picking out attractiveness in women. Researchers from France found that men have a tendency to be attracted to women with facial features similar to their own. Essentially, these men want a woman who looks like them.
"I think this is less about narcissism and more about the comfort of what we know," said the study's lead researcher.
While common decency will tell us that we shouldn't prejudge based on appearance, our natural reactions to facial features may deserve more credit. Last year, scientists from the Center for Evolutionary biology and School of Animal Biology at the University of Western Australia conducted a study to see whether men and women could pick out infidelity-prone partners.
The researchers showed participants photos of cheaters and non-cheaters, asking them to guess who had an unfaithful past. Sixty-two percent of women accurately judged a cheater based solely on his looks. Men, on the other hand, only got it right 23 percent of the time.
More from The Heart Beat:
Poll: The 'perfect man' at every age
The top 5 regrets of divorced people
In Japan, there's a toilet for divorce
Photo: William King/Getty Images

love: friendships, dating, sex & marriage
Here's why dudes without hair make the best boyfriends.

What do you wish you appreciated more when you were flying solo?

"If you're so busy tweeting and Instagraming, you're not paying attention," New York wedding planner Marcy Blum said. "It's almost a cosmic faux pas. People want your energy with them and focused on what they're doing."

The wedding favor, that little thank-you-for-coming gift, has risen to new heights with the bride and groom giving guests a wide range of favors that are meaningful to them.

Generations ago, planning a wedding was 100 percent the bride's job, but in today's age of gender equity, it's a mere 99 percent.

For all the self-help books and advice columns out there (um, keeping reading my advice anyway, please!), there's one tool we all already have in our arsenal for picking a partner that will keep us happy: our gut instincts.

According to a new study from the University of Texas and the University of California, Los Angeles, both men and women have regrets when it comes to sex, but the genders vary greatly when it comes to what they regret specifically.

Spending time alone with your guy is easy, but going public with your plus-one is another thing entirely. Whether it's your crazy relatives at Thanksgiving dinner or awkward convos with your boss at the holiday party, possible pitfalls are everywhere. Keep reading for tips on how to make his grand entrance into your social life a good thing.

Match.com survey reveals the day you're least likely to get spruced up for a date.

Drinking and relationships seem to go hand in hand in a lot of ways. But only in moderation!

Many men will tell you that they have no clue what their wives are thinking.

Spending the holidays with your guy's family for the first time is a huge relationship milestone. But between your nerves, the usual family tension, and your weird Uncle Sal's inappropriate stories, it's also a prime opportunity for total disaster. Read on for 10 of our readers' most embarrassing meet-the-parents moments.