The most trustworthy facial features of men & women
Got brown eyes and thin eyebrows? People trust you.
Trust is vital to a relationship, and it often takes time to garner trust. Both parties in the relationship must develop a sense of security and establish a commitment.
Having brown eyes helps, too.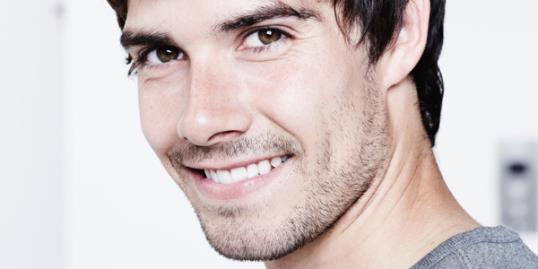 A recent study from Charles University in Prague found that brown-eyed men, in particular, are perceived as more trustworthy than their blue-eyed rivals. Overall, researchers found that it wasn't as much to do with brown eyes as it was the "baby-faced features that seem linked to having brown eyes," LiveScience reports.
But that's not where the superficial sense of security ends.
More on MSN Living: 14 surprising facts about getting engaged
Turns out there are a slew of features men and women perceive as more trustworthy, and what's more—maybe you can judge a book by its cover. Another study found that women can successfully pick out a cheater just by looking at him. They call it "straydar."
More on MSN Living: 10 cliche holiday marriage proposals
In 2008, Princeton completed an extensive study on which facial features people find most trustworthy. They studied their subject's reactions to a series of artificially generated faces. Ultimately, here are a few features they found define a "trustworthy face:"
High inner eyebrows
Pronounced cheekbones
Soft jaw line
Thinner eyebrows
Larger mouth with thinner lips
For women, cosmetics have quite the impact, too. Researchers showed subjects photos of various women for 250 milliseconds. They then asked the subjects to rate the women in terms of competence, likeability, attractiveness and trustworthiness.
"We found that when faces were shown very quickly, all ratings went up with cosmetics in all different looks," said Nancy Etcoff, lead author and associate researcher at Massachusetts General Hospital. "The women were judged as more competent, likable, attractive and trustworthy."
Yet another interesting study found that men have a unique way of picking out attractiveness in women. Researchers from France found that men have a tendency to be attracted to women with facial features similar to their own. Essentially, these men want a woman who looks like them.
"I think this is less about narcissism and more about the comfort of what we know," said the study's lead researcher.
While common decency will tell us that we shouldn't prejudge based on appearance, our natural reactions to facial features may deserve more credit. Last year, scientists from the Center for Evolutionary biology and School of Animal Biology at the University of Western Australia conducted a study to see whether men and women could pick out infidelity-prone partners.
The researchers showed participants photos of cheaters and non-cheaters, asking them to guess who had an unfaithful past. Sixty-two percent of women accurately judged a cheater based solely on his looks. Men, on the other hand, only got it right 23 percent of the time.
More from The Heart Beat:
Poll: The 'perfect man' at every age
The top 5 regrets of divorced people
In Japan, there's a toilet for divorce
Photo: William King/Getty Images

love: friendships, dating, sex & marriage
This just in: Guys over 5'10" are twice as likely to stray.

Or how to tell if you've reached THAT point in your bond.

Dating doesn't have to be a daunting task, promise. Here's how to make it fun for you and him.

This just in: A new study shows girls are warriors in the womb.

You can make a pros and cons list...but ultimately you know what works best for you.

Maggie Reyes is a life coach, writer, and the founder of ModernMarried.com. She helps newlyweds re-think what married life can be. Here, she's revealing tricks every newlywed couple needs to know.

Government-supported Vietnamese classes teach women Korean language, customs.

Whether you're into creative artists or uber-preppy bankers, there's something to be said for trying something new.

Sometimes two characters on a TV show or movie can portray being a happy couple effortlessly, or can have lots of fun playing former spouses — especially if they're married to each other in real life! Keep scrolling for six celebrity costars you probably didn't know tied the knot, even after the bloodiest and craziest story lines.

Some couples want nothing more than a laid-back, by-the-book proposal. Then there are the other couples, where the proposal not only needs to be personalized, it also has to be unique and entirely different than the typical restaurant, bended-knee idea. Sound like you? Then get inspired by some of the most creative proposal ideas we've ever seen. If you find something you like, steal it and then modify it to make your proposal something totally unforgettable.

From Nantucket all the way to Cayo Espanto, we've rounded up some of the prettiest beaches to travel to for your honeymoon.

Researchers studied the age-old stereotype that women really are more talkative than men.