The most trustworthy facial features of men & women
Got brown eyes and thin eyebrows? People trust you.
Trust is vital to a relationship, and it often takes time to garner trust. Both parties in the relationship must develop a sense of security and establish a commitment.
Having brown eyes helps, too.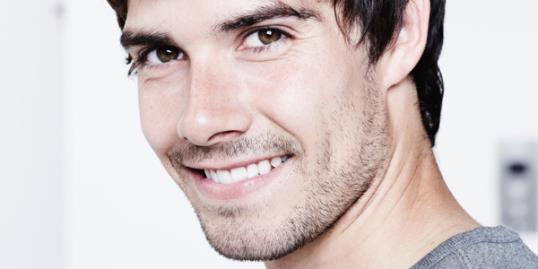 A recent study from Charles University in Prague found that brown-eyed men, in particular, are perceived as more trustworthy than their blue-eyed rivals. Overall, researchers found that it wasn't as much to do with brown eyes as it was the "baby-faced features that seem linked to having brown eyes," LiveScience reports.
But that's not where the superficial sense of security ends.
More on MSN Living: 14 surprising facts about getting engaged
Turns out there are a slew of features men and women perceive as more trustworthy, and what's more—maybe you can judge a book by its cover. Another study found that women can successfully pick out a cheater just by looking at him. They call it "straydar."
More on MSN Living: 10 cliche holiday marriage proposals
In 2008, Princeton completed an extensive study on which facial features people find most trustworthy. They studied their subject's reactions to a series of artificially generated faces. Ultimately, here are a few features they found define a "trustworthy face:"
High inner eyebrows
Pronounced cheekbones
Soft jaw line
Thinner eyebrows
Larger mouth with thinner lips
For women, cosmetics have quite the impact, too. Researchers showed subjects photos of various women for 250 milliseconds. They then asked the subjects to rate the women in terms of competence, likeability, attractiveness and trustworthiness.
"We found that when faces were shown very quickly, all ratings went up with cosmetics in all different looks," said Nancy Etcoff, lead author and associate researcher at Massachusetts General Hospital. "The women were judged as more competent, likable, attractive and trustworthy."
Yet another interesting study found that men have a unique way of picking out attractiveness in women. Researchers from France found that men have a tendency to be attracted to women with facial features similar to their own. Essentially, these men want a woman who looks like them.
"I think this is less about narcissism and more about the comfort of what we know," said the study's lead researcher.
While common decency will tell us that we shouldn't prejudge based on appearance, our natural reactions to facial features may deserve more credit. Last year, scientists from the Center for Evolutionary biology and School of Animal Biology at the University of Western Australia conducted a study to see whether men and women could pick out infidelity-prone partners.
The researchers showed participants photos of cheaters and non-cheaters, asking them to guess who had an unfaithful past. Sixty-two percent of women accurately judged a cheater based solely on his looks. Men, on the other hand, only got it right 23 percent of the time.
More from The Heart Beat:
Poll: The 'perfect man' at every age
The top 5 regrets of divorced people
In Japan, there's a toilet for divorce
Photo: William King/Getty Images

love: friendships, dating, sex & marriage
Brad Pitt and Angelina Jolie finally took the plunge, but marriage isn't always a good choice for everyone.

Learn how these surprising tactics can really improve your relationship.

Use these tips to up your chances of finding love.

Find out how paired-off ladies might feel lacking—and how you can make your relationship satisfying.

These signals are seriously subtle, but they can give you real insight into what's going through your husband's mind.

Check which changes are necessary to stay happy together.

We know some of this may sound obvious, but these simple statements can make both of you happier.

Making your relationship more secure, connected, and intimate doesn't have to feel overwhelming. Try these expert tips and reap the rewards now—and in the long run.

For those times when nothing big and horrible happened--but nothing is feeling right either.

What's more fun than animals in weddings? We've rounded up eight of the cutest.

Your puppy is all over your Instagram, Facebook and fridge, so there's no reason not to include him in your engagement pictures too. The best engagement photos give viewers a peek into your life. If you're a dog owner, take this opportunity to show off your pooch, like these 22 couples did! And we can't thank them enough.

Our married blogger gets real about checking out other guys when you're taken.