The most trustworthy facial features of men & women
Got brown eyes and thin eyebrows? People trust you.
Trust is vital to a relationship, and it often takes time to garner trust. Both parties in the relationship must develop a sense of security and establish a commitment.
Having brown eyes helps, too.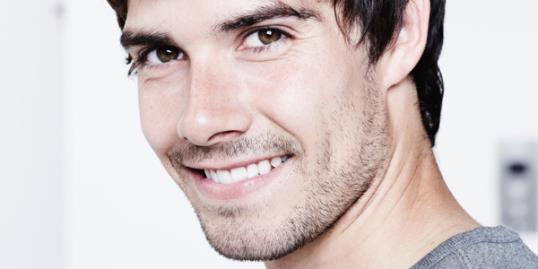 A recent study from Charles University in Prague found that brown-eyed men, in particular, are perceived as more trustworthy than their blue-eyed rivals. Overall, researchers found that it wasn't as much to do with brown eyes as it was the "baby-faced features that seem linked to having brown eyes," LiveScience reports.
But that's not where the superficial sense of security ends.
More on MSN Living: 14 surprising facts about getting engaged
Turns out there are a slew of features men and women perceive as more trustworthy, and what's more—maybe you can judge a book by its cover. Another study found that women can successfully pick out a cheater just by looking at him. They call it "straydar."
More on MSN Living: 10 cliche holiday marriage proposals
In 2008, Princeton completed an extensive study on which facial features people find most trustworthy. They studied their subject's reactions to a series of artificially generated faces. Ultimately, here are a few features they found define a "trustworthy face:"
High inner eyebrows
Pronounced cheekbones
Soft jaw line
Thinner eyebrows
Larger mouth with thinner lips
For women, cosmetics have quite the impact, too. Researchers showed subjects photos of various women for 250 milliseconds. They then asked the subjects to rate the women in terms of competence, likeability, attractiveness and trustworthiness.
"We found that when faces were shown very quickly, all ratings went up with cosmetics in all different looks," said Nancy Etcoff, lead author and associate researcher at Massachusetts General Hospital. "The women were judged as more competent, likable, attractive and trustworthy."
Yet another interesting study found that men have a unique way of picking out attractiveness in women. Researchers from France found that men have a tendency to be attracted to women with facial features similar to their own. Essentially, these men want a woman who looks like them.
"I think this is less about narcissism and more about the comfort of what we know," said the study's lead researcher.
While common decency will tell us that we shouldn't prejudge based on appearance, our natural reactions to facial features may deserve more credit. Last year, scientists from the Center for Evolutionary biology and School of Animal Biology at the University of Western Australia conducted a study to see whether men and women could pick out infidelity-prone partners.
The researchers showed participants photos of cheaters and non-cheaters, asking them to guess who had an unfaithful past. Sixty-two percent of women accurately judged a cheater based solely on his looks. Men, on the other hand, only got it right 23 percent of the time.
More from The Heart Beat:
Poll: The 'perfect man' at every age
The top 5 regrets of divorced people
In Japan, there's a toilet for divorce
Photo: William King/Getty Images

love: friendship, dating, sex & marriage
We've made picking your palette a breeze! Just find your favorite hue and choose one of the cool combos below.

Get inspired with these twelve ideas for a fantastic, fun summer wedding!

What's worse than getting snubbed while proposing? Having your heart broken in front of countless strangers.

Want your I do's to be totally you? From pre-wedding cocktails to Mad Lib vows, here are 25 ways to make your ceremony as unforgettable as your reception.

Summer love can be sweet. But it tends to be fast, feverish and often fleeting. In a season where emotions run hot, here are some rules to help avoid heartbreak.

We asked brides on TheKnot.com to tell all -- and they did. Here, five of the most likely culprits and advice for how to deal with your drama-causing guests along the way.

This short course in flirting will not only teach you how to flirt better but also how to tell when someone is flirting with you—and how to respond. Have fun.

Gatsby glamour doesn't have to just live on the big screen! Embrace the trendy (yet timeless) art deco style with sequins, pearls, feathers and geometric patterns. Check out these art deco ideas and achieve the feel of 1920s decadence. By the way, all of these are affordable, except for the $600 hairpiece which is a splurge, but a knockout. Shop the look!

Wondering if your summer love will last? Here are 15 signs if your seasonal love is fleeting or for real.

Sixteen years after "Titanic's" release—and 101 years after the historic ship's notorious sinking—our hearts still go on for star-crossed lovers Rose DeWitt Bukater (Kate Winslet) and Jack Dawson (Leonardo DiCaprio). We rounded up some of our favorite ill-fated, but oh-so-romantic affairs on film, from "Gone with the Wind" to "Moulin Rouge!".

Flirting shouldn't be retired once you've got the ring. We asked relationship expert Harlan Cohen, as well as real husbands, the best way to keep the sparks flying.

When we're annoyed by male behavior, we turn to columnist Aaron Traister. His logic may be strange, but we have to admit, it's pretty helpful. Here, he answers our many questions for guys.