What should a 'Man-of-Honor' wear & do for the wedding?
Sometimes, a bridesmaid doesn't need a dress — because it's a brides-man! Are there different responsibilities or attire requirements for a brides-man or man-of-honor?
My best guy friend will be my "maid-of-honor." What are his duties/what does he wear?
It's fine to have a close guy friend as part of your bridal party, and whether he is filling a "bridesmaid" role or even the "maid-of-honor" role, he is typically called an "honor attendant." (It's nice to check with your fiancé first, to be sure he's comfortable with this new tradition.)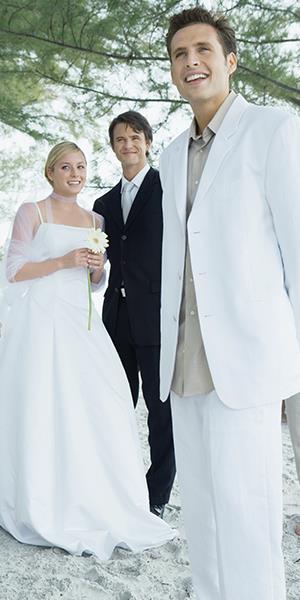 More from Brides: Wedding Dresses for Your Body Type
Adapt the usual list of female-attendant duties to any men in your bridal party. Their main roles will be to support you as you plan the wedding and help you on the day of the event. The one wedding-day duty a male attendant should sit out? Helping you get dressed!
More from Brides: Engagement Rings Under $5,000
Funny as it was to envision Patrick Dempsey in a dress in the movie "Man of Honor," a male honor attendant wears the same attire as the groomsmen. The only difference might be that his tie match the colors of the bridesmaids' dresses or his boutonniere the bridesmaids' flowers, instead of the groomsmen. And no, he does not carry a bouquet!
More from Brides:
The Most Creative Wedding Cakes of the Year
Stunning Celebrity Engagement Rings
Spring 2014 Wedding Dress Trends

Photo: Laurence Mouton/Getty Images


This is nothing new, lots of couples are having mixed bridal parties, men and women on both sides.  All are entitled "attendants".  For the Best Man or Maid of Honor they can be Honor attendants or Man of Honor and Best Woman however the couple decides.  The duties are the same whether they are male or female.  The attire is the same women wear bridesmaids dresses men wear suits or tuxes.  They can have different colors than the rest of the bridal party, all up to the bride.  Also bridal parties do not have to have even numbers and can be as few or as many as the couple chooses.  Other than etiquette rules, there are really very few rules to weddings, it's whatever the couple wants on their big day.
Are you sure you want to delete this comment?
love: friendships, dating, sex & marriage
Brad Pitt and Angelina Jolie finally took the plunge, but marriage isn't always a good choice for everyone.

Learn how these surprising tactics can really improve your relationship.

Use these tips to up your chances of finding love.

Find out how paired-off ladies might feel lacking—and how you can make your relationship satisfying.

These signals are seriously subtle, but they can give you real insight into what's going through your husband's mind.

Check which changes are necessary to stay happy together.

We know some of this may sound obvious, but these simple statements can make both of you happier.

Making your relationship more secure, connected, and intimate doesn't have to feel overwhelming. Try these expert tips and reap the rewards now—and in the long run.

For those times when nothing big and horrible happened--but nothing is feeling right either.

What's more fun than animals in weddings? We've rounded up eight of the cutest.

Your puppy is all over your Instagram, Facebook and fridge, so there's no reason not to include him in your engagement pictures too. The best engagement photos give viewers a peek into your life. If you're a dog owner, take this opportunity to show off your pooch, like these 22 couples did! And we can't thank them enough.

Our married blogger gets real about checking out other guys when you're taken.