What should a 'Man-of-Honor' wear & do for the wedding?
Sometimes, a bridesmaid doesn't need a dress — because it's a brides-man! Are there different responsibilities or attire requirements for a brides-man or man-of-honor?
My best guy friend will be my "maid-of-honor." What are his duties/what does he wear?
It's fine to have a close guy friend as part of your bridal party, and whether he is filling a "bridesmaid" role or even the "maid-of-honor" role, he is typically called an "honor attendant." (It's nice to check with your fiancé first, to be sure he's comfortable with this new tradition.)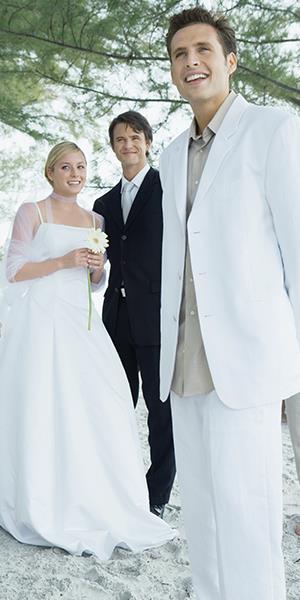 More from Brides: Wedding Dresses for Your Body Type
Adapt the usual list of female-attendant duties to any men in your bridal party. Their main roles will be to support you as you plan the wedding and help you on the day of the event. The one wedding-day duty a male attendant should sit out? Helping you get dressed!
More from Brides: Engagement Rings Under $5,000
Funny as it was to envision Patrick Dempsey in a dress in the movie "Man of Honor," a male honor attendant wears the same attire as the groomsmen. The only difference might be that his tie match the colors of the bridesmaids' dresses or his boutonniere the bridesmaids' flowers, instead of the groomsmen. And no, he does not carry a bouquet!
More from Brides:
The Most Creative Wedding Cakes of the Year
Stunning Celebrity Engagement Rings
Spring 2014 Wedding Dress Trends

Photo: Laurence Mouton/Getty Images


This is nothing new, lots of couples are having mixed bridal parties, men and women on both sides.  All are entitled "attendants".  For the Best Man or Maid of Honor they can be Honor attendants or Man of Honor and Best Woman however the couple decides.  The duties are the same whether they are male or female.  The attire is the same women wear bridesmaids dresses men wear suits or tuxes.  They can have different colors than the rest of the bridal party, all up to the bride.  Also bridal parties do not have to have even numbers and can be as few or as many as the couple chooses.  Other than etiquette rules, there are really very few rules to weddings, it's whatever the couple wants on their big day.
Are you sure you want to delete this comment?
love: friendships, dating, sex & marriage
Here's why dudes without hair make the best boyfriends.

What do you wish you appreciated more when you were flying solo?

"If you're so busy tweeting and Instagraming, you're not paying attention," New York wedding planner Marcy Blum said. "It's almost a cosmic faux pas. People want your energy with them and focused on what they're doing."

The wedding favor, that little thank-you-for-coming gift, has risen to new heights with the bride and groom giving guests a wide range of favors that are meaningful to them.

Generations ago, planning a wedding was 100 percent the bride's job, but in today's age of gender equity, it's a mere 99 percent.

For all the self-help books and advice columns out there (um, keeping reading my advice anyway, please!), there's one tool we all already have in our arsenal for picking a partner that will keep us happy: our gut instincts.

According to a new study from the University of Texas and the University of California, Los Angeles, both men and women have regrets when it comes to sex, but the genders vary greatly when it comes to what they regret specifically.

Spending time alone with your guy is easy, but going public with your plus-one is another thing entirely. Whether it's your crazy relatives at Thanksgiving dinner or awkward convos with your boss at the holiday party, possible pitfalls are everywhere. Keep reading for tips on how to make his grand entrance into your social life a good thing.

Match.com survey reveals the day you're least likely to get spruced up for a date.

Drinking and relationships seem to go hand in hand in a lot of ways. But only in moderation!

Many men will tell you that they have no clue what their wives are thinking.

Spending the holidays with your guy's family for the first time is a huge relationship milestone. But between your nerves, the usual family tension, and your weird Uncle Sal's inappropriate stories, it's also a prime opportunity for total disaster. Read on for 10 of our readers' most embarrassing meet-the-parents moments.