What should a 'Man-of-Honor' wear & do for the wedding?
Sometimes, a bridesmaid doesn't need a dress — because it's a brides-man! Are there different responsibilities or attire requirements for a brides-man or man-of-honor?
My best guy friend will be my "maid-of-honor." What are his duties/what does he wear?
It's fine to have a close guy friend as part of your bridal party, and whether he is filling a "bridesmaid" role or even the "maid-of-honor" role, he is typically called an "honor attendant." (It's nice to check with your fiancé first, to be sure he's comfortable with this new tradition.)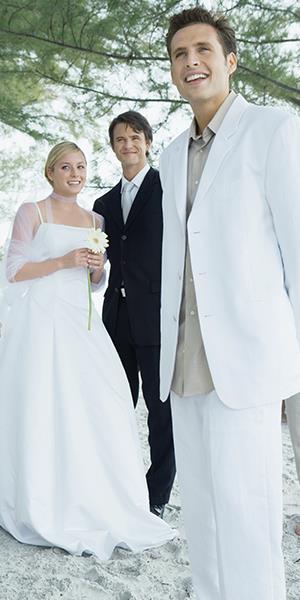 More from Brides: Wedding Dresses for Your Body Type
Adapt the usual list of female-attendant duties to any men in your bridal party. Their main roles will be to support you as you plan the wedding and help you on the day of the event. The one wedding-day duty a male attendant should sit out? Helping you get dressed!
More from Brides: Engagement Rings Under $5,000
Funny as it was to envision Patrick Dempsey in a dress in the movie "Man of Honor," a male honor attendant wears the same attire as the groomsmen. The only difference might be that his tie match the colors of the bridesmaids' dresses or his boutonniere the bridesmaids' flowers, instead of the groomsmen. And no, he does not carry a bouquet!
More from Brides:
The Most Creative Wedding Cakes of the Year
Stunning Celebrity Engagement Rings
Spring 2014 Wedding Dress Trends

Photo: Laurence Mouton/Getty Images


This is nothing new, lots of couples are having mixed bridal parties, men and women on both sides.  All are entitled "attendants".  For the Best Man or Maid of Honor they can be Honor attendants or Man of Honor and Best Woman however the couple decides.  The duties are the same whether they are male or female.  The attire is the same women wear bridesmaids dresses men wear suits or tuxes.  They can have different colors than the rest of the bridal party, all up to the bride.  Also bridal parties do not have to have even numbers and can be as few or as many as the couple chooses.  Other than etiquette rules, there are really very few rules to weddings, it's whatever the couple wants on their big day.
Are you sure you want to delete this comment?
love: friendships, dating, sex & marriage
This just in: Guys over 5'10" are twice as likely to stray.

Or how to tell if you've reached THAT point in your bond.

Dating doesn't have to be a daunting task, promise. Here's how to make it fun for you and him.

This just in: A new study shows girls are warriors in the womb.

You can make a pros and cons list...but ultimately you know what works best for you.

Maggie Reyes is a life coach, writer, and the founder of ModernMarried.com. She helps newlyweds re-think what married life can be. Here, she's revealing tricks every newlywed couple needs to know.

Government-supported Vietnamese classes teach women Korean language, customs.

Whether you're into creative artists or uber-preppy bankers, there's something to be said for trying something new.

Sometimes two characters on a TV show or movie can portray being a happy couple effortlessly, or can have lots of fun playing former spouses — especially if they're married to each other in real life! Keep scrolling for six celebrity costars you probably didn't know tied the knot, even after the bloodiest and craziest story lines.

Some couples want nothing more than a laid-back, by-the-book proposal. Then there are the other couples, where the proposal not only needs to be personalized, it also has to be unique and entirely different than the typical restaurant, bended-knee idea. Sound like you? Then get inspired by some of the most creative proposal ideas we've ever seen. If you find something you like, steal it and then modify it to make your proposal something totally unforgettable.

From Nantucket all the way to Cayo Espanto, we've rounded up some of the prettiest beaches to travel to for your honeymoon.

Researchers studied the age-old stereotype that women really are more talkative than men.