What should a 'Man-of-Honor' wear & do for the wedding?
Sometimes, a bridesmaid doesn't need a dress — because it's a brides-man! Are there different responsibilities or attire requirements for a brides-man or man-of-honor?
My best guy friend will be my "maid-of-honor." What are his duties/what does he wear?
It's fine to have a close guy friend as part of your bridal party, and whether he is filling a "bridesmaid" role or even the "maid-of-honor" role, he is typically called an "honor attendant." (It's nice to check with your fiancé first, to be sure he's comfortable with this new tradition.)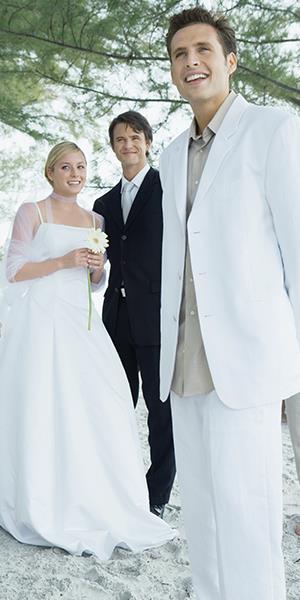 More from Brides: Wedding Dresses for Your Body Type
Adapt the usual list of female-attendant duties to any men in your bridal party. Their main roles will be to support you as you plan the wedding and help you on the day of the event. The one wedding-day duty a male attendant should sit out? Helping you get dressed!
More from Brides: Engagement Rings Under $5,000
Funny as it was to envision Patrick Dempsey in a dress in the movie "Man of Honor," a male honor attendant wears the same attire as the groomsmen. The only difference might be that his tie match the colors of the bridesmaids' dresses or his boutonniere the bridesmaids' flowers, instead of the groomsmen. And no, he does not carry a bouquet!
More from Brides:
The Most Creative Wedding Cakes of the Year
Stunning Celebrity Engagement Rings
Spring 2014 Wedding Dress Trends

Photo: Laurence Mouton/Getty Images


This is nothing new, lots of couples are having mixed bridal parties, men and women on both sides.  All are entitled "attendants".  For the Best Man or Maid of Honor they can be Honor attendants or Man of Honor and Best Woman however the couple decides.  The duties are the same whether they are male or female.  The attire is the same women wear bridesmaids dresses men wear suits or tuxes.  They can have different colors than the rest of the bridal party, all up to the bride.  Also bridal parties do not have to have even numbers and can be as few or as many as the couple chooses.  Other than etiquette rules, there are really very few rules to weddings, it's whatever the couple wants on their big day.
Are you sure you want to delete this comment?
love: friendships, dating, sex & marriage
The typical wedding: A white dress, tiered cake, floral centerpieces and a cute flower girl -- you know the drill. Every once in a while, though, a couple trades in tradition for a quirky, never-seen-that-before idea. Here are a few of the most out-there wedding photos that made us do a double take.

There's a lot to love about weddings this fall, like cocktails served in copper Moscow mule mugs, industrial-inspired lighting and pheasant feather details. See what's new!

Do you have to be engaged to sport a ring with bling?

124.6 million haven't gotten hitched.

Even though the national average wedding is $29,858, that's just an average. If you live in a smaller state like Idaho where the average wedding costs $16,159, you may find yourself saving a little more than half of the national spend! Check out some of the other least expensive cities to get married in below:

Summer is winding down, but the ubiquitous summer romance lives on.

For those times when nothing big and horrible happened--but nothing is feeling right either.

He's confident, distinguished and anywhere from 4 to 20 years older than you. Age is just a number, but there's something about older men that we love. Here are eight reasons why being in a relationship with an older man is tops.

While a younger man may have less life experience, that doesn't mean he's not emotionally mature. Here are the eight reasons why being in a relationship with a younger man is tops.

Have you ever wondered what the 'other woman' was thinking?

So fall is coming and you need some romantic inspiration now that long walks on the beach are out of the question. Well look no further! From apple picking to pumpkin carving, these are some great fall date ideas from girls just like you!

Getting bored of the same dinner and movie date night? Take an adorable cue from your favorite celebs and try something new! From dancing to boxing you can't go wrong with these awesome date ideas.