Be Prepared for a 'Fifty Shades of Grey' Baby Boom
Christian Grey is revamping sex lives—and possibly helping women get pregnant.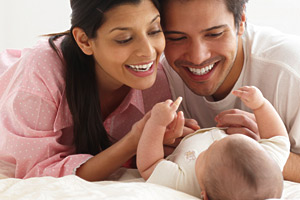 If we see an increased birth rate in the coming months, it may just be thanks to a book.
Linda Murray, editor of parenting website Baby Center, recently appeared on Good Morning America (GMA) to talk about the "mommy porn" revolution. She claims that Fifty Shades of Grey is making women have sex more, and, consequently, causing more pregnancies.
"Reading Fifty Shades of Grey is acting like an aphrodisiac for women," Murray told GMA. "It's putting them in the mood more frequently and they're having more sex and they're ultimately getting pregnant faster."
If you haven't heard by now (and how haven't you?), Fifty Shades has quickly become one of the best-selling series of all time. Written by E L James, the series has sold 20 million copies in the last four months alone.
GMA also interviewed a few couples who thank the book for the revitalization of their sex lives. Carly and Leroy Gibson were one of those couples, and they said that after 14 months of trying to conceive, sex became more of a chore.
"I think the fun was taken out of it at that point in time because you're like, 'Okay, here it is. Day 14. We've got five days to go. Go strong. I don't care if you're tired…it's time to go to work,'" Carly said.
Then she picked up Fifty Shades and read about the erotic adventures of Christian and Ana. She then—here, I'll let Carly's husband explain what happened next:
"She just put down the book and she was all over me," Leroy said.
And how did he feel about that?
"It was nice and enjoyable."
Baby Center posted a blog earlier this month asking, "Is it raining Fifty Shades of Grey babies?" Here's what a couple of community members have said:
"I would like to thank the author of Fifty Shades of Grey for our newest addition."
"Yup, this series was definitely my version of female Viagra. Thank you E L James!!!"
As for this "mommy porn" revolution, women have apparently consumed all there is of Fifty Shades and they want more. According to ABC News:
"A wave of steamy, sexy--some would say raunchy--romance novels and films sweeping through suburbia, many of them actually made by women, for women."
According to ABC, one in three women now admit that they watch porn. Angie Rowntree is the owner of sssh.com, an erotica website that caters to women. She told ABC:
"What our audience wants is to see a passionate love scene that is filled with chemistry and sensuality, like that beach novel that comes to life where the hero comes and whisks off the heroine, makes wild passionate love to her."
And it's not just porn. Suburban wives are apparently accessorizing their sex lives with toys, too. Kristen Tibby is the creative director of one such "toy store" in Los Angeles, the Pleasure Chest. She says that in addition to women, she's seen an increase in husbands shopping at her store.
"I had this man come in the other day, and he was like, "I've been with my wife for 20 years. I had sex three times this week, and I have not done that in a very long time," she told ABC.
Tell us—have you read Fifty Shades of Grey? Are you part of the revolution?
Photo: LWA/Getty Images
More Love & Sex from MSN Living:
10 Things You Must Do After a Breakup
What He Really Wants to Do on Vacation
Men's Secret Bedroom Fears

If you need a book to get it up something is wrong with the plumbing or your brain. Books like this are for uncreative people who are part of the herd. If I meet a newborn named Christain or Ana I'll scream! No wonder America is no longer #1 our passion and originality have gone out the window.
Are you sure you want to delete this comment?
love: friendships, dating, sex & marriage
There's a lot to love about weddings this fall, like cocktails served in copper Moscow mule mugs, industrial-inspired lighting and pheasant feather details. See what's new!

Do you have to be engaged to sport a ring with bling?

124.6 million haven't gotten hitched.

Even though the national average wedding is $29,858, that's just an average. If you live in a smaller state like Idaho where the average wedding costs $16,159, you may find yourself saving a little more than half of the national spend! Check out some of the other least expensive cities to get married in below:

Summer is winding down, but the ubiquitous summer romance lives on.

For those times when nothing big and horrible happened--but nothing is feeling right either.

He's confident, distinguished and anywhere from 4 to 20 years older than you. Age is just a number, but there's something about older men that we love. Here are eight reasons why being in a relationship with an older man is tops.

While a younger man may have less life experience, that doesn't mean he's not emotionally mature. Here are the eight reasons why being in a relationship with a younger man is tops.

Have you ever wondered what the 'other woman' was thinking?

So fall is coming and you need some romantic inspiration now that long walks on the beach are out of the question. Well look no further! From apple picking to pumpkin carving, these are some great fall date ideas from girls just like you!

Getting bored of the same dinner and movie date night? Take an adorable cue from your favorite celebs and try something new! From dancing to boxing you can't go wrong with these awesome date ideas.

New research shows they get divorced at vastly lower rates.