Be Prepared for a 'Fifty Shades of Grey' Baby Boom
Christian Grey is revamping sex lives—and possibly helping women get pregnant.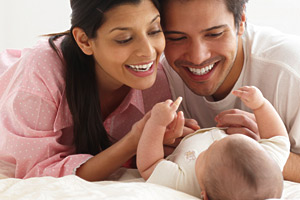 If we see an increased birth rate in the coming months, it may just be thanks to a book.
Linda Murray, editor of parenting website Baby Center, recently appeared on Good Morning America (GMA) to talk about the "mommy porn" revolution. She claims that Fifty Shades of Grey is making women have sex more, and, consequently, causing more pregnancies.
"Reading Fifty Shades of Grey is acting like an aphrodisiac for women," Murray told GMA. "It's putting them in the mood more frequently and they're having more sex and they're ultimately getting pregnant faster."
If you haven't heard by now (and how haven't you?), Fifty Shades has quickly become one of the best-selling series of all time. Written by E L James, the series has sold 20 million copies in the last four months alone.
GMA also interviewed a few couples who thank the book for the revitalization of their sex lives. Carly and Leroy Gibson were one of those couples, and they said that after 14 months of trying to conceive, sex became more of a chore.
"I think the fun was taken out of it at that point in time because you're like, 'Okay, here it is. Day 14. We've got five days to go. Go strong. I don't care if you're tired…it's time to go to work,'" Carly said.
Then she picked up Fifty Shades and read about the erotic adventures of Christian and Ana. She then—here, I'll let Carly's husband explain what happened next:
"She just put down the book and she was all over me," Leroy said.
And how did he feel about that?
"It was nice and enjoyable."
Baby Center posted a blog earlier this month asking, "Is it raining Fifty Shades of Grey babies?" Here's what a couple of community members have said:
"I would like to thank the author of Fifty Shades of Grey for our newest addition."
"Yup, this series was definitely my version of female Viagra. Thank you E L James!!!"
As for this "mommy porn" revolution, women have apparently consumed all there is of Fifty Shades and they want more. According to ABC News:
"A wave of steamy, sexy--some would say raunchy--romance novels and films sweeping through suburbia, many of them actually made by women, for women."
According to ABC, one in three women now admit that they watch porn. Angie Rowntree is the owner of sssh.com, an erotica website that caters to women. She told ABC:
"What our audience wants is to see a passionate love scene that is filled with chemistry and sensuality, like that beach novel that comes to life where the hero comes and whisks off the heroine, makes wild passionate love to her."
And it's not just porn. Suburban wives are apparently accessorizing their sex lives with toys, too. Kristen Tibby is the creative director of one such "toy store" in Los Angeles, the Pleasure Chest. She says that in addition to women, she's seen an increase in husbands shopping at her store.
"I had this man come in the other day, and he was like, "I've been with my wife for 20 years. I had sex three times this week, and I have not done that in a very long time," she told ABC.
Tell us—have you read Fifty Shades of Grey? Are you part of the revolution?
Photo: LWA/Getty Images
More Love & Sex from MSN Living:
10 Things You Must Do After a Breakup
What He Really Wants to Do on Vacation
Men's Secret Bedroom Fears

If you need a book to get it up something is wrong with the plumbing or your brain. Books like this are for uncreative people who are part of the herd. If I meet a newborn named Christain or Ana I'll scream! No wonder America is no longer #1 our passion and originality have gone out the window.
Are you sure you want to delete this comment?
love: friendships, dating, sex & marriage
Revealr is a new iPhone app that allows those looking for love to hear their possible matches before they see them.

A new poll reveals 59 percent of the country supports same-sex marriage.

Celebrity engagements are so much fun to follow because every detail is bound to be over-the-top — from the proposal (like when Kanye rented out an entire stadium to propose to Kim) to the huge, sparkly engagement ring and, of course, the wedding. Plus, as trendsetters, celebs can be a source of inspiration even if you can't afford a million dollar ring. Here are our celebrity wedding predictions for 2014.

If you've ever been to a club—like, ever, even once—you are not going to be shocked to hear that women get a lot of unwanted, aggressive attention. But when you read the findings of this study on how often and why it happens, it might make you feel downright sick to your stomach.

Hopeless romantics and cringe-worthy chick flicks would tell you that it doesn't matter what you do on the date, as long as you're together. But they're wrong. Dead wrong. Women use your date ideas to size you up, says matchmaker Rachel DeAlto, author of "Flirt Fearlessly." "You absolutely will be judged based on the date you plan. There are so many subconscious impressions that we take in while dating." Gulp. Here are 10 terrible ideas that can land you on the no-lay list—and simple swaps to keep her happy. By K. Aleisha Fetters

No matter your current relationship status or past relationship fails, get a fresh start this month, with these tips for spring cleaning your love life.

Forget the rules you've always heard—it's time to start making your own.

Are you in an affair without knowing it? Unless you're a swinger, having sex with someone else counts as cheating. But then there's the fuzzy area between friendship and infidelity—and chances are, your girlfriend sees those shades of gray as more black and white than you do. "Men aren't as attuned to identifying ambiguous behaviors as cheating as women are," says Daniel Kruger, Ph.D., a University of Michigan psychologist, who's studied gender differences in definitions of infidelity. In other words, what you consider totally innocent could be her deal breaker.

We spoke with relationship therapist Rachel A. Sussman, author of "The Breakup Bible," for her tips on how regular girls can survive a split like an A-lister.

A researcher from Texas Tech University has found that people who use the same kind of "function words" are more likely to get together.

Check out these five celebrity stunners.

And by weird, we really mean friggin' awesome.