Does porn make you cheat?
Researchers say don't let your habit get out of hand.
Watching porn may increase your urge to fool around, according to a new study in "Social, Psychological and Personality Science."
Researchers found that the more a guy looked at smut, the more likely he was to stray from his partner. That fits in line with previous research that shows men who cheat are more than three times as likely to watch porn regularly.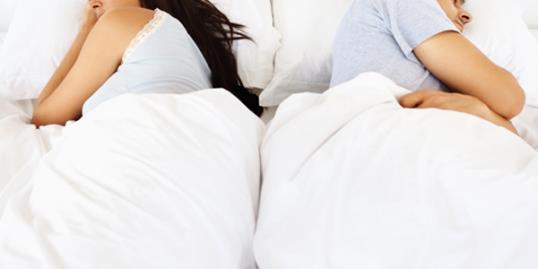 What's the kink link? Porn offers men access to no-strings-attached sex, often with multiple highly attractive partners, said study co-author A. Marlea Gwinn, of the University of Central Florida. And even though you recognize it's all make-believe, those erotic images reinforce the idea that there are many willing and attractive alternatives to your current squeeze, Gwinn said.
More from Men's Health: 3 myths about women you shouldn't believe
Dirty images also focus your mind on reproduction, and your instinct to reproduce values multiple sex partners over a loving, steady relationship, Gwinn adds.
Now, the science on porn is controversial and ever-evolving. (Check out our 2012 report, "Is Porn Harmful?" for the breakdown.)
But if you feel as though you're spending more time on PornHub than usual, it's time to cut back, said Rob Weiss, a certified sex addiction therapist and the director of sex and intimacy disorder services for Elements Behavioral Health.
More from Men's Health: What every woman wants
First, set a goal. Try to go two weeks without porn, Weiss recommends. Before you start, write down three reasons why you want to scale back, and tape these where you'll see them often — like the back of your phone or by your computer.
Bing: Great date-night ideas
After the two weeks are up, set specific targets for your habit, whether that's once a week or once a month, Weiss says. If you find yourself struggling to stay with it, he recommends computer tracking software from companies like Spytech ($70, spytech-web.com), which can block certain sites or even notify one of your buddies if you break down.
More from Men's Health:
Pick up The Men's Health 'Big Book of Sex'
39 things women wish you knew
5 moves every man must try
Photo: Does porn make you more likely to cheat? / Nicolas Hansen/Getty Images
love: friendships, dating, sex & marriage
Forgotten what love is all about? Read this note, and remember.

And a few that aren't so shocking.

If you find yourself doing any of these things, consider changing your behavior or counseling.

From pineapple sculptures made out of sunflowers to bold graphic printed tablecloths, ten trendsetters in the wedding industry shared 100 days' worth of inspiring new wedding details. See The Knot editors' top picks for the coolest and most awe-worthy ideas from the wedding experts.

Those Facebook friends who seem to have perfect lives with flawless mates whom they adore at all times? Even they face tough times like these.

How to flag her little fibs. By Laura Tedesco

A new study on attraction may help explain why fashions change.

As a general rule, any island that offers great weather year-round is going to attract the most visitors in the winter (high season) when we're all trying to escape the snow. Once summer rolls around, many islands see a sharp drop-off in tourism since many people have beach weather right in their own backyards.

And how you can attack the issues together.

A wedding is an exceptionally special day. Sometimes, an opportune photo flub makes the occasion even more memorable. Here are 25 awesome wedding photo bombs.

Somewhere between the first few butterfly-inducing dates and the committed-for-life stage, there's the period of wondering if you're both on the same page about how serious you feel about a future together. If you're not quite at the point of "that talk" but you're looking for a few clues you're heading in that direction, here are some signs he's in it for the long haul as your relationship progresses.

What's that sound? It's white noise blocking out the well-meaning person proclaiming groundbreaking news about where you can meet someone, asking why you're still single, or bugging you about when you're getting married already. Don't be that person. Here are 15 annoying things all single people don't want to hear.