Does porn make you cheat?
Researchers say don't let your habit get out of hand.
Watching porn may increase your urge to fool around, according to a new study in "Social, Psychological and Personality Science."
Researchers found that the more a guy looked at smut, the more likely he was to stray from his partner. That fits in line with previous research that shows men who cheat are more than three times as likely to watch porn regularly.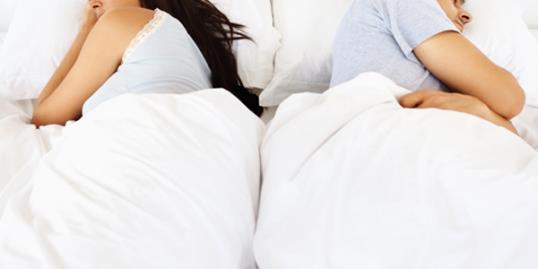 What's the kink link? Porn offers men access to no-strings-attached sex, often with multiple highly attractive partners, said study co-author A. Marlea Gwinn, of the University of Central Florida. And even though you recognize it's all make-believe, those erotic images reinforce the idea that there are many willing and attractive alternatives to your current squeeze, Gwinn said.
More from Men's Health: 3 myths about women you shouldn't believe
Dirty images also focus your mind on reproduction, and your instinct to reproduce values multiple sex partners over a loving, steady relationship, Gwinn adds.
Now, the science on porn is controversial and ever-evolving. (Check out our 2012 report, "Is Porn Harmful?" for the breakdown.)
But if you feel as though you're spending more time on PornHub than usual, it's time to cut back, said Rob Weiss, a certified sex addiction therapist and the director of sex and intimacy disorder services for Elements Behavioral Health.
More from Men's Health: What every woman wants
First, set a goal. Try to go two weeks without porn, Weiss recommends. Before you start, write down three reasons why you want to scale back, and tape these where you'll see them often — like the back of your phone or by your computer.
Bing: Great date-night ideas
After the two weeks are up, set specific targets for your habit, whether that's once a week or once a month, Weiss says. If you find yourself struggling to stay with it, he recommends computer tracking software from companies like Spytech ($70, spytech-web.com), which can block certain sites or even notify one of your buddies if you break down.
More from Men's Health:
Pick up The Men's Health 'Big Book of Sex'
39 things women wish you knew
5 moves every man must try
Photo: Does porn make you more likely to cheat? / Nicolas Hansen/Getty Images
love: friendships, dating, sex & marriage
Want to send your date running? Try one these moves.

Two guests arrested in New Jersey.

Celebrities certainly know how to travel in style, so if you're struggling to select a honeymoon destination, look no further than these star-approved hotspots. To make it even easier, we're providing you with hotel recommendations, packing essentials, and tips on what to do and see! So channel your inner celeb at one of these U.S. destinations for an unforgettable vacation!

Tall Twitter users named Wayne, we're on to you!

Should little girls be dreaming of a different kind of "I do"?

Need a reason to pack your bags and get the hell out of here?

After your return from your honeymoon, your marriage officially starts and with that come some changes. It's not to say that the honeymoon phase is over, but you'll have to get some things situated in order to have your marriage start off on the right foot. We tapped the expert advice of wedding planner and reality TV star David Tutera and love and career coach Charreah Jackson to dish on six things you must do to have a successful first month of marriage — from wedding-related logistics to wrap up to relationship rules to set.

Owner of Weddings in Vieques, a destination-wedding planning company off the coast of Puerto Rico, Sandy Malone has helped countless couples plan their big day since 2007. Here, the veteran planner is sharing some expert advice for free: She's sharing the top eight things you have to do right after you get engaged.

Is the idea of a big bridal bash just not your thing? Or perhaps you and your fiancé are just the super spontaneous type, so why not make your next beach vacation your nuptials as well? If you're thinking of eloping but have questions on the mind, we're here to help. We tapped elopement and wedding planner Lindsey Nickel, founder of Events, Etc., for her top dos and don'ts for getting hitched on the sly.

Easy everyday ways to keep the love alive.

Expert tips on moving past those oh-so-familiar arguments.

Sometimes you have to do things you don't want to do, like hang out with his lame friends. You're not always in the mood to nurse a beer silently while he and his boys argue about who's going to die next on "Game of Thrones" — but tomorrow he's sitting through a seven-girl brunch. So.