5 holiday date ideas to help you de-stress
Date night plans for those feeling a bit bah-humbug.
Black Friday may be the epitome of yuletide madness, but holiday stress lasts long after the stores stop slashing prices. The holidays have a knack for turning otherwise polite people into gift-grabbing maniacs. Even for the best of us, it's easy to get caught up in the holiday hoopla and forget what matters most—spending time with loved ones.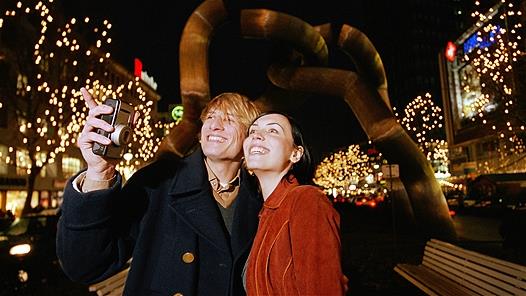 And speaking of loved ones, what better way to ease the holiday strain than to enjoy the season with your significant other? Lucky for you, we've put together
five holiday date ideas that will help you de-stress
.
Break out the eggnog and enjoy!
Photo: Andreas Pollok/Getty Images
More Sex & Love on MSN Living:
10 places to meet a man for the holidays
7 strategies to divorce-proof marriages
The way to his heart after 1, 5 and 10 years of marriage
What does your engagement ring say about you
love: friendships, dating, sex & marriage
Sometimes you have to do things you don't want to do, like hang out with his lame friends. You're not always in the mood to nurse a beer silently while he and his boys argue about who's going to die next on "Game of Thrones" — but tomorrow he's sitting through a seven-girl brunch. So.

Why holding on to your partner's mistakes will end up hurting you.

A little extra effort, will power and research can help your marriage bloom well into old age.

These are the conversations all betrothed couples should take the time to have before they get hitched.

Brace yourself, this is uncomfortable.

There's nothing wrong with grabbing Italian food and alternating between watching action films and romantic comedies, but shaking up your going-out routine with an extreme date night can be the ultimate turn on and the best way to keep your relationship exciting.

This just in: Guys over 5'10" are twice as likely to stray.

Or how to tell if you've reached THAT point in your bond.

Dating doesn't have to be a daunting task, promise. Here's how to make it fun for you and him.

This just in: A new study shows girls are warriors in the womb.

You can make a pros and cons list...but ultimately you know what works best for you.

Maggie Reyes is a life coach, writer, and the founder of ModernMarried.com. She helps newlyweds re-think what married life can be. Here, she's revealing tricks every newlywed couple needs to know.