Study Reveals the Most Popular Days for Sex
Plus, how often does the average couple get it on?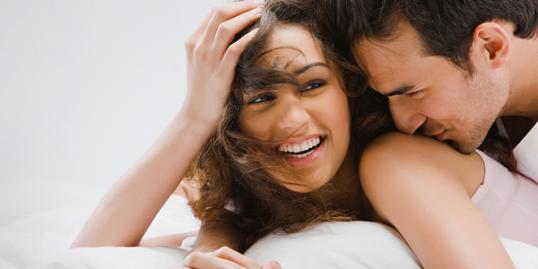 Just in time for the weekend, a study from author Sylvia Day has revealed that Saturday is the most popular day for couples to get it on. Friday came in second, proving that lovers know how to kick off a weekend.
It's all too easy to neglect the physical aspects of your relationship when you're caught up in the demands of the modern world. Couples are often too drained or too busy for sex during the week, Day's study found.
"After a long day in the office followed by a stressful commute, you can understand how sex may be the last thing on people's mind," she said.
The study encompassed 2,000 adult women, examining the more physical aspects of their relationships. On average, researchers found that the women reported having sex only two times a week with their significant other.
Or maybe that's a whopping two times a week, depending on your situation.
"Twice a week seems to be the average number of times a couple gets to have some bedroom action, but there are couples that have sex a lot more than this," Day explained. "Every couple is different, though, and what works for one may not suit another."
Day told The Heart Beat that talking about sex is good for relationships:
"Sex isn't just physical, it's cerebral, and having it as a near-daily topic of conversation in a mainstream way--we're talking about it with co-workers, friends, family, and even strangers at the bookstore--has lowered inhibitions. We're thinking about sex much more often and wanting it with greater frequency. Frequency builds intimacy with our partners, which builds trust and sparks an adventurous spirit."
In her study, she found that "I'm too tired" was the most popular excuse for not having sex, followed by "I'm not in the mood," and the old classic, "I've got a headache."
Related video: 5 Ways to Strengthen Your Relationship
But despite all of that, the good news is most people are satisfied with the frequency and quality of sex with their partners, at least in Day's study. She found that most of her subjects rated their sex lives three out of five.
So while we're on the subject, the study included a few other interesting statistics:
Three-quarters of subjects still enjoy sex only in the missionary position. But hey, why mess with a good thing?
The average length of foreplay time is about 10 minutes. Apparently, people can't wait to get to the good stuff.
One in three people have had sex on a beach, 5 percent of people have had sex in a fitting room, and 9 percent say they've done it in a swimming pool.
And with those kinky statistics, I bid you adieu. Enjoy your weekend, wink wink.
Photo: ImagesBazaar/Getty Images

More love and sex on MSN Living:
Crazy Marriage Proposals
Weird Wild World of Modern Love
Most Romantic Date Destinations in America
25 Reasons Why Married Sex Is Better
Are you sure you want to delete this comment?
love: friendships, dating, sex & marriage
It's not that you don't find every little thing about your partner endearing and adorable; it's just that it would have been really, really nice if that map could have been consulted three hours ago.

The typical wedding: A white dress, tiered cake, floral centerpieces and a cute flower girl -- you know the drill. Every once in a while, though, a couple trades in tradition for a quirky, never-seen-that-before idea. Here are a few of the most out-there wedding photos that made us do a double take.

There's a lot to love about weddings this fall, like cocktails served in copper Moscow mule mugs, industrial-inspired lighting and pheasant feather details. See what's new!

Do you have to be engaged to sport a ring with bling?

124.6 million haven't gotten hitched.

Even though the national average wedding is $29,858, that's just an average. If you live in a smaller state like Idaho where the average wedding costs $16,159, you may find yourself saving a little more than half of the national spend! Check out some of the other least expensive cities to get married in below:

Summer is winding down, but the ubiquitous summer romance lives on.

For those times when nothing big and horrible happened--but nothing is feeling right either.

He's confident, distinguished and anywhere from 4 to 20 years older than you. Age is just a number, but there's something about older men that we love. Here are eight reasons why being in a relationship with an older man is tops.

While a younger man may have less life experience, that doesn't mean he's not emotionally mature. Here are the eight reasons why being in a relationship with a younger man is tops.

Have you ever wondered what the 'other woman' was thinking?

So fall is coming and you need some romantic inspiration now that long walks on the beach are out of the question. Well look no further! From apple picking to pumpkin carving, these are some great fall date ideas from girls just like you!