Pick-Up Lines Actually Work, According to Survey
Plus, the three-day rule and other notorious dating rules debunked.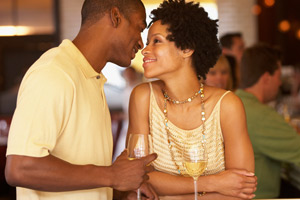 Are you a parking ticket? Because, girl, you've got 'fine' written all over you.
According to the results from a new survey, nearly half of women enjoy cheesy pick-up lines like this one. Dating site eHarmony asked 2,012 of its members, both men and women, about relationships and dating games. According to their results, the rules for dating have seriously been revamped.
A whopping 44 percent of women admitted they actually like pick-up lines. Technically, the majority still don't care for them, but that percentage is still higher than I would have presumed. I mean, who likes being asked, "Do you like raisins? How about a date?" Although, I have to say, this pick-up line may just be acceptable:
"How much does a polar bear weigh? ...Enough to break the ice; hi, my name is Steve."
Women's tolerance of pick-up lines isn't the only statistic that may be surprising. The survey also debunked the notorious "three-day rule." You know, the one that says you should wait a few days before contacting someone you've met for the first time? A whopping 73 percent of women and 71 percent of men say that waiting three days is downright "ridiculous." With those percentages, I think it's safe to say the three-day rule is done. Texting has likely replaced that first icebreaker call, anyway, and since texting is a more casual form of conversation, it makes sense that singles are no longer waiting three days to communicate. We live in a fast-paced world--who has time to wait that long for a date?
And speaking of technology, online "stalking" is now apparently becoming the norm. eHarmony reports:
"Nearly half of females and males check out potential dates online prior to meeting."
And while most singles decry dating games, women aren't the only ones who enjoy playing hard to get. According to the survey, 41 percent of men admit that they play coy, too.
Another surprising finding--people are apparently okay with the last-minute date. Eighty-nine percent of men and 77 percent of women said they would go on date with same-day notice.
What do you think of these results—are pick-up lines okay? Is the three-day rule ridiculous? Would you go on a date with same-day notice?
Photo: Ariel Skelley/Getty Images
More Love & Sex from MSN Living:
10 Things You Must Do After a Breakup
What He Really Wants to Do on Vacation
Men's Secret Bedroom Fears
love: friendships, dating, sex & marriage
Love it or hate it, the selfie wields much power.

Talk about some blurred lines.

Come on people, it's not that hard to mind your own business.

No sense in wasting your time on someone who will never commit.

There he is, the man of your dreams. He's sitting across from you at the coffee shop or standing at the opposite side of the bar. His eyes meet yours, a quick glance, and then it's back to his drink. Was he giving you a signal?

Remember that time on "30 Rock" when Liz Lemon and her eventual-husband Criss went shopping at Ikea, only to end up in a major fight? We know it couldn't be closer to the truth because we've all been there. In honor of the irritation that can be Ikea, here are the top fights you'll likely encounter.

Dating doesn't have to be a daunting task, promise. Here's how to make it fun for you and him.

One woman's honest journey to divorce will break your heart and inspire you at the same time.

Want to send your date running? Try one these moves.

Two guests arrested in New Jersey.

Celebrities certainly know how to travel in style, so if you're struggling to select a honeymoon destination, look no further than these star-approved hotspots. To make it even easier, we're providing you with hotel recommendations, packing essentials, and tips on what to do and see! So channel your inner celeb at one of these U.S. destinations for an unforgettable vacation!

Tall Twitter users named Wayne, we're on to you!