Pick-Up Lines Actually Work, According to Survey
Plus, the three-day rule and other notorious dating rules debunked.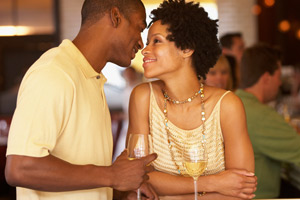 Are you a parking ticket? Because, girl, you've got 'fine' written all over you.
According to the results from a new survey, nearly half of women enjoy cheesy pick-up lines like this one. Dating site eHarmony asked 2,012 of its members, both men and women, about relationships and dating games. According to their results, the rules for dating have seriously been revamped.
A whopping 44 percent of women admitted they actually like pick-up lines. Technically, the majority still don't care for them, but that percentage is still higher than I would have presumed. I mean, who likes being asked, "Do you like raisins? How about a date?" Although, I have to say, this pick-up line may just be acceptable:
"How much does a polar bear weigh? ...Enough to break the ice; hi, my name is Steve."
Women's tolerance of pick-up lines isn't the only statistic that may be surprising. The survey also debunked the notorious "three-day rule." You know, the one that says you should wait a few days before contacting someone you've met for the first time? A whopping 73 percent of women and 71 percent of men say that waiting three days is downright "ridiculous." With those percentages, I think it's safe to say the three-day rule is done. Texting has likely replaced that first icebreaker call, anyway, and since texting is a more casual form of conversation, it makes sense that singles are no longer waiting three days to communicate. We live in a fast-paced world--who has time to wait that long for a date?
And speaking of technology, online "stalking" is now apparently becoming the norm. eHarmony reports:
"Nearly half of females and males check out potential dates online prior to meeting."
And while most singles decry dating games, women aren't the only ones who enjoy playing hard to get. According to the survey, 41 percent of men admit that they play coy, too.
Another surprising finding--people are apparently okay with the last-minute date. Eighty-nine percent of men and 77 percent of women said they would go on date with same-day notice.
What do you think of these results—are pick-up lines okay? Is the three-day rule ridiculous? Would you go on a date with same-day notice?
Photo: Ariel Skelley/Getty Images
More Love & Sex from MSN Living:
10 Things You Must Do After a Breakup
What He Really Wants to Do on Vacation
Men's Secret Bedroom Fears
love: friendships, dating, sex & marriage
Here's why dudes without hair make the best boyfriends.

What do you wish you appreciated more when you were flying solo?

"If you're so busy tweeting and Instagraming, you're not paying attention," New York wedding planner Marcy Blum said. "It's almost a cosmic faux pas. People want your energy with them and focused on what they're doing."

The wedding favor, that little thank-you-for-coming gift, has risen to new heights with the bride and groom giving guests a wide range of favors that are meaningful to them.

Generations ago, planning a wedding was 100 percent the bride's job, but in today's age of gender equity, it's a mere 99 percent.

For all the self-help books and advice columns out there (um, keeping reading my advice anyway, please!), there's one tool we all already have in our arsenal for picking a partner that will keep us happy: our gut instincts.

According to a new study from the University of Texas and the University of California, Los Angeles, both men and women have regrets when it comes to sex, but the genders vary greatly when it comes to what they regret specifically.

Spending time alone with your guy is easy, but going public with your plus-one is another thing entirely. Whether it's your crazy relatives at Thanksgiving dinner or awkward convos with your boss at the holiday party, possible pitfalls are everywhere. Keep reading for tips on how to make his grand entrance into your social life a good thing.

Match.com survey reveals the day you're least likely to get spruced up for a date.

Drinking and relationships seem to go hand in hand in a lot of ways. But only in moderation!

Many men will tell you that they have no clue what their wives are thinking.

Spending the holidays with your guy's family for the first time is a huge relationship milestone. But between your nerves, the usual family tension, and your weird Uncle Sal's inappropriate stories, it's also a prime opportunity for total disaster. Read on for 10 of our readers' most embarrassing meet-the-parents moments.