Pick-Up Lines Actually Work, According to Survey
Plus, the three-day rule and other notorious dating rules debunked.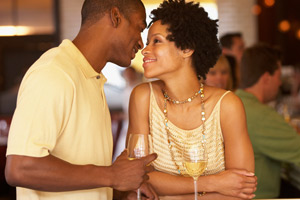 Are you a parking ticket? Because, girl, you've got 'fine' written all over you.
According to the results from a new survey, nearly half of women enjoy cheesy pick-up lines like this one. Dating site eHarmony asked 2,012 of its members, both men and women, about relationships and dating games. According to their results, the rules for dating have seriously been revamped.
A whopping 44 percent of women admitted they actually like pick-up lines. Technically, the majority still don't care for them, but that percentage is still higher than I would have presumed. I mean, who likes being asked, "Do you like raisins? How about a date?" Although, I have to say, this pick-up line may just be acceptable:
"How much does a polar bear weigh? ...Enough to break the ice; hi, my name is Steve."
Women's tolerance of pick-up lines isn't the only statistic that may be surprising. The survey also debunked the notorious "three-day rule." You know, the one that says you should wait a few days before contacting someone you've met for the first time? A whopping 73 percent of women and 71 percent of men say that waiting three days is downright "ridiculous." With those percentages, I think it's safe to say the three-day rule is done. Texting has likely replaced that first icebreaker call, anyway, and since texting is a more casual form of conversation, it makes sense that singles are no longer waiting three days to communicate. We live in a fast-paced world--who has time to wait that long for a date?
And speaking of technology, online "stalking" is now apparently becoming the norm. eHarmony reports:
"Nearly half of females and males check out potential dates online prior to meeting."
And while most singles decry dating games, women aren't the only ones who enjoy playing hard to get. According to the survey, 41 percent of men admit that they play coy, too.
Another surprising finding--people are apparently okay with the last-minute date. Eighty-nine percent of men and 77 percent of women said they would go on date with same-day notice.
What do you think of these results—are pick-up lines okay? Is the three-day rule ridiculous? Would you go on a date with same-day notice?
Photo: Ariel Skelley/Getty Images
More Love & Sex from MSN Living:
10 Things You Must Do After a Breakup
What He Really Wants to Do on Vacation
Men's Secret Bedroom Fears
love: friendships, dating, sex & marriage
Two steps forward, one giant fight afterward?

If you've been hiding any of this stuff, it's time to fess up.

The outlandish things we do for love have no limits; just ask these guys. Who's hugged the longest? Kissed the longest? Been on the most expensive date? Take a look below as we count down the world's most loving record-breakers.

If you just got engaged, congrats! This is seriously exciting news that deserves lots of congratulatory hugs, "oohing" and "ahhing" over the ring and plenty of bubbly. To make sure you get the right response from friends, family and coworkers, avoid announcing your engagement like this…

Ladies, give yourself the best gift of all this season: The NYC Taxi Driver 2014 Calendar. By Michelle Toglia

Pheromones may be the key to finding your perfect match.

Her partner? Wine? Downtime? Find out where it all ranks.

This time of year, we dust off our holiday traditions of special songs, stories, events and food to make our season bright. Here's a look into the traditional, unique and quirky holiday traditions of some famous couples.

Look, I looooove engagement season for obvious reasons, but even I can admit I'm like, "Really, AGAIN?" when yet ANOTHER engagement ring pops up in my news feed. Seriously, there were two this weekend. (Congrats, Gemma and Danny!)

We asked real men and women (and a few first-base experts, too) to give us the cardinal rules of kissing, tell us what makes someone a good kisser and more. So whether you're leaning in for kiss No. 1 or 1,000, read on.by Devin Tomb

Not quite sure which diamond shape suits your personality? We're here to help.

Dating can lead to all kinds of tricky situations. To help you navigate even the most awkward moments, we've compiled our 50 best dating tips—some new, some old—given to us by experts, moms, women like you, and even Justin Timberlake.