Pick-Up Lines Actually Work, According to Survey
Plus, the three-day rule and other notorious dating rules debunked.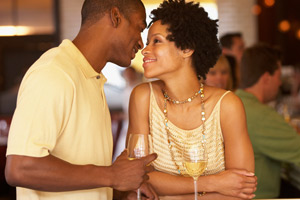 Are you a parking ticket? Because, girl, you've got 'fine' written all over you.
According to the results from a new survey, nearly half of women enjoy cheesy pick-up lines like this one. Dating site eHarmony asked 2,012 of its members, both men and women, about relationships and dating games. According to their results, the rules for dating have seriously been revamped.
A whopping 44 percent of women admitted they actually like pick-up lines. Technically, the majority still don't care for them, but that percentage is still higher than I would have presumed. I mean, who likes being asked, "Do you like raisins? How about a date?" Although, I have to say, this pick-up line may just be acceptable:
"How much does a polar bear weigh? ...Enough to break the ice; hi, my name is Steve."
Women's tolerance of pick-up lines isn't the only statistic that may be surprising. The survey also debunked the notorious "three-day rule." You know, the one that says you should wait a few days before contacting someone you've met for the first time? A whopping 73 percent of women and 71 percent of men say that waiting three days is downright "ridiculous." With those percentages, I think it's safe to say the three-day rule is done. Texting has likely replaced that first icebreaker call, anyway, and since texting is a more casual form of conversation, it makes sense that singles are no longer waiting three days to communicate. We live in a fast-paced world--who has time to wait that long for a date?
And speaking of technology, online "stalking" is now apparently becoming the norm. eHarmony reports:
"Nearly half of females and males check out potential dates online prior to meeting."
And while most singles decry dating games, women aren't the only ones who enjoy playing hard to get. According to the survey, 41 percent of men admit that they play coy, too.
Another surprising finding--people are apparently okay with the last-minute date. Eighty-nine percent of men and 77 percent of women said they would go on date with same-day notice.
What do you think of these results—are pick-up lines okay? Is the three-day rule ridiculous? Would you go on a date with same-day notice?
Photo: Ariel Skelley/Getty Images
More Love & Sex from MSN Living:
10 Things You Must Do After a Breakup
What He Really Wants to Do on Vacation
Men's Secret Bedroom Fears
love: friendships, dating, sex & marriage
How to flag her little fibs. By Laura Tedesco

A new study on attraction may help explain why fashions change.

As a general rule, any island that offers great weather year-round is going to attract the most visitors in the winter (high season) when we're all trying to escape the snow. Once summer rolls around, many islands see a sharp drop-off in tourism since many people have beach weather right in their own backyards.

And how you can attack the issues together.

A wedding is an exceptionally special day. Sometimes, an opportune photo flub makes the occasion even more memorable. Here are 25 awesome wedding photo bombs.

Somewhere between the first few butterfly-inducing dates and the committed-for-life stage, there's the period of wondering if you're both on the same page about how serious you feel about a future together. If you're not quite at the point of "that talk" but you're looking for a few clues you're heading in that direction, here are some signs he's in it for the long haul as your relationship progresses.

What's that sound? It's white noise blocking out the well-meaning person proclaiming groundbreaking news about where you can meet someone, asking why you're still single, or bugging you about when you're getting married already. Don't be that person. Here are 15 annoying things all single people don't want to hear.

With just a few days left before the big day, you already have a mile-long checklist of to-dos—now meet the don'ts! From impromptu skin treatments to all-night movie marathons, here are 11 things to avoid at all costs.

A new study shows that watching and discussing romantic films can drastically reduce your chance of divorce. These flicks more than fit the bill.

These seemingly innocent phrases still have the power to wound… big time.

Making "I do" last forever is one of the biggest challenges you'll ever face—and it's normal to worry about how you'll do it. But, if your connection involves any of these things, rest assured that you're in it for the long run.

Ultimately, as hard as it may seem at the beginning, a marital affair can be a turning point.