Pick-Up Lines Actually Work, According to Survey
Plus, the three-day rule and other notorious dating rules debunked.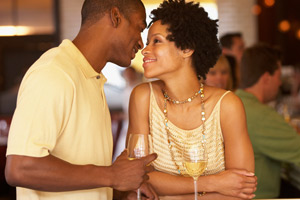 Are you a parking ticket? Because, girl, you've got 'fine' written all over you.
According to the results from a new survey, nearly half of women enjoy cheesy pick-up lines like this one. Dating site eHarmony asked 2,012 of its members, both men and women, about relationships and dating games. According to their results, the rules for dating have seriously been revamped.
A whopping 44 percent of women admitted they actually like pick-up lines. Technically, the majority still don't care for them, but that percentage is still higher than I would have presumed. I mean, who likes being asked, "Do you like raisins? How about a date?" Although, I have to say, this pick-up line may just be acceptable:
"How much does a polar bear weigh? ...Enough to break the ice; hi, my name is Steve."
Women's tolerance of pick-up lines isn't the only statistic that may be surprising. The survey also debunked the notorious "three-day rule." You know, the one that says you should wait a few days before contacting someone you've met for the first time? A whopping 73 percent of women and 71 percent of men say that waiting three days is downright "ridiculous." With those percentages, I think it's safe to say the three-day rule is done. Texting has likely replaced that first icebreaker call, anyway, and since texting is a more casual form of conversation, it makes sense that singles are no longer waiting three days to communicate. We live in a fast-paced world--who has time to wait that long for a date?
And speaking of technology, online "stalking" is now apparently becoming the norm. eHarmony reports:
"Nearly half of females and males check out potential dates online prior to meeting."
And while most singles decry dating games, women aren't the only ones who enjoy playing hard to get. According to the survey, 41 percent of men admit that they play coy, too.
Another surprising finding--people are apparently okay with the last-minute date. Eighty-nine percent of men and 77 percent of women said they would go on date with same-day notice.
What do you think of these results—are pick-up lines okay? Is the three-day rule ridiculous? Would you go on a date with same-day notice?
Photo: Ariel Skelley/Getty Images
More Love & Sex from MSN Living:
10 Things You Must Do After a Breakup
What He Really Wants to Do on Vacation
Men's Secret Bedroom Fears
love: friendships, dating, sex & marriage
You'd think brides and grooms who celebrate their nuptials with 50 guests have an equal shot at wedded bliss as those who invite 500, but apparently not.

Because some things are just better with a buddy (whom you happen to be dating).

They're smart, funny, and adorable, but are you a good match?

Fight the urge to sign her up for OkCupid and read this instead.

We know you have good intentions, but...please...stop.

You can't say we didn't warn you. Every month is Movember when you're dating a guy with a beard. And while the scruffy look can be hot, there are some very real, err, challenges that come with the territory. Don't believe us? Well…

Follow these steps to slash your wedding budget—not your fun—in half.

It won't all be cake and flowers, but it can be the best year of your life together so far.

Expert tips on moving past those oh-so-familiar arguments.

Grow as a couple by sharing adventures.

For many married couples, falling in love and saying "I do" was the easy part. Living happily ever after is the part that takes a whole lot of work.