Controversial dating site illegal in some U.S. cities
'Dating for dollars' could land you in jail.
Whether it's sugar dating or a website that lets beautiful people travel free, online entrepreneur Brandon Wade has created a slew of controversial dating sites.
But this might be the first time one of Wade's sites is actually illegal.
WhatsYourPrice.com allows members to pay for dates. One user explained the lure to Milwaukee's TMJ4: 
"It just saves a lot of time, because—I'm sorry—but if you are going to pay someone $100 to go on a date, they are going to be a lot more serious than they would if they paid a $30 membership to date 100 different girls on match.com."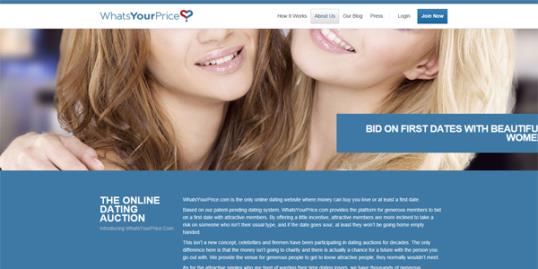 More on MSN Living: 18 biggest things married couples complain about 
But law enforcement warns using the site could land you in jail in some cities. In particular, Brookfield and Oak Creek, Wisconsin have laws that ban people being paid for their time without a license. 
"You are being paid for your time.  You need a license in the City of Oak Creek for that, and we will arrest you if you don't," warns Oak Creek Police Chief John Edwards. 
More on MSN Living: 30 of the most romantic celebrity social posts
Wade recently appeared on "Anderson" to defend his site among critics who compared it to an escort service. 
"We make it very clear that you're not allowed to have sex on the first date," Wade has said, likening his site to a "dating auction." 
Edwards' response? 
"That's a completely different thing. That's a rationalization for what it is." 
Despite the criticism, the site has over 750,000 members across the country, and singles often negotiate their rate for a first date. 
"She could come back and say 'That's not enough.  I would need $100,'" Wade explains. "You could then counter that with 'How about $90?'" 
His rationalization might make sense to some, but Edwards isn't buying it. 
"If you are the person that's being paid, that's who we arrest."
More from The Heart Beat:
Romance fades three and a half years into marriage
New wedding trend: The anti-invite
China's 'fake-marriage market' a growing trend
Love content like this? Friend us on Facebook, follow us on Twitter and find us on Pinterest.
Photo: Whatsyourprice.com
love: friendships, dating, sex & marriage
While we do love crazy, funny and over-the-top engagements, sometimes there's just nothing like a proposal with a heartfelt story behind it (warning: you might need some tissues). We've rounded up some of the most romantic wedding proposals from couples across the country, so keep scrolling for seven of our favorites:

As much as you'd like to think your guests will love every single aspect of your wedding, the truth is you really can't please everyone. However, you can try to avoid ticking them off. Here's how.

You'd think brides and grooms who celebrate their nuptials with 50 guests have an equal shot at wedded bliss as those who invite 500, but apparently not.

Because some things are just better with a buddy (whom you happen to be dating).

They're smart, funny, and adorable, but are you a good match?

Fight the urge to sign her up for OkCupid and read this instead.

We know you have good intentions, but...please...stop.

You can't say we didn't warn you. Every month is Movember when you're dating a guy with a beard. And while the scruffy look can be hot, there are some very real, err, challenges that come with the territory. Don't believe us? Well…

Follow these steps to slash your wedding budget—not your fun—in half.

It won't all be cake and flowers, but it can be the best year of your life together so far.

Expert tips on moving past those oh-so-familiar arguments.