Women feel unsafe in a town overrun by men
Sex crimes and domestic assault have been steadily increasing in the small oil town of Williston.
In the midst of an oil boom, young men have been migrating to North Dakota in search of work. It's lucrative work, too—many of them rake in six-figure salaries.
Because of this boom, Williston, North Dakota has seen a notable increase in its population of single men. In fact, the single men now significantly outnumber the single women of Williston. But the scarcity of women has an unsavory side effect—the men are becoming aggressive.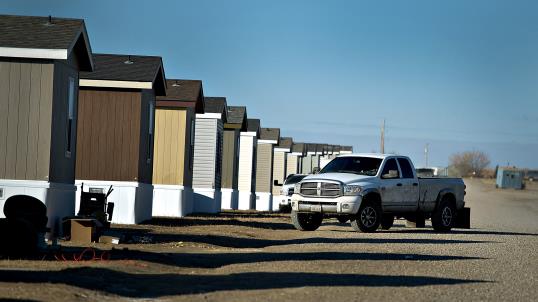 More on MSN Living: Just got engaged? 11 things to do NOW!
The New York Times profiled the town this week, quoting a 22-year-old worker named Jon Kenworthy, who moved to Williston in December:
"It's bad, dude. I was talking to my buddy here. I told him I was going to import from Indiana because there's nothing here."
As bad as it is for the men, it's worse for the women, who say they no longer feel safe enough to go out alone.
 More on MSN Living: Engagement etiquette tips everyone should know 
"So many people look at you like you're a piece of meat," Williston resident Megan Dye told the Times. "It's disgusting. It's gross."
And it's not just their imaginations. Over the past six years, there's been an increase in crimes against women, "including domestic and sexual assaults." In those six years, North Dakota has become the state with the third-highest ratio of single men to single women in the country. In 2011, there were 1.6 single men for every single woman.
"I've noticed my standards dropping," one young man told the Times. "I just went home two weeks ago. I saw the girls I had planned to see. That, hopefully, should hold me off until I go back next time in two months or so."
While this attitude may seem harmless, the commodification of women in Williston is clearly linked to the increase in domestic and sexual assaults. Jessica Brightbill is a 24-year-old Williston resident who was attacked by two men on her way to work—at 3:30 in the afternoon.
"One hopped out and grabbed her by her arms and began dragging her. She let her body go limp so she would be harder to drag," the Times reported.
Bing: More about Williston, North Dakota
After that incident, Brightbill never goes out alone. And even though she's single, she expresses the difficulty of finding a good man in her town:
"It's just people trying to have sex."
More from The Heart Beat:
A virtual reality sex game is on the way
Why powerful people are more likely to cheat
Study: Confidence before marriage leads to a happy union
Love content like this? Friend us on Facebook, follow us on Twitter and find us on Pinterest
Photo: Daniel Acker/Bloomberg via Getty Images/A row of new single wide mobile homes in Williston, North Dakota.
Are you sure you want to delete this comment?
love: friendships, dating, sex & marriage
A wedding is an exceptionally special day. Sometimes, an opportune photo flub makes the occasion even more memorable. Here are 25 awesome wedding photo bombs.

Somewhere between the first few butterfly-inducing dates and the committed-for-life stage, there's the period of wondering if you're both on the same page about how serious you feel about a future together. If you're not quite at the point of "that talk" but you're looking for a few clues you're heading in that direction, here are some signs he's in it for the long haul as your relationship progresses.

What's that sound? It's white noise blocking out the well-meaning person proclaiming groundbreaking news about where you can meet someone, asking why you're still single, or bugging you about when you're getting married already. Don't be that person. Here are 15 annoying things all single people don't want to hear.

With just a few days left before the big day, you already have a mile-long checklist of to-dos—now meet the don'ts! From impromptu skin treatments to all-night movie marathons, here are 11 things to avoid at all costs.

A new study shows that watching and discussing romantic films can drastically reduce your chance of divorce. These flicks more than fit the bill.

These seemingly innocent phrases still have the power to wound… big time.

Making "I do" last forever is one of the biggest challenges you'll ever face—and it's normal to worry about how you'll do it. But, if your connection involves any of these things, rest assured that you're in it for the long run.

Ultimately, as hard as it may seem at the beginning, a marital affair can be a turning point.

Five months after the Boston Marathon bombing, The Knot reached out to Rebekah Gregory and Pete DiMartino and offered to throw them a dream wedding. They said yes, and on April 4, 2014, the two married at the Biltmore Estate in Asheville, North Carolina. Rebekah and Pete exchanged vows on the tennis lawn amidst the cherry tree blossoms and then celebrated with all of their friends and family at a beautiful reception tent right in front of the estate. All of the details were perfectly executed by a team of talented and generous wedding industry pros, including celebrity wedding planner Marcy Blum. Here, a few highlights from Rebekah and Pete's wedding day.

Your wedding is your special day, but you want to keep your guests happy, too. Here are 20 typical wedding guest complaints and what you can do about them.

Study finds that early birds get the long-term relationships.

Receptions would take place near where raw sewage is processed.