Women feel unsafe in a town overrun by men
Sex crimes and domestic assault have been steadily increasing in the small oil town of Williston.
In the midst of an oil boom, young men have been migrating to North Dakota in search of work. It's lucrative work, too—many of them rake in six-figure salaries.
Because of this boom, Williston, North Dakota has seen a notable increase in its population of single men. In fact, the single men now significantly outnumber the single women of Williston. But the scarcity of women has an unsavory side effect—the men are becoming aggressive.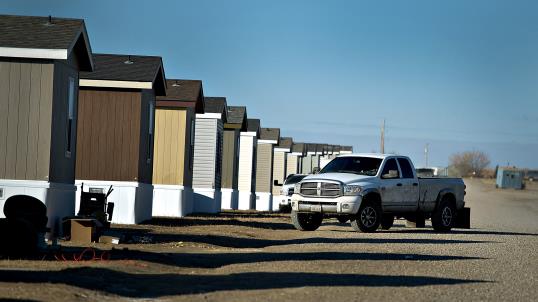 More on MSN Living: Just got engaged? 11 things to do NOW!
The New York Times profiled the town this week, quoting a 22-year-old worker named Jon Kenworthy, who moved to Williston in December:
"It's bad, dude. I was talking to my buddy here. I told him I was going to import from Indiana because there's nothing here."
As bad as it is for the men, it's worse for the women, who say they no longer feel safe enough to go out alone.
 More on MSN Living: Engagement etiquette tips everyone should know 
"So many people look at you like you're a piece of meat," Williston resident Megan Dye told the Times. "It's disgusting. It's gross."
And it's not just their imaginations. Over the past six years, there's been an increase in crimes against women, "including domestic and sexual assaults." In those six years, North Dakota has become the state with the third-highest ratio of single men to single women in the country. In 2011, there were 1.6 single men for every single woman.
"I've noticed my standards dropping," one young man told the Times. "I just went home two weeks ago. I saw the girls I had planned to see. That, hopefully, should hold me off until I go back next time in two months or so."
While this attitude may seem harmless, the commodification of women in Williston is clearly linked to the increase in domestic and sexual assaults. Jessica Brightbill is a 24-year-old Williston resident who was attacked by two men on her way to work—at 3:30 in the afternoon.
"One hopped out and grabbed her by her arms and began dragging her. She let her body go limp so she would be harder to drag," the Times reported.
Bing: More about Williston, North Dakota
After that incident, Brightbill never goes out alone. And even though she's single, she expresses the difficulty of finding a good man in her town:
"It's just people trying to have sex."
More from The Heart Beat:
A virtual reality sex game is on the way
Why powerful people are more likely to cheat
Study: Confidence before marriage leads to a happy union
Love content like this? Friend us on Facebook, follow us on Twitter and find us on Pinterest
Photo: Daniel Acker/Bloomberg via Getty Images/A row of new single wide mobile homes in Williston, North Dakota.
Are you sure you want to delete this comment?
love: friendships, dating, sex & marriage
This winter, it's all about mixing unexpected seasonal elements with elegant neutral details and a hint of sparkle and sequins. Take a look.

Here's why dudes without hair make the best boyfriends.

What do you wish you appreciated more when you were flying solo?

"If you're so busy tweeting and Instagraming, you're not paying attention," New York wedding planner Marcy Blum said. "It's almost a cosmic faux pas. People want your energy with them and focused on what they're doing."

The wedding favor, that little thank-you-for-coming gift, has risen to new heights with the bride and groom giving guests a wide range of favors that are meaningful to them.

Generations ago, planning a wedding was 100 percent the bride's job, but in today's age of gender equity, it's a mere 99 percent.

For all the self-help books and advice columns out there (um, keeping reading my advice anyway, please!), there's one tool we all already have in our arsenal for picking a partner that will keep us happy: our gut instincts.

According to a new study from the University of Texas and the University of California, Los Angeles, both men and women have regrets when it comes to sex, but the genders vary greatly when it comes to what they regret specifically.

Spending time alone with your guy is easy, but going public with your plus-one is another thing entirely. Whether it's your crazy relatives at Thanksgiving dinner or awkward convos with your boss at the holiday party, possible pitfalls are everywhere. Keep reading for tips on how to make his grand entrance into your social life a good thing.

Match.com survey reveals the day you're least likely to get spruced up for a date.

Drinking and relationships seem to go hand in hand in a lot of ways. But only in moderation!

Many men will tell you that they have no clue what their wives are thinking.