Women feel unsafe in a town overrun by men
Sex crimes and domestic assault have been steadily increasing in the small oil town of Williston.
In the midst of an oil boom, young men have been migrating to North Dakota in search of work. It's lucrative work, too—many of them rake in six-figure salaries.
Because of this boom, Williston, North Dakota has seen a notable increase in its population of single men. In fact, the single men now significantly outnumber the single women of Williston. But the scarcity of women has an unsavory side effect—the men are becoming aggressive.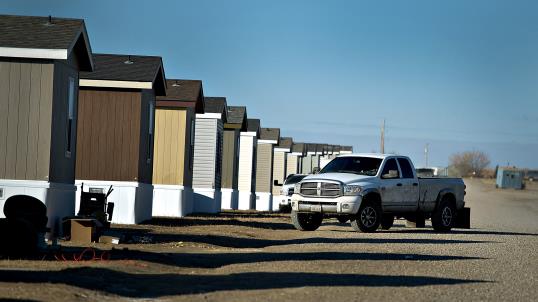 More on MSN Living: Just got engaged? 11 things to do NOW!
The New York Times profiled the town this week, quoting a 22-year-old worker named Jon Kenworthy, who moved to Williston in December:
"It's bad, dude. I was talking to my buddy here. I told him I was going to import from Indiana because there's nothing here."
As bad as it is for the men, it's worse for the women, who say they no longer feel safe enough to go out alone.
 More on MSN Living: Engagement etiquette tips everyone should know 
"So many people look at you like you're a piece of meat," Williston resident Megan Dye told the Times. "It's disgusting. It's gross."
And it's not just their imaginations. Over the past six years, there's been an increase in crimes against women, "including domestic and sexual assaults." In those six years, North Dakota has become the state with the third-highest ratio of single men to single women in the country. In 2011, there were 1.6 single men for every single woman.
"I've noticed my standards dropping," one young man told the Times. "I just went home two weeks ago. I saw the girls I had planned to see. That, hopefully, should hold me off until I go back next time in two months or so."
While this attitude may seem harmless, the commodification of women in Williston is clearly linked to the increase in domestic and sexual assaults. Jessica Brightbill is a 24-year-old Williston resident who was attacked by two men on her way to work—at 3:30 in the afternoon.
"One hopped out and grabbed her by her arms and began dragging her. She let her body go limp so she would be harder to drag," the Times reported.
Bing: More about Williston, North Dakota
After that incident, Brightbill never goes out alone. And even though she's single, she expresses the difficulty of finding a good man in her town:
"It's just people trying to have sex."
More from The Heart Beat:
A virtual reality sex game is on the way
Why powerful people are more likely to cheat
Study: Confidence before marriage leads to a happy union
Love content like this? Friend us on Facebook, follow us on Twitter and find us on Pinterest
Photo: Daniel Acker/Bloomberg via Getty Images/A row of new single wide mobile homes in Williston, North Dakota.
Are you sure you want to delete this comment?
love: friendships, dating, sex & marriage
Revealr is a new iPhone app that allows those looking for love to hear their possible matches before they see them.

A new poll reveals 59 percent of the country supports same-sex marriage.

Celebrity engagements are so much fun to follow because every detail is bound to be over-the-top — from the proposal (like when Kanye rented out an entire stadium to propose to Kim) to the huge, sparkly engagement ring and, of course, the wedding. Plus, as trendsetters, celebs can be a source of inspiration even if you can't afford a million dollar ring. Here are our celebrity wedding predictions for 2014.

If you've ever been to a club—like, ever, even once—you are not going to be shocked to hear that women get a lot of unwanted, aggressive attention. But when you read the findings of this study on how often and why it happens, it might make you feel downright sick to your stomach.

Hopeless romantics and cringe-worthy chick flicks would tell you that it doesn't matter what you do on the date, as long as you're together. But they're wrong. Dead wrong. Women use your date ideas to size you up, says matchmaker Rachel DeAlto, author of "Flirt Fearlessly." "You absolutely will be judged based on the date you plan. There are so many subconscious impressions that we take in while dating." Gulp. Here are 10 terrible ideas that can land you on the no-lay list—and simple swaps to keep her happy. By K. Aleisha Fetters

No matter your current relationship status or past relationship fails, get a fresh start this month, with these tips for spring cleaning your love life.

Forget the rules you've always heard—it's time to start making your own.

Are you in an affair without knowing it? Unless you're a swinger, having sex with someone else counts as cheating. But then there's the fuzzy area between friendship and infidelity—and chances are, your girlfriend sees those shades of gray as more black and white than you do. "Men aren't as attuned to identifying ambiguous behaviors as cheating as women are," says Daniel Kruger, Ph.D., a University of Michigan psychologist, who's studied gender differences in definitions of infidelity. In other words, what you consider totally innocent could be her deal breaker.

We spoke with relationship therapist Rachel A. Sussman, author of "The Breakup Bible," for her tips on how regular girls can survive a split like an A-lister.

A researcher from Texas Tech University has found that people who use the same kind of "function words" are more likely to get together.

Check out these five celebrity stunners.

And by weird, we really mean friggin' awesome.