Women feel unsafe in a town overrun by men
Sex crimes and domestic assault have been steadily increasing in the small oil town of Williston.
In the midst of an oil boom, young men have been migrating to North Dakota in search of work. It's lucrative work, too—many of them rake in six-figure salaries.
Because of this boom, Williston, North Dakota has seen a notable increase in its population of single men. In fact, the single men now significantly outnumber the single women of Williston. But the scarcity of women has an unsavory side effect—the men are becoming aggressive.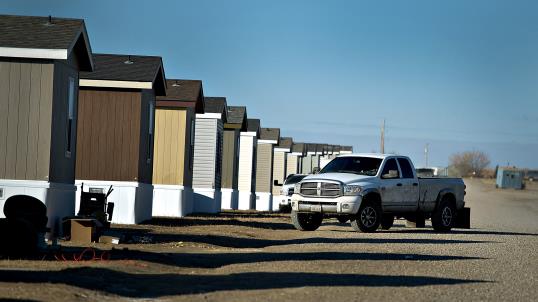 More on MSN Living: Just got engaged? 11 things to do NOW!
The New York Times profiled the town this week, quoting a 22-year-old worker named Jon Kenworthy, who moved to Williston in December:
"It's bad, dude. I was talking to my buddy here. I told him I was going to import from Indiana because there's nothing here."
As bad as it is for the men, it's worse for the women, who say they no longer feel safe enough to go out alone.
 More on MSN Living: Engagement etiquette tips everyone should know 
"So many people look at you like you're a piece of meat," Williston resident Megan Dye told the Times. "It's disgusting. It's gross."
And it's not just their imaginations. Over the past six years, there's been an increase in crimes against women, "including domestic and sexual assaults." In those six years, North Dakota has become the state with the third-highest ratio of single men to single women in the country. In 2011, there were 1.6 single men for every single woman.
"I've noticed my standards dropping," one young man told the Times. "I just went home two weeks ago. I saw the girls I had planned to see. That, hopefully, should hold me off until I go back next time in two months or so."
While this attitude may seem harmless, the commodification of women in Williston is clearly linked to the increase in domestic and sexual assaults. Jessica Brightbill is a 24-year-old Williston resident who was attacked by two men on her way to work—at 3:30 in the afternoon.
"One hopped out and grabbed her by her arms and began dragging her. She let her body go limp so she would be harder to drag," the Times reported.
Bing: More about Williston, North Dakota
After that incident, Brightbill never goes out alone. And even though she's single, she expresses the difficulty of finding a good man in her town:
"It's just people trying to have sex."
More from The Heart Beat:
A virtual reality sex game is on the way
Why powerful people are more likely to cheat
Study: Confidence before marriage leads to a happy union
Love content like this? Friend us on Facebook, follow us on Twitter and find us on Pinterest
Photo: Daniel Acker/Bloomberg via Getty Images/A row of new single wide mobile homes in Williston, North Dakota.
Are you sure you want to delete this comment?
love: friendships, dating, sex & marriage
We know some of this may sound obvious, but these simple statements can make both of you happier.

Making your relationship more secure, connected, and intimate doesn't have to feel overwhelming. Try these expert tips and reap the rewards now—and in the long run.

For those times when nothing big and horrible happened--but nothing is feeling right either.

What's more fun than animals in weddings? We've rounded up eight of the cutest.

Your puppy is all over your Instagram, Facebook and fridge, so there's no reason not to include him in your engagement pictures too. The best engagement photos give viewers a peek into your life. If you're a dog owner, take this opportunity to show off your pooch, like these 22 couples did! And we can't thank them enough.

Our married blogger gets real about checking out other guys when you're taken.

He's confident, distinguished and anywhere from 4 to 20 years older than you. Age is just a number, but there's something about older men that we love. Here are eight reasons why being in a relationship with an older man is tops.

While a younger man may have less life experience, that doesn't mean he's not emotionally mature. Here are the eight reasons why being in a relationship with a younger man is tops.

While we do love crazy, funny and over-the-top engagements, sometimes there's just nothing like a proposal with a heartfelt story behind it (warning: you might need some tissues). We've rounded up some of the most romantic wedding proposals from couples across the country, so keep scrolling for seven of our favorites:

As much as you'd like to think your guests will love every single aspect of your wedding, the truth is you really can't please everyone. However, you can try to avoid ticking them off. Here's how.

You'd think brides and grooms who celebrate their nuptials with 50 guests have an equal shot at wedded bliss as those who invite 500, but apparently not.

Because some things are just better with a buddy (whom you happen to be dating).