Survey reveals what makes a man husband material
A survey of mental health professionals from YourTango.com dispels several long-held myths, and reveals what actually makes a man husband material.
For starters, is it true that you can tell everything you need to know about how a man will treat you by looking at his relationship with his mother? "Not even close," say 65 percent of respondents.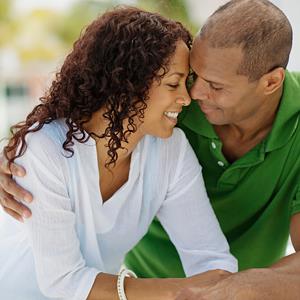 However, YourTangoExpert Jennifer Elizabeth Masters disagrees, explaining: "If a man is disrespectful of his mother, he will disrespect you. If he does not get along with his mother, he is a bad risk."
More from YourTango: 8 essential traits of a keeper
If you think that a man who has never been married by age 40 likely has a deep-seated fear of commitment or some other undesirable issue to resolve, you're in the minority; 55 percent of experts disagree with this assumption.
"He may just be very independent," said YourTango Expert Sheila Paxton, "or very discerning."
And neither one of those traits is something to be concerned about.
More from YourTango: What makes men husband material
Meanwhile, the vast majority of respondents agree that the No.1 quality that makes a man husband material is his ability to communicate, followed closely by honesty and reliability. And, when it comes to finding a husband, experts say the following three qualities matter least to their clients: a man's height, followed by his religion/ethnicity and then his job.
So, cheer up, diminutive dudes; as it turns out, ladies love short men just as much as their taller counterparts.
More from YourTango: Why mama's boys are bad news
More than 96 percent of respondents agree that great husbands are made, not born, so it's never too late for a guy to live up to his potential.
As to whether divorced men make good husbands, the verdict is out: half of experts say they do; the other half say they don't. However, a whopping 89 percent of experts believe that addictions to drugs, alcohol, gambling and/or sex disqualify men from being husband material, so marriage-minded women should avoid guys with substance abuse issues.
One expert explains, "Anyone actively practicing an addiction is more loyal to the addiction than to any other relationship."
"Unfortunately, the No.1 husband-worthy trait that most women overlook is kindness. Not great news for all the nice guys out there!" said YourTango CEO, Andrea Miller.
Additional survey findings include:
Don't discount dads. 58 percent of experts agree that single fathers make great husbands.
Say "no" to mama's boys. 88 percent say that "mama's boys" are not husband material.
Bad boys can grow into great men.  85 percent agree that a man with a checkered past can evolve into a great, lifelong partner over time.
More from The Heart Beat:

5 awful online dating catfish stories

Is courtship really dead?

Love content like this? Friend us on Facebook, follow us on Twitter and find us on Pinterest.
Photo: Husband material / Fuse/Getty Images
love: friendships, dating, sex & marriage
This just in: Guys over 5'10" are twice as likely to stray.

Or how to tell if you've reached THAT point in your bond.

Dating doesn't have to be a daunting task, promise. Here's how to make it fun for you and him.

This just in: A new study shows girls are warriors in the womb.

You can make a pros and cons list...but ultimately you know what works best for you.

Maggie Reyes is a life coach, writer, and the founder of ModernMarried.com. She helps newlyweds re-think what married life can be. Here, she's revealing tricks every newlywed couple needs to know.

Government-supported Vietnamese classes teach women Korean language, customs.

Whether you're into creative artists or uber-preppy bankers, there's something to be said for trying something new.

Sometimes two characters on a TV show or movie can portray being a happy couple effortlessly, or can have lots of fun playing former spouses — especially if they're married to each other in real life! Keep scrolling for six celebrity costars you probably didn't know tied the knot, even after the bloodiest and craziest story lines.

Some couples want nothing more than a laid-back, by-the-book proposal. Then there are the other couples, where the proposal not only needs to be personalized, it also has to be unique and entirely different than the typical restaurant, bended-knee idea. Sound like you? Then get inspired by some of the most creative proposal ideas we've ever seen. If you find something you like, steal it and then modify it to make your proposal something totally unforgettable.

From Nantucket all the way to Cayo Espanto, we've rounded up some of the prettiest beaches to travel to for your honeymoon.

Researchers studied the age-old stereotype that women really are more talkative than men.