Survey reveals what makes a man husband material
A survey of mental health professionals from YourTango.com dispels several long-held myths, and reveals what actually makes a man husband material.
For starters, is it true that you can tell everything you need to know about how a man will treat you by looking at his relationship with his mother? "Not even close," say 65 percent of respondents.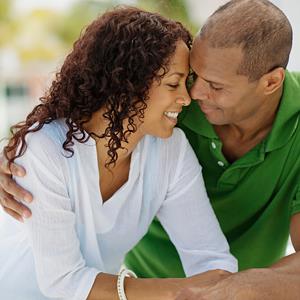 However, YourTangoExpert Jennifer Elizabeth Masters disagrees, explaining: "If a man is disrespectful of his mother, he will disrespect you. If he does not get along with his mother, he is a bad risk."
More from YourTango: 8 essential traits of a keeper
If you think that a man who has never been married by age 40 likely has a deep-seated fear of commitment or some other undesirable issue to resolve, you're in the minority; 55 percent of experts disagree with this assumption.
"He may just be very independent," said YourTango Expert Sheila Paxton, "or very discerning."
And neither one of those traits is something to be concerned about.
More from YourTango: What makes men husband material
Meanwhile, the vast majority of respondents agree that the No.1 quality that makes a man husband material is his ability to communicate, followed closely by honesty and reliability. And, when it comes to finding a husband, experts say the following three qualities matter least to their clients: a man's height, followed by his religion/ethnicity and then his job.
So, cheer up, diminutive dudes; as it turns out, ladies love short men just as much as their taller counterparts.
More from YourTango: Why mama's boys are bad news
More than 96 percent of respondents agree that great husbands are made, not born, so it's never too late for a guy to live up to his potential.
As to whether divorced men make good husbands, the verdict is out: half of experts say they do; the other half say they don't. However, a whopping 89 percent of experts believe that addictions to drugs, alcohol, gambling and/or sex disqualify men from being husband material, so marriage-minded women should avoid guys with substance abuse issues.
One expert explains, "Anyone actively practicing an addiction is more loyal to the addiction than to any other relationship."
"Unfortunately, the No.1 husband-worthy trait that most women overlook is kindness. Not great news for all the nice guys out there!" said YourTango CEO, Andrea Miller.
Additional survey findings include:
Don't discount dads. 58 percent of experts agree that single fathers make great husbands.
Say "no" to mama's boys. 88 percent say that "mama's boys" are not husband material.
Bad boys can grow into great men.  85 percent agree that a man with a checkered past can evolve into a great, lifelong partner over time.
More from The Heart Beat:

5 awful online dating catfish stories

Is courtship really dead?

Love content like this? Friend us on Facebook, follow us on Twitter and find us on Pinterest.
Photo: Husband material / Fuse/Getty Images
love: friendships, dating, sex & marriage
The typical wedding: A white dress, tiered cake, floral centerpieces and a cute flower girl -- you know the drill. Every once in a while, though, a couple trades in tradition for a quirky, never-seen-that-before idea. Here are a few of the most out-there wedding photos that made us do a double take.

There's a lot to love about weddings this fall, like cocktails served in copper Moscow mule mugs, industrial-inspired lighting and pheasant feather details. See what's new!

Do you have to be engaged to sport a ring with bling?

124.6 million haven't gotten hitched.

Even though the national average wedding is $29,858, that's just an average. If you live in a smaller state like Idaho where the average wedding costs $16,159, you may find yourself saving a little more than half of the national spend! Check out some of the other least expensive cities to get married in below:

Summer is winding down, but the ubiquitous summer romance lives on.

For those times when nothing big and horrible happened--but nothing is feeling right either.

He's confident, distinguished and anywhere from 4 to 20 years older than you. Age is just a number, but there's something about older men that we love. Here are eight reasons why being in a relationship with an older man is tops.

While a younger man may have less life experience, that doesn't mean he's not emotionally mature. Here are the eight reasons why being in a relationship with a younger man is tops.

Have you ever wondered what the 'other woman' was thinking?

So fall is coming and you need some romantic inspiration now that long walks on the beach are out of the question. Well look no further! From apple picking to pumpkin carving, these are some great fall date ideas from girls just like you!

Getting bored of the same dinner and movie date night? Take an adorable cue from your favorite celebs and try something new! From dancing to boxing you can't go wrong with these awesome date ideas.