Survey reveals what makes a man husband material
A survey of mental health professionals from YourTango.com dispels several long-held myths, and reveals what actually makes a man husband material.
For starters, is it true that you can tell everything you need to know about how a man will treat you by looking at his relationship with his mother? "Not even close," say 65 percent of respondents.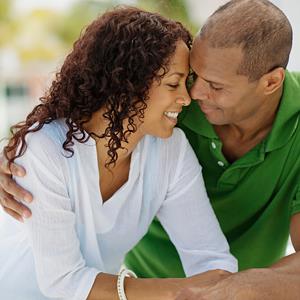 However, YourTangoExpert Jennifer Elizabeth Masters disagrees, explaining: "If a man is disrespectful of his mother, he will disrespect you. If he does not get along with his mother, he is a bad risk."
More from YourTango: 8 essential traits of a keeper
If you think that a man who has never been married by age 40 likely has a deep-seated fear of commitment or some other undesirable issue to resolve, you're in the minority; 55 percent of experts disagree with this assumption.
"He may just be very independent," said YourTango Expert Sheila Paxton, "or very discerning."
And neither one of those traits is something to be concerned about.
More from YourTango: What makes men husband material
Meanwhile, the vast majority of respondents agree that the No.1 quality that makes a man husband material is his ability to communicate, followed closely by honesty and reliability. And, when it comes to finding a husband, experts say the following three qualities matter least to their clients: a man's height, followed by his religion/ethnicity and then his job.
So, cheer up, diminutive dudes; as it turns out, ladies love short men just as much as their taller counterparts.
More from YourTango: Why mama's boys are bad news
More than 96 percent of respondents agree that great husbands are made, not born, so it's never too late for a guy to live up to his potential.
As to whether divorced men make good husbands, the verdict is out: half of experts say they do; the other half say they don't. However, a whopping 89 percent of experts believe that addictions to drugs, alcohol, gambling and/or sex disqualify men from being husband material, so marriage-minded women should avoid guys with substance abuse issues.
One expert explains, "Anyone actively practicing an addiction is more loyal to the addiction than to any other relationship."
"Unfortunately, the No.1 husband-worthy trait that most women overlook is kindness. Not great news for all the nice guys out there!" said YourTango CEO, Andrea Miller.
Additional survey findings include:
Don't discount dads. 58 percent of experts agree that single fathers make great husbands.
Say "no" to mama's boys. 88 percent say that "mama's boys" are not husband material.
Bad boys can grow into great men.  85 percent agree that a man with a checkered past can evolve into a great, lifelong partner over time.
More from The Heart Beat:

5 awful online dating catfish stories

Is courtship really dead?

Love content like this? Friend us on Facebook, follow us on Twitter and find us on Pinterest.
Photo: Husband material / Fuse/Getty Images
love: friendships, dating, sex & marriage
A new poll reveals 59 percent of the country supports same-sex marriage.

Celebrity engagements are so much fun to follow because every detail is bound to be over-the-top — from the proposal (like when Kanye rented out an entire stadium to propose to Kim) to the huge, sparkly engagement ring and, of course, the wedding. Plus, as trendsetters, celebs can be a source of inspiration even if you can't afford a million dollar ring. Here are our celebrity wedding predictions for 2014.

If you've ever been to a club—like, ever, even once—you are not going to be shocked to hear that women get a lot of unwanted, aggressive attention. But when you read the findings of this study on how often and why it happens, it might make you feel downright sick to your stomach.

Hopeless romantics and cringe-worthy chick flicks would tell you that it doesn't matter what you do on the date, as long as you're together. But they're wrong. Dead wrong. Women use your date ideas to size you up, says matchmaker Rachel DeAlto, author of "Flirt Fearlessly." "You absolutely will be judged based on the date you plan. There are so many subconscious impressions that we take in while dating." Gulp. Here are 10 terrible ideas that can land you on the no-lay list—and simple swaps to keep her happy. By K. Aleisha Fetters

No matter your current relationship status or past relationship fails, get a fresh start this month, with these tips for spring cleaning your love life.

Forget the rules you've always heard—it's time to start making your own.

Are you in an affair without knowing it? Unless you're a swinger, having sex with someone else counts as cheating. But then there's the fuzzy area between friendship and infidelity—and chances are, your girlfriend sees those shades of gray as more black and white than you do. "Men aren't as attuned to identifying ambiguous behaviors as cheating as women are," says Daniel Kruger, Ph.D., a University of Michigan psychologist, who's studied gender differences in definitions of infidelity. In other words, what you consider totally innocent could be her deal breaker.

We spoke with relationship therapist Rachel A. Sussman, author of "The Breakup Bible," for her tips on how regular girls can survive a split like an A-lister.

A researcher from Texas Tech University has found that people who use the same kind of "function words" are more likely to get together.

Check out these five celebrity stunners.

And by weird, we really mean friggin' awesome.

Being in a relationship can sometimes mean having less time to hang out with your mates. But lazy boyfriends will be delighted to hear about a new app that sends automated texts to their other halves.