Why is it so hard to be monogamous?
Is it impossible to be monogamous — or do we just not want to?
By Lesli Doares for YourTango.com
It seems that no matter where you turn these days, there's lots of talk about infidelity, sexting, the obsoleteness of marriage and the impossibility of being monogamous. Call me old fashioned, or just plain obtuse, but is remaining physically and emotionally faithful to your partner really that difficult? Are humans that beholden to their impulses ... or just that unwilling to deny themselves pleasure?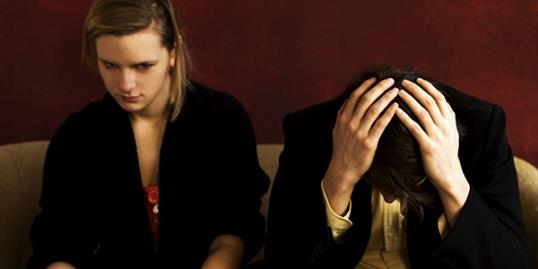 More from Your Tango: Couples' Halloween Costume Contest: Enter To Win A Trip For Two!
These aren't just idle questions. I see the devastation that results from affairs with heartbreaking frequency, so I really want to know. Vicki Larson, writer for Huffington Post and author of "OMG Chronicles," recently posted about this very topic. She broached the subject with provocative questions posed in "The State of Affairs: Explorations in Infidelity and Commitment."
One addressed whether infidelity is an individual's problem or a societal problem. The question was raised whether it wasn't the failing of a particular individual, but one of monogamy as a whole.
More from Your Tango: How To Save Your Marriage When You Feel Hopeless
The article implies that because monogamy doesn't work for some, there is reason to question its relevance for all. On some level, that strikes me as similar to abolishing speed limits because a good part of the population exceeds them. Those limits still serve as a brake on the potential danger of driving too fast — an outcome for which we all should be grateful.
Monogamy, unlike speed limits, is not something imposed from the outside. It's something a couple should be agreeing to. If, like relationship expert Dan Savage, you can convince your partner of the benefits of an open relationship, great. If not, then you are making a decision; infidelity is like having your cake and eating it too. You know your partner is expecting you to be faithful, and you just don't want to be denied your options. I'm not sure the problem is so much monogamy as it is honesty.
The authors also liken infideltiy to obesity. They acknowledge a personal responsibility but also point to CDC-funded efforts to prevent it. They conclude that since obesity is seen as being somewhat outside of an individual's control, infidelity should be as well. The analogy is a stretch for me. Both may indeed impact others, but still are a function of personal choice. A real difference is that people do need to eat to survive, but healthy food may not be available or affordable. Yes, you may need sex but if you already have a partner and are unfaithful, you're just wanting to experience a different one.
A recent study out of Texas points to the impact of self-control on infidelity. It found men had stronger sexual impulses, but that both genders were similar in exerting self-control. If self-control is not used, sexual impulses were more likely to be acted upon. Big surprise! Using self-control is called being a grown-up. Somehow most of us keep from driving off in someone else's car or eating off a plate at a neighboring table in a restaurant, no matter how tempted by what's in front of us.
I see two main problems for giving in to sexual impulses. First, if you're indulging your lust, how do you protect your partner from an STD? This is how one of my clients discovered their partner's affair and, believe me, the fallout from the double betrayal was not pretty. If your infidelity is a truly impulsive act, you will neither know the other's sexual history and most likely don't have protection on hand.
The second has to do with the possibility of developing an emotional attachment to the new partner. Think Brad Pitt, Jennifer Anniston and Angelina Jolie. This is what most people fear, and hope to avoid with expectations of monogamy. One of the most common responses to discovering an affair is the belief that you aren't as attractive or as good in bed as the new person. It really messes with your self-worth and feelings of security. Another is the inability to get the picture of your partner in sexual situations with another person out of your head.
Monogamy as a concept came about for a lot of reasons, many dealing with women and children as property of the husband. It was extremely important for establishing paternity and inheritance. It has stuck around because it provides a sense of personal security and structure for society.
I know I am a woman of a certain age (luckily, not yet invisible) but I really am confused by the whole monogamy dilemma. I look at men around me — at the gym, at the store, on TV, wherever — and I acknowledge what they look like and if I find them attractive. But I never think about what it would be like to have sex with them. Maybe it's because I am content in my marriage. Maybe it's because I have no imagination. Maybe it's because having sex with relative strangers never did much for me in my long-ago single days. Not being able to get out of my own head, I am open to additional input and perspectives.
What's your opinion of monogamy? Is it a personal choice or a problem for society? Leave your answer in the comments below.
More from Your Tango:
How I Ditched My Commitment Issues ... By Snooping
Monogamy: What It Takes & Expert Advice
'I Love You' Quotes: 20 Ways To Say 3 Beautiful Words
Subscribe to The Heart Beat | Friend us on Facebook, follow us on Twitter and find us on Pinterest
​Photo: Andreas Kermann/Getty Images

love: friendships, dating, sex & marriage
Pantone announced that radiant orchid is the official color of the year for 2014, and we're predicting it's going to be a hot color for weddings, too!

Here's why dudes without hair make the best boyfriends.

What do you wish you appreciated more when you were flying solo?

"If you're so busy tweeting and Instagraming, you're not paying attention," New York wedding planner Marcy Blum said. "It's almost a cosmic faux pas. People want your energy with them and focused on what they're doing."

The wedding favor, that little thank-you-for-coming gift, has risen to new heights with the bride and groom giving guests a wide range of favors that are meaningful to them.

Generations ago, planning a wedding was 100 percent the bride's job, but in today's age of gender equity, it's a mere 99 percent.

For all the self-help books and advice columns out there (um, keeping reading my advice anyway, please!), there's one tool we all already have in our arsenal for picking a partner that will keep us happy: our gut instincts.

According to a new study from the University of Texas and the University of California, Los Angeles, both men and women have regrets when it comes to sex, but the genders vary greatly when it comes to what they regret specifically.

Spending time alone with your guy is easy, but going public with your plus-one is another thing entirely. Whether it's your crazy relatives at Thanksgiving dinner or awkward convos with your boss at the holiday party, possible pitfalls are everywhere. Keep reading for tips on how to make his grand entrance into your social life a good thing.

Match.com survey reveals the day you're least likely to get spruced up for a date.

Drinking and relationships seem to go hand in hand in a lot of ways. But only in moderation!

Many men will tell you that they have no clue what their wives are thinking.