True love stories: Couple bikes 3,529 miles for honeymoon
While cycling from Oregon to Maine, they proved their love could go the distance.
When most of us dream of our honeymoons, we think tropical landscapes and pampering, all-inclusive resorts. But there's nothing wrong with a 3,529-mile bike ride, either.
Debbie and Tim Bishop walked down the aisle and hopped onto their bikes, trekking cross-country from Seaside, Ore., to Cape Elizabeth, Maine.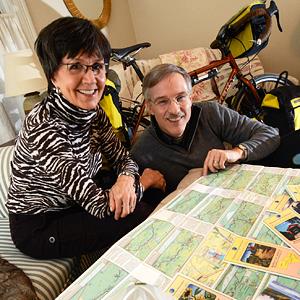 More on MSN Living: The ultimate wedding etiquette guide
"Starting our marriage on this trip was great. We truly bonded," Debbie said.
The two have now documented their adventure in a book, "Two Are Better." And while they describe their marriage journey as a "dream come true," it wasn't always so dreamy.
More on MSN Living: The science behind a great marriage
For a year, Debbie and Tim talked online. They met digitally in 2003, and when they met face-to-face for the first time a year later, there "were no fireworks."
"We were both sort of leery, very cautious," Debbie explains.
But there was one thing that bonded them: bike riding.
For seven years, the two would get together every few months for bike trek. Tim feels that he wasn't yet ready to settle down; he was distracted by work. Debbie didn't wait around. She dated two other guys, in 2004 and 2007, but ultimately, they "didn't work out."
In 2010, Debbie and Tim agreed to take a three-week break from their relationship. Tim used that time to think. He made a list of 91 reasons why Debbie might just be the one. He explains:
"She liked biking. She was a Christian. She didn't drink. She was nice looking. Industrious. I enjoyed her company."
After making that list, Tim realized he wanted to spend his life with Debbie. On April 22, 2010, the couple climbed a mountain in Maine. Tim popped the question.
"I was so shocked. I said, 'Really?' After I got over my shock, I was elated," Debbie said.
They tied the knot in June of that year and shortly after began their 3,529-mile journey. It took them 61 days. "If we could do this," Debbie said, "we could do anything."
The Bishops' travelogue includes not just their love story, but also the lessons they've learned about marriage and life.
"You don't know when your window of opportunity will slam shut for good," Tim writes in the epilogue. "So, get at it! Debbie and I are convinced more than ever, that two are better than one."
Tim and Debbie prove that not all great love stories start as fairy tales, but it doesn't mean you can't have a happy ending.
More from The Heart Beat:

5 most vital relationship upkeep tips
Revealed: The hardest marriage vow to keep
True love stories: Elderly gay couple marry in China
Love content like this? Friend us on Facebook, follow us on Twitter and find us on Pinterest.
Photo: Debbie and Tom Bishop / Cauchon Photography
love: friendships, dating, sex & marriage
Government-supported Vietnamese classes teach women Korean language, customs.

Whether you're into creative artists or uber-preppy bankers, there's something to be said for trying something new.

Sometimes two characters on a TV show or movie can portray being a happy couple effortlessly, or can have lots of fun playing former spouses — especially if they're married to each other in real life! Keep scrolling for six celebrity costars you probably didn't know tied the knot, even after the bloodiest and craziest story lines.

Some couples want nothing more than a laid-back, by-the-book proposal. Then there are the other couples, where the proposal not only needs to be personalized, it also has to be unique and entirely different than the typical restaurant, bended-knee idea. Sound like you? Then get inspired by some of the most creative proposal ideas we've ever seen. If you find something you like, steal it and then modify it to make your proposal something totally unforgettable.

From Nantucket all the way to Cayo Espanto, we've rounded up some of the prettiest beaches to travel to for your honeymoon.

Researchers studied the age-old stereotype that women really are more talkative than men.

'There is a science behind attraction,' SingldOut says.

One minute you're happy and in love, the next he's delivering the "It's not you, it's me" speech. Why? We have the scoop on the real reasons most couples split up.

Want to keep your wedding budget in check? Start by checking out this list of the 10 things that could end up costing you a lot more than you anticipated.

Brace yourself, this is uncomfortable.

The proposal-filled site How He Asked has shared its top 10 most emotional proposal photos with us, so have your tissues handy. We're suckers for a good proposal story, and these ones are truly tear-worthy. Check them out now, and watch your heart grow (at least) three sizes!

How to do weddings: Yet another foreign (and expensive) aspect of adulthood that you have to learn the hard way. But have no fear! Click through for some must-have wedding tips.