True love stories: Couple bikes 3,529 miles for honeymoon
While cycling from Oregon to Maine, they proved their love could go the distance.
When most of us dream of our honeymoons, we think tropical landscapes and pampering, all-inclusive resorts. But there's nothing wrong with a 3,529-mile bike ride, either.
Debbie and Tim Bishop walked down the aisle and hopped onto their bikes, trekking cross-country from Seaside, Ore., to Cape Elizabeth, Maine.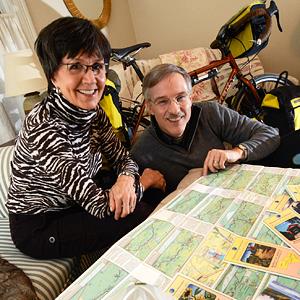 More on MSN Living: The ultimate wedding etiquette guide
"Starting our marriage on this trip was great. We truly bonded," Debbie said.
The two have now documented their adventure in a book, "Two Are Better." And while they describe their marriage journey as a "dream come true," it wasn't always so dreamy.
More on MSN Living: The science behind a great marriage
For a year, Debbie and Tim talked online. They met digitally in 2003, and when they met face-to-face for the first time a year later, there "were no fireworks."
"We were both sort of leery, very cautious," Debbie explains.
But there was one thing that bonded them: bike riding.
For seven years, the two would get together every few months for bike trek. Tim feels that he wasn't yet ready to settle down; he was distracted by work. Debbie didn't wait around. She dated two other guys, in 2004 and 2007, but ultimately, they "didn't work out."
In 2010, Debbie and Tim agreed to take a three-week break from their relationship. Tim used that time to think. He made a list of 91 reasons why Debbie might just be the one. He explains:
"She liked biking. She was a Christian. She didn't drink. She was nice looking. Industrious. I enjoyed her company."
After making that list, Tim realized he wanted to spend his life with Debbie. On April 22, 2010, the couple climbed a mountain in Maine. Tim popped the question.
"I was so shocked. I said, 'Really?' After I got over my shock, I was elated," Debbie said.
They tied the knot in June of that year and shortly after began their 3,529-mile journey. It took them 61 days. "If we could do this," Debbie said, "we could do anything."
The Bishops' travelogue includes not just their love story, but also the lessons they've learned about marriage and life.
"You don't know when your window of opportunity will slam shut for good," Tim writes in the epilogue. "So, get at it! Debbie and I are convinced more than ever, that two are better than one."
Tim and Debbie prove that not all great love stories start as fairy tales, but it doesn't mean you can't have a happy ending.
More from The Heart Beat:

5 most vital relationship upkeep tips
Revealed: The hardest marriage vow to keep
True love stories: Elderly gay couple marry in China
Love content like this? Friend us on Facebook, follow us on Twitter and find us on Pinterest.
Photo: Debbie and Tom Bishop / Cauchon Photography
love: friendships, dating, sex & marriage
We know some of this may sound obvious, but these simple statements can make both of you happier.

Making your relationship more secure, connected, and intimate doesn't have to feel overwhelming. Try these expert tips and reap the rewards now—and in the long run.

For those times when nothing big and horrible happened--but nothing is feeling right either.

What's more fun than animals in weddings? We've rounded up eight of the cutest.

Your puppy is all over your Instagram, Facebook and fridge, so there's no reason not to include him in your engagement pictures too. The best engagement photos give viewers a peek into your life. If you're a dog owner, take this opportunity to show off your pooch, like these 22 couples did! And we can't thank them enough.

Our married blogger gets real about checking out other guys when you're taken.

He's confident, distinguished and anywhere from 4 to 20 years older than you. Age is just a number, but there's something about older men that we love. Here are eight reasons why being in a relationship with an older man is tops.

While a younger man may have less life experience, that doesn't mean he's not emotionally mature. Here are the eight reasons why being in a relationship with a younger man is tops.

While we do love crazy, funny and over-the-top engagements, sometimes there's just nothing like a proposal with a heartfelt story behind it (warning: you might need some tissues). We've rounded up some of the most romantic wedding proposals from couples across the country, so keep scrolling for seven of our favorites:

As much as you'd like to think your guests will love every single aspect of your wedding, the truth is you really can't please everyone. However, you can try to avoid ticking them off. Here's how.

You'd think brides and grooms who celebrate their nuptials with 50 guests have an equal shot at wedded bliss as those who invite 500, but apparently not.

Because some things are just better with a buddy (whom you happen to be dating).