True love stories: Couple bikes 3,529 miles for honeymoon
While cycling from Oregon to Maine, they proved their love could go the distance.
When most of us dream of our honeymoons, we think tropical landscapes and pampering, all-inclusive resorts. But there's nothing wrong with a 3,529-mile bike ride, either.
Debbie and Tim Bishop walked down the aisle and hopped onto their bikes, trekking cross-country from Seaside, Ore., to Cape Elizabeth, Maine.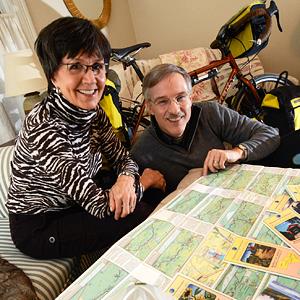 More on MSN Living: The ultimate wedding etiquette guide
"Starting our marriage on this trip was great. We truly bonded," Debbie said.
The two have now documented their adventure in a book, "Two Are Better." And while they describe their marriage journey as a "dream come true," it wasn't always so dreamy.
More on MSN Living: The science behind a great marriage
For a year, Debbie and Tim talked online. They met digitally in 2003, and when they met face-to-face for the first time a year later, there "were no fireworks."
"We were both sort of leery, very cautious," Debbie explains.
But there was one thing that bonded them: bike riding.
For seven years, the two would get together every few months for bike trek. Tim feels that he wasn't yet ready to settle down; he was distracted by work. Debbie didn't wait around. She dated two other guys, in 2004 and 2007, but ultimately, they "didn't work out."
In 2010, Debbie and Tim agreed to take a three-week break from their relationship. Tim used that time to think. He made a list of 91 reasons why Debbie might just be the one. He explains:
"She liked biking. She was a Christian. She didn't drink. She was nice looking. Industrious. I enjoyed her company."
After making that list, Tim realized he wanted to spend his life with Debbie. On April 22, 2010, the couple climbed a mountain in Maine. Tim popped the question.
"I was so shocked. I said, 'Really?' After I got over my shock, I was elated," Debbie said.
They tied the knot in June of that year and shortly after began their 3,529-mile journey. It took them 61 days. "If we could do this," Debbie said, "we could do anything."
The Bishops' travelogue includes not just their love story, but also the lessons they've learned about marriage and life.
"You don't know when your window of opportunity will slam shut for good," Tim writes in the epilogue. "So, get at it! Debbie and I are convinced more than ever, that two are better than one."
Tim and Debbie prove that not all great love stories start as fairy tales, but it doesn't mean you can't have a happy ending.
More from The Heart Beat:

5 most vital relationship upkeep tips
Revealed: The hardest marriage vow to keep
True love stories: Elderly gay couple marry in China
Love content like this? Friend us on Facebook, follow us on Twitter and find us on Pinterest.
Photo: Debbie and Tom Bishop / Cauchon Photography
love: friendships, dating, sex & marriage
No sense in wasting your time on someone who will never commit.

There he is, the man of your dreams. He's sitting across from you at the coffee shop or standing at the opposite side of the bar. His eyes meet yours, a quick glance, and then it's back to his drink. Was he giving you a signal?

Remember that time on "30 Rock" when Liz Lemon and her eventual-husband Criss went shopping at Ikea, only to end up in a major fight? We know it couldn't be closer to the truth because we've all been there. In honor of the irritation that can be Ikea, here are the top fights you'll likely encounter.

Love it or hate it, the selfie wields much power.

Dating doesn't have to be a daunting task, promise. Here's how to make it fun for you and him.

One woman's honest journey to divorce will break your heart and inspire you at the same time.

Want to send your date running? Try one these moves.

Two guests arrested in New Jersey.

Celebrities certainly know how to travel in style, so if you're struggling to select a honeymoon destination, look no further than these star-approved hotspots. To make it even easier, we're providing you with hotel recommendations, packing essentials, and tips on what to do and see! So channel your inner celeb at one of these U.S. destinations for an unforgettable vacation!

Tall Twitter users named Wayne, we're on to you!

Should little girls be dreaming of a different kind of "I do"?

Need a reason to pack your bags and get the hell out of here?