Study: Men marry women who resemble their moms
Oedipus complex, anyone?
New research from Finland delivers bizarre but totally natural news—men are likely to marry women who resemble their mothers.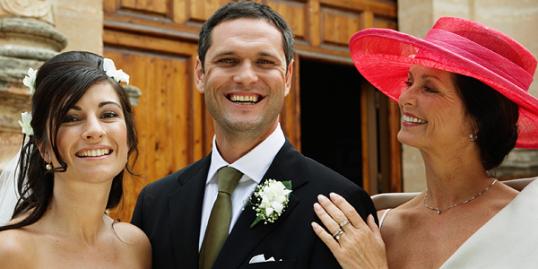 It's a popular opinion that women tend to marry men who remind them of their fathers. Men have the same complex, researchers say, but since men are more visual, that may explain why they tend to fall for ladies who look like Mom.
While the behavior does have an undeniable "ick" factor, it's also completely natural.
Related: Sexy things that may not be
The study, Sexual Imprinting on Facial Traits of Opposite-Sex Parents in Humans, included 70 married couples. Researchers compared the facial features of each person's spouse with the features of their opposite-sex parent. Researchers discovered that men are more likely to marry women who look like their mothers than women are to marry men who resemble their fathers. Researcher Urszula Marcinkowska explains in the study's introduction:
"We found that there was no perceived facial similarity between women's partners and their fathers. However, men tended to pair more often with women that were perceived as resembling the men's own mothers."
Related: 6 fascinating facts about exes
It's a disturbing thought, sure, but in the grand scheme of human nature, the tendency to pair with someone who reminds you of your parent is only natural, Marcinkowska says. The study explains:
"Positive sexual imprinting is a process by which individuals use the phenotype of their opposite-sex parent as a template for acquiring mates."
Basically, natural selection programs us to seek out partners of our own species. Since our earliest same-species relationships are usually with our mothers and fathers, we use them as a template for finding our future partner.
Marcinkowska's study reinforces that phenomenon. And while it may also seem to support the general idea of Sigmund Freud's infamous Oedipus complex, Marcinkowska told us that the comparison can't quite be made.

"Freud was a valuable psychoanalyst that helped the progress of sexual selection analysis; however, his studies need to be treated with a lot of caution," she tells MSN's The Heart Beat. "Among other reasons, his theories were based on individuals (sometimes himself only) and were never checked on a broader group of subjects. [My study] is far from saying men would like to have sex with their mothers."
And what if a man chooses to marry a woman who looks strikingly different than his mother--a couple in an interracial relationship, for example? We asked Marcinkowska what this relationship trait would signify about that person's positive sexual imprinting.
"One should always be careful with interpretation of studies on sexual selection of humans," Marcinkowska explains. "By far [this study] does not mean that we all have to behave in a certain way...it is important to make people realize that these are averages for a certain group, not one, fixed way that all humans should follow. Being in a inter-cultural long-term relationship I can support this with my own example."
Photo: Maria Teijeiro/Getty Images
Tell us on Facebook: Do you think there is any truth to this?
More Sex & Love on MSN Living:
Scariest marriage proposals
What his date style says about him
Little gestures she wishes you'd do
10 things he should do to make you happy
love: friendships, dating, sex & marriage
While we do love crazy, funny and over-the-top engagements, sometimes there's just nothing like a proposal with a heartfelt story behind it (warning: you might need some tissues). We've rounded up some of the most romantic wedding proposals from couples across the country, so keep scrolling for seven of our favorites:

As much as you'd like to think your guests will love every single aspect of your wedding, the truth is you really can't please everyone. However, you can try to avoid ticking them off. Here's how.

You'd think brides and grooms who celebrate their nuptials with 50 guests have an equal shot at wedded bliss as those who invite 500, but apparently not.

Because some things are just better with a buddy (whom you happen to be dating).

They're smart, funny, and adorable, but are you a good match?

Fight the urge to sign her up for OkCupid and read this instead.

We know you have good intentions, but...please...stop.

You can't say we didn't warn you. Every month is Movember when you're dating a guy with a beard. And while the scruffy look can be hot, there are some very real, err, challenges that come with the territory. Don't believe us? Well…

Follow these steps to slash your wedding budget—not your fun—in half.

It won't all be cake and flowers, but it can be the best year of your life together so far.

Expert tips on moving past those oh-so-familiar arguments.