If You're Beautiful, You Can Get a 'Free' Vacation
You can travel for free, but it'll cost you.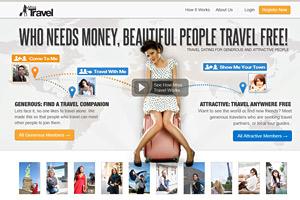 "Are you attractive but don't have the money to travel?" asks new dating site MissTravel.com.
Well, fear not! For now you can hang out with a rich but desperate lothario who will give you a vacation—simply for being hot!
While sugar dating sites are nothing new (in fact, the founder of MissTravel is also the founder of SeekingArrangement.c​om), this one is unique in that it focuses on travel.
"We match Generous travelers who hate to travel alone with Attractive travelers who would love the opportunity to travel the world for free."
A free trip with a stranger who thinks you're pretty? Isn't this the stuff our mothers warned us about?
Oh, and get this—in lieu of traveling with a Generous traveler, you can also earn frequent flyer miles that "may be redeemed for free flights on all major airlines." So you can, you know, take a trip with people you already know.
So basically, you register, find someone who tickles your globetrotting fancy, and then you can propose a trip one of three ways: 1. Travel with me to a new destination 2. Come to Me, or 3. Show Me Your Town.
"Remember, on MissTravel.com, if you end up traveling, the Generous traveling member is expected to pay all travel expenses for Attractive traveling members."
If you think this sounds like a glorified escort service, you're not alone. But don't get it messed up—escorts are most definitely not allowed.
Wade told the Village Voice that sex isn't guaranteed on these excursions, but in the same article he argues that the recent Secret Service sex scandal could have been prevented with the use of MissTravel. So I think it's safe to say that most of these "Generous travelers" have ideas. Especially when a majority of "Attractive traveler" profile pics involve salacious poses accompanied by an abundance of cleavage.
I'm all for traveling on a budget, but I bet beholding the grandeur of the Taj Mahal isn't the same with someone trying to get in your pants.
Photo: http://www.misstrave​l.com/
Are you sure you want to delete this comment?
love: friendships, dating, sex & marriage
The typical wedding: A white dress, tiered cake, floral centerpieces and a cute flower girl -- you know the drill. Every once in a while, though, a couple trades in tradition for a quirky, never-seen-that-before idea. Here are a few of the most out-there wedding photos that made us do a double take.

There's a lot to love about weddings this fall, like cocktails served in copper Moscow mule mugs, industrial-inspired lighting and pheasant feather details. See what's new!

Do you have to be engaged to sport a ring with bling?

124.6 million haven't gotten hitched.

Even though the national average wedding is $29,858, that's just an average. If you live in a smaller state like Idaho where the average wedding costs $16,159, you may find yourself saving a little more than half of the national spend! Check out some of the other least expensive cities to get married in below:

Summer is winding down, but the ubiquitous summer romance lives on.

For those times when nothing big and horrible happened--but nothing is feeling right either.

He's confident, distinguished and anywhere from 4 to 20 years older than you. Age is just a number, but there's something about older men that we love. Here are eight reasons why being in a relationship with an older man is tops.

While a younger man may have less life experience, that doesn't mean he's not emotionally mature. Here are the eight reasons why being in a relationship with a younger man is tops.

Have you ever wondered what the 'other woman' was thinking?

So fall is coming and you need some romantic inspiration now that long walks on the beach are out of the question. Well look no further! From apple picking to pumpkin carving, these are some great fall date ideas from girls just like you!

Getting bored of the same dinner and movie date night? Take an adorable cue from your favorite celebs and try something new! From dancing to boxing you can't go wrong with these awesome date ideas.