If You're Beautiful, You Can Get a 'Free' Vacation
You can travel for free, but it'll cost you.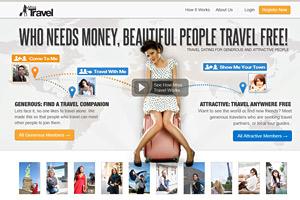 "Are you attractive but don't have the money to travel?" asks new dating site MissTravel.com.
Well, fear not! For now you can hang out with a rich but desperate lothario who will give you a vacation—simply for being hot!
While sugar dating sites are nothing new (in fact, the founder of MissTravel is also the founder of SeekingArrangement.c​om), this one is unique in that it focuses on travel.
"We match Generous travelers who hate to travel alone with Attractive travelers who would love the opportunity to travel the world for free."
A free trip with a stranger who thinks you're pretty? Isn't this the stuff our mothers warned us about?
Oh, and get this—in lieu of traveling with a Generous traveler, you can also earn frequent flyer miles that "may be redeemed for free flights on all major airlines." So you can, you know, take a trip with people you already know.
So basically, you register, find someone who tickles your globetrotting fancy, and then you can propose a trip one of three ways: 1. Travel with me to a new destination 2. Come to Me, or 3. Show Me Your Town.
"Remember, on MissTravel.com, if you end up traveling, the Generous traveling member is expected to pay all travel expenses for Attractive traveling members."
If you think this sounds like a glorified escort service, you're not alone. But don't get it messed up—escorts are most definitely not allowed.
Wade told the Village Voice that sex isn't guaranteed on these excursions, but in the same article he argues that the recent Secret Service sex scandal could have been prevented with the use of MissTravel. So I think it's safe to say that most of these "Generous travelers" have ideas. Especially when a majority of "Attractive traveler" profile pics involve salacious poses accompanied by an abundance of cleavage.
I'm all for traveling on a budget, but I bet beholding the grandeur of the Taj Mahal isn't the same with someone trying to get in your pants.
Photo: http://www.misstrave​l.com/
Are you sure you want to delete this comment?
love: friendships, dating, sex & marriage
Two guests arrested in New Jersey.

Celebrities certainly know how to travel in style, so if you're struggling to select a honeymoon destination, look no further than these star-approved hotspots. To make it even easier, we're providing you with hotel recommendations, packing essentials, and tips on what to do and see! So channel your inner celeb at one of these U.S. destinations for an unforgettable vacation!

Tall Twitter users named Wayne, we're on to you!

Should little girls be dreaming of a different kind of "I do"?

Need a reason to pack your bags and get the hell out of here?

After your return from your honeymoon, your marriage officially starts and with that come some changes. It's not to say that the honeymoon phase is over, but you'll have to get some things situated in order to have your marriage start off on the right foot. We tapped the expert advice of wedding planner and reality TV star David Tutera and love and career coach Charreah Jackson to dish on six things you must do to have a successful first month of marriage — from wedding-related logistics to wrap up to relationship rules to set.

Owner of Weddings in Vieques, a destination-wedding planning company off the coast of Puerto Rico, Sandy Malone has helped countless couples plan their big day since 2007. Here, the veteran planner is sharing some expert advice for free: She's sharing the top eight things you have to do right after you get engaged.

Is the idea of a big bridal bash just not your thing? Or perhaps you and your fiancé are just the super spontaneous type, so why not make your next beach vacation your nuptials as well? If you're thinking of eloping but have questions on the mind, we're here to help. We tapped elopement and wedding planner Lindsey Nickel, founder of Events, Etc., for her top dos and don'ts for getting hitched on the sly.

Easy everyday ways to keep the love alive.

Expert tips on moving past those oh-so-familiar arguments.

Sometimes you have to do things you don't want to do, like hang out with his lame friends. You're not always in the mood to nurse a beer silently while he and his boys argue about who's going to die next on "Game of Thrones" — but tomorrow he's sitting through a seven-girl brunch. So.

Why holding on to your partner's mistakes will end up hurting you.