If You're Beautiful, You Can Get a 'Free' Vacation
You can travel for free, but it'll cost you.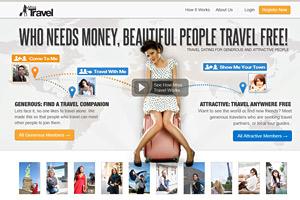 "Are you attractive but don't have the money to travel?" asks new dating site MissTravel.com.
Well, fear not! For now you can hang out with a rich but desperate lothario who will give you a vacation—simply for being hot!
While sugar dating sites are nothing new (in fact, the founder of MissTravel is also the founder of SeekingArrangement.c​om), this one is unique in that it focuses on travel.
"We match Generous travelers who hate to travel alone with Attractive travelers who would love the opportunity to travel the world for free."
A free trip with a stranger who thinks you're pretty? Isn't this the stuff our mothers warned us about?
Oh, and get this—in lieu of traveling with a Generous traveler, you can also earn frequent flyer miles that "may be redeemed for free flights on all major airlines." So you can, you know, take a trip with people you already know.
So basically, you register, find someone who tickles your globetrotting fancy, and then you can propose a trip one of three ways: 1. Travel with me to a new destination 2. Come to Me, or 3. Show Me Your Town.
"Remember, on MissTravel.com, if you end up traveling, the Generous traveling member is expected to pay all travel expenses for Attractive traveling members."
If you think this sounds like a glorified escort service, you're not alone. But don't get it messed up—escorts are most definitely not allowed.
Wade told the Village Voice that sex isn't guaranteed on these excursions, but in the same article he argues that the recent Secret Service sex scandal could have been prevented with the use of MissTravel. So I think it's safe to say that most of these "Generous travelers" have ideas. Especially when a majority of "Attractive traveler" profile pics involve salacious poses accompanied by an abundance of cleavage.
I'm all for traveling on a budget, but I bet beholding the grandeur of the Taj Mahal isn't the same with someone trying to get in your pants.
Photo: http://www.misstrave​l.com/
Are you sure you want to delete this comment?
love: friendships, dating, sex & marriage
Brad Pitt and Angelina Jolie finally took the plunge, but marriage isn't always a good choice for everyone.

Learn how these surprising tactics can really improve your relationship.

Use these tips to up your chances of finding love.

Find out how paired-off ladies might feel lacking—and how you can make your relationship satisfying.

These signals are seriously subtle, but they can give you real insight into what's going through your husband's mind.

Check which changes are necessary to stay happy together.

We know some of this may sound obvious, but these simple statements can make both of you happier.

Making your relationship more secure, connected, and intimate doesn't have to feel overwhelming. Try these expert tips and reap the rewards now—and in the long run.

For those times when nothing big and horrible happened--but nothing is feeling right either.

What's more fun than animals in weddings? We've rounded up eight of the cutest.

Your puppy is all over your Instagram, Facebook and fridge, so there's no reason not to include him in your engagement pictures too. The best engagement photos give viewers a peek into your life. If you're a dog owner, take this opportunity to show off your pooch, like these 22 couples did! And we can't thank them enough.

Our married blogger gets real about checking out other guys when you're taken.