If You're Beautiful, You Can Get a 'Free' Vacation
You can travel for free, but it'll cost you.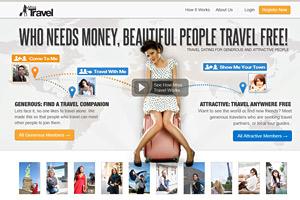 "Are you attractive but don't have the money to travel?" asks new dating site MissTravel.com.
Well, fear not! For now you can hang out with a rich but desperate lothario who will give you a vacation—simply for being hot!
While sugar dating sites are nothing new (in fact, the founder of MissTravel is also the founder of SeekingArrangement.c​om), this one is unique in that it focuses on travel.
"We match Generous travelers who hate to travel alone with Attractive travelers who would love the opportunity to travel the world for free."
A free trip with a stranger who thinks you're pretty? Isn't this the stuff our mothers warned us about?
Oh, and get this—in lieu of traveling with a Generous traveler, you can also earn frequent flyer miles that "may be redeemed for free flights on all major airlines." So you can, you know, take a trip with people you already know.
So basically, you register, find someone who tickles your globetrotting fancy, and then you can propose a trip one of three ways: 1. Travel with me to a new destination 2. Come to Me, or 3. Show Me Your Town.
"Remember, on MissTravel.com, if you end up traveling, the Generous traveling member is expected to pay all travel expenses for Attractive traveling members."
If you think this sounds like a glorified escort service, you're not alone. But don't get it messed up—escorts are most definitely not allowed.
Wade told the Village Voice that sex isn't guaranteed on these excursions, but in the same article he argues that the recent Secret Service sex scandal could have been prevented with the use of MissTravel. So I think it's safe to say that most of these "Generous travelers" have ideas. Especially when a majority of "Attractive traveler" profile pics involve salacious poses accompanied by an abundance of cleavage.
I'm all for traveling on a budget, but I bet beholding the grandeur of the Taj Mahal isn't the same with someone trying to get in your pants.
Photo: http://www.misstrave​l.com/
Are you sure you want to delete this comment?
love: friendships, dating, sex & marriage
A new study on attraction may help explain why fashions change.

As a general rule, any island that offers great weather year-round is going to attract the most visitors in the winter (high season) when we're all trying to escape the snow. Once summer rolls around, many islands see a sharp drop-off in tourism since many people have beach weather right in their own backyards.

And how you can attack the issues together.

A wedding is an exceptionally special day. Sometimes, an opportune photo flub makes the occasion even more memorable. Here are 25 awesome wedding photo bombs.

Somewhere between the first few butterfly-inducing dates and the committed-for-life stage, there's the period of wondering if you're both on the same page about how serious you feel about a future together. If you're not quite at the point of "that talk" but you're looking for a few clues you're heading in that direction, here are some signs he's in it for the long haul as your relationship progresses.

What's that sound? It's white noise blocking out the well-meaning person proclaiming groundbreaking news about where you can meet someone, asking why you're still single, or bugging you about when you're getting married already. Don't be that person. Here are 15 annoying things all single people don't want to hear.

With just a few days left before the big day, you already have a mile-long checklist of to-dos—now meet the don'ts! From impromptu skin treatments to all-night movie marathons, here are 11 things to avoid at all costs.

A new study shows that watching and discussing romantic films can drastically reduce your chance of divorce. These flicks more than fit the bill.

These seemingly innocent phrases still have the power to wound… big time.

Making "I do" last forever is one of the biggest challenges you'll ever face—and it's normal to worry about how you'll do it. But, if your connection involves any of these things, rest assured that you're in it for the long run.

Ultimately, as hard as it may seem at the beginning, a marital affair can be a turning point.

Five months after the Boston Marathon bombing, The Knot reached out to Rebekah Gregory and Pete DiMartino and offered to throw them a dream wedding. They said yes, and on April 4, 2014, the two married at the Biltmore Estate in Asheville, North Carolina. Rebekah and Pete exchanged vows on the tennis lawn amidst the cherry tree blossoms and then celebrated with all of their friends and family at a beautiful reception tent right in front of the estate. All of the details were perfectly executed by a team of talented and generous wedding industry pros, including celebrity wedding planner Marcy Blum. Here, a few highlights from Rebekah and Pete's wedding day.