If You're Beautiful, You Can Get a 'Free' Vacation
You can travel for free, but it'll cost you.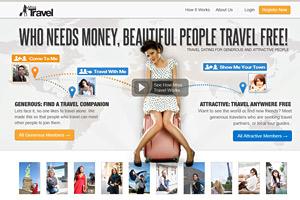 "Are you attractive but don't have the money to travel?" asks new dating site MissTravel.com.
Well, fear not! For now you can hang out with a rich but desperate lothario who will give you a vacation—simply for being hot!
While sugar dating sites are nothing new (in fact, the founder of MissTravel is also the founder of SeekingArrangement.c​om), this one is unique in that it focuses on travel.
"We match Generous travelers who hate to travel alone with Attractive travelers who would love the opportunity to travel the world for free."
A free trip with a stranger who thinks you're pretty? Isn't this the stuff our mothers warned us about?
Oh, and get this—in lieu of traveling with a Generous traveler, you can also earn frequent flyer miles that "may be redeemed for free flights on all major airlines." So you can, you know, take a trip with people you already know.
So basically, you register, find someone who tickles your globetrotting fancy, and then you can propose a trip one of three ways: 1. Travel with me to a new destination 2. Come to Me, or 3. Show Me Your Town.
"Remember, on MissTravel.com, if you end up traveling, the Generous traveling member is expected to pay all travel expenses for Attractive traveling members."
If you think this sounds like a glorified escort service, you're not alone. But don't get it messed up—escorts are most definitely not allowed.
Wade told the Village Voice that sex isn't guaranteed on these excursions, but in the same article he argues that the recent Secret Service sex scandal could have been prevented with the use of MissTravel. So I think it's safe to say that most of these "Generous travelers" have ideas. Especially when a majority of "Attractive traveler" profile pics involve salacious poses accompanied by an abundance of cleavage.
I'm all for traveling on a budget, but I bet beholding the grandeur of the Taj Mahal isn't the same with someone trying to get in your pants.
Photo: http://www.misstrave​l.com/
Are you sure you want to delete this comment?
love: friendships, dating, sex & marriage
Government-supported Vietnamese classes teach women Korean language, customs.

Whether you're into creative artists or uber-preppy bankers, there's something to be said for trying something new.

Sometimes two characters on a TV show or movie can portray being a happy couple effortlessly, or can have lots of fun playing former spouses — especially if they're married to each other in real life! Keep scrolling for six celebrity costars you probably didn't know tied the knot, even after the bloodiest and craziest story lines.

Some couples want nothing more than a laid-back, by-the-book proposal. Then there are the other couples, where the proposal not only needs to be personalized, it also has to be unique and entirely different than the typical restaurant, bended-knee idea. Sound like you? Then get inspired by some of the most creative proposal ideas we've ever seen. If you find something you like, steal it and then modify it to make your proposal something totally unforgettable.

From Nantucket all the way to Cayo Espanto, we've rounded up some of the prettiest beaches to travel to for your honeymoon.

Researchers studied the age-old stereotype that women really are more talkative than men.

'There is a science behind attraction,' SingldOut says.

One minute you're happy and in love, the next he's delivering the "It's not you, it's me" speech. Why? We have the scoop on the real reasons most couples split up.

Want to keep your wedding budget in check? Start by checking out this list of the 10 things that could end up costing you a lot more than you anticipated.

Brace yourself, this is uncomfortable.

The proposal-filled site How He Asked has shared its top 10 most emotional proposal photos with us, so have your tissues handy. We're suckers for a good proposal story, and these ones are truly tear-worthy. Check them out now, and watch your heart grow (at least) three sizes!

How to do weddings: Yet another foreign (and expensive) aspect of adulthood that you have to learn the hard way. But have no fear! Click through for some must-have wedding tips.