3 guys you shouldn't date
Which guys are on HC's No-Fly List? Read to find out.
Admit it; your last boyfriend was a loser. He never returned your calls, he broke off dates and he flirted with everything that had a pair of you-know-whats, but you were in love. Every time he coughed up the $3.95 to take you on an ice cream date, you melted faster than your chocolate chip mint cone. Cue gag. How could you have been so wrong? You were a sucker, like millions of women across the globe.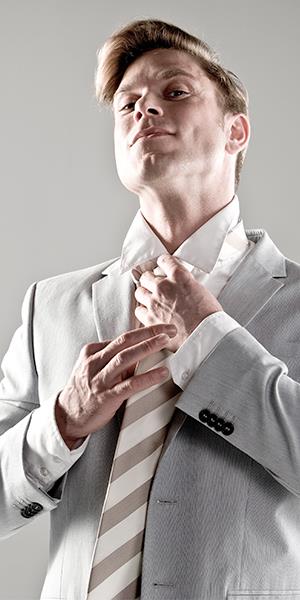 The perfect guy is hard to find, but the wrong ones seem to be in total abundance.
Camouflaged with flattery and a spot-on sense of style, he might seem like The One, but he's not, and you might not know until it's too late. To save you the post-breakup cocktails and raw cookie dough, Her Campus is here with our No-Fly List. Beware these three guys. They are wolves in sheep's clothing (or a perfectly tailored J.Crew sweater). Proceed with caution.
The Romantic Player
Red roses, jewelry, sweet-talking and romantic dinner dates at the chicest restaurants — this is how the Romantic Player sucks you in. Before you sign your love life away on the dotted Facebook relationship status line, consider this — doesn't it seem too good to be true? After a few dates, you're probably feeling like the luckiest girl in the world ... but so are three other girls you didn't know about.
"This happened twice with two different boys," says Amy*, a music student. "Three girls involved, including me. We were all in love with him, and even though I might have been his current girlfriend, he was sort of in relationships with each one of us."
It's easy to get played, and even if you see the warning signs, it might be hard to kick your man to the curb.
"You should check [out] his ex-girlfriends who [he's] still close to. Check if it's just pure friendship after all, but sometimes you can't get out of it even though you know what you got yourself into," she says.
The Romantic Player fulfills your deep-rooted relationship ideals to gain your complete trust. The minute you feel like a Disney princess, you're done for. Jillian*, a 20-year-old writing student, discovered this the hard way when she took a trip to New Jersey with her first long-term boyfriend. She became suspicious when a slew of her texts were ignored while her boyfriend was en route with their best friend Sara. Still, only after their relationship ended did she put two and two together.
"Sara drove all the way to Vermont [from New Jersey] just to pick him up, and I thought that was so weird. That night, we were all drunk, and he and Sara go in the bathroom for a good fifteen minutes. I thought it was weird at the time, but again, I didn't think anything of it. Then, Sara came out, and he gave me the dreaded 'we need to talk' line," says Jillian. "I'm definitely sure Sara was in there convincing him to dump me so she could be with him. I found out a week later that the last week we were at school, he hooked up with her. I logged onto his Facebook because I knew the password, and he had love notes saved from her. When I found them I was so upset."
While it's best to avoid these kinds of men, not all romantic guys have something to hide. But if your sweet-talking Prince Charming only hangs out with you during weird hours, receives mysterious texts he won't talk about or is frequently ignoring your calls until hours later, it might be time to send him packing.
The Star
Dating the captain of the football team or the lead singer of your campus's hottest band definitely gives you the cool factor, but is it worth it? These stars of their respective fields are just that — stars. Everyone wants them, and everyone wants to be them, but you can't achieve campus celebrity status without a lot of social networking (or hard partying and hooking up).
Mr. Popular is under a lot of pressure: He has to perform and be seen with the right people, and he likely has a fan club of sexy (and much thinner than you) co-eds who admire his "talent." He's always the center of attention, which leaves you standing on the sidelines or sitting alone in the back of the club. He's also short on time and frequently traveling without you. If he can fit you in between away games, training camps, or monthlong tours, consider yourself lucky.
"It's a constant battle for attention, because you never come first," says Meagan*, a 21-year-old student who dated a championship boxer. "The boys on the team always come first. If they go to a party, they don't want you tagging along."
It's no secret that your leading man will spend most of his time with his guy pals playing wingman, the bachelor or the party guy — especially if he's in a different city every night. Whether it's in the back of the tour bus or the men's locker room, these guys always kiss and tell.
"What the boys do is always a secret," says Meagan. "If they are in the locker room, they definitely are not talking about girls' personalities, but he'll never tell you what they are talking about. Your love life is constantly on display, but you never know what he's up to."
Remember, what happens on tour stays on tour, and after-parties are unfortunately exactly like they seem on TV — out of control. He'll never tell, and you'll always be wondering what happened.
The Arrogant Renaissance Man
There's nothing sexier than intelligence, which is why falling for the Arrogant Renaissance Man is so easy. Frequently disguised as an artist, writer or political activist, he will dazzle you with his knowledge of 16th-century poetry and a degree that will be finished by the time you're six years into the workforce. When you two are snuggling up to an art house flick and sipping on vegan milkshakes, don't be shocked if he starts to reminisce about his old days in PETA. Did you know he saved a lot of animals there? If you didn't, he will tell you all about it. He also probably didn't tell you this, but you've most likely figured it out on your own — he will always be better than you.
Kara*, a writing student, quickly discovered her blind date was a dud when he invited her back to his place to smoke flavored tobacco and listen to bands she hadn't heard of — clearly a ploy to lure her into the bedroom.
"I was only interested in this person because, quite frankly, he seemed a lot like me: monogamous, cultured, artsy and creative. But what I really got was someone who was incredibly pretentious, not at all humble and a complete snob," she says. "All that pretentious sweet-talking was a haphazard attempt at getting in my pants. I don't believe you're going to find a soul mate in someone who needs to brag about how much they know about Orwellian thought or early Renaissance literature."
Your guy might be smart, but smart guys don't need to constantly brag. If you can't get a word in during your dinner date because he's too busy talking about his spot on the Dean's List, it's time to show him the door.
To read about two more guys you definitely shouldn't date, and to read more love advice, check out HerCampus.com!
*Names have been changed.
More from The Heart Beat: 
Poll: Working-class women who cheat want a sugar daddy
Study: Regular sex can make you look younger
Coffee shop lets customers pay with a kiss
Subscribe to The Heart Beat | Friend us on Facebook, follow us on Twitter and find us on Pinterest.
Photo: Guys you shouldn't date / Josef/Getty Images
love: friendships, dating, sex & marriage
Brad Pitt and Angelina Jolie finally took the plunge, but marriage isn't always a good choice for everyone.

Learn how these surprising tactics can really improve your relationship.

Use these tips to up your chances of finding love.

Find out how paired-off ladies might feel lacking—and how you can make your relationship satisfying.

These signals are seriously subtle, but they can give you real insight into what's going through your husband's mind.

Check which changes are necessary to stay happy together.

We know some of this may sound obvious, but these simple statements can make both of you happier.

Making your relationship more secure, connected, and intimate doesn't have to feel overwhelming. Try these expert tips and reap the rewards now—and in the long run.

For those times when nothing big and horrible happened--but nothing is feeling right either.

What's more fun than animals in weddings? We've rounded up eight of the cutest.

Your puppy is all over your Instagram, Facebook and fridge, so there's no reason not to include him in your engagement pictures too. The best engagement photos give viewers a peek into your life. If you're a dog owner, take this opportunity to show off your pooch, like these 22 couples did! And we can't thank them enough.

Our married blogger gets real about checking out other guys when you're taken.