Beware of 'Ghosts' When Dating Online
Some find 'ghost dating' helpful; others just find it spooky.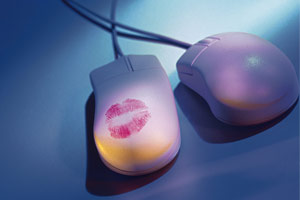 If you're ready to dive into the wild world of online dating but you're not particularly good at writing a profile or communicating with people in cyberspace--not to worry. You can hire a ghost to do it for you.
Ghost daters essentially assume the identities of their clients and then take over their online dating profiles. The term was coined by Stacie Ikka, a professional ghost dater who charges anywhere between $1,500 to upwards of $20,000 for her services.
"'Ghost dating' is a term I coined after ghost writing," Ikka tells Post City magazine. "My understanding of that is that someone else pens a book for you. So, from my perspective, I date on behalf of someone else. Basically, people are looking to outsource their online dating these days."
Sometimes Ikka's services are as simple as fine-tuning someone's profile, which is nothing new in the world of online dating. After all, people frequently ask for friends' help with beefing up their bios. But Ikka often goes so far as to completely assume the online role of her clients, even interacting with potential matches.
"It is overwhelming for people. Dating is so hard," she says. "There is a sense of entitlement that 'I deserve the best guy or girl.' And Internet dating can be a double-edged sword. There's a lot of people out there looking, but that means there are just so many options."
Michael Porter is one of those out there looking. He hired Ikka to take over his profile, explaining to The Star:
"I'm blunt. In person, I'm very fun and outgoing, but not online. I just don't do the electronic stuff. I don't have the patience, so I can come across as rude."
Porter put down five figures for Ikka's service, paying her to assume his identity and interact with people on the site.
"The service was entirely worth it," Porter says. "Stacie introduced me to five or six women over about six months, so I have lots of options from the time we worked together. She is like any consultant, lawyer, trainer. Full service."
But what about the people on the receiving end of the ghost dating trend? Ikka says she reveals her identity to potential matches at some crucial point during communication, and usually, it's not a problem.
"I very rarely get a negative reaction," she tells The Star. "Maybe 10 percent of people object to the process."
According to Ikka, most people have no problem being wooed by a ghost. She does, however, recall at least one story of being dumped by a woman who apparently found the service to be a deal-breaker. After Ikka revealed her identity to the match, the woman was no longer interested in meeting the potential client.
Tell us on Facebook: What do you think of ghost dating? Is it eerie or acceptable?
Photo: Getty Images
More on love & sex from MSN Living:
The 10 Worst First Date Ideas of All Time
The Most Memorable Star-Crossed Movie Couples
10 Rom-Coms That Won't Put Your Guy To Sleep
love: friendships, dating, sex & marriage
This winter, it's all about mixing unexpected seasonal elements with elegant neutral details and a hint of sparkle and sequins. Take a look.

Here's why dudes without hair make the best boyfriends.

What do you wish you appreciated more when you were flying solo?

"If you're so busy tweeting and Instagraming, you're not paying attention," New York wedding planner Marcy Blum said. "It's almost a cosmic faux pas. People want your energy with them and focused on what they're doing."

The wedding favor, that little thank-you-for-coming gift, has risen to new heights with the bride and groom giving guests a wide range of favors that are meaningful to them.

Generations ago, planning a wedding was 100 percent the bride's job, but in today's age of gender equity, it's a mere 99 percent.

For all the self-help books and advice columns out there (um, keeping reading my advice anyway, please!), there's one tool we all already have in our arsenal for picking a partner that will keep us happy: our gut instincts.

According to a new study from the University of Texas and the University of California, Los Angeles, both men and women have regrets when it comes to sex, but the genders vary greatly when it comes to what they regret specifically.

Spending time alone with your guy is easy, but going public with your plus-one is another thing entirely. Whether it's your crazy relatives at Thanksgiving dinner or awkward convos with your boss at the holiday party, possible pitfalls are everywhere. Keep reading for tips on how to make his grand entrance into your social life a good thing.

Match.com survey reveals the day you're least likely to get spruced up for a date.

Drinking and relationships seem to go hand in hand in a lot of ways. But only in moderation!

Many men will tell you that they have no clue what their wives are thinking.