Beware of 'Ghosts' When Dating Online
Some find 'ghost dating' helpful; others just find it spooky.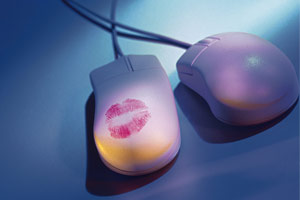 If you're ready to dive into the wild world of online dating but you're not particularly good at writing a profile or communicating with people in cyberspace--not to worry. You can hire a ghost to do it for you.
Ghost daters essentially assume the identities of their clients and then take over their online dating profiles. The term was coined by Stacie Ikka, a professional ghost dater who charges anywhere between $1,500 to upwards of $20,000 for her services.
"'Ghost dating' is a term I coined after ghost writing," Ikka tells Post City magazine. "My understanding of that is that someone else pens a book for you. So, from my perspective, I date on behalf of someone else. Basically, people are looking to outsource their online dating these days."
Sometimes Ikka's services are as simple as fine-tuning someone's profile, which is nothing new in the world of online dating. After all, people frequently ask for friends' help with beefing up their bios. But Ikka often goes so far as to completely assume the online role of her clients, even interacting with potential matches.
"It is overwhelming for people. Dating is so hard," she says. "There is a sense of entitlement that 'I deserve the best guy or girl.' And Internet dating can be a double-edged sword. There's a lot of people out there looking, but that means there are just so many options."
Michael Porter is one of those out there looking. He hired Ikka to take over his profile, explaining to The Star:
"I'm blunt. In person, I'm very fun and outgoing, but not online. I just don't do the electronic stuff. I don't have the patience, so I can come across as rude."
Porter put down five figures for Ikka's service, paying her to assume his identity and interact with people on the site.
"The service was entirely worth it," Porter says. "Stacie introduced me to five or six women over about six months, so I have lots of options from the time we worked together. She is like any consultant, lawyer, trainer. Full service."
But what about the people on the receiving end of the ghost dating trend? Ikka says she reveals her identity to potential matches at some crucial point during communication, and usually, it's not a problem.
"I very rarely get a negative reaction," she tells The Star. "Maybe 10 percent of people object to the process."
According to Ikka, most people have no problem being wooed by a ghost. She does, however, recall at least one story of being dumped by a woman who apparently found the service to be a deal-breaker. After Ikka revealed her identity to the match, the woman was no longer interested in meeting the potential client.
Tell us on Facebook: What do you think of ghost dating? Is it eerie or acceptable?
Photo: Getty Images
More on love & sex from MSN Living:
The 10 Worst First Date Ideas of All Time
The Most Memorable Star-Crossed Movie Couples
10 Rom-Coms That Won't Put Your Guy To Sleep
love: friendships, dating, sex & marriage
In the grand tradition of celebrating love, we've chosen some of the mushiest, sweetest, and most memorable scenes to hit the big or small screen. From marriage proposals to unexpected serenades, these moments will make you believe in love (and want someone to cuddle up with, stat).

How to flag her little fibs. By Laura Tedesco

Juan Pablo will be joining his two chosen finalists for one more rose ceremony tonight. You know you'll be watching—and so will we.

Revealr is a new iPhone app that allows those looking for love to hear their possible matches before they see them.

A new poll reveals 59 percent of the country supports same-sex marriage.

Celebrity engagements are so much fun to follow because every detail is bound to be over-the-top — from the proposal (like when Kanye rented out an entire stadium to propose to Kim) to the huge, sparkly engagement ring and, of course, the wedding. Plus, as trendsetters, celebs can be a source of inspiration even if you can't afford a million dollar ring. Here are our celebrity wedding predictions for 2014.

If you've ever been to a club—like, ever, even once—you are not going to be shocked to hear that women get a lot of unwanted, aggressive attention. But when you read the findings of this study on how often and why it happens, it might make you feel downright sick to your stomach.

Hopeless romantics and cringe-worthy chick flicks would tell you that it doesn't matter what you do on the date, as long as you're together. But they're wrong. Dead wrong. Women use your date ideas to size you up, says matchmaker Rachel DeAlto, author of "Flirt Fearlessly." "You absolutely will be judged based on the date you plan. There are so many subconscious impressions that we take in while dating." Gulp. Here are 10 terrible ideas that can land you on the no-lay list—and simple swaps to keep her happy. By K. Aleisha Fetters

No matter your current relationship status or past relationship fails, get a fresh start this month, with these tips for spring cleaning your love life.

Forget the rules you've always heard—it's time to start making your own.

Are you in an affair without knowing it? Unless you're a swinger, having sex with someone else counts as cheating. But then there's the fuzzy area between friendship and infidelity—and chances are, your girlfriend sees those shades of gray as more black and white than you do. "Men aren't as attuned to identifying ambiguous behaviors as cheating as women are," says Daniel Kruger, Ph.D., a University of Michigan psychologist, who's studied gender differences in definitions of infidelity. In other words, what you consider totally innocent could be her deal breaker.

We spoke with relationship therapist Rachel A. Sussman, author of "The Breakup Bible," for her tips on how regular girls can survive a split like an A-lister.