Beware of 'Ghosts' When Dating Online
Some find 'ghost dating' helpful; others just find it spooky.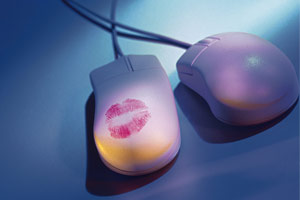 If you're ready to dive into the wild world of online dating but you're not particularly good at writing a profile or communicating with people in cyberspace--not to worry. You can hire a ghost to do it for you.
Ghost daters essentially assume the identities of their clients and then take over their online dating profiles. The term was coined by Stacie Ikka, a professional ghost dater who charges anywhere between $1,500 to upwards of $20,000 for her services.
"'Ghost dating' is a term I coined after ghost writing," Ikka tells Post City magazine. "My understanding of that is that someone else pens a book for you. So, from my perspective, I date on behalf of someone else. Basically, people are looking to outsource their online dating these days."
Sometimes Ikka's services are as simple as fine-tuning someone's profile, which is nothing new in the world of online dating. After all, people frequently ask for friends' help with beefing up their bios. But Ikka often goes so far as to completely assume the online role of her clients, even interacting with potential matches.
"It is overwhelming for people. Dating is so hard," she says. "There is a sense of entitlement that 'I deserve the best guy or girl.' And Internet dating can be a double-edged sword. There's a lot of people out there looking, but that means there are just so many options."
Michael Porter is one of those out there looking. He hired Ikka to take over his profile, explaining to The Star:
"I'm blunt. In person, I'm very fun and outgoing, but not online. I just don't do the electronic stuff. I don't have the patience, so I can come across as rude."
Porter put down five figures for Ikka's service, paying her to assume his identity and interact with people on the site.
"The service was entirely worth it," Porter says. "Stacie introduced me to five or six women over about six months, so I have lots of options from the time we worked together. She is like any consultant, lawyer, trainer. Full service."
But what about the people on the receiving end of the ghost dating trend? Ikka says she reveals her identity to potential matches at some crucial point during communication, and usually, it's not a problem.
"I very rarely get a negative reaction," she tells The Star. "Maybe 10 percent of people object to the process."
According to Ikka, most people have no problem being wooed by a ghost. She does, however, recall at least one story of being dumped by a woman who apparently found the service to be a deal-breaker. After Ikka revealed her identity to the match, the woman was no longer interested in meeting the potential client.
Tell us on Facebook: What do you think of ghost dating? Is it eerie or acceptable?
Photo: Getty Images
More on love & sex from MSN Living:
The 10 Worst First Date Ideas of All Time
The Most Memorable Star-Crossed Movie Couples
10 Rom-Coms That Won't Put Your Guy To Sleep
love: friendships, dating, sex & marriage
The typical wedding: A white dress, tiered cake, floral centerpieces and a cute flower girl -- you know the drill. Every once in a while, though, a couple trades in tradition for a quirky, never-seen-that-before idea. Here are a few of the most out-there wedding photos that made us do a double take.

There's a lot to love about weddings this fall, like cocktails served in copper Moscow mule mugs, industrial-inspired lighting and pheasant feather details. See what's new!

Do you have to be engaged to sport a ring with bling?

124.6 million haven't gotten hitched.

Even though the national average wedding is $29,858, that's just an average. If you live in a smaller state like Idaho where the average wedding costs $16,159, you may find yourself saving a little more than half of the national spend! Check out some of the other least expensive cities to get married in below:

Summer is winding down, but the ubiquitous summer romance lives on.

For those times when nothing big and horrible happened--but nothing is feeling right either.

He's confident, distinguished and anywhere from 4 to 20 years older than you. Age is just a number, but there's something about older men that we love. Here are eight reasons why being in a relationship with an older man is tops.

While a younger man may have less life experience, that doesn't mean he's not emotionally mature. Here are the eight reasons why being in a relationship with a younger man is tops.

Have you ever wondered what the 'other woman' was thinking?

So fall is coming and you need some romantic inspiration now that long walks on the beach are out of the question. Well look no further! From apple picking to pumpkin carving, these are some great fall date ideas from girls just like you!

Getting bored of the same dinner and movie date night? Take an adorable cue from your favorite celebs and try something new! From dancing to boxing you can't go wrong with these awesome date ideas.