Beware of 'Ghosts' When Dating Online
Some find 'ghost dating' helpful; others just find it spooky.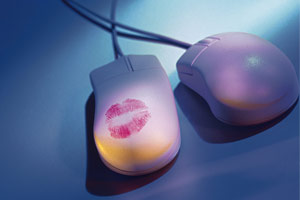 If you're ready to dive into the wild world of online dating but you're not particularly good at writing a profile or communicating with people in cyberspace--not to worry. You can hire a ghost to do it for you.
Ghost daters essentially assume the identities of their clients and then take over their online dating profiles. The term was coined by Stacie Ikka, a professional ghost dater who charges anywhere between $1,500 to upwards of $20,000 for her services.
"'Ghost dating' is a term I coined after ghost writing," Ikka tells Post City magazine. "My understanding of that is that someone else pens a book for you. So, from my perspective, I date on behalf of someone else. Basically, people are looking to outsource their online dating these days."
Sometimes Ikka's services are as simple as fine-tuning someone's profile, which is nothing new in the world of online dating. After all, people frequently ask for friends' help with beefing up their bios. But Ikka often goes so far as to completely assume the online role of her clients, even interacting with potential matches.
"It is overwhelming for people. Dating is so hard," she says. "There is a sense of entitlement that 'I deserve the best guy or girl.' And Internet dating can be a double-edged sword. There's a lot of people out there looking, but that means there are just so many options."
Michael Porter is one of those out there looking. He hired Ikka to take over his profile, explaining to The Star:
"I'm blunt. In person, I'm very fun and outgoing, but not online. I just don't do the electronic stuff. I don't have the patience, so I can come across as rude."
Porter put down five figures for Ikka's service, paying her to assume his identity and interact with people on the site.
"The service was entirely worth it," Porter says. "Stacie introduced me to five or six women over about six months, so I have lots of options from the time we worked together. She is like any consultant, lawyer, trainer. Full service."
But what about the people on the receiving end of the ghost dating trend? Ikka says she reveals her identity to potential matches at some crucial point during communication, and usually, it's not a problem.
"I very rarely get a negative reaction," she tells The Star. "Maybe 10 percent of people object to the process."
According to Ikka, most people have no problem being wooed by a ghost. She does, however, recall at least one story of being dumped by a woman who apparently found the service to be a deal-breaker. After Ikka revealed her identity to the match, the woman was no longer interested in meeting the potential client.
Tell us on Facebook: What do you think of ghost dating? Is it eerie or acceptable?
Photo: Getty Images
More on love & sex from MSN Living:
The 10 Worst First Date Ideas of All Time
The Most Memorable Star-Crossed Movie Couples
10 Rom-Coms That Won't Put Your Guy To Sleep
love: friendships, dating, sex & marriage
Two guests arrested in New Jersey.

Celebrities certainly know how to travel in style, so if you're struggling to select a honeymoon destination, look no further than these star-approved hotspots. To make it even easier, we're providing you with hotel recommendations, packing essentials, and tips on what to do and see! So channel your inner celeb at one of these U.S. destinations for an unforgettable vacation!

Tall Twitter users named Wayne, we're on to you!

Should little girls be dreaming of a different kind of "I do"?

Need a reason to pack your bags and get the hell out of here?

After your return from your honeymoon, your marriage officially starts and with that come some changes. It's not to say that the honeymoon phase is over, but you'll have to get some things situated in order to have your marriage start off on the right foot. We tapped the expert advice of wedding planner and reality TV star David Tutera and love and career coach Charreah Jackson to dish on six things you must do to have a successful first month of marriage — from wedding-related logistics to wrap up to relationship rules to set.

Owner of Weddings in Vieques, a destination-wedding planning company off the coast of Puerto Rico, Sandy Malone has helped countless couples plan their big day since 2007. Here, the veteran planner is sharing some expert advice for free: She's sharing the top eight things you have to do right after you get engaged.

Is the idea of a big bridal bash just not your thing? Or perhaps you and your fiancé are just the super spontaneous type, so why not make your next beach vacation your nuptials as well? If you're thinking of eloping but have questions on the mind, we're here to help. We tapped elopement and wedding planner Lindsey Nickel, founder of Events, Etc., for her top dos and don'ts for getting hitched on the sly.

Easy everyday ways to keep the love alive.

Expert tips on moving past those oh-so-familiar arguments.

Sometimes you have to do things you don't want to do, like hang out with his lame friends. You're not always in the mood to nurse a beer silently while he and his boys argue about who's going to die next on "Game of Thrones" — but tomorrow he's sitting through a seven-girl brunch. So.

Why holding on to your partner's mistakes will end up hurting you.