Beware of 'Ghosts' When Dating Online
Some find 'ghost dating' helpful; others just find it spooky.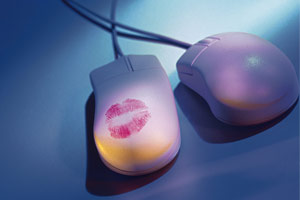 If you're ready to dive into the wild world of online dating but you're not particularly good at writing a profile or communicating with people in cyberspace--not to worry. You can hire a ghost to do it for you.
Ghost daters essentially assume the identities of their clients and then take over their online dating profiles. The term was coined by Stacie Ikka, a professional ghost dater who charges anywhere between $1,500 to upwards of $20,000 for her services.
"'Ghost dating' is a term I coined after ghost writing," Ikka tells Post City magazine. "My understanding of that is that someone else pens a book for you. So, from my perspective, I date on behalf of someone else. Basically, people are looking to outsource their online dating these days."
Sometimes Ikka's services are as simple as fine-tuning someone's profile, which is nothing new in the world of online dating. After all, people frequently ask for friends' help with beefing up their bios. But Ikka often goes so far as to completely assume the online role of her clients, even interacting with potential matches.
"It is overwhelming for people. Dating is so hard," she says. "There is a sense of entitlement that 'I deserve the best guy or girl.' And Internet dating can be a double-edged sword. There's a lot of people out there looking, but that means there are just so many options."
Michael Porter is one of those out there looking. He hired Ikka to take over his profile, explaining to The Star:
"I'm blunt. In person, I'm very fun and outgoing, but not online. I just don't do the electronic stuff. I don't have the patience, so I can come across as rude."
Porter put down five figures for Ikka's service, paying her to assume his identity and interact with people on the site.
"The service was entirely worth it," Porter says. "Stacie introduced me to five or six women over about six months, so I have lots of options from the time we worked together. She is like any consultant, lawyer, trainer. Full service."
But what about the people on the receiving end of the ghost dating trend? Ikka says she reveals her identity to potential matches at some crucial point during communication, and usually, it's not a problem.
"I very rarely get a negative reaction," she tells The Star. "Maybe 10 percent of people object to the process."
According to Ikka, most people have no problem being wooed by a ghost. She does, however, recall at least one story of being dumped by a woman who apparently found the service to be a deal-breaker. After Ikka revealed her identity to the match, the woman was no longer interested in meeting the potential client.
Tell us on Facebook: What do you think of ghost dating? Is it eerie or acceptable?
Photo: Getty Images
More on love & sex from MSN Living:
The 10 Worst First Date Ideas of All Time
The Most Memorable Star-Crossed Movie Couples
10 Rom-Coms That Won't Put Your Guy To Sleep
love: friendships, dating, sex & marriage
How to flag her little fibs. By Laura Tedesco

A new study on attraction may help explain why fashions change.

As a general rule, any island that offers great weather year-round is going to attract the most visitors in the winter (high season) when we're all trying to escape the snow. Once summer rolls around, many islands see a sharp drop-off in tourism since many people have beach weather right in their own backyards.

And how you can attack the issues together.

A wedding is an exceptionally special day. Sometimes, an opportune photo flub makes the occasion even more memorable. Here are 25 awesome wedding photo bombs.

Somewhere between the first few butterfly-inducing dates and the committed-for-life stage, there's the period of wondering if you're both on the same page about how serious you feel about a future together. If you're not quite at the point of "that talk" but you're looking for a few clues you're heading in that direction, here are some signs he's in it for the long haul as your relationship progresses.

What's that sound? It's white noise blocking out the well-meaning person proclaiming groundbreaking news about where you can meet someone, asking why you're still single, or bugging you about when you're getting married already. Don't be that person. Here are 15 annoying things all single people don't want to hear.

With just a few days left before the big day, you already have a mile-long checklist of to-dos—now meet the don'ts! From impromptu skin treatments to all-night movie marathons, here are 11 things to avoid at all costs.

A new study shows that watching and discussing romantic films can drastically reduce your chance of divorce. These flicks more than fit the bill.

These seemingly innocent phrases still have the power to wound… big time.

Making "I do" last forever is one of the biggest challenges you'll ever face—and it's normal to worry about how you'll do it. But, if your connection involves any of these things, rest assured that you're in it for the long run.

Ultimately, as hard as it may seem at the beginning, a marital affair can be a turning point.