Women Choose TV Over Sex, Survey Finds
Which would you rather turn on: the television or your partner?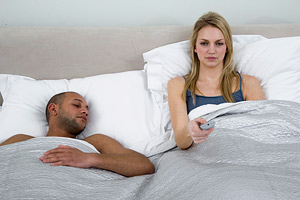 A German non-profit organization decided to turn the "Would You Rather" game into a small survey, asking participants to choose between sex and television.
Turns out, German women are either unimpressed with their sex lives, or really impressed with their programs.
The Berliner Zeitung newspaper reported that the Hamburg-based Foundation for Future Studies commissioned a survey on 2,200 Germans, and 57 percent of the women they surveyed said they'd rather give up sex than television for an entire year. Men sang a different tune, with 62 percent saying they'd choose sex.
And they didn't stop with television. Like any good game of "Would You Rather," the researchers came up with other scenarios. Would you rather give up sex or sweet treats? Only 47 percent of women chose sweets, but that's still nearly half. Only 22 percent of men said they'd rather go sexless for a year than give in to their sugar cravings.
If you think that's depressing, check out this poll, commissioned by QVC. They surveyed 3,000 British people and found that one in 10 actually love the television more than they love their partner.  According to the Daily Mail, more than a tenth of those polled said they'd rather split up with their significant other than give up watching television.
So how do American women fare? According to yet another survey, this time commissioned by iVillage, 63 percent of married women in the States would rather read, sleep or watch a movie than have sex with their spouse. They also tossed in this statistic as a possible explanation: 81 percent of women surveyed described their sex lives as predictable. But hey, so are Seinfeld reruns, and those are still pretty enjoyable.
What do you think—would you rather go without sex or television for an entire year?
Photo: David Harrigan/Getty Images
More on love & sex from MSN Living:
13 Signs You're Ready to Move In Together
His 10 Biggest Love Lies
10 Non-Traditional Celebrity Engagement Rings

Well the german women are nuts just nuts!! I would prefer a good hard C*** any day of the week instead of tv. Now mind you see there is dvr so I won't miss nothing I don't want to. But sex is like the best thing out there if done right!!! My cousin says that women are not supposed to be so visual but damn I like sex no wait I love sex. I jsut prefer not to F*** just anyone. I am a one man woman but he damn well better be good in bed. I don't want riches I want inches. So yeah boy this survey is sooooo not cool for those of us women who love to have sex.

I would rather go without TV for a year. There isn't much on worth watching anyway and don't have cable or sat.  Over the air is only so-so. Most of what I do is PC on-line.
Reason, I repair bicycles for non-profits and don't have the time to sit on my rear and turn into a fat ***... When not repairing biikes I ride bikes or chase my wife. She likes the attention...Maybe that's why we are still enjoying each other after 33 years. Not bad for a retired old guy. 
Are you sure you want to delete this comment?
love: friendships, dating, sex & marriage
In the grand tradition of celebrating love, we've chosen some of the mushiest, sweetest, and most memorable scenes to hit the big or small screen. From marriage proposals to unexpected serenades, these moments will make you believe in love (and want someone to cuddle up with, stat).

How to flag her little fibs. By Laura Tedesco

Juan Pablo will be joining his two chosen finalists for one more rose ceremony tonight. You know you'll be watching—and so will we.

Revealr is a new iPhone app that allows those looking for love to hear their possible matches before they see them.

A new poll reveals 59 percent of the country supports same-sex marriage.

Celebrity engagements are so much fun to follow because every detail is bound to be over-the-top — from the proposal (like when Kanye rented out an entire stadium to propose to Kim) to the huge, sparkly engagement ring and, of course, the wedding. Plus, as trendsetters, celebs can be a source of inspiration even if you can't afford a million dollar ring. Here are our celebrity wedding predictions for 2014.

If you've ever been to a club—like, ever, even once—you are not going to be shocked to hear that women get a lot of unwanted, aggressive attention. But when you read the findings of this study on how often and why it happens, it might make you feel downright sick to your stomach.

Hopeless romantics and cringe-worthy chick flicks would tell you that it doesn't matter what you do on the date, as long as you're together. But they're wrong. Dead wrong. Women use your date ideas to size you up, says matchmaker Rachel DeAlto, author of "Flirt Fearlessly." "You absolutely will be judged based on the date you plan. There are so many subconscious impressions that we take in while dating." Gulp. Here are 10 terrible ideas that can land you on the no-lay list—and simple swaps to keep her happy. By K. Aleisha Fetters

No matter your current relationship status or past relationship fails, get a fresh start this month, with these tips for spring cleaning your love life.

Forget the rules you've always heard—it's time to start making your own.

Are you in an affair without knowing it? Unless you're a swinger, having sex with someone else counts as cheating. But then there's the fuzzy area between friendship and infidelity—and chances are, your girlfriend sees those shades of gray as more black and white than you do. "Men aren't as attuned to identifying ambiguous behaviors as cheating as women are," says Daniel Kruger, Ph.D., a University of Michigan psychologist, who's studied gender differences in definitions of infidelity. In other words, what you consider totally innocent could be her deal breaker.

We spoke with relationship therapist Rachel A. Sussman, author of "The Breakup Bible," for her tips on how regular girls can survive a split like an A-lister.