Women Choose TV Over Sex, Survey Finds
Which would you rather turn on: the television or your partner?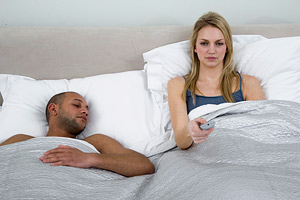 A German non-profit organization decided to turn the "Would You Rather" game into a small survey, asking participants to choose between sex and television.
Turns out, German women are either unimpressed with their sex lives, or really impressed with their programs.
The Berliner Zeitung newspaper reported that the Hamburg-based Foundation for Future Studies commissioned a survey on 2,200 Germans, and 57 percent of the women they surveyed said they'd rather give up sex than television for an entire year. Men sang a different tune, with 62 percent saying they'd choose sex.
And they didn't stop with television. Like any good game of "Would You Rather," the researchers came up with other scenarios. Would you rather give up sex or sweet treats? Only 47 percent of women chose sweets, but that's still nearly half. Only 22 percent of men said they'd rather go sexless for a year than give in to their sugar cravings.
If you think that's depressing, check out this poll, commissioned by QVC. They surveyed 3,000 British people and found that one in 10 actually love the television more than they love their partner.  According to the Daily Mail, more than a tenth of those polled said they'd rather split up with their significant other than give up watching television.
So how do American women fare? According to yet another survey, this time commissioned by iVillage, 63 percent of married women in the States would rather read, sleep or watch a movie than have sex with their spouse. They also tossed in this statistic as a possible explanation: 81 percent of women surveyed described their sex lives as predictable. But hey, so are Seinfeld reruns, and those are still pretty enjoyable.
What do you think—would you rather go without sex or television for an entire year?
Photo: David Harrigan/Getty Images
More on love & sex from MSN Living:
13 Signs You're Ready to Move In Together
His 10 Biggest Love Lies
10 Non-Traditional Celebrity Engagement Rings

I would rather go without TV for a year. There isn't much on worth watching anyway and don't have cable or sat.  Over the air is only so-so. Most of what I do is PC on-line.
Reason, I repair bicycles for non-profits and don't have the time to sit on my rear and turn into a fat ***... When not repairing biikes I ride bikes or chase my wife. She likes the attention...Maybe that's why we are still enjoying each other after 33 years. Not bad for a retired old guy. 

Well the german women are nuts just nuts!! I would prefer a good hard C*** any day of the week instead of tv. Now mind you see there is dvr so I won't miss nothing I don't want to. But sex is like the best thing out there if done right!!! My cousin says that women are not supposed to be so visual but damn I like sex no wait I love sex. I jsut prefer not to F*** just anyone. I am a one man woman but he damn well better be good in bed. I don't want riches I want inches. So yeah boy this survey is sooooo not cool for those of us women who love to have sex.
Are you sure you want to delete this comment?
love: friendship, dating, sex & marriage
We've made picking your palette a breeze! Just find your favorite hue and choose one of the cool combos below.

Get inspired with these twelve ideas for a fantastic, fun summer wedding!

What's worse than getting snubbed while proposing? Having your heart broken in front of countless strangers.

Want your I do's to be totally you? From pre-wedding cocktails to Mad Lib vows, here are 25 ways to make your ceremony as unforgettable as your reception.

Summer love can be sweet. But it tends to be fast, feverish and often fleeting. In a season where emotions run hot, here are some rules to help avoid heartbreak.

We asked brides on TheKnot.com to tell all -- and they did. Here, five of the most likely culprits and advice for how to deal with your drama-causing guests along the way.

This short course in flirting will not only teach you how to flirt better but also how to tell when someone is flirting with you—and how to respond. Have fun.

Gatsby glamour doesn't have to just live on the big screen! Embrace the trendy (yet timeless) art deco style with sequins, pearls, feathers and geometric patterns. Check out these art deco ideas and achieve the feel of 1920s decadence. By the way, all of these are affordable, except for the $600 hairpiece which is a splurge, but a knockout. Shop the look!

Wondering if your summer love will last? Here are 15 signs if your seasonal love is fleeting or for real.

Sixteen years after "Titanic's" release—and 101 years after the historic ship's notorious sinking—our hearts still go on for star-crossed lovers Rose DeWitt Bukater (Kate Winslet) and Jack Dawson (Leonardo DiCaprio). We rounded up some of our favorite ill-fated, but oh-so-romantic affairs on film, from "Gone with the Wind" to "Moulin Rouge!".

Flirting shouldn't be retired once you've got the ring. We asked relationship expert Harlan Cohen, as well as real husbands, the best way to keep the sparks flying.

When we're annoyed by male behavior, we turn to columnist Aaron Traister. His logic may be strange, but we have to admit, it's pretty helpful. Here, he answers our many questions for guys.