Women Choose TV Over Sex, Survey Finds
Which would you rather turn on: the television or your partner?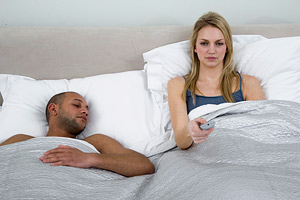 A German non-profit organization decided to turn the "Would You Rather" game into a small survey, asking participants to choose between sex and television.
Turns out, German women are either unimpressed with their sex lives, or really impressed with their programs.
The Berliner Zeitung newspaper reported that the Hamburg-based Foundation for Future Studies commissioned a survey on 2,200 Germans, and 57 percent of the women they surveyed said they'd rather give up sex than television for an entire year. Men sang a different tune, with 62 percent saying they'd choose sex.
And they didn't stop with television. Like any good game of "Would You Rather," the researchers came up with other scenarios. Would you rather give up sex or sweet treats? Only 47 percent of women chose sweets, but that's still nearly half. Only 22 percent of men said they'd rather go sexless for a year than give in to their sugar cravings.
If you think that's depressing, check out this poll, commissioned by QVC. They surveyed 3,000 British people and found that one in 10 actually love the television more than they love their partner.  According to the Daily Mail, more than a tenth of those polled said they'd rather split up with their significant other than give up watching television.
So how do American women fare? According to yet another survey, this time commissioned by iVillage, 63 percent of married women in the States would rather read, sleep or watch a movie than have sex with their spouse. They also tossed in this statistic as a possible explanation: 81 percent of women surveyed described their sex lives as predictable. But hey, so are Seinfeld reruns, and those are still pretty enjoyable.
What do you think—would you rather go without sex or television for an entire year?
Photo: David Harrigan/Getty Images
More on love & sex from MSN Living:
13 Signs You're Ready to Move In Together
His 10 Biggest Love Lies
10 Non-Traditional Celebrity Engagement Rings

Well the german women are nuts just nuts!! I would prefer a good hard C*** any day of the week instead of tv. Now mind you see there is dvr so I won't miss nothing I don't want to. But sex is like the best thing out there if done right!!! My cousin says that women are not supposed to be so visual but damn I like sex no wait I love sex. I jsut prefer not to F*** just anyone. I am a one man woman but he damn well better be good in bed. I don't want riches I want inches. So yeah boy this survey is sooooo not cool for those of us women who love to have sex.

I would rather go without TV for a year. There isn't much on worth watching anyway and don't have cable or sat.  Over the air is only so-so. Most of what I do is PC on-line.
Reason, I repair bicycles for non-profits and don't have the time to sit on my rear and turn into a fat ***... When not repairing biikes I ride bikes or chase my wife. She likes the attention...Maybe that's why we are still enjoying each other after 33 years. Not bad for a retired old guy. 
Are you sure you want to delete this comment?
love: friendships, dating, sex & marriage
Here's why dudes without hair make the best boyfriends.

What do you wish you appreciated more when you were flying solo?

"If you're so busy tweeting and Instagraming, you're not paying attention," New York wedding planner Marcy Blum said. "It's almost a cosmic faux pas. People want your energy with them and focused on what they're doing."

The wedding favor, that little thank-you-for-coming gift, has risen to new heights with the bride and groom giving guests a wide range of favors that are meaningful to them.

Generations ago, planning a wedding was 100 percent the bride's job, but in today's age of gender equity, it's a mere 99 percent.

For all the self-help books and advice columns out there (um, keeping reading my advice anyway, please!), there's one tool we all already have in our arsenal for picking a partner that will keep us happy: our gut instincts.

According to a new study from the University of Texas and the University of California, Los Angeles, both men and women have regrets when it comes to sex, but the genders vary greatly when it comes to what they regret specifically.

Spending time alone with your guy is easy, but going public with your plus-one is another thing entirely. Whether it's your crazy relatives at Thanksgiving dinner or awkward convos with your boss at the holiday party, possible pitfalls are everywhere. Keep reading for tips on how to make his grand entrance into your social life a good thing.

Match.com survey reveals the day you're least likely to get spruced up for a date.

Drinking and relationships seem to go hand in hand in a lot of ways. But only in moderation!

Many men will tell you that they have no clue what their wives are thinking.

Spending the holidays with your guy's family for the first time is a huge relationship milestone. But between your nerves, the usual family tension, and your weird Uncle Sal's inappropriate stories, it's also a prime opportunity for total disaster. Read on for 10 of our readers' most embarrassing meet-the-parents moments.