Women Choose TV Over Sex, Survey Finds
Which would you rather turn on: the television or your partner?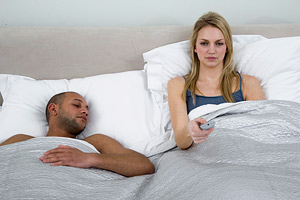 A German non-profit organization decided to turn the "Would You Rather" game into a small survey, asking participants to choose between sex and television.
Turns out, German women are either unimpressed with their sex lives, or really impressed with their programs.
The Berliner Zeitung newspaper reported that the Hamburg-based Foundation for Future Studies commissioned a survey on 2,200 Germans, and 57 percent of the women they surveyed said they'd rather give up sex than television for an entire year. Men sang a different tune, with 62 percent saying they'd choose sex.
And they didn't stop with television. Like any good game of "Would You Rather," the researchers came up with other scenarios. Would you rather give up sex or sweet treats? Only 47 percent of women chose sweets, but that's still nearly half. Only 22 percent of men said they'd rather go sexless for a year than give in to their sugar cravings.
If you think that's depressing, check out this poll, commissioned by QVC. They surveyed 3,000 British people and found that one in 10 actually love the television more than they love their partner.  According to the Daily Mail, more than a tenth of those polled said they'd rather split up with their significant other than give up watching television.
So how do American women fare? According to yet another survey, this time commissioned by iVillage, 63 percent of married women in the States would rather read, sleep or watch a movie than have sex with their spouse. They also tossed in this statistic as a possible explanation: 81 percent of women surveyed described their sex lives as predictable. But hey, so are Seinfeld reruns, and those are still pretty enjoyable.
What do you think—would you rather go without sex or television for an entire year?
Photo: David Harrigan/Getty Images
More on love & sex from MSN Living:
13 Signs You're Ready to Move In Together
His 10 Biggest Love Lies
10 Non-Traditional Celebrity Engagement Rings

Well the german women are nuts just nuts!! I would prefer a good hard C*** any day of the week instead of tv. Now mind you see there is dvr so I won't miss nothing I don't want to. But sex is like the best thing out there if done right!!! My cousin says that women are not supposed to be so visual but damn I like sex no wait I love sex. I jsut prefer not to F*** just anyone. I am a one man woman but he damn well better be good in bed. I don't want riches I want inches. So yeah boy this survey is sooooo not cool for those of us women who love to have sex.

I would rather go without TV for a year. There isn't much on worth watching anyway and don't have cable or sat.  Over the air is only so-so. Most of what I do is PC on-line.
Reason, I repair bicycles for non-profits and don't have the time to sit on my rear and turn into a fat ***... When not repairing biikes I ride bikes or chase my wife. She likes the attention...Maybe that's why we are still enjoying each other after 33 years. Not bad for a retired old guy. 
Are you sure you want to delete this comment?
love: friendships, dating, sex & marriage
Two guests arrested in New Jersey.

Celebrities certainly know how to travel in style, so if you're struggling to select a honeymoon destination, look no further than these star-approved hotspots. To make it even easier, we're providing you with hotel recommendations, packing essentials, and tips on what to do and see! So channel your inner celeb at one of these U.S. destinations for an unforgettable vacation!

Tall Twitter users named Wayne, we're on to you!

Should little girls be dreaming of a different kind of "I do"?

Need a reason to pack your bags and get the hell out of here?

After your return from your honeymoon, your marriage officially starts and with that come some changes. It's not to say that the honeymoon phase is over, but you'll have to get some things situated in order to have your marriage start off on the right foot. We tapped the expert advice of wedding planner and reality TV star David Tutera and love and career coach Charreah Jackson to dish on six things you must do to have a successful first month of marriage — from wedding-related logistics to wrap up to relationship rules to set.

Owner of Weddings in Vieques, a destination-wedding planning company off the coast of Puerto Rico, Sandy Malone has helped countless couples plan their big day since 2007. Here, the veteran planner is sharing some expert advice for free: She's sharing the top eight things you have to do right after you get engaged.

Is the idea of a big bridal bash just not your thing? Or perhaps you and your fiancé are just the super spontaneous type, so why not make your next beach vacation your nuptials as well? If you're thinking of eloping but have questions on the mind, we're here to help. We tapped elopement and wedding planner Lindsey Nickel, founder of Events, Etc., for her top dos and don'ts for getting hitched on the sly.

Easy everyday ways to keep the love alive.

Expert tips on moving past those oh-so-familiar arguments.

Sometimes you have to do things you don't want to do, like hang out with his lame friends. You're not always in the mood to nurse a beer silently while he and his boys argue about who's going to die next on "Game of Thrones" — but tomorrow he's sitting through a seven-girl brunch. So.

Why holding on to your partner's mistakes will end up hurting you.