Working women more likely to be divorced than men
Bringing home the bacon may come at a price.
Does a career come with a greater risk of divorce? It sure does—if you're a woman.
According to the latest statistics from the American Community Survey (ACS), working women are more likely to be divorced than working men.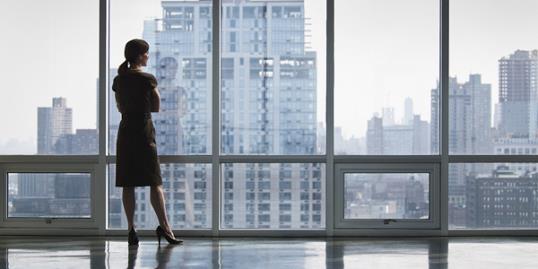 The U.S. Census Bureau recently released the results of its 2011 survey, and 14.1 percent of women in the labor force are reportedly divorced, compared with only 9.5 percent of working men.
More on MSN Living: 10 foolproof ways to get in the mood
The difference in percentage is especially noteworthy considering there are significantly fewer women than men in the labor force.
Sorry ladies, but these stats also seem to support a disheartening study, which found that women who work full-time increase their risk of divorce by a staggering 29 percent.
More on MSN Living: The real reasons men shut down
In 2005, research published in the European Sociological Review found that full-time working wives are three times more likely to get divorced than women who stay at home. According to the research:
"Women who work full-time have a higher risk of divorce. Compared to non-working women, those with a full-time job have a 29 percent greater risk of divorce. Women who work more hours are found to have a higher divorce risk."
The ACS also revealed that citizens native to the U.S. are more likely to be divorced than foreign-born citizens: 11.6 percent of U.S. natives are divorced, compared with 7.7 percent of foreign-born respondents.
As for race, the group with the highest percentage of divorce was American Indian and Alaska Native. Meanwhile, Asians had the lowest rate of divorce.
Of the people who divorced within the past year of taking the survey, the median age was 43 for men and 41 for women. Overall, 11 percent of adults in the U.S. are divorced, an increase from 10.5 percent in 2007.
Bing: Tips to keep your marriage strong.
Photo: Ryan McVay/Getty Images
More Sex & Love on MSN Living:
How to pick a wedding band that works with your engagement ring
Wedding welcome basket shopping list
7 stories of lost wedding rings with happy endings 
Most common holiday arguments—and how to avoid them

Um, i'm thinking the math or the headline is askew:
"working women more likely to be divorced than...men....".
I would imagine that there are about as many divorced women as there are divorced men...after all, didn't they divorce each other?....
Or, are they saying that the number of divorced women exceeds the TOTAL number of men?

Yes it is true!  Ya know why?  Women VOTE, are better educated, make their OWN money and don't have to put up with the nonsense their "husbands" dish out!  These women typically do most of the cleaning, cooking and child rearing.  Plus these men feel free to hit, criticize and "do their own thing" while behaving like children.  NO THANKS.  I KNOW that one in a thousand are great husbands, but seriously, those are pathetic odds.
Are you sure you want to delete this comment?
love: friendships, dating, sex & marriage
Want to send your date running? Try one these moves.

Two guests arrested in New Jersey.

Celebrities certainly know how to travel in style, so if you're struggling to select a honeymoon destination, look no further than these star-approved hotspots. To make it even easier, we're providing you with hotel recommendations, packing essentials, and tips on what to do and see! So channel your inner celeb at one of these U.S. destinations for an unforgettable vacation!

Tall Twitter users named Wayne, we're on to you!

Should little girls be dreaming of a different kind of "I do"?

Need a reason to pack your bags and get the hell out of here?

After your return from your honeymoon, your marriage officially starts and with that come some changes. It's not to say that the honeymoon phase is over, but you'll have to get some things situated in order to have your marriage start off on the right foot. We tapped the expert advice of wedding planner and reality TV star David Tutera and love and career coach Charreah Jackson to dish on six things you must do to have a successful first month of marriage — from wedding-related logistics to wrap up to relationship rules to set.

Owner of Weddings in Vieques, a destination-wedding planning company off the coast of Puerto Rico, Sandy Malone has helped countless couples plan their big day since 2007. Here, the veteran planner is sharing some expert advice for free: She's sharing the top eight things you have to do right after you get engaged.

Is the idea of a big bridal bash just not your thing? Or perhaps you and your fiancé are just the super spontaneous type, so why not make your next beach vacation your nuptials as well? If you're thinking of eloping but have questions on the mind, we're here to help. We tapped elopement and wedding planner Lindsey Nickel, founder of Events, Etc., for her top dos and don'ts for getting hitched on the sly.

Easy everyday ways to keep the love alive.

Expert tips on moving past those oh-so-familiar arguments.

Sometimes you have to do things you don't want to do, like hang out with his lame friends. You're not always in the mood to nurse a beer silently while he and his boys argue about who's going to die next on "Game of Thrones" — but tomorrow he's sitting through a seven-girl brunch. So.