Working women more likely to be divorced than men
Bringing home the bacon may come at a price.
Does a career come with a greater risk of divorce? It sure does—if you're a woman.
According to the latest statistics from the American Community Survey (ACS), working women are more likely to be divorced than working men.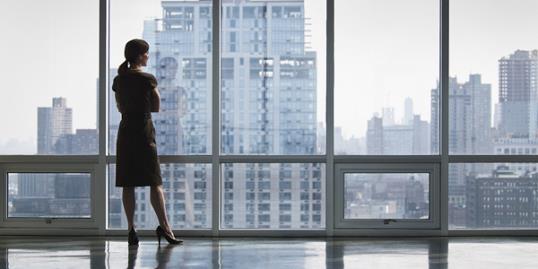 The U.S. Census Bureau recently released the results of its 2011 survey, and 14.1 percent of women in the labor force are reportedly divorced, compared with only 9.5 percent of working men.
More on MSN Living: 10 foolproof ways to get in the mood
The difference in percentage is especially noteworthy considering there are significantly fewer women than men in the labor force.
Sorry ladies, but these stats also seem to support a disheartening study, which found that women who work full-time increase their risk of divorce by a staggering 29 percent.
More on MSN Living: The real reasons men shut down
In 2005, research published in the European Sociological Review found that full-time working wives are three times more likely to get divorced than women who stay at home. According to the research:
"Women who work full-time have a higher risk of divorce. Compared to non-working women, those with a full-time job have a 29 percent greater risk of divorce. Women who work more hours are found to have a higher divorce risk."
The ACS also revealed that citizens native to the U.S. are more likely to be divorced than foreign-born citizens: 11.6 percent of U.S. natives are divorced, compared with 7.7 percent of foreign-born respondents.
As for race, the group with the highest percentage of divorce was American Indian and Alaska Native. Meanwhile, Asians had the lowest rate of divorce.
Of the people who divorced within the past year of taking the survey, the median age was 43 for men and 41 for women. Overall, 11 percent of adults in the U.S. are divorced, an increase from 10.5 percent in 2007.
Bing: Tips to keep your marriage strong.
Photo: Ryan McVay/Getty Images
More Sex & Love on MSN Living:
How to pick a wedding band that works with your engagement ring
Wedding welcome basket shopping list
7 stories of lost wedding rings with happy endings 
Most common holiday arguments—and how to avoid them

Yes it is true!  Ya know why?  Women VOTE, are better educated, make their OWN money and don't have to put up with the nonsense their "husbands" dish out!  These women typically do most of the cleaning, cooking and child rearing.  Plus these men feel free to hit, criticize and "do their own thing" while behaving like children.  NO THANKS.  I KNOW that one in a thousand are great husbands, but seriously, those are pathetic odds.

Um, i'm thinking the math or the headline is askew:
"working women more likely to be divorced than...men....".
I would imagine that there are about as many divorced women as there are divorced men...after all, didn't they divorce each other?....
Or, are they saying that the number of divorced women exceeds the TOTAL number of men?
Are you sure you want to delete this comment?
love: friendship, dating, sex & marriage
We've made picking your palette a breeze! Just find your favorite hue and choose one of the cool combos below.

Get inspired with these twelve ideas for a fantastic, fun summer wedding!

What's worse than getting snubbed while proposing? Having your heart broken in front of countless strangers.

Want your I do's to be totally you? From pre-wedding cocktails to Mad Lib vows, here are 25 ways to make your ceremony as unforgettable as your reception.

Summer love can be sweet. But it tends to be fast, feverish and often fleeting. In a season where emotions run hot, here are some rules to help avoid heartbreak.

We asked brides on TheKnot.com to tell all -- and they did. Here, five of the most likely culprits and advice for how to deal with your drama-causing guests along the way.

This short course in flirting will not only teach you how to flirt better but also how to tell when someone is flirting with you—and how to respond. Have fun.

Gatsby glamour doesn't have to just live on the big screen! Embrace the trendy (yet timeless) art deco style with sequins, pearls, feathers and geometric patterns. Check out these art deco ideas and achieve the feel of 1920s decadence. By the way, all of these are affordable, except for the $600 hairpiece which is a splurge, but a knockout. Shop the look!

Wondering if your summer love will last? Here are 15 signs if your seasonal love is fleeting or for real.

Sixteen years after "Titanic's" release—and 101 years after the historic ship's notorious sinking—our hearts still go on for star-crossed lovers Rose DeWitt Bukater (Kate Winslet) and Jack Dawson (Leonardo DiCaprio). We rounded up some of our favorite ill-fated, but oh-so-romantic affairs on film, from "Gone with the Wind" to "Moulin Rouge!".

Flirting shouldn't be retired once you've got the ring. We asked relationship expert Harlan Cohen, as well as real husbands, the best way to keep the sparks flying.

When we're annoyed by male behavior, we turn to columnist Aaron Traister. His logic may be strange, but we have to admit, it's pretty helpful. Here, he answers our many questions for guys.