Vote for 'The Heart Beat'!
Just a few more days to make 'The Heart Beat' the best new dating blog of 2012.
Readers, if you have a moment, please head over to the
Great Dating Blog Awards 2012
and
vote for MSN's The Heart Beat.
It's easy! Just click on
this link
, scroll down to the very bottom of the page, and look for MSN Living's
The Heart Beat
blog for Best Newcomer. You have until midnight (GMT) on Dec. 24 to vote. We work hard to bring you relevant, engaging content, and
The Great Dating Blogs 2012
awards the most interesting dating blogs of the year.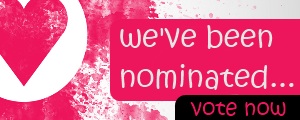 Thanks for your support—we always love reading your comments and emails. Now get out there and vote!
Vote here for MSN's The Heart Beat blog, "Best Newcomer" of the Great Dating Blog Awards 2012: http://www.greatdati​​ngblogs.com/great-d​a​ting-blogs-2012-su​rv​ey/
More from The Heart Beat:
Childhood romance rekindled 40 years later
Is online dating causing divorce rates to rise?
Couple marries amid monsoon
love: friendships, dating, sex & marriage
Love it or hate it, the selfie wields much power.

Talk about some blurred lines.

Come on people, it's not that hard to mind your own business.

No sense in wasting your time on someone who will never commit.

There he is, the man of your dreams. He's sitting across from you at the coffee shop or standing at the opposite side of the bar. His eyes meet yours, a quick glance, and then it's back to his drink. Was he giving you a signal?

Remember that time on "30 Rock" when Liz Lemon and her eventual-husband Criss went shopping at Ikea, only to end up in a major fight? We know it couldn't be closer to the truth because we've all been there. In honor of the irritation that can be Ikea, here are the top fights you'll likely encounter.

Dating doesn't have to be a daunting task, promise. Here's how to make it fun for you and him.

One woman's honest journey to divorce will break your heart and inspire you at the same time.

Want to send your date running? Try one these moves.

Two guests arrested in New Jersey.

Celebrities certainly know how to travel in style, so if you're struggling to select a honeymoon destination, look no further than these star-approved hotspots. To make it even easier, we're providing you with hotel recommendations, packing essentials, and tips on what to do and see! So channel your inner celeb at one of these U.S. destinations for an unforgettable vacation!

Tall Twitter users named Wayne, we're on to you!