Study: Couples cuddle eight times a week
Hug it out, cuddle muffin.
While there are a ton of statistics and studies on how often the average couple copulates, cuddling is generally an uncharted territory of relationship research.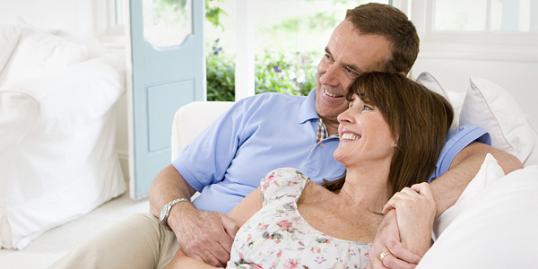 But the University of Michigan may have broken new ground when it comes to the science of cuddling. Researchers conducted a study asking over 500 men and women, all in relationships, about their cuddling behavior—everything from frequency, location, duration and quality. They found that the average couple cozies up at least eight times a week.
Reported in the Archives of Sexual Behavior, the study found cuddle sessions usually last for just over 45 minutes. Forty-seven minutes and 36 seconds, to be exact. Researchers also discovered that one in six cuddles leads to sex.
So what exactly constitutes a cuddle? The study defined it as an "intimate, physical and loving contact that does not involve sexual behavior and that involves some degree of whole body touching, not just hand to hand or lips to lips."
Unsurprisingly, the study found that women enjoy cuddling more than men. Then again, perhaps that is surprising.
Related: 50 things everyone should know about getting married
The sofa, armchair and bed were the most popular places to snuggle up, and couples are most likely to cuddle in the evening, watching TV.
Related: 50 unique engagement rings
And before you write off the science of cuddling as silly—physical, non-sexual embrace is quite important to a relationship. Dr. Sari van Anders, one of the study's researchers, told MSN's The Heart Beat:
"Other scientists have reported that intimacy is important for long-term relationships, and cuddling seems to factor into that as people reported cuddling for love and intimacy reasons."
Photo: Andrew Olney/Getty Images
More Sex & Love on MSN Living:
30 diamond engagement rings so sparkly you'll need sunglasses
5 signs a guy is toxic
5 sexy steps to get out of your date rut
love: friendships, dating, sex & marriage
Brad Pitt and Angelina Jolie finally took the plunge, but marriage isn't always a good choice for everyone.

Learn how these surprising tactics can really improve your relationship.

Use these tips to up your chances of finding love.

Find out how paired-off ladies might feel lacking—and how you can make your relationship satisfying.

These signals are seriously subtle, but they can give you real insight into what's going through your husband's mind.

Check which changes are necessary to stay happy together.

We know some of this may sound obvious, but these simple statements can make both of you happier.

Making your relationship more secure, connected, and intimate doesn't have to feel overwhelming. Try these expert tips and reap the rewards now—and in the long run.

For those times when nothing big and horrible happened--but nothing is feeling right either.

What's more fun than animals in weddings? We've rounded up eight of the cutest.

Your puppy is all over your Instagram, Facebook and fridge, so there's no reason not to include him in your engagement pictures too. The best engagement photos give viewers a peek into your life. If you're a dog owner, take this opportunity to show off your pooch, like these 22 couples did! And we can't thank them enough.

Our married blogger gets real about checking out other guys when you're taken.