Study: Couples cuddle eight times a week
Hug it out, cuddle muffin.
While there are a ton of statistics and studies on how often the average couple copulates, cuddling is generally an uncharted territory of relationship research.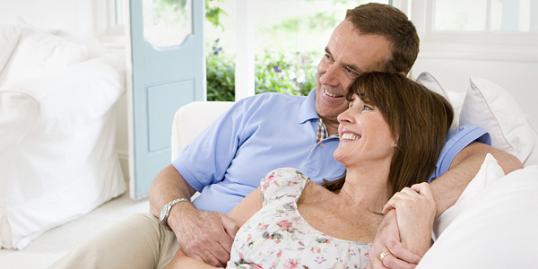 But the University of Michigan may have broken new ground when it comes to the science of cuddling. Researchers conducted a study asking over 500 men and women, all in relationships, about their cuddling behavior—everything from frequency, location, duration and quality. They found that the average couple cozies up at least eight times a week.
Reported in the Archives of Sexual Behavior, the study found cuddle sessions usually last for just over 45 minutes. Forty-seven minutes and 36 seconds, to be exact. Researchers also discovered that one in six cuddles leads to sex.
So what exactly constitutes a cuddle? The study defined it as an "intimate, physical and loving contact that does not involve sexual behavior and that involves some degree of whole body touching, not just hand to hand or lips to lips."
Unsurprisingly, the study found that women enjoy cuddling more than men. Then again, perhaps that is surprising.
Related: 50 things everyone should know about getting married
The sofa, armchair and bed were the most popular places to snuggle up, and couples are most likely to cuddle in the evening, watching TV.
Related: 50 unique engagement rings
And before you write off the science of cuddling as silly—physical, non-sexual embrace is quite important to a relationship. Dr. Sari van Anders, one of the study's researchers, told MSN's The Heart Beat:
"Other scientists have reported that intimacy is important for long-term relationships, and cuddling seems to factor into that as people reported cuddling for love and intimacy reasons."
Photo: Andrew Olney/Getty Images
More Sex & Love on MSN Living:
30 diamond engagement rings so sparkly you'll need sunglasses
5 signs a guy is toxic
5 sexy steps to get out of your date rut
love: friendships, dating, sex & marriage
You'd think brides and grooms who celebrate their nuptials with 50 guests have an equal shot at wedded bliss as those who invite 500, but apparently not.

Because some things are just better with a buddy (whom you happen to be dating).

They're smart, funny, and adorable, but are you a good match?

Fight the urge to sign her up for OkCupid and read this instead.

We know you have good intentions, but...please...stop.

You can't say we didn't warn you. Every month is Movember when you're dating a guy with a beard. And while the scruffy look can be hot, there are some very real, err, challenges that come with the territory. Don't believe us? Well…

Follow these steps to slash your wedding budget—not your fun—in half.

It won't all be cake and flowers, but it can be the best year of your life together so far.

Expert tips on moving past those oh-so-familiar arguments.

Grow as a couple by sharing adventures.

For many married couples, falling in love and saying "I do" was the easy part. Living happily ever after is the part that takes a whole lot of work.