Study: Couples cuddle eight times a week
Hug it out, cuddle muffin.
While there are a ton of statistics and studies on how often the average couple copulates, cuddling is generally an uncharted territory of relationship research.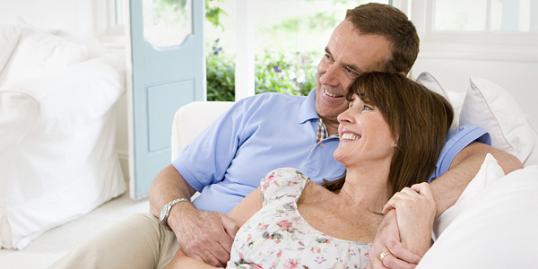 But the University of Michigan may have broken new ground when it comes to the science of cuddling. Researchers conducted a study asking over 500 men and women, all in relationships, about their cuddling behavior—everything from frequency, location, duration and quality. They found that the average couple cozies up at least eight times a week.
Reported in the Archives of Sexual Behavior, the study found cuddle sessions usually last for just over 45 minutes. Forty-seven minutes and 36 seconds, to be exact. Researchers also discovered that one in six cuddles leads to sex.
So what exactly constitutes a cuddle? The study defined it as an "intimate, physical and loving contact that does not involve sexual behavior and that involves some degree of whole body touching, not just hand to hand or lips to lips."
Unsurprisingly, the study found that women enjoy cuddling more than men. Then again, perhaps that is surprising.
Related: 50 things everyone should know about getting married
The sofa, armchair and bed were the most popular places to snuggle up, and couples are most likely to cuddle in the evening, watching TV.
Related: 50 unique engagement rings
And before you write off the science of cuddling as silly—physical, non-sexual embrace is quite important to a relationship. Dr. Sari van Anders, one of the study's researchers, told MSN's The Heart Beat:
"Other scientists have reported that intimacy is important for long-term relationships, and cuddling seems to factor into that as people reported cuddling for love and intimacy reasons."
Photo: Andrew Olney/Getty Images
More Sex & Love on MSN Living:
30 diamond engagement rings so sparkly you'll need sunglasses
5 signs a guy is toxic
5 sexy steps to get out of your date rut
love: friendships, dating, sex & marriage
This winter, it's all about mixing unexpected seasonal elements with elegant neutral details and a hint of sparkle and sequins. Take a look.

Here's why dudes without hair make the best boyfriends.

What do you wish you appreciated more when you were flying solo?

"If you're so busy tweeting and Instagraming, you're not paying attention," New York wedding planner Marcy Blum said. "It's almost a cosmic faux pas. People want your energy with them and focused on what they're doing."

The wedding favor, that little thank-you-for-coming gift, has risen to new heights with the bride and groom giving guests a wide range of favors that are meaningful to them.

Generations ago, planning a wedding was 100 percent the bride's job, but in today's age of gender equity, it's a mere 99 percent.

For all the self-help books and advice columns out there (um, keeping reading my advice anyway, please!), there's one tool we all already have in our arsenal for picking a partner that will keep us happy: our gut instincts.

According to a new study from the University of Texas and the University of California, Los Angeles, both men and women have regrets when it comes to sex, but the genders vary greatly when it comes to what they regret specifically.

Spending time alone with your guy is easy, but going public with your plus-one is another thing entirely. Whether it's your crazy relatives at Thanksgiving dinner or awkward convos with your boss at the holiday party, possible pitfalls are everywhere. Keep reading for tips on how to make his grand entrance into your social life a good thing.

Match.com survey reveals the day you're least likely to get spruced up for a date.

Drinking and relationships seem to go hand in hand in a lot of ways. But only in moderation!

Many men will tell you that they have no clue what their wives are thinking.