Grand Slam Nuptials: Denny's to Open Wedding Chapel
Would you like some coffee with your breakfast? How about a marriage?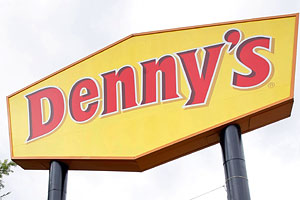 As wedding costs continue to rise, couples are getting more creative about finding budget-friendly ways to tie the knot. Well, here's another resourceful solution—elope over breakfast.
Denny's, the popular breakfast-all-day diner, is planning to open a new location that will include a fully-functioning wedding chapel. Where, you ask? Vegas, of course.
The franchise plans to open a 6,432 square foot "flagship" restaurant in downtown Las Vegas—at the 250,000 square foot Neonopolis entertainment complex.
The restaurant will open its doors (and rings its wedding bells) by the end of the year.
But first, the obvious question: why? The Heart Beat spoke with the restaurant's chief marketing officer, Frances Allen, and she told us:
"We believe that it's part of the Las Vegas experience.  It's something that is so about Vegas; it's fun. We've had people get married at Denny's, in our restaurants across the country. So why not in Vegas, where everyone's looking for something more original to do?"
Neonopolis owner Rohit Joshi is already prepared. He filled us in on the details:
"You can now get married within a chapel in the Denny's. They've got a wedding chapel and they've got a complete bar. They've also got various areas for the receptions, the parties, the dinners, the lunches."
As odd as a Denny's-themed wedding may seem, keep in mind--this is an entire experience.
"First of all, it's going to be a lovely space within the dining room itself," Allen says. "Secondly, we just wanted to create an environment that wasn't normal—that was entertaining, exciting, a little over the top maybe. People love our food, and the place itself will be a very exciting, fun place to be. And this is for the people who want that kind of wedding experience."
Not to mention, there's plenty to do within the Neonopolis complex and in Vegas itself. So it's possible to finish your breakfast, have your wedding, and then head straight to the honeymoon.
"It's a good idea," Joshi adds. "I wish I could take credit for it. But it was Denny's idea."
They say breakfast is the most important meal of the day; I suppose that's especially true if breakfast includes a walk down the aisle.
Photo: Alan Diaz/AP
More Love & Sex from MSN Living:
Secrets of Happy Couples
9 Little Gestures He Wishes You'd Do
9 Things He's Thinking About the Wedding
love: friendships, dating, sex & marriage
All year long we obsess over hundreds of beautiful photos of every wedding detail, from the cutest flower girl dresses ever to wedding favor ideas that no one has ever seen before. But we couldn't keep these brilliant details to ourselves — here, 10 of the year's most unique wedding ideas!

Sexier sex! Very public proposals! Nearlyweds! It was a pretty busy year for love and relationships. As 2013 comes to a close, we look back at the best trends that made headlines.

The most wonderful time of the year can quickly become the most irritating time of the year if you're waiting for an engagement ring.

The holidays are a time of joy, cheer, and fighting with your boyfriend because he forgot to bring the gift you bought for his mom after you reminded him five times. These practical tips will help you avoid the bickering so you can get back to the important stuff—like eating more cookies.

Wedding cake, wedding reception? Psh! This couple is forgoing both—and going for a run instead.

Part of the reason Christmas felt so magical when you were a kid was because of all the special things you did only at that time of year, like sing Christmas carols or help decorate your mom's famous sugar cookies. (OK, fine. Also because of presents.)

Talk about a marriage proposal to remember.

I was just discussing last night how annoying posed professional portraits have become.

The key to wedded bliss isn't over-the-top romance, but these surprisingly simple practices you can do to stay - or fall back - in love with your partner. Read on for expert tips on how to have a happy marriage.

Do not get him a dopp kit, a money clip, a tie (seriously?), cufflinks or a bunch of candy that you will eat after he opens. Get him this stuff instead. He'll be surprised—but more importantly, he'll be happy. These gifts are good.

It might be time to let go of our general assumption that long-distance relationships are pure torture.

Researchers in a recent study conclude that men are better at focusing on one task, while women are more attuned to multi-task.