Grand Slam Nuptials: Denny's to Open Wedding Chapel
Would you like some coffee with your breakfast? How about a marriage?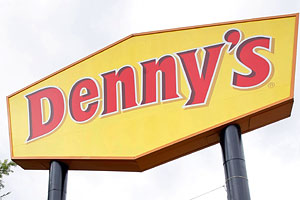 As wedding costs continue to rise, couples are getting more creative about finding budget-friendly ways to tie the knot. Well, here's another resourceful solution—elope over breakfast.
Denny's, the popular breakfast-all-day diner, is planning to open a new location that will include a fully-functioning wedding chapel. Where, you ask? Vegas, of course.
The franchise plans to open a 6,432 square foot "flagship" restaurant in downtown Las Vegas—at the 250,000 square foot Neonopolis entertainment complex.
The restaurant will open its doors (and rings its wedding bells) by the end of the year.
But first, the obvious question: why? The Heart Beat spoke with the restaurant's chief marketing officer, Frances Allen, and she told us:
"We believe that it's part of the Las Vegas experience.  It's something that is so about Vegas; it's fun. We've had people get married at Denny's, in our restaurants across the country. So why not in Vegas, where everyone's looking for something more original to do?"
Neonopolis owner Rohit Joshi is already prepared. He filled us in on the details:
"You can now get married within a chapel in the Denny's. They've got a wedding chapel and they've got a complete bar. They've also got various areas for the receptions, the parties, the dinners, the lunches."
As odd as a Denny's-themed wedding may seem, keep in mind--this is an entire experience.
"First of all, it's going to be a lovely space within the dining room itself," Allen says. "Secondly, we just wanted to create an environment that wasn't normal—that was entertaining, exciting, a little over the top maybe. People love our food, and the place itself will be a very exciting, fun place to be. And this is for the people who want that kind of wedding experience."
Not to mention, there's plenty to do within the Neonopolis complex and in Vegas itself. So it's possible to finish your breakfast, have your wedding, and then head straight to the honeymoon.
"It's a good idea," Joshi adds. "I wish I could take credit for it. But it was Denny's idea."
They say breakfast is the most important meal of the day; I suppose that's especially true if breakfast includes a walk down the aisle.
Photo: Alan Diaz/AP
More Love & Sex from MSN Living:
Secrets of Happy Couples
9 Little Gestures He Wishes You'd Do
9 Things He's Thinking About the Wedding
love: friendships, dating, sex & marriage
Two guests arrested in New Jersey.

Celebrities certainly know how to travel in style, so if you're struggling to select a honeymoon destination, look no further than these star-approved hotspots. To make it even easier, we're providing you with hotel recommendations, packing essentials, and tips on what to do and see! So channel your inner celeb at one of these U.S. destinations for an unforgettable vacation!

Tall Twitter users named Wayne, we're on to you!

Should little girls be dreaming of a different kind of "I do"?

Need a reason to pack your bags and get the hell out of here?

After your return from your honeymoon, your marriage officially starts and with that come some changes. It's not to say that the honeymoon phase is over, but you'll have to get some things situated in order to have your marriage start off on the right foot. We tapped the expert advice of wedding planner and reality TV star David Tutera and love and career coach Charreah Jackson to dish on six things you must do to have a successful first month of marriage — from wedding-related logistics to wrap up to relationship rules to set.

Owner of Weddings in Vieques, a destination-wedding planning company off the coast of Puerto Rico, Sandy Malone has helped countless couples plan their big day since 2007. Here, the veteran planner is sharing some expert advice for free: She's sharing the top eight things you have to do right after you get engaged.

Is the idea of a big bridal bash just not your thing? Or perhaps you and your fiancé are just the super spontaneous type, so why not make your next beach vacation your nuptials as well? If you're thinking of eloping but have questions on the mind, we're here to help. We tapped elopement and wedding planner Lindsey Nickel, founder of Events, Etc., for her top dos and don'ts for getting hitched on the sly.

Easy everyday ways to keep the love alive.

Expert tips on moving past those oh-so-familiar arguments.

Sometimes you have to do things you don't want to do, like hang out with his lame friends. You're not always in the mood to nurse a beer silently while he and his boys argue about who's going to die next on "Game of Thrones" — but tomorrow he's sitting through a seven-girl brunch. So.

Why holding on to your partner's mistakes will end up hurting you.