Grand Slam Nuptials: Denny's to Open Wedding Chapel
Would you like some coffee with your breakfast? How about a marriage?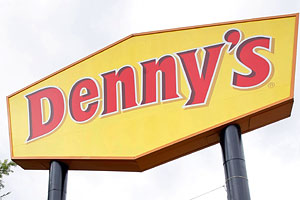 As wedding costs continue to rise, couples are getting more creative about finding budget-friendly ways to tie the knot. Well, here's another resourceful solution—elope over breakfast.
Denny's, the popular breakfast-all-day diner, is planning to open a new location that will include a fully-functioning wedding chapel. Where, you ask? Vegas, of course.
The franchise plans to open a 6,432 square foot "flagship" restaurant in downtown Las Vegas—at the 250,000 square foot Neonopolis entertainment complex.
The restaurant will open its doors (and rings its wedding bells) by the end of the year.
But first, the obvious question: why? The Heart Beat spoke with the restaurant's chief marketing officer, Frances Allen, and she told us:
"We believe that it's part of the Las Vegas experience.  It's something that is so about Vegas; it's fun. We've had people get married at Denny's, in our restaurants across the country. So why not in Vegas, where everyone's looking for something more original to do?"
Neonopolis owner Rohit Joshi is already prepared. He filled us in on the details:
"You can now get married within a chapel in the Denny's. They've got a wedding chapel and they've got a complete bar. They've also got various areas for the receptions, the parties, the dinners, the lunches."
As odd as a Denny's-themed wedding may seem, keep in mind--this is an entire experience.
"First of all, it's going to be a lovely space within the dining room itself," Allen says. "Secondly, we just wanted to create an environment that wasn't normal—that was entertaining, exciting, a little over the top maybe. People love our food, and the place itself will be a very exciting, fun place to be. And this is for the people who want that kind of wedding experience."
Not to mention, there's plenty to do within the Neonopolis complex and in Vegas itself. So it's possible to finish your breakfast, have your wedding, and then head straight to the honeymoon.
"It's a good idea," Joshi adds. "I wish I could take credit for it. But it was Denny's idea."
They say breakfast is the most important meal of the day; I suppose that's especially true if breakfast includes a walk down the aisle.
Photo: Alan Diaz/AP
More Love & Sex from MSN Living:
Secrets of Happy Couples
9 Little Gestures He Wishes You'd Do
9 Things He's Thinking About the Wedding
love: friendships, dating, sex & marriage
The typical wedding: A white dress, tiered cake, floral centerpieces and a cute flower girl -- you know the drill. Every once in a while, though, a couple trades in tradition for a quirky, never-seen-that-before idea. Here are a few of the most out-there wedding photos that made us do a double take.

There's a lot to love about weddings this fall, like cocktails served in copper Moscow mule mugs, industrial-inspired lighting and pheasant feather details. See what's new!

Do you have to be engaged to sport a ring with bling?

124.6 million haven't gotten hitched.

Even though the national average wedding is $29,858, that's just an average. If you live in a smaller state like Idaho where the average wedding costs $16,159, you may find yourself saving a little more than half of the national spend! Check out some of the other least expensive cities to get married in below:

Summer is winding down, but the ubiquitous summer romance lives on.

For those times when nothing big and horrible happened--but nothing is feeling right either.

He's confident, distinguished and anywhere from 4 to 20 years older than you. Age is just a number, but there's something about older men that we love. Here are eight reasons why being in a relationship with an older man is tops.

While a younger man may have less life experience, that doesn't mean he's not emotionally mature. Here are the eight reasons why being in a relationship with a younger man is tops.

Have you ever wondered what the 'other woman' was thinking?

So fall is coming and you need some romantic inspiration now that long walks on the beach are out of the question. Well look no further! From apple picking to pumpkin carving, these are some great fall date ideas from girls just like you!

Getting bored of the same dinner and movie date night? Take an adorable cue from your favorite celebs and try something new! From dancing to boxing you can't go wrong with these awesome date ideas.