Anthony Weiner scandal 2.0: Are we a 'sexting nation'?
Nearly a fifth of adults in the U.S. say they use their smartphone for sexting — sharing explicit photos or text messages with others. Why do we do it?
Everybody loves a good political sex scandal. Take Anthony Weiner's most recent moral hiccup with Sydney Leathers, the 23-year-old who engaged in online sex chat with the married New York City mayoral candidate.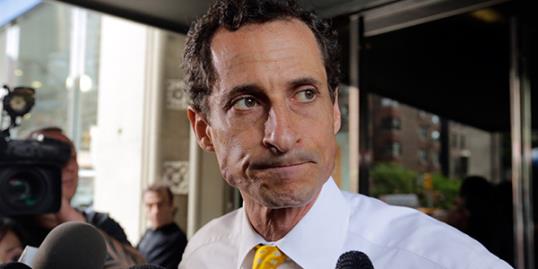 "Anthony Weiner may be in the headlines today, but many American adults are using social networking to spice up their sex lives," writes CNN.com columnist Roxanne Jones, citing a Harris Interactive poll in which nearly one in five adults said they had shared explicit photos or text messages with others.
MSN Living: The science of adult sexting: Is it primal?
"Sexting," or the sending of explicit text messages, tweets and the like, is on the rise among both married and single adults. Eighteen- to 34-year-old men are the biggest sexters (32 percent), but even baby boomers (10 percent) and parents with kids under the age of 18 (30 percent) are getting in on the racy smartphone action.
Why do people sext, especially when an NSFW (not suitable for work) message can result in major consequences? The possibilities for sexting missteps are obvious, including messages going to the wrong recipient, nude photos surfacing on a lost smartphone or an innocent flirtation turning into full-on infidelity.
So why do people send suggestive texts?
Perhaps it's a self-esteem issue, a way to create a false sense of intimacy. Or maybe it's something more primal, the notion that sending a text that gets the recipient hot and bothered creates power.  That's what Bethany Marshall, a marriage and family therapist in Beverly Hills, Calif., believes.
"Adults, particularly those in positions of power like politicians, sext because they want even more power," Marshall told ABC News in 2011.  "They want reassurance, they want the sexual stimulation, they want to think of themselves as sexually desirable."
MSN Living: 10 fun, frisky ways to spice up your relationship
But the risk of scandal and ridicule doesn't seem to deter people like Weiner, a serial offender. You'd think he'd learn his lesson after he accidentally tweeted a crotch shot to his (then) 45,000 followers in 2011. Even a nom de plume, Carlos Danger, couldn't conceal his indiscretion in this latest lewd stint.
Tell us: Why do you think we use mobile phone messaging — or sexting — for both intimacy and infidelity in a digital age?
Bing: How to keep your online life private
More from The Heart Beat: 
Poll: Working-class women who cheat want a sugar daddy
Study: Regular sex can make you look younger
Coffee shop lets customers pay with a kiss
Subscribe to The Heart Beat | Friend us on Facebook, follow us on Twitter and find us on Pinterest.
Photo: New York City mayoral candidate Anthony Weiner in New York on July 24. Weiner acknowledged sending explicit texts to a woman as recently as last summer, more than a year after sexting revelations destroyed his congressional career. (Richard Drew/AP)
love: friendships, dating, sex & marriage
Revealr is a new iPhone app that allows those looking for love to hear their possible matches before they see them.

A new poll reveals 59 percent of the country supports same-sex marriage.

Celebrity engagements are so much fun to follow because every detail is bound to be over-the-top — from the proposal (like when Kanye rented out an entire stadium to propose to Kim) to the huge, sparkly engagement ring and, of course, the wedding. Plus, as trendsetters, celebs can be a source of inspiration even if you can't afford a million dollar ring. Here are our celebrity wedding predictions for 2014.

If you've ever been to a club—like, ever, even once—you are not going to be shocked to hear that women get a lot of unwanted, aggressive attention. But when you read the findings of this study on how often and why it happens, it might make you feel downright sick to your stomach.

Hopeless romantics and cringe-worthy chick flicks would tell you that it doesn't matter what you do on the date, as long as you're together. But they're wrong. Dead wrong. Women use your date ideas to size you up, says matchmaker Rachel DeAlto, author of "Flirt Fearlessly." "You absolutely will be judged based on the date you plan. There are so many subconscious impressions that we take in while dating." Gulp. Here are 10 terrible ideas that can land you on the no-lay list—and simple swaps to keep her happy. By K. Aleisha Fetters

No matter your current relationship status or past relationship fails, get a fresh start this month, with these tips for spring cleaning your love life.

Forget the rules you've always heard—it's time to start making your own.

Are you in an affair without knowing it? Unless you're a swinger, having sex with someone else counts as cheating. But then there's the fuzzy area between friendship and infidelity—and chances are, your girlfriend sees those shades of gray as more black and white than you do. "Men aren't as attuned to identifying ambiguous behaviors as cheating as women are," says Daniel Kruger, Ph.D., a University of Michigan psychologist, who's studied gender differences in definitions of infidelity. In other words, what you consider totally innocent could be her deal breaker.

We spoke with relationship therapist Rachel A. Sussman, author of "The Breakup Bible," for her tips on how regular girls can survive a split like an A-lister.

A researcher from Texas Tech University has found that people who use the same kind of "function words" are more likely to get together.

Check out these five celebrity stunners.

And by weird, we really mean friggin' awesome.