Anthony Weiner scandal 2.0: Are we a 'sexting nation'?
Nearly a fifth of adults in the U.S. say they use their smartphone for sexting — sharing explicit photos or text messages with others. Why do we do it?
Everybody loves a good political sex scandal. Take Anthony Weiner's most recent moral hiccup with Sydney Leathers, the 23-year-old who engaged in online sex chat with the married New York City mayoral candidate.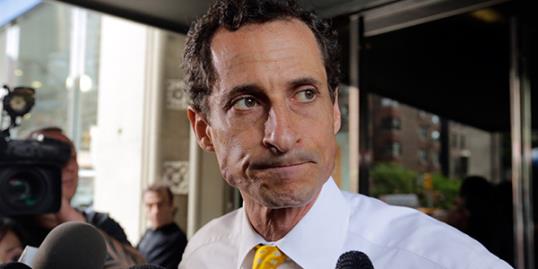 "Anthony Weiner may be in the headlines today, but many American adults are using social networking to spice up their sex lives," writes CNN.com columnist Roxanne Jones, citing a Harris Interactive poll in which nearly one in five adults said they had shared explicit photos or text messages with others.
MSN Living: The science of adult sexting: Is it primal?
"Sexting," or the sending of explicit text messages, tweets and the like, is on the rise among both married and single adults. Eighteen- to 34-year-old men are the biggest sexters (32 percent), but even baby boomers (10 percent) and parents with kids under the age of 18 (30 percent) are getting in on the racy smartphone action.
Why do people sext, especially when an NSFW (not suitable for work) message can result in major consequences? The possibilities for sexting missteps are obvious, including messages going to the wrong recipient, nude photos surfacing on a lost smartphone or an innocent flirtation turning into full-on infidelity.
So why do people send suggestive texts?
Perhaps it's a self-esteem issue, a way to create a false sense of intimacy. Or maybe it's something more primal, the notion that sending a text that gets the recipient hot and bothered creates power.  That's what Bethany Marshall, a marriage and family therapist in Beverly Hills, Calif., believes.
"Adults, particularly those in positions of power like politicians, sext because they want even more power," Marshall told ABC News in 2011.  "They want reassurance, they want the sexual stimulation, they want to think of themselves as sexually desirable."
MSN Living: 10 fun, frisky ways to spice up your relationship
But the risk of scandal and ridicule doesn't seem to deter people like Weiner, a serial offender. You'd think he'd learn his lesson after he accidentally tweeted a crotch shot to his (then) 45,000 followers in 2011. Even a nom de plume, Carlos Danger, couldn't conceal his indiscretion in this latest lewd stint.
Tell us: Why do you think we use mobile phone messaging — or sexting — for both intimacy and infidelity in a digital age?
Bing: How to keep your online life private
More from The Heart Beat: 
Poll: Working-class women who cheat want a sugar daddy
Study: Regular sex can make you look younger
Coffee shop lets customers pay with a kiss
Subscribe to The Heart Beat | Friend us on Facebook, follow us on Twitter and find us on Pinterest.
Photo: New York City mayoral candidate Anthony Weiner in New York on July 24. Weiner acknowledged sending explicit texts to a woman as recently as last summer, more than a year after sexting revelations destroyed his congressional career. (Richard Drew/AP)
love: friendships, dating, sex & marriage
The typical wedding: A white dress, tiered cake, floral centerpieces and a cute flower girl -- you know the drill. Every once in a while, though, a couple trades in tradition for a quirky, never-seen-that-before idea. Here are a few of the most out-there wedding photos that made us do a double take.

There's a lot to love about weddings this fall, like cocktails served in copper Moscow mule mugs, industrial-inspired lighting and pheasant feather details. See what's new!

Do you have to be engaged to sport a ring with bling?

124.6 million haven't gotten hitched.

Even though the national average wedding is $29,858, that's just an average. If you live in a smaller state like Idaho where the average wedding costs $16,159, you may find yourself saving a little more than half of the national spend! Check out some of the other least expensive cities to get married in below:

Summer is winding down, but the ubiquitous summer romance lives on.

For those times when nothing big and horrible happened--but nothing is feeling right either.

He's confident, distinguished and anywhere from 4 to 20 years older than you. Age is just a number, but there's something about older men that we love. Here are eight reasons why being in a relationship with an older man is tops.

While a younger man may have less life experience, that doesn't mean he's not emotionally mature. Here are the eight reasons why being in a relationship with a younger man is tops.

Have you ever wondered what the 'other woman' was thinking?

So fall is coming and you need some romantic inspiration now that long walks on the beach are out of the question. Well look no further! From apple picking to pumpkin carving, these are some great fall date ideas from girls just like you!

Getting bored of the same dinner and movie date night? Take an adorable cue from your favorite celebs and try something new! From dancing to boxing you can't go wrong with these awesome date ideas.