Anthony Weiner scandal 2.0: Are we a 'sexting nation'?
Nearly a fifth of adults in the U.S. say they use their smartphone for sexting — sharing explicit photos or text messages with others. Why do we do it?
Everybody loves a good political sex scandal. Take Anthony Weiner's most recent moral hiccup with Sydney Leathers, the 23-year-old who engaged in online sex chat with the married New York City mayoral candidate.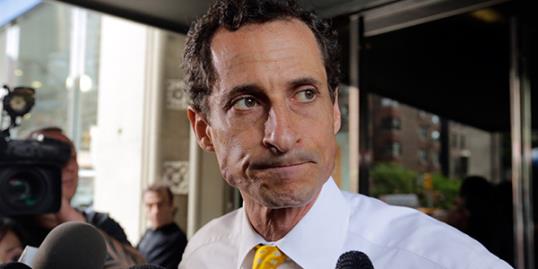 "Anthony Weiner may be in the headlines today, but many American adults are using social networking to spice up their sex lives," writes CNN.com columnist Roxanne Jones, citing a Harris Interactive poll in which nearly one in five adults said they had shared explicit photos or text messages with others.
MSN Living: The science of adult sexting: Is it primal?
"Sexting," or the sending of explicit text messages, tweets and the like, is on the rise among both married and single adults. Eighteen- to 34-year-old men are the biggest sexters (32 percent), but even baby boomers (10 percent) and parents with kids under the age of 18 (30 percent) are getting in on the racy smartphone action.
Why do people sext, especially when an NSFW (not suitable for work) message can result in major consequences? The possibilities for sexting missteps are obvious, including messages going to the wrong recipient, nude photos surfacing on a lost smartphone or an innocent flirtation turning into full-on infidelity.
So why do people send suggestive texts?
Perhaps it's a self-esteem issue, a way to create a false sense of intimacy. Or maybe it's something more primal, the notion that sending a text that gets the recipient hot and bothered creates power.  That's what Bethany Marshall, a marriage and family therapist in Beverly Hills, Calif., believes.
"Adults, particularly those in positions of power like politicians, sext because they want even more power," Marshall told ABC News in 2011.  "They want reassurance, they want the sexual stimulation, they want to think of themselves as sexually desirable."
MSN Living: 10 fun, frisky ways to spice up your relationship
But the risk of scandal and ridicule doesn't seem to deter people like Weiner, a serial offender. You'd think he'd learn his lesson after he accidentally tweeted a crotch shot to his (then) 45,000 followers in 2011. Even a nom de plume, Carlos Danger, couldn't conceal his indiscretion in this latest lewd stint.
Tell us: Why do you think we use mobile phone messaging — or sexting — for both intimacy and infidelity in a digital age?
Bing: How to keep your online life private
More from The Heart Beat: 
Poll: Working-class women who cheat want a sugar daddy
Study: Regular sex can make you look younger
Coffee shop lets customers pay with a kiss
Subscribe to The Heart Beat | Friend us on Facebook, follow us on Twitter and find us on Pinterest.
Photo: New York City mayoral candidate Anthony Weiner in New York on July 24. Weiner acknowledged sending explicit texts to a woman as recently as last summer, more than a year after sexting revelations destroyed his congressional career. (Richard Drew/AP)
love: friendships, dating, sex & marriage
Two guests arrested in New Jersey.

Celebrities certainly know how to travel in style, so if you're struggling to select a honeymoon destination, look no further than these star-approved hotspots. To make it even easier, we're providing you with hotel recommendations, packing essentials, and tips on what to do and see! So channel your inner celeb at one of these U.S. destinations for an unforgettable vacation!

Tall Twitter users named Wayne, we're on to you!

Should little girls be dreaming of a different kind of "I do"?

Need a reason to pack your bags and get the hell out of here?

After your return from your honeymoon, your marriage officially starts and with that come some changes. It's not to say that the honeymoon phase is over, but you'll have to get some things situated in order to have your marriage start off on the right foot. We tapped the expert advice of wedding planner and reality TV star David Tutera and love and career coach Charreah Jackson to dish on six things you must do to have a successful first month of marriage — from wedding-related logistics to wrap up to relationship rules to set.

Owner of Weddings in Vieques, a destination-wedding planning company off the coast of Puerto Rico, Sandy Malone has helped countless couples plan their big day since 2007. Here, the veteran planner is sharing some expert advice for free: She's sharing the top eight things you have to do right after you get engaged.

Is the idea of a big bridal bash just not your thing? Or perhaps you and your fiancé are just the super spontaneous type, so why not make your next beach vacation your nuptials as well? If you're thinking of eloping but have questions on the mind, we're here to help. We tapped elopement and wedding planner Lindsey Nickel, founder of Events, Etc., for her top dos and don'ts for getting hitched on the sly.

Easy everyday ways to keep the love alive.

Expert tips on moving past those oh-so-familiar arguments.

Sometimes you have to do things you don't want to do, like hang out with his lame friends. You're not always in the mood to nurse a beer silently while he and his boys argue about who's going to die next on "Game of Thrones" — but tomorrow he's sitting through a seven-girl brunch. So.

Why holding on to your partner's mistakes will end up hurting you.