Magazine features its first gay male couple
A historic move that's creating a buzz.
For the first time in its history, Jet magazine has featured a gay male couple in its popular 'Jet Love' weddings section.
The Dec. 10 issue of the mag, which hit newsstands last week, covers the wedding of Ravi Perry and Paris Prince, who married in the backyard of their Worcester, Mass. home.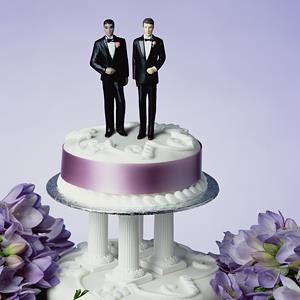 "Jet's publishing of our union is historic," the couple said.
Bing: See the couple.
Indeed it is. Jet has traditionally covered only straight couples, but in a country with an evolving stance on same sex marriage, the magazine has followed suit.
More on MSN Living: Most common holiday arguments—and how to avoid them
In a press release commending the magazine, GLAAD issued the following statement:
"This is yet another opportunity to applaud Jet magazine for continuing to highlight the diversity of the African-American community and to urge other media outlets to recognize that it's these stories that help grow acceptance of our community and give a voice to LGBT people of color who are too often invisible in the media."
More on MSN Living: The biggest rocks of 2012
The magazine explains that Ravi, a Mississippi State University assistant professor, met Paris, a compliance officer for the Massachusetts Commission Against Discrimination, while he was studying for his Ph.D. The couple's honeymoon included a seven-day road trip through the South.
"We thought it would be important to help demonstrate to the nation, and particularly to the black community, that this marriage was just as much of a reputable marriage as any other," Ravi told NPR.
And while the couple might have sought placement with that demonstration in mind, Jet Editor-in-Chief Mitzi Miller says their inclusion was less about a cause and more about the romance:
"They are just a lovely couple," the said.
Photo: Peter Dazeley/Getty Images
More Sex & Love on MSN Living:
10 places to meet a man for the holidays
7 strategies to divorce-proof marriages
The way to his heart after 1, 5 and 10 years of marriage
What does your engagement ring say about you
love: friendships, dating, sex & marriage
A new study says we're more open to consensual non-monogamy now than ever before — but does it work?

5 steps to being happy together in the long run.

There has been an exponential increase in the number of people who are questioning their marriage.

We're willing to bet that if you're not already grappling with these wedding-related snags, you will be soon.

Pull out the tissues for these personalized wedding vows.

Forgotten what love is all about? Read this note, and remember.

And a few that aren't so shocking.

If you find yourself doing any of these things, consider changing your behavior or counseling.

From pineapple sculptures made out of sunflowers to bold graphic printed tablecloths, ten trendsetters in the wedding industry shared 100 days' worth of inspiring new wedding details. See The Knot editors' top picks for the coolest and most awe-worthy ideas from the wedding experts.

Those Facebook friends who seem to have perfect lives with flawless mates whom they adore at all times? Even they face tough times like these.

How to flag her little fibs. By Laura Tedesco

A new study on attraction may help explain why fashions change.