Magazine features its first gay male couple
A historic move that's creating a buzz.
For the first time in its history, Jet magazine has featured a gay male couple in its popular 'Jet Love' weddings section.
The Dec. 10 issue of the mag, which hit newsstands last week, covers the wedding of Ravi Perry and Paris Prince, who married in the backyard of their Worcester, Mass. home.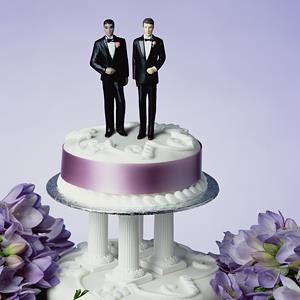 "Jet's publishing of our union is historic," the couple said.
Bing: See the couple.
Indeed it is. Jet has traditionally covered only straight couples, but in a country with an evolving stance on same sex marriage, the magazine has followed suit.
More on MSN Living: Most common holiday arguments—and how to avoid them
In a press release commending the magazine, GLAAD issued the following statement:
"This is yet another opportunity to applaud Jet magazine for continuing to highlight the diversity of the African-American community and to urge other media outlets to recognize that it's these stories that help grow acceptance of our community and give a voice to LGBT people of color who are too often invisible in the media."
More on MSN Living: The biggest rocks of 2012
The magazine explains that Ravi, a Mississippi State University assistant professor, met Paris, a compliance officer for the Massachusetts Commission Against Discrimination, while he was studying for his Ph.D. The couple's honeymoon included a seven-day road trip through the South.
"We thought it would be important to help demonstrate to the nation, and particularly to the black community, that this marriage was just as much of a reputable marriage as any other," Ravi told NPR.
And while the couple might have sought placement with that demonstration in mind, Jet Editor-in-Chief Mitzi Miller says their inclusion was less about a cause and more about the romance:
"They are just a lovely couple," the said.
Photo: Peter Dazeley/Getty Images
More Sex & Love on MSN Living:
10 places to meet a man for the holidays
7 strategies to divorce-proof marriages
The way to his heart after 1, 5 and 10 years of marriage
What does your engagement ring say about you
love: friendships, dating, sex & marriage
Two guests arrested in New Jersey.

Celebrities certainly know how to travel in style, so if you're struggling to select a honeymoon destination, look no further than these star-approved hotspots. To make it even easier, we're providing you with hotel recommendations, packing essentials, and tips on what to do and see! So channel your inner celeb at one of these U.S. destinations for an unforgettable vacation!

Tall Twitter users named Wayne, we're on to you!

Should little girls be dreaming of a different kind of "I do"?

Need a reason to pack your bags and get the hell out of here?

After your return from your honeymoon, your marriage officially starts and with that come some changes. It's not to say that the honeymoon phase is over, but you'll have to get some things situated in order to have your marriage start off on the right foot. We tapped the expert advice of wedding planner and reality TV star David Tutera and love and career coach Charreah Jackson to dish on six things you must do to have a successful first month of marriage — from wedding-related logistics to wrap up to relationship rules to set.

Owner of Weddings in Vieques, a destination-wedding planning company off the coast of Puerto Rico, Sandy Malone has helped countless couples plan their big day since 2007. Here, the veteran planner is sharing some expert advice for free: She's sharing the top eight things you have to do right after you get engaged.

Is the idea of a big bridal bash just not your thing? Or perhaps you and your fiancé are just the super spontaneous type, so why not make your next beach vacation your nuptials as well? If you're thinking of eloping but have questions on the mind, we're here to help. We tapped elopement and wedding planner Lindsey Nickel, founder of Events, Etc., for her top dos and don'ts for getting hitched on the sly.

Easy everyday ways to keep the love alive.

Expert tips on moving past those oh-so-familiar arguments.

Sometimes you have to do things you don't want to do, like hang out with his lame friends. You're not always in the mood to nurse a beer silently while he and his boys argue about who's going to die next on "Game of Thrones" — but tomorrow he's sitting through a seven-girl brunch. So.

Why holding on to your partner's mistakes will end up hurting you.