Magazine features its first gay male couple
A historic move that's creating a buzz.
For the first time in its history, Jet magazine has featured a gay male couple in its popular 'Jet Love' weddings section.
The Dec. 10 issue of the mag, which hit newsstands last week, covers the wedding of Ravi Perry and Paris Prince, who married in the backyard of their Worcester, Mass. home.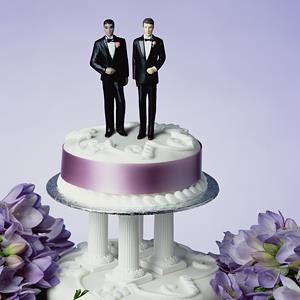 "Jet's publishing of our union is historic," the couple said.
Bing: See the couple.
Indeed it is. Jet has traditionally covered only straight couples, but in a country with an evolving stance on same sex marriage, the magazine has followed suit.
More on MSN Living: Most common holiday arguments—and how to avoid them
In a press release commending the magazine, GLAAD issued the following statement:
"This is yet another opportunity to applaud Jet magazine for continuing to highlight the diversity of the African-American community and to urge other media outlets to recognize that it's these stories that help grow acceptance of our community and give a voice to LGBT people of color who are too often invisible in the media."
More on MSN Living: The biggest rocks of 2012
The magazine explains that Ravi, a Mississippi State University assistant professor, met Paris, a compliance officer for the Massachusetts Commission Against Discrimination, while he was studying for his Ph.D. The couple's honeymoon included a seven-day road trip through the South.
"We thought it would be important to help demonstrate to the nation, and particularly to the black community, that this marriage was just as much of a reputable marriage as any other," Ravi told NPR.
And while the couple might have sought placement with that demonstration in mind, Jet Editor-in-Chief Mitzi Miller says their inclusion was less about a cause and more about the romance:
"They are just a lovely couple," the said.
Photo: Peter Dazeley/Getty Images
More Sex & Love on MSN Living:
10 places to meet a man for the holidays
7 strategies to divorce-proof marriages
The way to his heart after 1, 5 and 10 years of marriage
What does your engagement ring say about you
love: friendships, dating, sex & marriage
It's not that you don't find every little thing about your partner endearing and adorable; it's just that it would have been really, really nice if that map could have been consulted three hours ago.

The typical wedding: A white dress, tiered cake, floral centerpieces and a cute flower girl -- you know the drill. Every once in a while, though, a couple trades in tradition for a quirky, never-seen-that-before idea. Here are a few of the most out-there wedding photos that made us do a double take.

There's a lot to love about weddings this fall, like cocktails served in copper Moscow mule mugs, industrial-inspired lighting and pheasant feather details. See what's new!

Do you have to be engaged to sport a ring with bling?

124.6 million haven't gotten hitched.

Even though the national average wedding is $29,858, that's just an average. If you live in a smaller state like Idaho where the average wedding costs $16,159, you may find yourself saving a little more than half of the national spend! Check out some of the other least expensive cities to get married in below:

Summer is winding down, but the ubiquitous summer romance lives on.

For those times when nothing big and horrible happened--but nothing is feeling right either.

He's confident, distinguished and anywhere from 4 to 20 years older than you. Age is just a number, but there's something about older men that we love. Here are eight reasons why being in a relationship with an older man is tops.

While a younger man may have less life experience, that doesn't mean he's not emotionally mature. Here are the eight reasons why being in a relationship with a younger man is tops.

Have you ever wondered what the 'other woman' was thinking?

So fall is coming and you need some romantic inspiration now that long walks on the beach are out of the question. Well look no further! From apple picking to pumpkin carving, these are some great fall date ideas from girls just like you!