Magazine features its first gay male couple
A historic move that's creating a buzz.
For the first time in its history, Jet magazine has featured a gay male couple in its popular 'Jet Love' weddings section.
The Dec. 10 issue of the mag, which hit newsstands last week, covers the wedding of Ravi Perry and Paris Prince, who married in the backyard of their Worcester, Mass. home.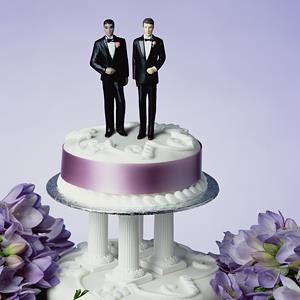 "Jet's publishing of our union is historic," the couple said.
Bing: See the couple.
Indeed it is. Jet has traditionally covered only straight couples, but in a country with an evolving stance on same sex marriage, the magazine has followed suit.
More on MSN Living: Most common holiday arguments—and how to avoid them
In a press release commending the magazine, GLAAD issued the following statement:
"This is yet another opportunity to applaud Jet magazine for continuing to highlight the diversity of the African-American community and to urge other media outlets to recognize that it's these stories that help grow acceptance of our community and give a voice to LGBT people of color who are too often invisible in the media."
More on MSN Living: The biggest rocks of 2012
The magazine explains that Ravi, a Mississippi State University assistant professor, met Paris, a compliance officer for the Massachusetts Commission Against Discrimination, while he was studying for his Ph.D. The couple's honeymoon included a seven-day road trip through the South.
"We thought it would be important to help demonstrate to the nation, and particularly to the black community, that this marriage was just as much of a reputable marriage as any other," Ravi told NPR.
And while the couple might have sought placement with that demonstration in mind, Jet Editor-in-Chief Mitzi Miller says their inclusion was less about a cause and more about the romance:
"They are just a lovely couple," the said.
Photo: Peter Dazeley/Getty Images
More Sex & Love on MSN Living:
10 places to meet a man for the holidays
7 strategies to divorce-proof marriages
The way to his heart after 1, 5 and 10 years of marriage
What does your engagement ring say about you
love: friendships, dating, sex & marriage
Want a classic round stone but an extra special setting? These stunning rings are not your average solitaire.

If you just got engaged, congrats! This is seriously exciting news that deserves lots of congratulatory hugs, "oohing" and "ahhing" over the ring and plenty of bubbly. To make sure you get the right response from friends, family and coworkers, avoid announcing your engagement like this…

All year long we laugh and cry along to some of the cutest, funniest and most creative proposals on the Internet. We've seen it all -- from marching bands to every kind of flash mob you can imagine. Here, we've narrowed down our favorites from this year.

John F. Kennedy reigned with his wife Jackie in the Washington golden age known as Camelot. They were young, beautiful and seemingly the perfect couple. But behind the scenes, it was a totally different story. JFK's affairs were as legendary as some of his conquests.

Persistent nagging could cause an avalanche of distrust the way an affair can.

Try these tried-and-true tricks from dating experts to detach the stage-five clinger in your life without being a heartbreaker.

We know that the winter doldrums can leave you lacking the spirit and inspiration needed to come up with steamy Saturday night plans, so we did it for you. Happy (early) holidays!

A guide to getting by and creating a productive and memorable experience.

Plus, the No. 1 reason for divorce.

Taking forever to get ready? Nagging him? See where it all ranks on the tolerable spectrum.

Looking for an afternoon delight? A dating service lists the most desirable locations for sex at work.

Breakups: They're an emotional time for everyone. Let's agree on a few ground rules, shall we?