Magazine features its first gay male couple
A historic move that's creating a buzz.
For the first time in its history, Jet magazine has featured a gay male couple in its popular 'Jet Love' weddings section.
The Dec. 10 issue of the mag, which hit newsstands last week, covers the wedding of Ravi Perry and Paris Prince, who married in the backyard of their Worcester, Mass. home.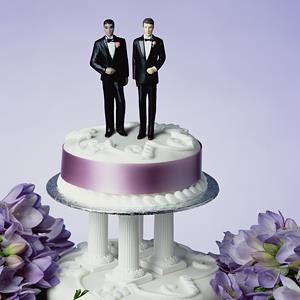 "Jet's publishing of our union is historic," the couple said.
Bing: See the couple.
Indeed it is. Jet has traditionally covered only straight couples, but in a country with an evolving stance on same sex marriage, the magazine has followed suit.
More on MSN Living: Most common holiday arguments—and how to avoid them
In a press release commending the magazine, GLAAD issued the following statement:
"This is yet another opportunity to applaud Jet magazine for continuing to highlight the diversity of the African-American community and to urge other media outlets to recognize that it's these stories that help grow acceptance of our community and give a voice to LGBT people of color who are too often invisible in the media."
More on MSN Living: The biggest rocks of 2012
The magazine explains that Ravi, a Mississippi State University assistant professor, met Paris, a compliance officer for the Massachusetts Commission Against Discrimination, while he was studying for his Ph.D. The couple's honeymoon included a seven-day road trip through the South.
"We thought it would be important to help demonstrate to the nation, and particularly to the black community, that this marriage was just as much of a reputable marriage as any other," Ravi told NPR.
And while the couple might have sought placement with that demonstration in mind, Jet Editor-in-Chief Mitzi Miller says their inclusion was less about a cause and more about the romance:
"They are just a lovely couple," the said.
Photo: Peter Dazeley/Getty Images
More Sex & Love on MSN Living:
10 places to meet a man for the holidays
7 strategies to divorce-proof marriages
The way to his heart after 1, 5 and 10 years of marriage
What does your engagement ring say about you
love: friendships, dating, sex & marriage
'There is a science behind attraction,' SingldOut says.

One minute you're happy and in love, the next he's delivering the "It's not you, it's me" speech. Why? We have the scoop on the real reasons most couples split up.

Want to keep your wedding budget in check? Start by checking out this list of the 10 things that could end up costing you a lot more than you anticipated.

Brace yourself, this is uncomfortable.

The proposal-filled site How He Asked has shared its top 10 most emotional proposal photos with us, so have your tissues handy. We're suckers for a good proposal story, and these ones are truly tear-worthy. Check them out now, and watch your heart grow (at least) three sizes!

How to do weddings: Yet another foreign (and expensive) aspect of adulthood that you have to learn the hard way. But have no fear! Click through for some must-have wedding tips.

As part of the 2014 Brides Best Honeymoon awards, we're counting down the best places for newlyweds to stay in the Mainland U.S. From luxe resorts in the Napa Valley to hotel oases in the Sedona Desert, you're guaranteed a memorable stay no matter which resort you choose.

These are the conversations all betrothed coupled should take the time to have before they get hitched.

For him they're NBD, so don't stress.

It's not always easy to speak up about the little—or big—things that bother you about your marriage, but some of this stuff may be on his mind.

It's not really about what happens, but how you react to what happens.

Etta James is No. 1 on Spotify ranking.