Best cities for a New Year's Eve kiss
Don't have your New Year's kiss planned? It may be time for a road trip.
Good news for those ringing in the New Year in Las Vegas, Orlando or New York—these cities have been named the best "New Year's Eve Kiss Destinations."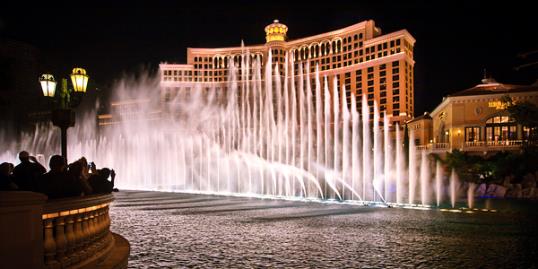 The folks at dating site MissTravel.com have compiled a list of the top destinations for swapping spit on New Year's Eve. From Nevada to Texas, some of the results may surprise you—other destinations seem about right.
More on MSN Living: Strangest dating trends of 2012
MissTravel.com is a "travel dating & travel companion site" for singles. And this year, a total of 9,052 New Year's Eve trips were planned through the site. Using data based on the specific destination cities where these trips were booked, the site compiled their own list of the most popular "New Year's Eve Kiss Destinations" throughout the country.
"Las Vegas was the most popular destination when it came to the perfect backdrop for a New Year's kiss," a spokesperson for MissTravel told MSN's The Heart Beat. "The number two most popular destination was Times Square. That was a classic location, of course."
More on MSN Living: 8 most common reasons for divorce
In addition to the old standbys, there were also a few less traditional New Year's Eve kiss destinations.
"A surprising destination we didn't expect was Disney World, Orlando," the spokesperson added. "Apparently there's a lot there that couples find romantic, whether it's fireworks or the overall energy of the place."
The site also conducted a survey among 2,000 of its members. They discovered that only 35 percent of those polled have ever received a New Year's Eve kiss, and the remaining 65 percent said their New Year's Eve kisses have come from "a travel companion, friend, family member or total stranger."
"It's understandable that there are less couples kissing on New Year's Eve," said Brandon Wade, founder of the site. "Unless you are in a serious relationship, people usually stay with their family and friends for New Year's Eve."
Below are the top ten New Year's Eve Kiss Destinations, including the number of trips that were planned. Pucker up, and Happy New Year!
The Fountains at the Bellagio - Las Vegas, NV (410)

Times Square – New York City, NY (377)

Disney World – Orlando, FL (367)

Kauai, Hawaii (359)

Crystal Gardens at Navy Pier – Chicago, IL (337)

The Queen Mary – Long Beach, CA (310)

Jackson Square, New Orleans, LA (284)

Big D NYE – Dallas, TX (191)

Universal City Walk – Los Angeles, CA (103)
Space Needle – Seattle, WA (100)
Photo: Ed Norton/Getty Images
Bing: Latest New Year's Eve headlines.
More from The Heart Beat:
Study ranks the top 15 cities for singles
Couples split over bad gifts, poll finds
Study: Couples cuddle eight times a week
love: friendships, dating, sex & marriage
Because some things are just better with a buddy (whom you happen to be dating).

They're smart, funny, and adorable, but are you a good match?

Fight the urge to sign her up for OkCupid and read this instead.

We know you have good intentions, but...please...stop.

You can't say we didn't warn you. Every month is Movember when you're dating a guy with a beard. And while the scruffy look can be hot, there are some very real, err, challenges that come with the territory. Don't believe us? Well…

Follow these steps to slash your wedding budget—not your fun—in half.

It won't all be cake and flowers, but it can be the best year of your life together so far.

Expert tips on moving past those oh-so-familiar arguments.

Grow as a couple by sharing adventures.

For many married couples, falling in love and saying "I do" was the easy part. Living happily ever after is the part that takes a whole lot of work.

Is your relationship headed for splitsville? Here are some tell-tale signs of a pending breakup.