Best cities for a New Year's Eve kiss
Don't have your New Year's kiss planned? It may be time for a road trip.
Good news for those ringing in the New Year in Las Vegas, Orlando or New York—these cities have been named the best "New Year's Eve Kiss Destinations."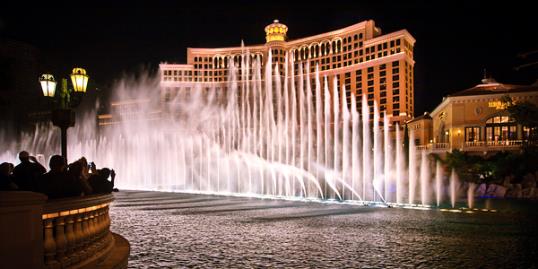 The folks at dating site MissTravel.com have compiled a list of the top destinations for swapping spit on New Year's Eve. From Nevada to Texas, some of the results may surprise you—other destinations seem about right.
More on MSN Living: Strangest dating trends of 2012
MissTravel.com is a "travel dating & travel companion site" for singles. And this year, a total of 9,052 New Year's Eve trips were planned through the site. Using data based on the specific destination cities where these trips were booked, the site compiled their own list of the most popular "New Year's Eve Kiss Destinations" throughout the country.
"Las Vegas was the most popular destination when it came to the perfect backdrop for a New Year's kiss," a spokesperson for MissTravel told MSN's The Heart Beat. "The number two most popular destination was Times Square. That was a classic location, of course."
More on MSN Living: 8 most common reasons for divorce
In addition to the old standbys, there were also a few less traditional New Year's Eve kiss destinations.
"A surprising destination we didn't expect was Disney World, Orlando," the spokesperson added. "Apparently there's a lot there that couples find romantic, whether it's fireworks or the overall energy of the place."
The site also conducted a survey among 2,000 of its members. They discovered that only 35 percent of those polled have ever received a New Year's Eve kiss, and the remaining 65 percent said their New Year's Eve kisses have come from "a travel companion, friend, family member or total stranger."
"It's understandable that there are less couples kissing on New Year's Eve," said Brandon Wade, founder of the site. "Unless you are in a serious relationship, people usually stay with their family and friends for New Year's Eve."
Below are the top ten New Year's Eve Kiss Destinations, including the number of trips that were planned. Pucker up, and Happy New Year!
The Fountains at the Bellagio - Las Vegas, NV (410)

Times Square – New York City, NY (377)

Disney World – Orlando, FL (367)

Kauai, Hawaii (359)

Crystal Gardens at Navy Pier – Chicago, IL (337)

The Queen Mary – Long Beach, CA (310)

Jackson Square, New Orleans, LA (284)

Big D NYE – Dallas, TX (191)

Universal City Walk – Los Angeles, CA (103)
Space Needle – Seattle, WA (100)
Photo: Ed Norton/Getty Images
Bing: Latest New Year's Eve headlines.
More from The Heart Beat:
Study ranks the top 15 cities for singles
Couples split over bad gifts, poll finds
Study: Couples cuddle eight times a week
love: friendships, dating, sex & marriage
This just in: A new study shows girls are warriors in the womb.

You can make a pros and cons list...but ultimately you know what works best for you.

Maggie Reyes is a life coach, writer, and the founder of ModernMarried.com. She helps newlyweds re-think what married life can be. Here, she's revealing tricks every newlywed couple needs to know.

Government-supported Vietnamese classes teach women Korean language, customs.

Whether you're into creative artists or uber-preppy bankers, there's something to be said for trying something new.

Sometimes two characters on a TV show or movie can portray being a happy couple effortlessly, or can have lots of fun playing former spouses — especially if they're married to each other in real life! Keep scrolling for six celebrity costars you probably didn't know tied the knot, even after the bloodiest and craziest story lines.

Some couples want nothing more than a laid-back, by-the-book proposal. Then there are the other couples, where the proposal not only needs to be personalized, it also has to be unique and entirely different than the typical restaurant, bended-knee idea. Sound like you? Then get inspired by some of the most creative proposal ideas we've ever seen. If you find something you like, steal it and then modify it to make your proposal something totally unforgettable.

From Nantucket all the way to Cayo Espanto, we've rounded up some of the prettiest beaches to travel to for your honeymoon.

Researchers studied the age-old stereotype that women really are more talkative than men.

'There is a science behind attraction,' SingldOut says.

One minute you're happy and in love, the next he's delivering the "It's not you, it's me" speech. Why? We have the scoop on the real reasons most couples split up.

Want to keep your wedding budget in check? Start by checking out this list of the 10 things that could end up costing you a lot more than you anticipated.