Best cities for a New Year's Eve kiss
Don't have your New Year's kiss planned? It may be time for a road trip.
Good news for those ringing in the New Year in Las Vegas, Orlando or New York—these cities have been named the best "New Year's Eve Kiss Destinations."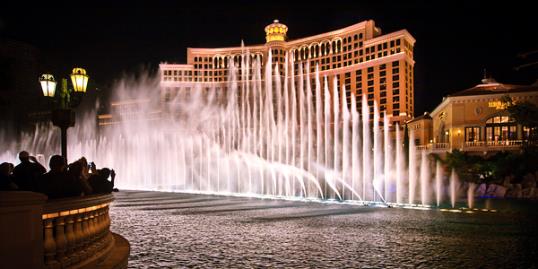 The folks at dating site MissTravel.com have compiled a list of the top destinations for swapping spit on New Year's Eve. From Nevada to Texas, some of the results may surprise you—other destinations seem about right.
More on MSN Living: Strangest dating trends of 2012
MissTravel.com is a "travel dating & travel companion site" for singles. And this year, a total of 9,052 New Year's Eve trips were planned through the site. Using data based on the specific destination cities where these trips were booked, the site compiled their own list of the most popular "New Year's Eve Kiss Destinations" throughout the country.
"Las Vegas was the most popular destination when it came to the perfect backdrop for a New Year's kiss," a spokesperson for MissTravel told MSN's The Heart Beat. "The number two most popular destination was Times Square. That was a classic location, of course."
More on MSN Living: 8 most common reasons for divorce
In addition to the old standbys, there were also a few less traditional New Year's Eve kiss destinations.
"A surprising destination we didn't expect was Disney World, Orlando," the spokesperson added. "Apparently there's a lot there that couples find romantic, whether it's fireworks or the overall energy of the place."
The site also conducted a survey among 2,000 of its members. They discovered that only 35 percent of those polled have ever received a New Year's Eve kiss, and the remaining 65 percent said their New Year's Eve kisses have come from "a travel companion, friend, family member or total stranger."
"It's understandable that there are less couples kissing on New Year's Eve," said Brandon Wade, founder of the site. "Unless you are in a serious relationship, people usually stay with their family and friends for New Year's Eve."
Below are the top ten New Year's Eve Kiss Destinations, including the number of trips that were planned. Pucker up, and Happy New Year!
The Fountains at the Bellagio - Las Vegas, NV (410)

Times Square – New York City, NY (377)

Disney World – Orlando, FL (367)

Kauai, Hawaii (359)

Crystal Gardens at Navy Pier – Chicago, IL (337)

The Queen Mary – Long Beach, CA (310)

Jackson Square, New Orleans, LA (284)

Big D NYE – Dallas, TX (191)

Universal City Walk – Los Angeles, CA (103)
Space Needle – Seattle, WA (100)
Photo: Ed Norton/Getty Images
Bing: Latest New Year's Eve headlines.
More from The Heart Beat:
Study ranks the top 15 cities for singles
Couples split over bad gifts, poll finds
Study: Couples cuddle eight times a week
love: friendships, dating, sex & marriage
Two guests arrested in New Jersey.

Celebrities certainly know how to travel in style, so if you're struggling to select a honeymoon destination, look no further than these star-approved hotspots. To make it even easier, we're providing you with hotel recommendations, packing essentials, and tips on what to do and see! So channel your inner celeb at one of these U.S. destinations for an unforgettable vacation!

Tall Twitter users named Wayne, we're on to you!

Should little girls be dreaming of a different kind of "I do"?

Need a reason to pack your bags and get the hell out of here?

After your return from your honeymoon, your marriage officially starts and with that come some changes. It's not to say that the honeymoon phase is over, but you'll have to get some things situated in order to have your marriage start off on the right foot. We tapped the expert advice of wedding planner and reality TV star David Tutera and love and career coach Charreah Jackson to dish on six things you must do to have a successful first month of marriage — from wedding-related logistics to wrap up to relationship rules to set.

Owner of Weddings in Vieques, a destination-wedding planning company off the coast of Puerto Rico, Sandy Malone has helped countless couples plan their big day since 2007. Here, the veteran planner is sharing some expert advice for free: She's sharing the top eight things you have to do right after you get engaged.

Is the idea of a big bridal bash just not your thing? Or perhaps you and your fiancé are just the super spontaneous type, so why not make your next beach vacation your nuptials as well? If you're thinking of eloping but have questions on the mind, we're here to help. We tapped elopement and wedding planner Lindsey Nickel, founder of Events, Etc., for her top dos and don'ts for getting hitched on the sly.

Easy everyday ways to keep the love alive.

Expert tips on moving past those oh-so-familiar arguments.

Sometimes you have to do things you don't want to do, like hang out with his lame friends. You're not always in the mood to nurse a beer silently while he and his boys argue about who's going to die next on "Game of Thrones" — but tomorrow he's sitting through a seven-girl brunch. So.

Why holding on to your partner's mistakes will end up hurting you.