5 haunted date night spots
When date night gets spooky ...
A ghost army? Haunted playhouses? Eerie bars? It's the most wonderful (and creepy) time of year!
For those of you who share a love of being scared with your partners, we've got some perfect date ideas from all over the country to spook you two together!
Here's where to scream and hold each other close, whether you're in New York or Arizona.
1. Moon River Brewing Company, Savannah, Georgia
This restaurant, bar and brewing facility is famous for its warm atmosphere and delicious menu, but it is reportedly also an ultra-haunted spot where you may run into a Civil War ghost — perfect for beginning or ending your creepy Halloween evening together.
More from Your Tango: Couples' Halloween Costume Contest: Enter To Win A Trip For Two!
2. Grand Army of the Republic Cemetery, Seattle, Washington
For the serious lovers of all things weird and eerie, you two can take a walk through this 110-year-old cemetery in Seattle. It's rumored to have the ghosts of Civil War soldiers marching to battle. And if there's anything more creepy than one ghost, it's a ghost army.
More from Your Tango: 50 Couples Halloween Costumes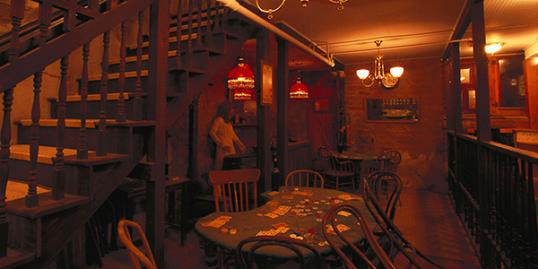 Photo: ​Historic Poker Table, Bird Cage Theatre, Tombstone Arizona (©Holger Leue,  LOOK Die Bildagentur der Fotografen GmbH / Alamy)\
From a city named "Tombstone," would you expect anything but ultra creepy entertainment? This was the site of saloon during the 1880s popular with gamblers, drinkers and other fun folks that could wind up being entertaining ghosts. Nowadays, ghost hunters from popular shows like "Ghost Adventures" and "Fact Or Fake: Paranormal Files" have come to investigate the location. Non-TV guests can check out the history (both living and haunted) via ghost tours, so if you and your partner are intrigued by cool Western history, check it out!
Having grown up in Syracuse, the Landmark Theater is near and dear to my heart. It's a beautiful building from 1928 that has an incredible history. That said, I would never, ever go there after dark on my own; I've heard too much about the young woman who supposedly haunts the theater, "Claire" or "Clarice," depending on who you ask. A theater that inspired Syracuse native Bruce Coville's "The Ghost In The Third Row", a whole book about a haunted playhouse? Eh, I have a feeling it's best to just admire during the day. That said, if you happen to catch one of the many amazing events in the Landmark Theater, you too may wind up seeing a glimpse of the ghost! From a safe distance, of course.
Want to have a sophisticated night out together in a swanky spot with a spooky history? The Campbell Apartment is your place. Located in the Grand Central Terminal, it's a beautiful spot to have drinks for a date night — and to potentially spot paranormal activity, suspected to be John W. Campbell, the railroad tycoon who formerly occupied the space.

looks like msn removed the address. thumbs down to you pricks! the place is Manresa Castle in Port Townsend, WA 
web has a site at haunted honey moons dot you know.
stayed here once on a kind of 2nd honeymoon. never heard the ghost stories until we returned to the neighboring town we lived in from other locals. wife claimed she saw the jesuit ascending the stairs to the upper levels that guests are barred from. I just had that creepy feeling from time to time that ghosts have all the time. did have one of the strangest nights sleep in memory. kind of like I was haunting the place. of course this was all after being pretty waxed in the bar followed by a late night dinner, and yes getting laid. 
Are you sure you want to delete this comment?
love: friendships, dating, sex & marriage
Here's why dudes without hair make the best boyfriends.

What do you wish you appreciated more when you were flying solo?

"If you're so busy tweeting and Instagraming, you're not paying attention," New York wedding planner Marcy Blum said. "It's almost a cosmic faux pas. People want your energy with them and focused on what they're doing."

The wedding favor, that little thank-you-for-coming gift, has risen to new heights with the bride and groom giving guests a wide range of favors that are meaningful to them.

Generations ago, planning a wedding was 100 percent the bride's job, but in today's age of gender equity, it's a mere 99 percent.

For all the self-help books and advice columns out there (um, keeping reading my advice anyway, please!), there's one tool we all already have in our arsenal for picking a partner that will keep us happy: our gut instincts.

According to a new study from the University of Texas and the University of California, Los Angeles, both men and women have regrets when it comes to sex, but the genders vary greatly when it comes to what they regret specifically.

Spending time alone with your guy is easy, but going public with your plus-one is another thing entirely. Whether it's your crazy relatives at Thanksgiving dinner or awkward convos with your boss at the holiday party, possible pitfalls are everywhere. Keep reading for tips on how to make his grand entrance into your social life a good thing.

Match.com survey reveals the day you're least likely to get spruced up for a date.

Drinking and relationships seem to go hand in hand in a lot of ways. But only in moderation!

Many men will tell you that they have no clue what their wives are thinking.

Spending the holidays with your guy's family for the first time is a huge relationship milestone. But between your nerves, the usual family tension, and your weird Uncle Sal's inappropriate stories, it's also a prime opportunity for total disaster. Read on for 10 of our readers' most embarrassing meet-the-parents moments.