Forget Seven Year Itch, Couples Now Splitting After Three
Some are calling it the 'Three Year Ditch.'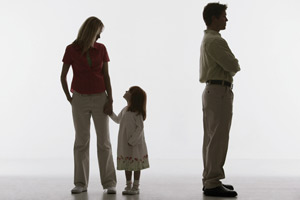 More couples are breaking up at or around the three-year mark, according to a new study done in Ireland. New research carried out by parenting website Netmums shows that 21 percent of couples split up between two and four years together. Worse, 12 percent split within a year.
1,500 parents were interviewed and nearly half of them (42 percent) said that having children had driven them apart. Four out of five of those interviewed said that their relationship suffered because they were so exhausted by the birth of a new baby or looking after a child. According to the study: 
"Having children was shown to be the biggest flash point for sparking relationship problems."
But hey, let's not blame it all on the kids. The study pointed out a growing trend in "fast forward" partnerships. Basically, couples get together too quickly and decide to settle down without really knowing each other very well. They then make the biggest commitment: starting a family. And that's when the relationship gets stressful.
Netmums founder Siobhan Freegard explained:
"Relationships are tough at the best of times but having children puts an extra strain on them. Add in lack of time, exhaustion, work and money worries and maybe it's little surprise couples are splitting up earlier than ever before."
Also, one in 14 of those interviewed admitted to scratching their itch, a.k.a. having an affair.
"The research shows we are then giving up too quickly," Freegard says, adding that there are "simple" ways to save your marriage or relationship:
"Taking time to really listen to each other, can be the key to keeping love alive and remind you why you first fell in love."
I imagine that's not easy to do when you've got a four-year-old hurling Cheerios across the room, but you get the idea.
Photo: Getty Images
love: friendships, dating, sex & marriage
The outlandish things we do for love have no limits; just ask these guys. Who's hugged the longest? Kissed the longest? Been on the most expensive date? Take a look below as we count down the world's most loving record-breakers.

If you just got engaged, congrats! This is seriously exciting news that deserves lots of congratulatory hugs, "oohing" and "ahhing" over the ring and plenty of bubbly. To make sure you get the right response from friends, family and coworkers, avoid announcing your engagement like this…

Ladies, give yourself the best gift of all this season: The NYC Taxi Driver 2014 Calendar. By Michelle Toglia

Pheromones may be the key to finding your perfect match.

Her partner? Wine? Downtime? Find out where it all ranks.

This time of year, we dust off our holiday traditions of special songs, stories, events and food to make our season bright. Here's a look into the traditional, unique and quirky holiday traditions of some famous couples.

Look, I looooove engagement season for obvious reasons, but even I can admit I'm like, "Really, AGAIN?" when yet ANOTHER engagement ring pops up in my news feed. Seriously, there were two this weekend. (Congrats, Gemma and Danny!)

We asked real men and women (and a few first-base experts, too) to give us the cardinal rules of kissing, tell us what makes someone a good kisser and more. So whether you're leaning in for kiss No. 1 or 1,000, read on.by Devin Tomb

Not quite sure which diamond shape suits your personality? We're here to help.

Dating can lead to all kinds of tricky situations. To help you navigate even the most awkward moments, we've compiled our 50 best dating tips—some new, some old—given to us by experts, moms, women like you, and even Justin Timberlake.

Customers as Madison's new Snuggle House can snuggle with professional cuddlers for $60 an hour.

Can you believe it was only about 15 years ago that engagement ring shopping meant a time-consuming slog from jewelry boutique to jewelry boutique? Thank goodness for the internet; nowadays, it's easy to do all that legwork online.