Forget Seven Year Itch, Couples Now Splitting After Three
Some are calling it the 'Three Year Ditch.'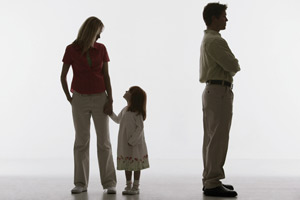 More couples are breaking up at or around the three-year mark, according to a new study done in Ireland. New research carried out by parenting website Netmums shows that 21 percent of couples split up between two and four years together. Worse, 12 percent split within a year.
1,500 parents were interviewed and nearly half of them (42 percent) said that having children had driven them apart. Four out of five of those interviewed said that their relationship suffered because they were so exhausted by the birth of a new baby or looking after a child. According to the study: 
"Having children was shown to be the biggest flash point for sparking relationship problems."
But hey, let's not blame it all on the kids. The study pointed out a growing trend in "fast forward" partnerships. Basically, couples get together too quickly and decide to settle down without really knowing each other very well. They then make the biggest commitment: starting a family. And that's when the relationship gets stressful.
Netmums founder Siobhan Freegard explained:
"Relationships are tough at the best of times but having children puts an extra strain on them. Add in lack of time, exhaustion, work and money worries and maybe it's little surprise couples are splitting up earlier than ever before."
Also, one in 14 of those interviewed admitted to scratching their itch, a.k.a. having an affair.
"The research shows we are then giving up too quickly," Freegard says, adding that there are "simple" ways to save your marriage or relationship:
"Taking time to really listen to each other, can be the key to keeping love alive and remind you why you first fell in love."
I imagine that's not easy to do when you've got a four-year-old hurling Cheerios across the room, but you get the idea.
Photo: Getty Images
love: friendships, dating, sex & marriage
Love it or hate it, the selfie wields much power.

Talk about some blurred lines.

Come on people, it's not that hard to mind your own business.

No sense in wasting your time on someone who will never commit.

There he is, the man of your dreams. He's sitting across from you at the coffee shop or standing at the opposite side of the bar. His eyes meet yours, a quick glance, and then it's back to his drink. Was he giving you a signal?

Remember that time on "30 Rock" when Liz Lemon and her eventual-husband Criss went shopping at Ikea, only to end up in a major fight? We know it couldn't be closer to the truth because we've all been there. In honor of the irritation that can be Ikea, here are the top fights you'll likely encounter.

Dating doesn't have to be a daunting task, promise. Here's how to make it fun for you and him.

One woman's honest journey to divorce will break your heart and inspire you at the same time.

Want to send your date running? Try one these moves.

Two guests arrested in New Jersey.

Celebrities certainly know how to travel in style, so if you're struggling to select a honeymoon destination, look no further than these star-approved hotspots. To make it even easier, we're providing you with hotel recommendations, packing essentials, and tips on what to do and see! So channel your inner celeb at one of these U.S. destinations for an unforgettable vacation!

Tall Twitter users named Wayne, we're on to you!