Women call the shots, study finds
In most couples, women are the decision-makers.
James Brown told us that it's a man's world, but this study might beg to differ. According to the Pew Research Center, it's women who have the final say on many household decisions.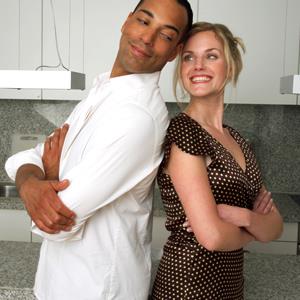 The organization interviewed over 1,000 adults who were married or living with a partner and asked them who was in charge of making the decisions in four areas of domestic life. For a whopping 43 percent of couples, women are calling the shots. Men make the decisions in only 26 percent of relationships, the study found, while 31 percent of couples say they divide the decisions equally.
More on MSN Living: 10 foolproof ways to get in the mood
So what are the four areas in which women are wearing the pants?
Weekend plans
For 46 percent of couples, weekend plans are made together. But for those couples in which one partner primarily has control, it's the woman calling the shots. Twenty-eight percent of couples said that the woman decides what to do on weekends, while only 16 percent of couples put the man in charge of those activities.
Major household purchases
Again, nearly half of couples have equal control over the decisions in this area. But in those couples with one person in control, that person is the woman. In 30 percent of couples surveyed, the woman decides on big purchases for the home. That number was 19 percent for men.
More on MSN Living: The real reasons men shut down
Managing the finances
The study found that women are more likely than men to manage the household finances (38 percent vs. 30 percent). Interestingly, couples are more likely to share decision making about weekend plans than the household budget. Only 28 percent of couples manage the finances together.
Television viewing
And finally, who controls the remote? This is the one area that was the most evenly split, with women deciding what to watch in 27 percent of relationships and men controlling the remote in 26 percent.
Overall, more women (15 percent) than men (9 percent) take the lead in making decisions in three or more of these areas.
What do you think—who calls the shots in your relationship?
Bing: 2012 divorce rate?
Photo: Stefanie Sudek-Mensch/Getty Images
More Sex & Love on MSN Living:
How to pick a wedding band that works with your engagement ring
Wedding welcome basket shopping list
7 stories of lost wedding rings with happy endings 
Most common holiday arguments—and how to avoid them
love: friendships, dating, sex & marriage
Juan Pablo will be joining his two chosen finalists for one more rose ceremony tonight. You know you'll be watching—and so will we.

Revealr is a new iPhone app that allows those looking for love to hear their possible matches before they see them.

A new poll reveals 59 percent of the country supports same-sex marriage.

Celebrity engagements are so much fun to follow because every detail is bound to be over-the-top — from the proposal (like when Kanye rented out an entire stadium to propose to Kim) to the huge, sparkly engagement ring and, of course, the wedding. Plus, as trendsetters, celebs can be a source of inspiration even if you can't afford a million dollar ring. Here are our celebrity wedding predictions for 2014.

If you've ever been to a club—like, ever, even once—you are not going to be shocked to hear that women get a lot of unwanted, aggressive attention. But when you read the findings of this study on how often and why it happens, it might make you feel downright sick to your stomach.

Hopeless romantics and cringe-worthy chick flicks would tell you that it doesn't matter what you do on the date, as long as you're together. But they're wrong. Dead wrong. Women use your date ideas to size you up, says matchmaker Rachel DeAlto, author of "Flirt Fearlessly." "You absolutely will be judged based on the date you plan. There are so many subconscious impressions that we take in while dating." Gulp. Here are 10 terrible ideas that can land you on the no-lay list—and simple swaps to keep her happy. By K. Aleisha Fetters

No matter your current relationship status or past relationship fails, get a fresh start this month, with these tips for spring cleaning your love life.

Forget the rules you've always heard—it's time to start making your own.

Are you in an affair without knowing it? Unless you're a swinger, having sex with someone else counts as cheating. But then there's the fuzzy area between friendship and infidelity—and chances are, your girlfriend sees those shades of gray as more black and white than you do. "Men aren't as attuned to identifying ambiguous behaviors as cheating as women are," says Daniel Kruger, Ph.D., a University of Michigan psychologist, who's studied gender differences in definitions of infidelity. In other words, what you consider totally innocent could be her deal breaker.

We spoke with relationship therapist Rachel A. Sussman, author of "The Breakup Bible," for her tips on how regular girls can survive a split like an A-lister.

A researcher from Texas Tech University has found that people who use the same kind of "function words" are more likely to get together.

Check out these five celebrity stunners.