Women call the shots, study finds
In most couples, women are the decision-makers.
James Brown told us that it's a man's world, but this study might beg to differ. According to the Pew Research Center, it's women who have the final say on many household decisions.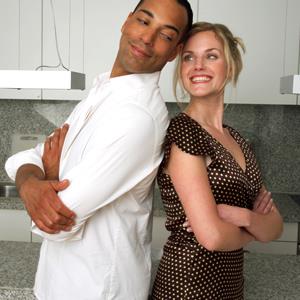 The organization interviewed over 1,000 adults who were married or living with a partner and asked them who was in charge of making the decisions in four areas of domestic life. For a whopping 43 percent of couples, women are calling the shots. Men make the decisions in only 26 percent of relationships, the study found, while 31 percent of couples say they divide the decisions equally.
More on MSN Living: 10 foolproof ways to get in the mood
So what are the four areas in which women are wearing the pants?
Weekend plans
For 46 percent of couples, weekend plans are made together. But for those couples in which one partner primarily has control, it's the woman calling the shots. Twenty-eight percent of couples said that the woman decides what to do on weekends, while only 16 percent of couples put the man in charge of those activities.
Major household purchases
Again, nearly half of couples have equal control over the decisions in this area. But in those couples with one person in control, that person is the woman. In 30 percent of couples surveyed, the woman decides on big purchases for the home. That number was 19 percent for men.
More on MSN Living: The real reasons men shut down
Managing the finances
The study found that women are more likely than men to manage the household finances (38 percent vs. 30 percent). Interestingly, couples are more likely to share decision making about weekend plans than the household budget. Only 28 percent of couples manage the finances together.
Television viewing
And finally, who controls the remote? This is the one area that was the most evenly split, with women deciding what to watch in 27 percent of relationships and men controlling the remote in 26 percent.
Overall, more women (15 percent) than men (9 percent) take the lead in making decisions in three or more of these areas.
What do you think—who calls the shots in your relationship?
Bing: 2012 divorce rate?
Photo: Stefanie Sudek-Mensch/Getty Images
More Sex & Love on MSN Living:
How to pick a wedding band that works with your engagement ring
Wedding welcome basket shopping list
7 stories of lost wedding rings with happy endings 
Most common holiday arguments—and how to avoid them
love: friendships, dating, sex & marriage
This just in: A new study shows girls are warriors in the womb.

You can make a pros and cons list...but ultimately you know what works best for you.

Maggie Reyes is a life coach, writer, and the founder of ModernMarried.com. She helps newlyweds re-think what married life can be. Here, she's revealing tricks every newlywed couple needs to know.

Government-supported Vietnamese classes teach women Korean language, customs.

Whether you're into creative artists or uber-preppy bankers, there's something to be said for trying something new.

Sometimes two characters on a TV show or movie can portray being a happy couple effortlessly, or can have lots of fun playing former spouses — especially if they're married to each other in real life! Keep scrolling for six celebrity costars you probably didn't know tied the knot, even after the bloodiest and craziest story lines.

Some couples want nothing more than a laid-back, by-the-book proposal. Then there are the other couples, where the proposal not only needs to be personalized, it also has to be unique and entirely different than the typical restaurant, bended-knee idea. Sound like you? Then get inspired by some of the most creative proposal ideas we've ever seen. If you find something you like, steal it and then modify it to make your proposal something totally unforgettable.

From Nantucket all the way to Cayo Espanto, we've rounded up some of the prettiest beaches to travel to for your honeymoon.

Researchers studied the age-old stereotype that women really are more talkative than men.

'There is a science behind attraction,' SingldOut says.

One minute you're happy and in love, the next he's delivering the "It's not you, it's me" speech. Why? We have the scoop on the real reasons most couples split up.

Want to keep your wedding budget in check? Start by checking out this list of the 10 things that could end up costing you a lot more than you anticipated.