Women call the shots, study finds
In most couples, women are the decision-makers.
James Brown told us that it's a man's world, but this study might beg to differ. According to the Pew Research Center, it's women who have the final say on many household decisions.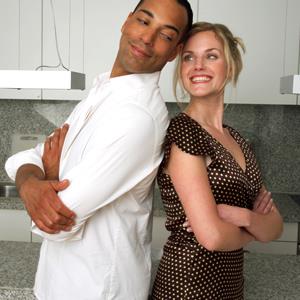 The organization interviewed over 1,000 adults who were married or living with a partner and asked them who was in charge of making the decisions in four areas of domestic life. For a whopping 43 percent of couples, women are calling the shots. Men make the decisions in only 26 percent of relationships, the study found, while 31 percent of couples say they divide the decisions equally.
More on MSN Living: 10 foolproof ways to get in the mood
So what are the four areas in which women are wearing the pants?
Weekend plans
For 46 percent of couples, weekend plans are made together. But for those couples in which one partner primarily has control, it's the woman calling the shots. Twenty-eight percent of couples said that the woman decides what to do on weekends, while only 16 percent of couples put the man in charge of those activities.
Major household purchases
Again, nearly half of couples have equal control over the decisions in this area. But in those couples with one person in control, that person is the woman. In 30 percent of couples surveyed, the woman decides on big purchases for the home. That number was 19 percent for men.
More on MSN Living: The real reasons men shut down
Managing the finances
The study found that women are more likely than men to manage the household finances (38 percent vs. 30 percent). Interestingly, couples are more likely to share decision making about weekend plans than the household budget. Only 28 percent of couples manage the finances together.
Television viewing
And finally, who controls the remote? This is the one area that was the most evenly split, with women deciding what to watch in 27 percent of relationships and men controlling the remote in 26 percent.
Overall, more women (15 percent) than men (9 percent) take the lead in making decisions in three or more of these areas.
What do you think—who calls the shots in your relationship?
Bing: 2012 divorce rate?
Photo: Stefanie Sudek-Mensch/Getty Images
More Sex & Love on MSN Living:
How to pick a wedding band that works with your engagement ring
Wedding welcome basket shopping list
7 stories of lost wedding rings with happy endings 
Most common holiday arguments—and how to avoid them
love: friendships, dating, sex & marriage
While we do love crazy, funny and over-the-top engagements, sometimes there's just nothing like a proposal with a heartfelt story behind it (warning: you might need some tissues). We've rounded up some of the most romantic wedding proposals from couples across the country, so keep scrolling for seven of our favorites:

As much as you'd like to think your guests will love every single aspect of your wedding, the truth is you really can't please everyone. However, you can try to avoid ticking them off. Here's how.

You'd think brides and grooms who celebrate their nuptials with 50 guests have an equal shot at wedded bliss as those who invite 500, but apparently not.

Because some things are just better with a buddy (whom you happen to be dating).

They're smart, funny, and adorable, but are you a good match?

Fight the urge to sign her up for OkCupid and read this instead.

We know you have good intentions, but...please...stop.

You can't say we didn't warn you. Every month is Movember when you're dating a guy with a beard. And while the scruffy look can be hot, there are some very real, err, challenges that come with the territory. Don't believe us? Well…

Follow these steps to slash your wedding budget—not your fun—in half.

It won't all be cake and flowers, but it can be the best year of your life together so far.

Expert tips on moving past those oh-so-familiar arguments.