Poll: 'The perfect man' at every age
What do women want? Depends on her age.
Ladies, are the qualities you look for in a partner considerably different than they were when you first started dating? If so, you're not alone.
Youth brings self-discovery, but with age comes wisdom and experience. Thus, it's not surprising that our tastes change as we get older. According to recent research from Match.com, a woman's idea of "the perfect man" at age 24 is drastically different than her definition at age 55.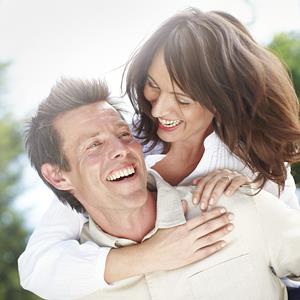 More on MSN Living: 12 things we learned about love in 2012
In their annual LoveGeist report, Match.com polled a range of women, asking them to describe qualities that "the perfect man" would possess. Titled "The Ages of Man," the report breaks these qualities down according to age range.
Overall, they found that women over 55 were the pickiest daters.
'These women take the long-term view that commitment requires humor, intelligence and shared values," said Dr. Cecilia D'Felice, a relationship expert for Match.com. "Having experienced different relationships, they know exactly what they want and, importantly, what they don't."
More on MSN Living: 12 things that change about sex when you get married
According to the report, ladies between the ages of 18 and 24 value a partner who shares an interest in music and movies. Of the women polled in that age range, "shared tastes in music, films and books" were far more important than at any other age. For these young women, the perfect guy would also be friend-approved.
There are a few qualities that are more important to women between the ages of 25 and 34 than at any other age: ambition, sexual compatibility and physical attraction.
"As we grow in confidence and invest in our own careers, partners who are doing the same become very attractive to us," D'Felice told the Daily Mail.
Women between the ages of 35 and 44 are the most willing to date a younger man, the poll found. Manners are also a priority for this age range, with less than one percent of ladies saying they'd be tolerant of a partner with bad manners.
Bing: 5 types of the perfect man.
At this age, 73 percent of women also say they'd be willing to date a man five years their senior. Providing he minds his Ps and Qs, of course.
Of the women surveyed between the ages of 45 and 54, ninety-five percent stressed the importance of personal security. Those women were most likely to look for a man who made them feel secure. Interestingly, the poll found that this is also the least picky age range.
"At this stage women are becoming increasingly confident," D'Felice said. "They are prepared to take risks and perhaps seek out new adventures; they are not afraid to search for passion, but still understand that feeling secure is a vital ingredient for happiness."
High income is also more important to women in this age range than any other.
At age 55, women find intelligence and shared values to be most attractive. Forty-five percent of women surveyed in this age range say that sexual compatibility is still an important factor in a relationship.
"Subtle shifts in development create a well-rounded perspective on relationships, stressing the importance of friendship as well as sexual resonance," D'Felice said.
Sorry, guys, no consensus on the perfect woman at every age, but why don't you tell us—what qualities in a partner do you find most attractive? Have your dating tastes changed as you've gotten older?
Photo: Stígur Karlsson/Getty images
More from The Heart Beat:
Survey: Meet 'the perfect man'
Poll: Women don't marry the best sex of their lives
TV romance may ruin your real life relationship, study finds
love: friendships, dating, sex & marriage
How to flag her little fibs. By Laura Tedesco

A new study on attraction may help explain why fashions change.

As a general rule, any island that offers great weather year-round is going to attract the most visitors in the winter (high season) when we're all trying to escape the snow. Once summer rolls around, many islands see a sharp drop-off in tourism since many people have beach weather right in their own backyards.

And how you can attack the issues together.

A wedding is an exceptionally special day. Sometimes, an opportune photo flub makes the occasion even more memorable. Here are 25 awesome wedding photo bombs.

Somewhere between the first few butterfly-inducing dates and the committed-for-life stage, there's the period of wondering if you're both on the same page about how serious you feel about a future together. If you're not quite at the point of "that talk" but you're looking for a few clues you're heading in that direction, here are some signs he's in it for the long haul as your relationship progresses.

What's that sound? It's white noise blocking out the well-meaning person proclaiming groundbreaking news about where you can meet someone, asking why you're still single, or bugging you about when you're getting married already. Don't be that person. Here are 15 annoying things all single people don't want to hear.

With just a few days left before the big day, you already have a mile-long checklist of to-dos—now meet the don'ts! From impromptu skin treatments to all-night movie marathons, here are 11 things to avoid at all costs.

A new study shows that watching and discussing romantic films can drastically reduce your chance of divorce. These flicks more than fit the bill.

These seemingly innocent phrases still have the power to wound… big time.

Making "I do" last forever is one of the biggest challenges you'll ever face—and it's normal to worry about how you'll do it. But, if your connection involves any of these things, rest assured that you're in it for the long run.

Ultimately, as hard as it may seem at the beginning, a marital affair can be a turning point.