Poll: 'The perfect man' at every age
What do women want? Depends on her age.
Ladies, are the qualities you look for in a partner considerably different than they were when you first started dating? If so, you're not alone.
Youth brings self-discovery, but with age comes wisdom and experience. Thus, it's not surprising that our tastes change as we get older. According to recent research from Match.com, a woman's idea of "the perfect man" at age 24 is drastically different than her definition at age 55.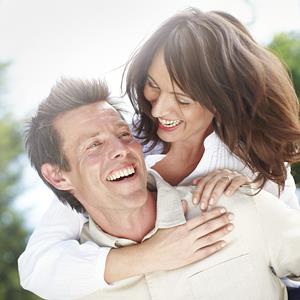 More on MSN Living: 12 things we learned about love in 2012
In their annual LoveGeist report, Match.com polled a range of women, asking them to describe qualities that "the perfect man" would possess. Titled "The Ages of Man," the report breaks these qualities down according to age range.
Overall, they found that women over 55 were the pickiest daters.
'These women take the long-term view that commitment requires humor, intelligence and shared values," said Dr. Cecilia D'Felice, a relationship expert for Match.com. "Having experienced different relationships, they know exactly what they want and, importantly, what they don't."
More on MSN Living: 12 things that change about sex when you get married
According to the report, ladies between the ages of 18 and 24 value a partner who shares an interest in music and movies. Of the women polled in that age range, "shared tastes in music, films and books" were far more important than at any other age. For these young women, the perfect guy would also be friend-approved.
There are a few qualities that are more important to women between the ages of 25 and 34 than at any other age: ambition, sexual compatibility and physical attraction.
"As we grow in confidence and invest in our own careers, partners who are doing the same become very attractive to us," D'Felice told the Daily Mail.
Women between the ages of 35 and 44 are the most willing to date a younger man, the poll found. Manners are also a priority for this age range, with less than one percent of ladies saying they'd be tolerant of a partner with bad manners.
Bing: 5 types of the perfect man.
At this age, 73 percent of women also say they'd be willing to date a man five years their senior. Providing he minds his Ps and Qs, of course.
Of the women surveyed between the ages of 45 and 54, ninety-five percent stressed the importance of personal security. Those women were most likely to look for a man who made them feel secure. Interestingly, the poll found that this is also the least picky age range.
"At this stage women are becoming increasingly confident," D'Felice said. "They are prepared to take risks and perhaps seek out new adventures; they are not afraid to search for passion, but still understand that feeling secure is a vital ingredient for happiness."
High income is also more important to women in this age range than any other.
At age 55, women find intelligence and shared values to be most attractive. Forty-five percent of women surveyed in this age range say that sexual compatibility is still an important factor in a relationship.
"Subtle shifts in development create a well-rounded perspective on relationships, stressing the importance of friendship as well as sexual resonance," D'Felice said.
Sorry, guys, no consensus on the perfect woman at every age, but why don't you tell us—what qualities in a partner do you find most attractive? Have your dating tastes changed as you've gotten older?
Photo: Stígur Karlsson/Getty images
More from The Heart Beat:
Survey: Meet 'the perfect man'
Poll: Women don't marry the best sex of their lives
TV romance may ruin your real life relationship, study finds
love: friendships, dating, sex & marriage
It's not that you don't find every little thing about your partner endearing and adorable; it's just that it would have been really, really nice if that map could have been consulted three hours ago.

The typical wedding: A white dress, tiered cake, floral centerpieces and a cute flower girl -- you know the drill. Every once in a while, though, a couple trades in tradition for a quirky, never-seen-that-before idea. Here are a few of the most out-there wedding photos that made us do a double take.

There's a lot to love about weddings this fall, like cocktails served in copper Moscow mule mugs, industrial-inspired lighting and pheasant feather details. See what's new!

Do you have to be engaged to sport a ring with bling?

124.6 million haven't gotten hitched.

Even though the national average wedding is $29,858, that's just an average. If you live in a smaller state like Idaho where the average wedding costs $16,159, you may find yourself saving a little more than half of the national spend! Check out some of the other least expensive cities to get married in below:

Summer is winding down, but the ubiquitous summer romance lives on.

For those times when nothing big and horrible happened--but nothing is feeling right either.

He's confident, distinguished and anywhere from 4 to 20 years older than you. Age is just a number, but there's something about older men that we love. Here are eight reasons why being in a relationship with an older man is tops.

While a younger man may have less life experience, that doesn't mean he's not emotionally mature. Here are the eight reasons why being in a relationship with a younger man is tops.

Have you ever wondered what the 'other woman' was thinking?

So fall is coming and you need some romantic inspiration now that long walks on the beach are out of the question. Well look no further! From apple picking to pumpkin carving, these are some great fall date ideas from girls just like you!