Brains Over Beauty: Looks Less Important to Modern Men
Researchers study how gender equality affects attraction.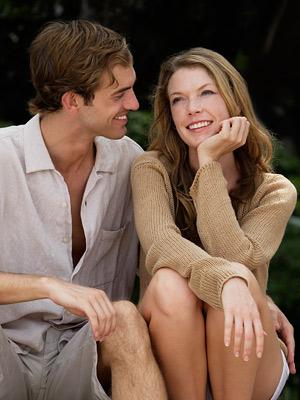 Some scientists argue that evolution has the biggest influence on which traits men and women find most attractive. But a recent study from the University of York in England finds that gender equality might be more influential when it comes to how people choose their partners.
Intelligence beats beauty when it comes to qualities modern men find most attractive in a woman, but according to the study, contemporary women's tastes tend to lean on the shallow side.
Dr. Marcel Zentner and Klaudia Mitura, of York's Department of Psychology, surveyed 12,000 people in more than 30 countries to find out what traits they looked for when searching for a partner. They also took into consideration each country's Global Gender Gap Index (GGI), a "measure that was recently introduced by World Economic Forum to iron out shortcomings of earlier gender parity measures," the University reports.
According to Zentner, in countries with greater gender equality, "men place increasing value on other qualities, like intelligence, rather than curvy figures or skill at cooking."
When it comes to modern women, Zentner says men may want to step it up in the looks department. He's quoted as having told the Sunday Times:

"Men can relax about having to build up wealth but may benefit from looking after their looks a little more."
The study found that women living in those gender-equal countries no longer feel like they need a man to provide for them. Therefore, they're free to pursue more shallow traits.
"We found that as women become more equal, their preference [for wealthy men] declines and men's looks become much more important," Zentner said.
Interestingly, while modern women seem to place less importance on breadwinning, another study shows that some men still feel inadequate when they earn less than their female partners.
Related video: 5 Ways to Strengthen Your Relationship
It might be quick to write that inadequacy off as sexist, but it could be an understandable concern. Many men argue that, despite the gender gap closing, certain double standards exist — men are often expected to pay for a first date, for example.
Apparently, despite advancements in gender equality, some men still feel they're judged by their net worth. As one commenter expressed:
"Duh. Women are judged by looks, men by income."
Zentner's study shows otherwise, however. Apparently, as the gender gap closes, new judgments are emerging.
Photo: Asia Images/Getty Images
More love and sex on MSN Living:
Crazy Marriage Proposals
Weird Wild World of Modern Love
Most Romantic Date Destinations in America
25 Reasons Why Married Sex is Better
love: friendships, dating, sex & marriage
Forgotten what love is all about? Read this note, and remember.

And a few that aren't so shocking.

If you find yourself doing any of these things, consider changing your behavior or counseling.

From pineapple sculptures made out of sunflowers to bold graphic printed tablecloths, ten trendsetters in the wedding industry shared 100 days' worth of inspiring new wedding details. See The Knot editors' top picks for the coolest and most awe-worthy ideas from the wedding experts.

Those Facebook friends who seem to have perfect lives with flawless mates whom they adore at all times? Even they face tough times like these.

How to flag her little fibs. By Laura Tedesco

A new study on attraction may help explain why fashions change.

As a general rule, any island that offers great weather year-round is going to attract the most visitors in the winter (high season) when we're all trying to escape the snow. Once summer rolls around, many islands see a sharp drop-off in tourism since many people have beach weather right in their own backyards.

And how you can attack the issues together.

A wedding is an exceptionally special day. Sometimes, an opportune photo flub makes the occasion even more memorable. Here are 25 awesome wedding photo bombs.

Somewhere between the first few butterfly-inducing dates and the committed-for-life stage, there's the period of wondering if you're both on the same page about how serious you feel about a future together. If you're not quite at the point of "that talk" but you're looking for a few clues you're heading in that direction, here are some signs he's in it for the long haul as your relationship progresses.

What's that sound? It's white noise blocking out the well-meaning person proclaiming groundbreaking news about where you can meet someone, asking why you're still single, or bugging you about when you're getting married already. Don't be that person. Here are 15 annoying things all single people don't want to hear.