Brains Over Beauty: Looks Less Important to Modern Men
Researchers study how gender equality affects attraction.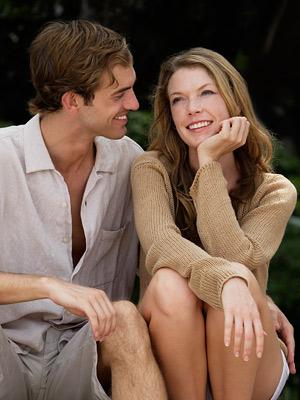 Some scientists argue that evolution has the biggest influence on which traits men and women find most attractive. But a recent study from the University of York in England finds that gender equality might be more influential when it comes to how people choose their partners.
Intelligence beats beauty when it comes to qualities modern men find most attractive in a woman, but according to the study, contemporary women's tastes tend to lean on the shallow side.
Dr. Marcel Zentner and Klaudia Mitura, of York's Department of Psychology, surveyed 12,000 people in more than 30 countries to find out what traits they looked for when searching for a partner. They also took into consideration each country's Global Gender Gap Index (GGI), a "measure that was recently introduced by World Economic Forum to iron out shortcomings of earlier gender parity measures," the University reports.
According to Zentner, in countries with greater gender equality, "men place increasing value on other qualities, like intelligence, rather than curvy figures or skill at cooking."
When it comes to modern women, Zentner says men may want to step it up in the looks department. He's quoted as having told the Sunday Times:

"Men can relax about having to build up wealth but may benefit from looking after their looks a little more."
The study found that women living in those gender-equal countries no longer feel like they need a man to provide for them. Therefore, they're free to pursue more shallow traits.
"We found that as women become more equal, their preference [for wealthy men] declines and men's looks become much more important," Zentner said.
Interestingly, while modern women seem to place less importance on breadwinning, another study shows that some men still feel inadequate when they earn less than their female partners.
Related video: 5 Ways to Strengthen Your Relationship
It might be quick to write that inadequacy off as sexist, but it could be an understandable concern. Many men argue that, despite the gender gap closing, certain double standards exist — men are often expected to pay for a first date, for example.
Apparently, despite advancements in gender equality, some men still feel they're judged by their net worth. As one commenter expressed:
"Duh. Women are judged by looks, men by income."
Zentner's study shows otherwise, however. Apparently, as the gender gap closes, new judgments are emerging.
Photo: Asia Images/Getty Images
More love and sex on MSN Living:
Crazy Marriage Proposals
Weird Wild World of Modern Love
Most Romantic Date Destinations in America
25 Reasons Why Married Sex is Better
love: friendships, dating, sex & marriage
No sense in wasting your time on someone who will never commit.

There he is, the man of your dreams. He's sitting across from you at the coffee shop or standing at the opposite side of the bar. His eyes meet yours, a quick glance, and then it's back to his drink. Was he giving you a signal?

Remember that time on "30 Rock" when Liz Lemon and her eventual-husband Criss went shopping at Ikea, only to end up in a major fight? We know it couldn't be closer to the truth because we've all been there. In honor of the irritation that can be Ikea, here are the top fights you'll likely encounter.

Love it or hate it, the selfie wields much power.

Dating doesn't have to be a daunting task, promise. Here's how to make it fun for you and him.

One woman's honest journey to divorce will break your heart and inspire you at the same time.

Want to send your date running? Try one these moves.

Two guests arrested in New Jersey.

Celebrities certainly know how to travel in style, so if you're struggling to select a honeymoon destination, look no further than these star-approved hotspots. To make it even easier, we're providing you with hotel recommendations, packing essentials, and tips on what to do and see! So channel your inner celeb at one of these U.S. destinations for an unforgettable vacation!

Tall Twitter users named Wayne, we're on to you!

Should little girls be dreaming of a different kind of "I do"?

Need a reason to pack your bags and get the hell out of here?