A workaholic wife may signal marital trouble
More time in the office could mean trouble in paradise.
Wife working late? A new study says it might be a sign that divorce is right around the corner.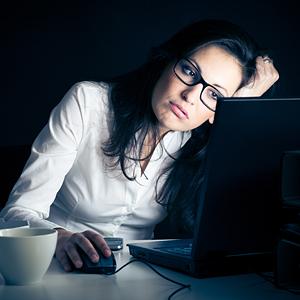 Researchers from the London School of Economics studied the legalization of divorce in Ireland to determine how the rates of marriage breakdown affect women's participation in the workforce. They found that for every 1 percent increase in the risk of marital breakdown, women work an extra 12 minutes per week.
Related: 50 signs he's not that into you
"We see that women who are at a higher risk of divorce significantly increase how much they work. And it isn't that women working outside the home are more likely to get divorced," Dr. Berkay Ozcan, the study's lead researcher, explained of the findings.
While the simple answer may be that women spend more time at work to avoid marital strife, Ozcan says it's a bit more complex.
Related: 20 'annoying' girl things he secretly loves about you
"Rather, faced with a rising probability of divorce, women work more, whether they ultimately separate or not. They are working as a form of insurance in case of divorce or in anticipation of it."
Essentially, women who think divorce may be in their future work more in an attempt to secure "their outside options." For men, this link didn't exist — their productivity remained the same whether their marriage was on the rocks or not.
The researchers found that, following the legislation, married women increased their work hours by around 18 percent. While it might seem like a smart move to secure your role at work amid the looming threat of a costly divorce, Ozcan says there's a definite downside:
"Women who have secured their outside options, in case of divorce, may have done so, at least in the short run, at the expense of their leisure time and potentially their well-being."
Photo: Nullplus/Getty Images
Bing: Kardashian divorce rumors 
More Sex & Love on MSN Living:
How to determine if he's marriage material
10 habits that keep marriages strong
Marriage counselors: The trickiest issues we've ever solved
50 unique engagement rings
love: friendships, dating, sex & marriage
Brad Pitt and Angelina Jolie finally took the plunge, but marriage isn't always a good choice for everyone.

Learn how these surprising tactics can really improve your relationship.

Use these tips to up your chances of finding love.

Find out how paired-off ladies might feel lacking—and how you can make your relationship satisfying.

These signals are seriously subtle, but they can give you real insight into what's going through your husband's mind.

Check which changes are necessary to stay happy together.

We know some of this may sound obvious, but these simple statements can make both of you happier.

Making your relationship more secure, connected, and intimate doesn't have to feel overwhelming. Try these expert tips and reap the rewards now—and in the long run.

For those times when nothing big and horrible happened--but nothing is feeling right either.

What's more fun than animals in weddings? We've rounded up eight of the cutest.

Your puppy is all over your Instagram, Facebook and fridge, so there's no reason not to include him in your engagement pictures too. The best engagement photos give viewers a peek into your life. If you're a dog owner, take this opportunity to show off your pooch, like these 22 couples did! And we can't thank them enough.

Our married blogger gets real about checking out other guys when you're taken.