A workaholic wife may signal marital trouble
More time in the office could mean trouble in paradise.
Wife working late? A new study says it might be a sign that divorce is right around the corner.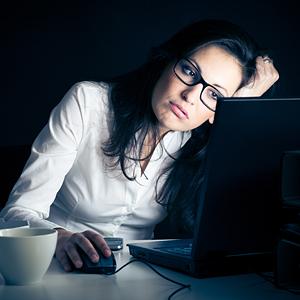 Researchers from the London School of Economics studied the legalization of divorce in Ireland to determine how the rates of marriage breakdown affect women's participation in the workforce. They found that for every 1 percent increase in the risk of marital breakdown, women work an extra 12 minutes per week.
Related: 50 signs he's not that into you
"We see that women who are at a higher risk of divorce significantly increase how much they work. And it isn't that women working outside the home are more likely to get divorced," Dr. Berkay Ozcan, the study's lead researcher, explained of the findings.
While the simple answer may be that women spend more time at work to avoid marital strife, Ozcan says it's a bit more complex.
Related: 20 'annoying' girl things he secretly loves about you
"Rather, faced with a rising probability of divorce, women work more, whether they ultimately separate or not. They are working as a form of insurance in case of divorce or in anticipation of it."
Essentially, women who think divorce may be in their future work more in an attempt to secure "their outside options." For men, this link didn't exist — their productivity remained the same whether their marriage was on the rocks or not.
The researchers found that, following the legislation, married women increased their work hours by around 18 percent. While it might seem like a smart move to secure your role at work amid the looming threat of a costly divorce, Ozcan says there's a definite downside:
"Women who have secured their outside options, in case of divorce, may have done so, at least in the short run, at the expense of their leisure time and potentially their well-being."
Photo: Nullplus/Getty Images
Bing: Kardashian divorce rumors 
More Sex & Love on MSN Living:
How to determine if he's marriage material
10 habits that keep marriages strong
Marriage counselors: The trickiest issues we've ever solved
50 unique engagement rings
love: friendship, dating, sex & marriage
The perfect wedding toast is a work of oratory art. It can't be too short (cheers!) and it can't drone on and on. It has to be funny but it also has to be sentimental. So if you've been tasked with toasting the newlyweds, prepare to prep -- and whatever you do, avoid these toasting faux pas!

We've made picking your palette a breeze! Just find your favorite hue and choose one of the cool combos below.

Get inspired with these twelve ideas for a fantastic, fun summer wedding!

What's worse than getting snubbed while proposing? Having your heart broken in front of countless strangers.

Want your I do's to be totally you? From pre-wedding cocktails to Mad Lib vows, here are 25 ways to make your ceremony as unforgettable as your reception.

Summer love can be sweet. But it tends to be fast, feverish and often fleeting. In a season where emotions run hot, here are some rules to help avoid heartbreak.

We asked brides on TheKnot.com to tell all -- and they did. Here, five of the most likely culprits and advice for how to deal with your drama-causing guests along the way.

This short course in flirting will not only teach you how to flirt better but also how to tell when someone is flirting with you—and how to respond. Have fun.

Gatsby glamour doesn't have to just live on the big screen! Embrace the trendy (yet timeless) art deco style with sequins, pearls, feathers and geometric patterns. Check out these art deco ideas and achieve the feel of 1920s decadence. By the way, all of these are affordable, except for the $600 hairpiece which is a splurge, but a knockout. Shop the look!

Who says a special outing with the hubby has to empty your wallet? These fresh, fun activities require no cash at all, so work your way down the list.

Wondering if your summer love will last? Here are 15 signs if your seasonal love is fleeting or for real.

Sixteen years after "Titanic's" release—and 101 years after the historic ship's notorious sinking—our hearts still go on for star-crossed lovers Rose DeWitt Bukater (Kate Winslet) and Jack Dawson (Leonardo DiCaprio). We rounded up some of our favorite ill-fated, but oh-so-romantic affairs on film, from "Gone with the Wind" to "Moulin Rouge!".