A workaholic wife may signal marital trouble
More time in the office could mean trouble in paradise.
Wife working late? A new study says it might be a sign that divorce is right around the corner.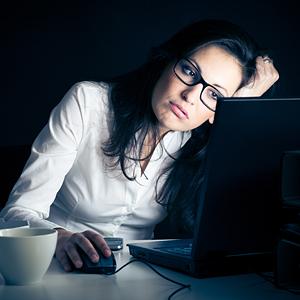 Researchers from the London School of Economics studied the legalization of divorce in Ireland to determine how the rates of marriage breakdown affect women's participation in the workforce. They found that for every 1 percent increase in the risk of marital breakdown, women work an extra 12 minutes per week.
Related: 50 signs he's not that into you
"We see that women who are at a higher risk of divorce significantly increase how much they work. And it isn't that women working outside the home are more likely to get divorced," Dr. Berkay Ozcan, the study's lead researcher, explained of the findings.
While the simple answer may be that women spend more time at work to avoid marital strife, Ozcan says it's a bit more complex.
Related: 20 'annoying' girl things he secretly loves about you
"Rather, faced with a rising probability of divorce, women work more, whether they ultimately separate or not. They are working as a form of insurance in case of divorce or in anticipation of it."
Essentially, women who think divorce may be in their future work more in an attempt to secure "their outside options." For men, this link didn't exist — their productivity remained the same whether their marriage was on the rocks or not.
The researchers found that, following the legislation, married women increased their work hours by around 18 percent. While it might seem like a smart move to secure your role at work amid the looming threat of a costly divorce, Ozcan says there's a definite downside:
"Women who have secured their outside options, in case of divorce, may have done so, at least in the short run, at the expense of their leisure time and potentially their well-being."
Photo: Nullplus/Getty Images
Bing: Kardashian divorce rumors 
More Sex & Love on MSN Living:
How to determine if he's marriage material
10 habits that keep marriages strong
Marriage counselors: The trickiest issues we've ever solved
50 unique engagement rings
love: friendships, dating, sex & marriage
It's wedding season! Let's take a look back at when these stunning celebs put on gorgeous gowns and held beautiful bouquets in support of their friends' and family members' big days.

A new study says we're more open to consensual non-monogamy now than ever before — but does it work?

5 steps to being happy together in the long run.

There has been an exponential increase in the number of people who are questioning their marriage.

We're willing to bet that if you're not already grappling with these wedding-related snags, you will be soon.

Pull out the tissues for these personalized wedding vows.

Forgotten what love is all about? Read this note, and remember.

And a few that aren't so shocking.

If you find yourself doing any of these things, consider changing your behavior or counseling.

From pineapple sculptures made out of sunflowers to bold graphic printed tablecloths, ten trendsetters in the wedding industry shared 100 days' worth of inspiring new wedding details. See The Knot editors' top picks for the coolest and most awe-worthy ideas from the wedding experts.

Those Facebook friends who seem to have perfect lives with flawless mates whom they adore at all times? Even they face tough times like these.

How to flag her little fibs. By Laura Tedesco