A workaholic wife may signal marital trouble
More time in the office could mean trouble in paradise.
Wife working late? A new study says it might be a sign that divorce is right around the corner.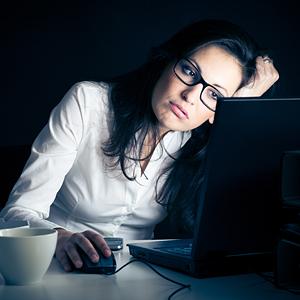 Researchers from the London School of Economics studied the legalization of divorce in Ireland to determine how the rates of marriage breakdown affect women's participation in the workforce. They found that for every 1 percent increase in the risk of marital breakdown, women work an extra 12 minutes per week.
Related: 50 signs he's not that into you
"We see that women who are at a higher risk of divorce significantly increase how much they work. And it isn't that women working outside the home are more likely to get divorced," Dr. Berkay Ozcan, the study's lead researcher, explained of the findings.
While the simple answer may be that women spend more time at work to avoid marital strife, Ozcan says it's a bit more complex.
Related: 20 'annoying' girl things he secretly loves about you
"Rather, faced with a rising probability of divorce, women work more, whether they ultimately separate or not. They are working as a form of insurance in case of divorce or in anticipation of it."
Essentially, women who think divorce may be in their future work more in an attempt to secure "their outside options." For men, this link didn't exist — their productivity remained the same whether their marriage was on the rocks or not.
The researchers found that, following the legislation, married women increased their work hours by around 18 percent. While it might seem like a smart move to secure your role at work amid the looming threat of a costly divorce, Ozcan says there's a definite downside:
"Women who have secured their outside options, in case of divorce, may have done so, at least in the short run, at the expense of their leisure time and potentially their well-being."
Photo: Nullplus/Getty Images
Bing: Kardashian divorce rumors 
More Sex & Love on MSN Living:
How to determine if he's marriage material
10 habits that keep marriages strong
Marriage counselors: The trickiest issues we've ever solved
50 unique engagement rings
love: friendships, dating, sex & marriage
Or how to tell if you've reached THAT point in your bond.

Dating doesn't have to be a daunting task, promise. Here's how to make it fun for you and him.

This just in: A new study shows girls are warriors in the womb.

You can make a pros and cons list...but ultimately you know what works best for you.

Maggie Reyes is a life coach, writer, and the founder of ModernMarried.com. She helps newlyweds re-think what married life can be. Here, she's revealing tricks every newlywed couple needs to know.

Government-supported Vietnamese classes teach women Korean language, customs.

Whether you're into creative artists or uber-preppy bankers, there's something to be said for trying something new.

Sometimes two characters on a TV show or movie can portray being a happy couple effortlessly, or can have lots of fun playing former spouses — especially if they're married to each other in real life! Keep scrolling for six celebrity costars you probably didn't know tied the knot, even after the bloodiest and craziest story lines.

Some couples want nothing more than a laid-back, by-the-book proposal. Then there are the other couples, where the proposal not only needs to be personalized, it also has to be unique and entirely different than the typical restaurant, bended-knee idea. Sound like you? Then get inspired by some of the most creative proposal ideas we've ever seen. If you find something you like, steal it and then modify it to make your proposal something totally unforgettable.

From Nantucket all the way to Cayo Espanto, we've rounded up some of the prettiest beaches to travel to for your honeymoon.

Researchers studied the age-old stereotype that women really are more talkative than men.

'There is a science behind attraction,' SingldOut says.