A workaholic wife may signal marital trouble
More time in the office could mean trouble in paradise.
Wife working late? A new study says it might be a sign that divorce is right around the corner.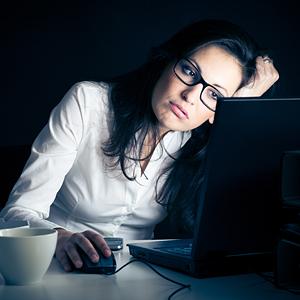 Researchers from the London School of Economics studied the legalization of divorce in Ireland to determine how the rates of marriage breakdown affect women's participation in the workforce. They found that for every 1 percent increase in the risk of marital breakdown, women work an extra 12 minutes per week.
Related: 50 signs he's not that into you
"We see that women who are at a higher risk of divorce significantly increase how much they work. And it isn't that women working outside the home are more likely to get divorced," Dr. Berkay Ozcan, the study's lead researcher, explained of the findings.
While the simple answer may be that women spend more time at work to avoid marital strife, Ozcan says it's a bit more complex.
Related: 20 'annoying' girl things he secretly loves about you
"Rather, faced with a rising probability of divorce, women work more, whether they ultimately separate or not. They are working as a form of insurance in case of divorce or in anticipation of it."
Essentially, women who think divorce may be in their future work more in an attempt to secure "their outside options." For men, this link didn't exist — their productivity remained the same whether their marriage was on the rocks or not.
The researchers found that, following the legislation, married women increased their work hours by around 18 percent. While it might seem like a smart move to secure your role at work amid the looming threat of a costly divorce, Ozcan says there's a definite downside:
"Women who have secured their outside options, in case of divorce, may have done so, at least in the short run, at the expense of their leisure time and potentially their well-being."
Photo: Nullplus/Getty Images
Bing: Kardashian divorce rumors 
More Sex & Love on MSN Living:
How to determine if he's marriage material
10 habits that keep marriages strong
Marriage counselors: The trickiest issues we've ever solved
50 unique engagement rings
love: friendships, dating, sex & marriage
Love it or hate it, the selfie wields much power.

Talk about some blurred lines.

Come on people, it's not that hard to mind your own business.

No sense in wasting your time on someone who will never commit.

There he is, the man of your dreams. He's sitting across from you at the coffee shop or standing at the opposite side of the bar. His eyes meet yours, a quick glance, and then it's back to his drink. Was he giving you a signal?

Remember that time on "30 Rock" when Liz Lemon and her eventual-husband Criss went shopping at Ikea, only to end up in a major fight? We know it couldn't be closer to the truth because we've all been there. In honor of the irritation that can be Ikea, here are the top fights you'll likely encounter.

Dating doesn't have to be a daunting task, promise. Here's how to make it fun for you and him.

One woman's honest journey to divorce will break your heart and inspire you at the same time.

Want to send your date running? Try one these moves.

Two guests arrested in New Jersey.

Celebrities certainly know how to travel in style, so if you're struggling to select a honeymoon destination, look no further than these star-approved hotspots. To make it even easier, we're providing you with hotel recommendations, packing essentials, and tips on what to do and see! So channel your inner celeb at one of these U.S. destinations for an unforgettable vacation!

Tall Twitter users named Wayne, we're on to you!