Study: Your friends' sex lives affect your happiness
Plus, could kissing and telling be good for your love life?
Does a pal's sex life make you depressed? You're not alone. Researchers from the University of Colorado say that knowing a friend is having more sex than you makes you unhappy. But if you're the one having the most sex in your inner circle, you'll be a happy camper.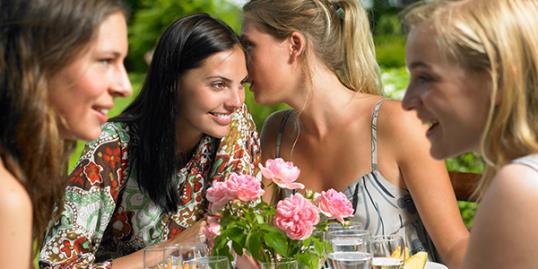 Gallery: 25 reasons why married sex is better
YourTango.com reported on the study, adding that, despite the findings, kissing and telling could be good for your love life.
Gallery: 10 new surprising facts about love and sex
Dr. Judi Cinéas gives her argument for sharing sex stories:
"When good friends find something that is working for them, they should share it with one another. When certain sexual behaviors seem taboo, people are reluctant to try it. But, once your friends are doing it, it destigmatizes the behavior, making it feel more acceptable to try."
Read the full report here.
More from The Heart Beat: 
Husband tattoos wife on his bald spot
1 in 5 grooms choose bride's dress
Coffee shop lets customers pay with a kiss
Subscribe to The Heart Beat | Friend us on Facebook, follow us on Twitter and find us on Pinterest.
Photo: Ghislain & Marie David de Lossy/Getty Images
love: friendships, dating, sex & marriage
Why holding on to your partner's mistakes will end up hurting you.

A little extra effort, will power and research can help your marriage bloom well into old age.

These are the conversations all betrothed couples should take the time to have before they get hitched.

Brace yourself, this is uncomfortable.

There's nothing wrong with grabbing Italian food and alternating between watching action films and romantic comedies, but shaking up your going-out routine with an extreme date night can be the ultimate turn on and the best way to keep your relationship exciting.

This just in: Guys over 5'10" are twice as likely to stray.

Or how to tell if you've reached THAT point in your bond.

Dating doesn't have to be a daunting task, promise. Here's how to make it fun for you and him.

This just in: A new study shows girls are warriors in the womb.

You can make a pros and cons list...but ultimately you know what works best for you.

Maggie Reyes is a life coach, writer, and the founder of ModernMarried.com. She helps newlyweds re-think what married life can be. Here, she's revealing tricks every newlywed couple needs to know.

Government-supported Vietnamese classes teach women Korean language, customs.