Gay-themed music video a YouTube hit
"All-American Boy" portrays a young gay man who misreads signals from an apparently straight "all-American" male friend.
LOS ANGELES (AP), MICHAEL CIDONI LENNOX, AP entertainment writer — He's a musician without a record label, a card holder without any remaining credit. And the gig that supplies what he calls "food money" may now be in jeopardy.
But after events of the last week, Steve Grand said, "I would die a happy man today," and not for the reasons he's suddenly getting attention.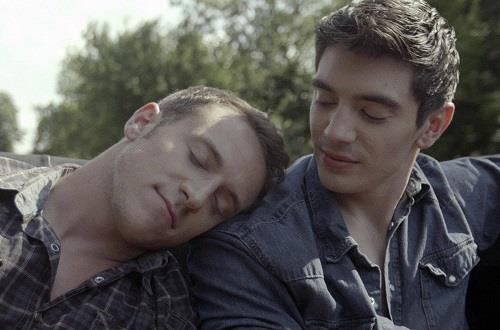 Grand's first music video, for his country-tinged rock ballad "All-American Boy," was posted on YouTube last Tuesday. By last night, it had exploded, attracting more than 400,000 total views — nothing for top-charting videos from big-name recording artists, but an impressive figure for one from a complete unknown whose only promotion has been Internet buzz.
The video cost just $7,000, a fraction of the major names' going rate, but it was a fortune to Grand, who came up with the entire budget himself by maxing out his only plastic to tell the video's story.
"All-American Boy" portrays a young gay man who misreads signals from an apparently straight "all-American" male friend. On a day hanging out with the gang, the two guys and a girl take off in a car. She drives, as the guys sit together in the back, with the straight man, at one point, falling asleep on the gay man's shoulder. Feeling like a third wheel, the girl angrily drives off, leaving the two men to pal around in the woods, where they end up stripping down and going skinny-dipping — even sharing a quick kiss. Ultimately for the straight guy, it was just all in good fun. But for the gay man, it was something much more significant, and he is left dazed, confused and longing.
The story was inspired by one of Grand's own.
"I was a 13-year-old boy (at camp)," noted the 23-year-old singer-songwriter, speaking by phone from his hometown Chicago. "One of my counselors was warm and strong and he took an interest in me — not sexually, but as a friend, and it really moved me. I remember leaving with a horrible ache in my heart."
While "All-American Boy" is told from the gay man's perspective, Grand said he knew its tale of unrequited love would resonate across lines of sexuality. He's received hundreds of postings on YouTube, Twitter and Facebook from viewers, both straight and gay, saying they understand such rejection and heartache.
"I'm not a crier," noted Grand. "But since this all began, since people have been reaching out, I've been beyond moved, because so many people have felt what I felt, been through what I've been through."
Grand said that upon discovering he was gay in eighth grade, he told friends, which quickly got back to his parents. They insisted he go to so-called "straight therapy," which he endured for five years. But it didn't work.
He logged his full freshman year at Belmont University in Nashville, but, due to the cost, returned to Chicago. His recent employment has run the gamut from modeling to supplying music for Catholic church events, the latter being what he called the "food-money" gig.
Grand said he has no idea where the YouTube success may take him, though he does admit he's "not much of a singer" and more of a songwriter. "Of course, I want to continue to grow as a man and grow as an artist," he commented.
For now, Grand appears happy just being the moment, immersed in all those postings. "Just the hundreds of people who have said, 'Your story is my story. Thank you for this,' is enough for me."
"Like I said, I would die a happy man today," Grand continued. "And it's the first time in my entire life I can say that."
More from The Heart Beat: 
The perfect man doesn't get drunk, is a doctor
1 in 5 grooms choose bride's dress
Coffee shop lets customers pay with a kiss
Subscribe to The Heart Beat | Friend us on Facebook, follow us on Twitter and find us on Pinterest.
Photo: Musician Steve Grand, right, and actor Nicholas Alan appear in a production still from the music video "All-American Boy."  (AP Photo/Digital Skylight, Brendan Leahy)
love: friendships, dating, sex & marriage
Hopeless romantics and cringe-worthy chick flicks would tell you that it doesn't matter what you do on the date, as long as you're together. But they're wrong. Dead wrong. Women use your date ideas to size you up, says matchmaker Rachel DeAlto, author of "Flirt Fearlessly." "You absolutely will be judged based on the date you plan. There are so many subconscious impressions that we take in while dating." Gulp. Here are 10 terrible ideas that can land you on the no-lay list—and simple swaps to keep her happy. By K. Aleisha Fetters

Here are 15 signs we've been on "The Bachelor" bandwagon—all 27 seasons of it—for (possibly) longer than we'd care to admit.

In the grand tradition of celebrating love, we've chosen some of the mushiest, sweetest, and most memorable scenes to hit the big or small screen. From marriage proposals to unexpected serenades, these moments will make you believe in love (and want someone to cuddle up with, stat).

How to flag her little fibs. By Laura Tedesco

Revealr is a new iPhone app that allows those looking for love to hear their possible matches before they see them.

A new poll reveals 59 percent of the country supports same-sex marriage.

Celebrity engagements are so much fun to follow because every detail is bound to be over-the-top — from the proposal (like when Kanye rented out an entire stadium to propose to Kim) to the huge, sparkly engagement ring and, of course, the wedding. Plus, as trendsetters, celebs can be a source of inspiration even if you can't afford a million dollar ring. Here are our celebrity wedding predictions for 2014.

If you've ever been to a club—like, ever, even once—you are not going to be shocked to hear that women get a lot of unwanted, aggressive attention. But when you read the findings of this study on how often and why it happens, it might make you feel downright sick to your stomach.

No matter your current relationship status or past relationship fails, get a fresh start this month, with these tips for spring cleaning your love life.

Forget the rules you've always heard—it's time to start making your own.

Are you in an affair without knowing it? Unless you're a swinger, having sex with someone else counts as cheating. But then there's the fuzzy area between friendship and infidelity—and chances are, your girlfriend sees those shades of gray as more black and white than you do. "Men aren't as attuned to identifying ambiguous behaviors as cheating as women are," says Daniel Kruger, Ph.D., a University of Michigan psychologist, who's studied gender differences in definitions of infidelity. In other words, what you consider totally innocent could be her deal breaker.

We spoke with relationship therapist Rachel A. Sussman, author of "The Breakup Bible," for her tips on how regular girls can survive a split like an A-lister.