Gay-themed music video a YouTube hit
"All-American Boy" portrays a young gay man who misreads signals from an apparently straight "all-American" male friend.
LOS ANGELES (AP), MICHAEL CIDONI LENNOX, AP entertainment writer — He's a musician without a record label, a card holder without any remaining credit. And the gig that supplies what he calls "food money" may now be in jeopardy.
But after events of the last week, Steve Grand said, "I would die a happy man today," and not for the reasons he's suddenly getting attention.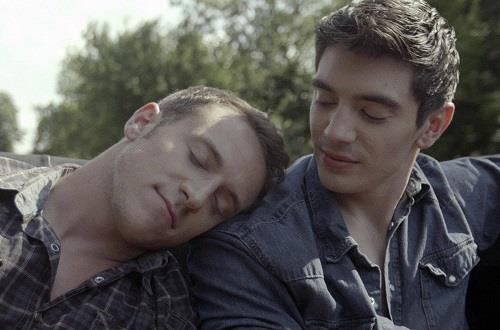 Grand's first music video, for his country-tinged rock ballad "All-American Boy," was posted on YouTube last Tuesday. By last night, it had exploded, attracting more than 400,000 total views — nothing for top-charting videos from big-name recording artists, but an impressive figure for one from a complete unknown whose only promotion has been Internet buzz.
The video cost just $7,000, a fraction of the major names' going rate, but it was a fortune to Grand, who came up with the entire budget himself by maxing out his only plastic to tell the video's story.
"All-American Boy" portrays a young gay man who misreads signals from an apparently straight "all-American" male friend. On a day hanging out with the gang, the two guys and a girl take off in a car. She drives, as the guys sit together in the back, with the straight man, at one point, falling asleep on the gay man's shoulder. Feeling like a third wheel, the girl angrily drives off, leaving the two men to pal around in the woods, where they end up stripping down and going skinny-dipping — even sharing a quick kiss. Ultimately for the straight guy, it was just all in good fun. But for the gay man, it was something much more significant, and he is left dazed, confused and longing.
The story was inspired by one of Grand's own.
"I was a 13-year-old boy (at camp)," noted the 23-year-old singer-songwriter, speaking by phone from his hometown Chicago. "One of my counselors was warm and strong and he took an interest in me — not sexually, but as a friend, and it really moved me. I remember leaving with a horrible ache in my heart."
While "All-American Boy" is told from the gay man's perspective, Grand said he knew its tale of unrequited love would resonate across lines of sexuality. He's received hundreds of postings on YouTube, Twitter and Facebook from viewers, both straight and gay, saying they understand such rejection and heartache.
"I'm not a crier," noted Grand. "But since this all began, since people have been reaching out, I've been beyond moved, because so many people have felt what I felt, been through what I've been through."
Grand said that upon discovering he was gay in eighth grade, he told friends, which quickly got back to his parents. They insisted he go to so-called "straight therapy," which he endured for five years. But it didn't work.
He logged his full freshman year at Belmont University in Nashville, but, due to the cost, returned to Chicago. His recent employment has run the gamut from modeling to supplying music for Catholic church events, the latter being what he called the "food-money" gig.
Grand said he has no idea where the YouTube success may take him, though he does admit he's "not much of a singer" and more of a songwriter. "Of course, I want to continue to grow as a man and grow as an artist," he commented.
For now, Grand appears happy just being the moment, immersed in all those postings. "Just the hundreds of people who have said, 'Your story is my story. Thank you for this,' is enough for me."
"Like I said, I would die a happy man today," Grand continued. "And it's the first time in my entire life I can say that."
More from The Heart Beat: 
The perfect man doesn't get drunk, is a doctor
1 in 5 grooms choose bride's dress
Coffee shop lets customers pay with a kiss
Subscribe to The Heart Beat | Friend us on Facebook, follow us on Twitter and find us on Pinterest.
Photo: Musician Steve Grand, right, and actor Nicholas Alan appear in a production still from the music video "All-American Boy."  (AP Photo/Digital Skylight, Brendan Leahy)
love: friendships, dating, sex & marriage
How to flag her little fibs. By Laura Tedesco

A new study on attraction may help explain why fashions change.

As a general rule, any island that offers great weather year-round is going to attract the most visitors in the winter (high season) when we're all trying to escape the snow. Once summer rolls around, many islands see a sharp drop-off in tourism since many people have beach weather right in their own backyards.

And how you can attack the issues together.

A wedding is an exceptionally special day. Sometimes, an opportune photo flub makes the occasion even more memorable. Here are 25 awesome wedding photo bombs.

Somewhere between the first few butterfly-inducing dates and the committed-for-life stage, there's the period of wondering if you're both on the same page about how serious you feel about a future together. If you're not quite at the point of "that talk" but you're looking for a few clues you're heading in that direction, here are some signs he's in it for the long haul as your relationship progresses.

What's that sound? It's white noise blocking out the well-meaning person proclaiming groundbreaking news about where you can meet someone, asking why you're still single, or bugging you about when you're getting married already. Don't be that person. Here are 15 annoying things all single people don't want to hear.

With just a few days left before the big day, you already have a mile-long checklist of to-dos—now meet the don'ts! From impromptu skin treatments to all-night movie marathons, here are 11 things to avoid at all costs.

A new study shows that watching and discussing romantic films can drastically reduce your chance of divorce. These flicks more than fit the bill.

These seemingly innocent phrases still have the power to wound… big time.

Making "I do" last forever is one of the biggest challenges you'll ever face—and it's normal to worry about how you'll do it. But, if your connection involves any of these things, rest assured that you're in it for the long run.

Ultimately, as hard as it may seem at the beginning, a marital affair can be a turning point.