Gay-themed music video a YouTube hit
"All-American Boy" portrays a young gay man who misreads signals from an apparently straight "all-American" male friend.
LOS ANGELES (AP), MICHAEL CIDONI LENNOX, AP entertainment writer — He's a musician without a record label, a card holder without any remaining credit. And the gig that supplies what he calls "food money" may now be in jeopardy.
But after events of the last week, Steve Grand said, "I would die a happy man today," and not for the reasons he's suddenly getting attention.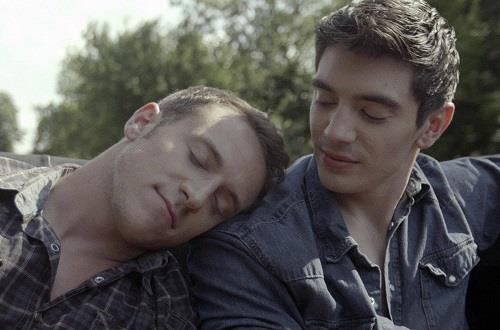 Grand's first music video, for his country-tinged rock ballad "All-American Boy," was posted on YouTube last Tuesday. By last night, it had exploded, attracting more than 400,000 total views — nothing for top-charting videos from big-name recording artists, but an impressive figure for one from a complete unknown whose only promotion has been Internet buzz.
The video cost just $7,000, a fraction of the major names' going rate, but it was a fortune to Grand, who came up with the entire budget himself by maxing out his only plastic to tell the video's story.
"All-American Boy" portrays a young gay man who misreads signals from an apparently straight "all-American" male friend. On a day hanging out with the gang, the two guys and a girl take off in a car. She drives, as the guys sit together in the back, with the straight man, at one point, falling asleep on the gay man's shoulder. Feeling like a third wheel, the girl angrily drives off, leaving the two men to pal around in the woods, where they end up stripping down and going skinny-dipping — even sharing a quick kiss. Ultimately for the straight guy, it was just all in good fun. But for the gay man, it was something much more significant, and he is left dazed, confused and longing.
The story was inspired by one of Grand's own.
"I was a 13-year-old boy (at camp)," noted the 23-year-old singer-songwriter, speaking by phone from his hometown Chicago. "One of my counselors was warm and strong and he took an interest in me — not sexually, but as a friend, and it really moved me. I remember leaving with a horrible ache in my heart."
While "All-American Boy" is told from the gay man's perspective, Grand said he knew its tale of unrequited love would resonate across lines of sexuality. He's received hundreds of postings on YouTube, Twitter and Facebook from viewers, both straight and gay, saying they understand such rejection and heartache.
"I'm not a crier," noted Grand. "But since this all began, since people have been reaching out, I've been beyond moved, because so many people have felt what I felt, been through what I've been through."
Grand said that upon discovering he was gay in eighth grade, he told friends, which quickly got back to his parents. They insisted he go to so-called "straight therapy," which he endured for five years. But it didn't work.
He logged his full freshman year at Belmont University in Nashville, but, due to the cost, returned to Chicago. His recent employment has run the gamut from modeling to supplying music for Catholic church events, the latter being what he called the "food-money" gig.
Grand said he has no idea where the YouTube success may take him, though he does admit he's "not much of a singer" and more of a songwriter. "Of course, I want to continue to grow as a man and grow as an artist," he commented.
For now, Grand appears happy just being the moment, immersed in all those postings. "Just the hundreds of people who have said, 'Your story is my story. Thank you for this,' is enough for me."
"Like I said, I would die a happy man today," Grand continued. "And it's the first time in my entire life I can say that."
More from The Heart Beat: 
The perfect man doesn't get drunk, is a doctor
1 in 5 grooms choose bride's dress
Coffee shop lets customers pay with a kiss
Subscribe to The Heart Beat | Friend us on Facebook, follow us on Twitter and find us on Pinterest.
Photo: Musician Steve Grand, right, and actor Nicholas Alan appear in a production still from the music video "All-American Boy."  (AP Photo/Digital Skylight, Brendan Leahy)
love: friendships, dating, sex & marriage
The typical wedding: A white dress, tiered cake, floral centerpieces and a cute flower girl -- you know the drill. Every once in a while, though, a couple trades in tradition for a quirky, never-seen-that-before idea. Here are a few of the most out-there wedding photos that made us do a double take.

There's a lot to love about weddings this fall, like cocktails served in copper Moscow mule mugs, industrial-inspired lighting and pheasant feather details. See what's new!

Do you have to be engaged to sport a ring with bling?

124.6 million haven't gotten hitched.

Even though the national average wedding is $29,858, that's just an average. If you live in a smaller state like Idaho where the average wedding costs $16,159, you may find yourself saving a little more than half of the national spend! Check out some of the other least expensive cities to get married in below:

Summer is winding down, but the ubiquitous summer romance lives on.

For those times when nothing big and horrible happened--but nothing is feeling right either.

He's confident, distinguished and anywhere from 4 to 20 years older than you. Age is just a number, but there's something about older men that we love. Here are eight reasons why being in a relationship with an older man is tops.

While a younger man may have less life experience, that doesn't mean he's not emotionally mature. Here are the eight reasons why being in a relationship with a younger man is tops.

Have you ever wondered what the 'other woman' was thinking?

So fall is coming and you need some romantic inspiration now that long walks on the beach are out of the question. Well look no further! From apple picking to pumpkin carving, these are some great fall date ideas from girls just like you!

Getting bored of the same dinner and movie date night? Take an adorable cue from your favorite celebs and try something new! From dancing to boxing you can't go wrong with these awesome date ideas.