97-year-old woman weds
Too late to find love? We think not.
Worried that you'll never meet someone special?  This story should offer some hope. Proving that it's never too late to find love, a 97-year-old bride and 89-year-old groom tied the knot over the weekend.
Ada Laurie Bryant and Robert Mitchell Haire married in Hockessin, Delaware, on Saturday. It also happened to be the anniversary of the day the couple made their relationship official. The two met at Country House, a retirement community in Wilmington. They started off as friends, but after spending some time together, Robert began to see something special in Ada: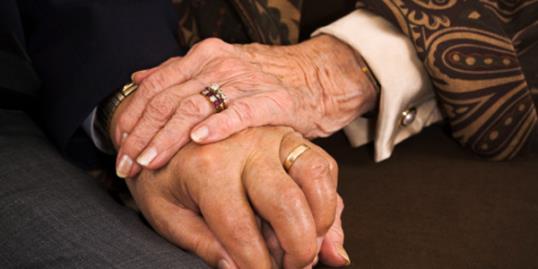 More on MSN Living: 9 sex & dating myths
"There was some kind of feeling," he told the New York Times.
Ada moved into the community in 2001, and shortly after, her husband passed away. Robert and his wife moved into Country House in 2007. In January 2010, his wife was diagnosed with Lou Gehrig's disease. Sadly, she passed away 15 months later. Robert then asked Ada, who happened to be friends with his wife, to paint a portrait of his late love. He was "blown away" by her talent. The two went to a local shop to pick out a frame then had lunch at a tearoom.
From there, the dates became regular. On Jan. 25, 2012, Robert finally mustered up the courage to slip a poem under Ada's door.
More on MSN Living: 28 ways to have a sexy February
"This represents how I feel in our relationship as a couple," Robert wrote.
"I was desperately trying to strike a balance between too timid or bold. I didn't want to mess things up," he said. "I can attest that [courtship] doesn't get easier, even in advanced age."
Robert woke the next morning to discover that his crush had slipped a response under his door. She was happy to "heartily enter into that relationship."
Bing: Secrets of happy couples.
One of Ada's daughters recalls speaking to her mom on the phone around that time. She told the Times:
"Her voice was kind of glowing. She loved having someone to talk to again. Since my father died, she just didn't have someone to talk to in the deepest sense."
That Valentine's Day, Robert gave Ada a ring. He told her he wanted to have it mounted as an engagement ring. Ada refused, but said she would accept it as a friendship ring. While Robert never put any pressure on his girlfriend, he did let her know he was committed to her:
"She could rely on me no matter whether we married or not."
But on August 6, 2012, Ada finally accepted Robert's proposal.
"I didn't think it was the thing to do because I don't have that many years ahead of me," Ada said. "But he said, 'That's all the more reason.' I like him very much. I love him."
The Times reported that the bride is keeping her name.
More from The Heart Beat: 
5 awesome left at the altar outcomes
Man pops the question atop active volcano
Study: Confidence before marriage leads to a happy union
Love content like this? Friend us on Facebook, follow us on Twitter and find us on Pinterest
Photo: David Sucsy/Getty Images
love: friendships, dating, sex & marriage
Sometimes you have to do things you don't want to do, like hang out with his lame friends. You're not always in the mood to nurse a beer silently while he and his boys argue about who's going to die next on "Game of Thrones" — but tomorrow he's sitting through a seven-girl brunch. So.

Why holding on to your partner's mistakes will end up hurting you.

A little extra effort, will power and research can help your marriage bloom well into old age.

These are the conversations all betrothed couples should take the time to have before they get hitched.

Brace yourself, this is uncomfortable.

There's nothing wrong with grabbing Italian food and alternating between watching action films and romantic comedies, but shaking up your going-out routine with an extreme date night can be the ultimate turn on and the best way to keep your relationship exciting.

This just in: Guys over 5'10" are twice as likely to stray.

Or how to tell if you've reached THAT point in your bond.

Dating doesn't have to be a daunting task, promise. Here's how to make it fun for you and him.

This just in: A new study shows girls are warriors in the womb.

You can make a pros and cons list...but ultimately you know what works best for you.

Maggie Reyes is a life coach, writer, and the founder of ModernMarried.com. She helps newlyweds re-think what married life can be. Here, she's revealing tricks every newlywed couple needs to know.