97-year-old woman weds
Too late to find love? We think not.
Worried that you'll never meet someone special?  This story should offer some hope. Proving that it's never too late to find love, a 97-year-old bride and 89-year-old groom tied the knot over the weekend.
Ada Laurie Bryant and Robert Mitchell Haire married in Hockessin, Delaware, on Saturday. It also happened to be the anniversary of the day the couple made their relationship official. The two met at Country House, a retirement community in Wilmington. They started off as friends, but after spending some time together, Robert began to see something special in Ada: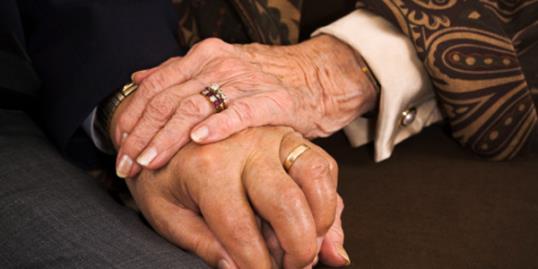 More on MSN Living: 9 sex & dating myths
"There was some kind of feeling," he told the New York Times.
Ada moved into the community in 2001, and shortly after, her husband passed away. Robert and his wife moved into Country House in 2007. In January 2010, his wife was diagnosed with Lou Gehrig's disease. Sadly, she passed away 15 months later. Robert then asked Ada, who happened to be friends with his wife, to paint a portrait of his late love. He was "blown away" by her talent. The two went to a local shop to pick out a frame then had lunch at a tearoom.
From there, the dates became regular. On Jan. 25, 2012, Robert finally mustered up the courage to slip a poem under Ada's door.
More on MSN Living: 28 ways to have a sexy February
"This represents how I feel in our relationship as a couple," Robert wrote.
"I was desperately trying to strike a balance between too timid or bold. I didn't want to mess things up," he said. "I can attest that [courtship] doesn't get easier, even in advanced age."
Robert woke the next morning to discover that his crush had slipped a response under his door. She was happy to "heartily enter into that relationship."
Bing: Secrets of happy couples.
One of Ada's daughters recalls speaking to her mom on the phone around that time. She told the Times:
"Her voice was kind of glowing. She loved having someone to talk to again. Since my father died, she just didn't have someone to talk to in the deepest sense."
That Valentine's Day, Robert gave Ada a ring. He told her he wanted to have it mounted as an engagement ring. Ada refused, but said she would accept it as a friendship ring. While Robert never put any pressure on his girlfriend, he did let her know he was committed to her:
"She could rely on me no matter whether we married or not."
But on August 6, 2012, Ada finally accepted Robert's proposal.
"I didn't think it was the thing to do because I don't have that many years ahead of me," Ada said. "But he said, 'That's all the more reason.' I like him very much. I love him."
The Times reported that the bride is keeping her name.
More from The Heart Beat: 
5 awesome left at the altar outcomes
Man pops the question atop active volcano
Study: Confidence before marriage leads to a happy union
Love content like this? Friend us on Facebook, follow us on Twitter and find us on Pinterest
Photo: David Sucsy/Getty Images
love: friendships, dating, sex & marriage
Hopeless romantics and cringe-worthy chick flicks would tell you that it doesn't matter what you do on the date, as long as you're together. But they're wrong. Dead wrong. Women use your date ideas to size you up, says matchmaker Rachel DeAlto, author of "Flirt Fearlessly." "You absolutely will be judged based on the date you plan. There are so many subconscious impressions that we take in while dating." Gulp. Here are 10 terrible ideas that can land you on the no-lay list—and simple swaps to keep her happy. By K. Aleisha Fetters

Here are 15 signs we've been on "The Bachelor" bandwagon—all 27 seasons of it—for (possibly) longer than we'd care to admit.

In the grand tradition of celebrating love, we've chosen some of the mushiest, sweetest, and most memorable scenes to hit the big or small screen. From marriage proposals to unexpected serenades, these moments will make you believe in love (and want someone to cuddle up with, stat).

How to flag her little fibs. By Laura Tedesco

Revealr is a new iPhone app that allows those looking for love to hear their possible matches before they see them.

A new poll reveals 59 percent of the country supports same-sex marriage.

Celebrity engagements are so much fun to follow because every detail is bound to be over-the-top — from the proposal (like when Kanye rented out an entire stadium to propose to Kim) to the huge, sparkly engagement ring and, of course, the wedding. Plus, as trendsetters, celebs can be a source of inspiration even if you can't afford a million dollar ring. Here are our celebrity wedding predictions for 2014.

If you've ever been to a club—like, ever, even once—you are not going to be shocked to hear that women get a lot of unwanted, aggressive attention. But when you read the findings of this study on how often and why it happens, it might make you feel downright sick to your stomach.

No matter your current relationship status or past relationship fails, get a fresh start this month, with these tips for spring cleaning your love life.

Forget the rules you've always heard—it's time to start making your own.

Are you in an affair without knowing it? Unless you're a swinger, having sex with someone else counts as cheating. But then there's the fuzzy area between friendship and infidelity—and chances are, your girlfriend sees those shades of gray as more black and white than you do. "Men aren't as attuned to identifying ambiguous behaviors as cheating as women are," says Daniel Kruger, Ph.D., a University of Michigan psychologist, who's studied gender differences in definitions of infidelity. In other words, what you consider totally innocent could be her deal breaker.

We spoke with relationship therapist Rachel A. Sussman, author of "The Breakup Bible," for her tips on how regular girls can survive a split like an A-lister.