97-year-old woman weds
Too late to find love? We think not.
Worried that you'll never meet someone special?  This story should offer some hope. Proving that it's never too late to find love, a 97-year-old bride and 89-year-old groom tied the knot over the weekend.
Ada Laurie Bryant and Robert Mitchell Haire married in Hockessin, Delaware, on Saturday. It also happened to be the anniversary of the day the couple made their relationship official. The two met at Country House, a retirement community in Wilmington. They started off as friends, but after spending some time together, Robert began to see something special in Ada: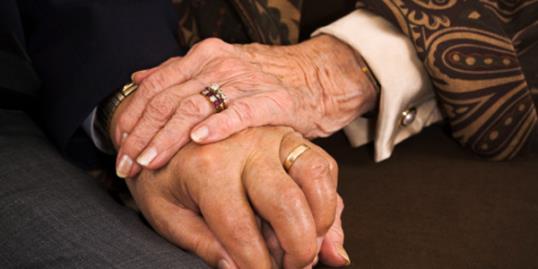 More on MSN Living: 9 sex & dating myths
"There was some kind of feeling," he told the New York Times.
Ada moved into the community in 2001, and shortly after, her husband passed away. Robert and his wife moved into Country House in 2007. In January 2010, his wife was diagnosed with Lou Gehrig's disease. Sadly, she passed away 15 months later. Robert then asked Ada, who happened to be friends with his wife, to paint a portrait of his late love. He was "blown away" by her talent. The two went to a local shop to pick out a frame then had lunch at a tearoom.
From there, the dates became regular. On Jan. 25, 2012, Robert finally mustered up the courage to slip a poem under Ada's door.
More on MSN Living: 28 ways to have a sexy February
"This represents how I feel in our relationship as a couple," Robert wrote.
"I was desperately trying to strike a balance between too timid or bold. I didn't want to mess things up," he said. "I can attest that [courtship] doesn't get easier, even in advanced age."
Robert woke the next morning to discover that his crush had slipped a response under his door. She was happy to "heartily enter into that relationship."
Bing: Secrets of happy couples.
One of Ada's daughters recalls speaking to her mom on the phone around that time. She told the Times:
"Her voice was kind of glowing. She loved having someone to talk to again. Since my father died, she just didn't have someone to talk to in the deepest sense."
That Valentine's Day, Robert gave Ada a ring. He told her he wanted to have it mounted as an engagement ring. Ada refused, but said she would accept it as a friendship ring. While Robert never put any pressure on his girlfriend, he did let her know he was committed to her:
"She could rely on me no matter whether we married or not."
But on August 6, 2012, Ada finally accepted Robert's proposal.
"I didn't think it was the thing to do because I don't have that many years ahead of me," Ada said. "But he said, 'That's all the more reason.' I like him very much. I love him."
The Times reported that the bride is keeping her name.
More from The Heart Beat: 
5 awesome left at the altar outcomes
Man pops the question atop active volcano
Study: Confidence before marriage leads to a happy union
Love content like this? Friend us on Facebook, follow us on Twitter and find us on Pinterest
Photo: David Sucsy/Getty Images
love: friendships, dating, sex & marriage
Brad Pitt and Angelina Jolie finally took the plunge, but marriage isn't always a good choice for everyone.

Learn how these surprising tactics can really improve your relationship.

Use these tips to up your chances of finding love.

Find out how paired-off ladies might feel lacking—and how you can make your relationship satisfying.

These signals are seriously subtle, but they can give you real insight into what's going through your husband's mind.

Check which changes are necessary to stay happy together.

We know some of this may sound obvious, but these simple statements can make both of you happier.

Making your relationship more secure, connected, and intimate doesn't have to feel overwhelming. Try these expert tips and reap the rewards now—and in the long run.

For those times when nothing big and horrible happened--but nothing is feeling right either.

What's more fun than animals in weddings? We've rounded up eight of the cutest.

Your puppy is all over your Instagram, Facebook and fridge, so there's no reason not to include him in your engagement pictures too. The best engagement photos give viewers a peek into your life. If you're a dog owner, take this opportunity to show off your pooch, like these 22 couples did! And we can't thank them enough.

Our married blogger gets real about checking out other guys when you're taken.