97-year-old woman weds
Too late to find love? We think not.
Worried that you'll never meet someone special?  This story should offer some hope. Proving that it's never too late to find love, a 97-year-old bride and 89-year-old groom tied the knot over the weekend.
Ada Laurie Bryant and Robert Mitchell Haire married in Hockessin, Delaware, on Saturday. It also happened to be the anniversary of the day the couple made their relationship official. The two met at Country House, a retirement community in Wilmington. They started off as friends, but after spending some time together, Robert began to see something special in Ada: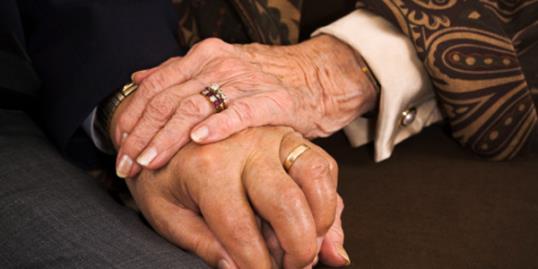 More on MSN Living: 9 sex & dating myths
"There was some kind of feeling," he told the New York Times.
Ada moved into the community in 2001, and shortly after, her husband passed away. Robert and his wife moved into Country House in 2007. In January 2010, his wife was diagnosed with Lou Gehrig's disease. Sadly, she passed away 15 months later. Robert then asked Ada, who happened to be friends with his wife, to paint a portrait of his late love. He was "blown away" by her talent. The two went to a local shop to pick out a frame then had lunch at a tearoom.
From there, the dates became regular. On Jan. 25, 2012, Robert finally mustered up the courage to slip a poem under Ada's door.
More on MSN Living: 28 ways to have a sexy February
"This represents how I feel in our relationship as a couple," Robert wrote.
"I was desperately trying to strike a balance between too timid or bold. I didn't want to mess things up," he said. "I can attest that [courtship] doesn't get easier, even in advanced age."
Robert woke the next morning to discover that his crush had slipped a response under his door. She was happy to "heartily enter into that relationship."
Bing: Secrets of happy couples.
One of Ada's daughters recalls speaking to her mom on the phone around that time. She told the Times:
"Her voice was kind of glowing. She loved having someone to talk to again. Since my father died, she just didn't have someone to talk to in the deepest sense."
That Valentine's Day, Robert gave Ada a ring. He told her he wanted to have it mounted as an engagement ring. Ada refused, but said she would accept it as a friendship ring. While Robert never put any pressure on his girlfriend, he did let her know he was committed to her:
"She could rely on me no matter whether we married or not."
But on August 6, 2012, Ada finally accepted Robert's proposal.
"I didn't think it was the thing to do because I don't have that many years ahead of me," Ada said. "But he said, 'That's all the more reason.' I like him very much. I love him."
The Times reported that the bride is keeping her name.
More from The Heart Beat: 
5 awesome left at the altar outcomes
Man pops the question atop active volcano
Study: Confidence before marriage leads to a happy union
Love content like this? Friend us on Facebook, follow us on Twitter and find us on Pinterest
Photo: David Sucsy/Getty Images
love: friendship, dating, sex & marriage
We've made picking your palette a breeze! Just find your favorite hue and choose one of the cool combos below.

Get inspired with these twelve ideas for a fantastic, fun summer wedding!

What's worse than getting snubbed while proposing? Having your heart broken in front of countless strangers.

Want your I do's to be totally you? From pre-wedding cocktails to Mad Lib vows, here are 25 ways to make your ceremony as unforgettable as your reception.

Summer love can be sweet. But it tends to be fast, feverish and often fleeting. In a season where emotions run hot, here are some rules to help avoid heartbreak.

We asked brides on TheKnot.com to tell all -- and they did. Here, five of the most likely culprits and advice for how to deal with your drama-causing guests along the way.

This short course in flirting will not only teach you how to flirt better but also how to tell when someone is flirting with you—and how to respond. Have fun.

Gatsby glamour doesn't have to just live on the big screen! Embrace the trendy (yet timeless) art deco style with sequins, pearls, feathers and geometric patterns. Check out these art deco ideas and achieve the feel of 1920s decadence. By the way, all of these are affordable, except for the $600 hairpiece which is a splurge, but a knockout. Shop the look!

Wondering if your summer love will last? Here are 15 signs if your seasonal love is fleeting or for real.

Sixteen years after "Titanic's" release—and 101 years after the historic ship's notorious sinking—our hearts still go on for star-crossed lovers Rose DeWitt Bukater (Kate Winslet) and Jack Dawson (Leonardo DiCaprio). We rounded up some of our favorite ill-fated, but oh-so-romantic affairs on film, from "Gone with the Wind" to "Moulin Rouge!".

Flirting shouldn't be retired once you've got the ring. We asked relationship expert Harlan Cohen, as well as real husbands, the best way to keep the sparks flying.

When we're annoyed by male behavior, we turn to columnist Aaron Traister. His logic may be strange, but we have to admit, it's pretty helpful. Here, he answers our many questions for guys.